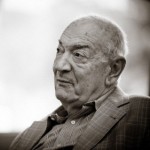 By mishanp on March 24, 2011
Viktor Korchnoi, who turned 80 yesterday, is one of the great figures of twentieth-century chess, but also one of the most controversial. Evgeny Vasiukov, who's known him for 60 years, felt compelled to voice what he considers the truth about Korchnoi, both as a man and a chess player.
Posted in Russian | Tagged Botvinnik, Bronstein, Fischer, Karpov, Korchnoi, Petrosian, Sosonko, Taimanov, Tal, Vasiukov | 41 Responses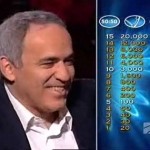 By mishanp on February 25, 2011
Garry Kasparov, with some help from his wife Dasha, recently won the Georgian charity version of "Who Wants To Be A Millionaire?", answering 15 questions correctly to win 20,000 lari (about 11,400 USD) for a brother and sister requiring heart surgery. Could you have done the same?
Posted in Russian | Tagged Dasha Kasparova, Kasparov, Mig, Taimanov, Who Wants To Be A Millionaire | 9 Responses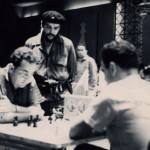 By mishanp on February 15, 2011
For someone perhaps best known for spectacular failure – losing 6:0 to Bobby Fischer – Mark Taimanov has had the most successful of lives. A top Soviet grandmaster and a successful concert pianist, he's now the happy octogenarian father of 6-year-old twins. He talks about his life and contemporary chess.
Posted in Russian | Tagged Alekhine, Anand, Botvinnik, Capablanca, Carlsen, Castro, Che Guevara, Churchill, computers, Fischer, Lasker, Lyubov Bruk, Nakamura, Shostakovich, Spassky, Taimanov, Tata Steel 2011 | 5 Responses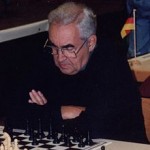 By mishanp on May 19, 2010
84-year-old Mark Taimanov gave an interview to the Russian site, Smena. He talks about the recent WC Match in Sofia and gives his opinion of how the current players compare to the former Champions.
Posted in Russian | Tagged Alekseev, Anand, Karpov, Kasparov, Kramnik, Soviet School, Taimanov, Topalov, Vitiugov | 4 Responses