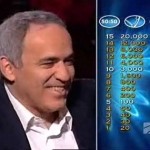 By mishanp on February 25, 2011
Garry Kasparov, with some help from his wife Dasha, recently won the Georgian charity version of "Who Wants To Be A Millionaire?", answering 15 questions correctly to win 20,000 lari (about 11,400 USD) for a brother and sister requiring heart surgery. Could you have done the same?
Posted in Russian | Tagged Dasha Kasparova, Kasparov, Mig, Taimanov, Who Wants To Be A Millionaire | 9 Responses
By mishanp on April 6, 2010
Mark Glukovsky, editor of 64, the Russian equivalent of New in Chess, responded in a controversial but compulsively readable style to the questions of Crestbook readers.
Posted in Russian | Tagged Carlsen, Glukhovsky, Mig, Odessky, Ponomariov, Svidler, WC 2010 | Leave a response