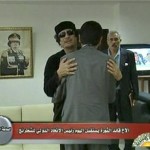 By mishanp on June 12, 2011
FIDE President Kirsan Ilyumzhinov has just announced he held a two-hour meeting today in Tripoli with the Libyan leader, Muammar Gaddafi. Libya is currently in a state of civil war, with NATO and allies engaged in bombing raids, and Gaddafi himself accused of war crimes by the International Criminal Court.
Posted in Russian | Tagged FIDE, Gaddafi, Gulko, Ilyumzhinov, Libya | 1 Response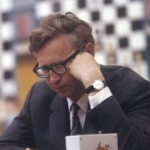 By mishanp on January 14, 2011
The death of the 7th World Champion, Vasily Smyslov (1921-2010), was one of the greatest chess losses of the last year. He featured in two year-end interviews: one with FIDE President Kirsan Ilyumzhinov, who claimed Smyslov also encountered aliens, and the other with GM Sergey Shipov, who recalled the Smyslov he knew.
Posted in Russian | Tagged aliens, Botvinnik, Capablanca, computers, Fischer, Flohr, Gulko, Huebner, Ilyumzhinov, Karpov, Krasenkow, Lasker, Morphy, Shipov, Smyslov, Spassky, Surov | 8 Responses