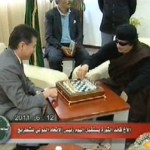 By mishanp on June 13, 2011
This morning, while being driven through Libya, FIDE President Kirsan Ilyumzhinov gave a live interview to the Echo of Moscow radio station. He expressed no regret over yesterday's meeting with Libyan leader Colonel Gaddafi, saying "it's nonsense when people demand he goes".
Posted in Russian | Tagged FIDE, Gaddafi, Ilyumzhinov, Makropoulos | 10 Responses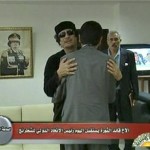 By mishanp on June 12, 2011
FIDE President Kirsan Ilyumzhinov has just announced he held a two-hour meeting today in Tripoli with the Libyan leader, Muammar Gaddafi. Libya is currently in a state of civil war, with NATO and allies engaged in bombing raids, and Gaddafi himself accused of war crimes by the International Criminal Court.
Posted in Russian | Tagged FIDE, Gaddafi, Gulko, Ilyumzhinov, Libya | 1 Response