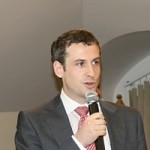 By mishanp on February 10, 2011
In an interview published today, Ilya Levitov, a FIDE Vice President and the man in charge of the Russian Chess Federation, explains why he believes the plans to hold a World Championship match in London broke down, and also reveals details of the next World Championship cycle.
Posted in Russian | Tagged Botvinnik Memorial, Carlsen, FIDE, Gelfer, Levitov, Makropoulos, Pein, RCF, Tal Memorial, Vasiliev | 3 Responses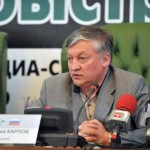 By mishanp on September 8, 2010
Today, in his Echo of Moscow blog, Anatoly Karpov responded fiercely both to FIDE President Kirsan Ilyumzhinov's explanation for stepping down as Head of Kalmykia, and his statement attacking the "political" actions of the Karpov campaign, and especially Gary Kasparov.
Posted in Russian | Tagged Dvorkovich, FIDE election, Ilyumzhinov, Kalmykia, Karpov, Kasparov, RCF | 2 Responses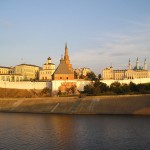 By mishanp on July 24, 2010
In a bolt from the blue, the Kommersant newspaper reports that the Russian Chess Federation is lobbying to have the 2011 Candidates Matches switched from Baku, in Azerbaijan, to Kazan, in Russia. Veselin Topalov has joined the fray by refusing to play in Russia.
Posted in Russian | Tagged Armenia, Aronian, Azerbaijan, Baku, Candidates Matches, Dvorkovich, Extra Time, Ilyumzhinov, Kazan, Kommersant, Kosteniuk, Mair Mamedov, RCF, Selivanov, Sutovsky, Topalov, UEP | 5 Responses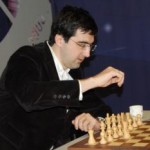 By mishanp on July 5, 2010
In something of  a media blitz around his 35th birthday, Vladimir Kramnik gave another interview, this time to Evgeny Gik of the Moscow-based "Moskovsky Komsomolets". He talks about Magnus Carlsen's threat to his chances of reclaiming the title, chess politics and how age has affected his chess.
Posted in Russian | Tagged age, Carlsen, Dortmund, FIDE election, Ilyumzhinov, Karpov, Kasparov, Kramnik, Levitov, RCF, Topalov | 9 Responses