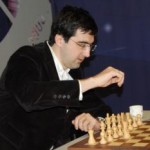 By mishanp on July 5, 2010
In something of  a media blitz around his 35th birthday, Vladimir Kramnik gave another interview, this time to Evgeny Gik of the Moscow-based "Moskovsky Komsomolets". He talks about Magnus Carlsen's threat to his chances of reclaiming the title, chess politics and how age has affected his chess.
Posted in Russian | Tagged age, Carlsen, Dortmund, FIDE election, Ilyumzhinov, Karpov, Kasparov, Kramnik, Levitov, RCF, Topalov | 9 Responses
By mishanp on September 17, 2009
In the wake of his record-breaking victory in Dortmund, Kramnik gave another interview, this time to Alexander Levit of Russkaya Germaniya. The most interesting section is Kramnik's graphic description of the burden that being World Champion had become, and the liberation he felt on losing the crown.
Posted in Russian | Tagged Anand-Kramnik, Dortmund, Kramnik | Leave a response