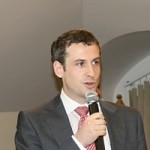 By mishanp on February 10, 2011
In an interview published today, Ilya Levitov, a FIDE Vice President and the man in charge of the Russian Chess Federation, explains why he believes the plans to hold a World Championship match in London broke down, and also reveals details of the next World Championship cycle.
Posted in Russian | Tagged Botvinnik Memorial, Carlsen, FIDE, Gelfer, Levitov, Makropoulos, Pein, RCF, Tal Memorial, Vasiliev | 3 Responses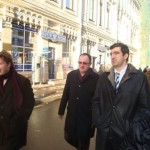 By mishanp on November 6, 2010
Vladimir Kramnik, who had a very bad day at the office in the Tal Memorial first round, was in better form in the interview he gave to Evgeny Surov before it began. His comments on ratings and the World Championship take on extra significance after Carlsen's shock withdrawal.
Posted in Russian | Tagged Aronian, Candidates Matches, Carlsen, Kasparov, Kramnik, Olympiad, Surov, Tal Memorial | 1 Response
By mishanp on December 16, 2009
Kramnik gave a fascinating and controversial interview to Michael Khomich at Sports.ru after winning the Tal Memorial in Moscow.
Posted in Russian | Tagged age, Anand, Carlsen, Danailov, Elista, Ivanchuk, Karjakin, Kasparov, Khomich, Kramnik, Morozevich, style, Tal Memorial, Topalov, WC 2010 | 1 Response
By mishanp on November 10, 2009
Ilya Odessky's report at the Tal Memorial website included Aronian disputing the link between draws and dull play, and also surprising the journalists in the press centre with a gnomic utterance. 
Posted in Russian | Tagged Aronian, draws, Odessky, Tal Memorial | Leave a response