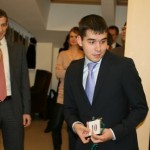 By mishanp on December 24, 2010
With his win on tie-breaks in the Russian Championship, Ian Nepomniachtchi, born in the same year as Magnus Carlsen and Sergey Karjakin and now 2732.8 on the live rating list, confirmed he's back in contention for the highest honours in chess.
Posted in Russian | Tagged Carlsen, Karjakin, Nepomniachtchi, Olympiad, Potemkin, Russian Championship 2010, Savinov, Soviet Sport, Svidler | 1 Response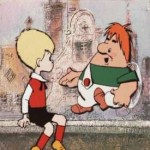 By mishanp on October 29, 2010
While translating Sergey Shipov's commentary on the recent tournament in Bilbao I came up against a minor problem – how best to convey Magnus Carlsen's Russian nickname, "Malysh"? I went with "the Kid", but my uncertainty was picked up by a Russian reader who wrote in to explain the surprising story behind it.
Posted in Russian | Tagged Astrid Lindgren, Carlsen, Hammer, Karlson, Kramnik, Livanov, Midight Sun, Savinov, Shipov, Topalov | 14 Responses