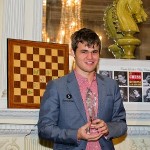 By mishanp on January 20, 2013
2012 in chess was, yet again, the year of Magnus Carlsen. The Norwegian prodigy finally surpassed Garry Kasparov's highest ever rating, causing Sergey Shipov to remark in his review of 2012 at Crestbook: "He's Kasparov's heir – not Kramnik, Topalov or Anand".
Posted in Russian | Tagged Anand, Carlsen, Crestbook, Dubov, Ilyumzhinov, Kasparov, Nakamura, Shipov | 7 Responses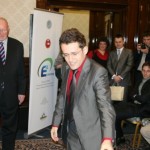 By mishanp on November 5, 2010
Levon Aronian crossed 2800 on the November FIDE rating list, and on the eve of the Tal Memorial he told Evgeny Surov of the new Chess-News website how that made him feel and what he expects from the tournament.
Posted in Russian | Tagged Aronian, Carlsen, Dubov, Kramnik, Potemkin, Surov, Tal Memorial 2010 | Leave a response