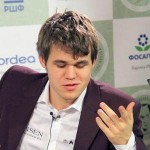 By mishanp on December 16, 2011
After the Tal Memorial in Moscow Magnus Carlsen gave a long interview that provided a remarkable insight into what makes the Norwegian stand out in world chess. He claims to have essentially developed as a player without computers, and to barely work on the game outside of tournaments.
Posted in Russian, WhyChess archive | Tagged Atarov, Carlsen, computers, Karpov, Kasparov, Nikitin | Leave a response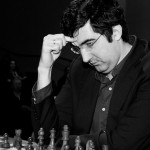 By mishanp on December 31, 2010
Evgeny Surov's interview with Vladimir Kramnik after the recent London Chess Classic provided not only an insight into Kramnik's thought processes during that event, but also a review of 2010 as a whole and an indication of his hopes for the coming year.
Posted in Russian | Tagged Aronian, Candidates 2011, Carlsen, Kasparov, London Chess Classic 2010, McShane, Nakamura, Nikitin, Surov, Tal Memorial 2010, Wijk 2011 | 8 Responses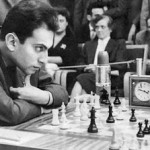 By mishanp on November 13, 2010
Moscow's Tal Memorial honours Mikhail Tal, the "Magician from Riga", who blazed a path to win the World Championship half a century ago this year. Recalling those days, and how chess has changed since, has been a theme of Ilya Odessky's tournament reports.
Posted in Russian | Tagged Aronian, Botvinnik, computers, Gelfand, Grischuk, Korchnoi, Kramnik, Nijinsky, Nikitin, Odessky, Ponomariov, Shirov, Sosonko, Tal, Tal Memorial 2010, Vaganian | 10 Responses