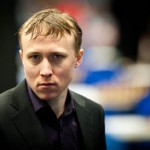 By mishanp on February 22, 2011
Answering reader questions almost a decade after becoming FIDE World Champion as an 18-year-old, Ruslan Ponomariov provides both a revealing insight into the life of an elite player, and a damning indictment of the chess politics that saw his match against Garry Kasparov collapse.
Posted in Russian | Tagged Carlsen, Crestbook, Ilyumzhinov, Ivanchuk, Kamsky, Kasimdzhanov, Kasparov, KC-Conference, Kramnik, Ponomariov, Short, World Cup | 3 Responses
By mishanp on May 13, 2010
That's the title Yury Vasiliev gave to an amazing interview with Topalov after the final game of the World Championship match in Sofia. Topalov reveals what went through his mind when he committed consecutive blunders on moves 31 and 32, while Anand also gives his views on the match.
Posted in Russian | Tagged Abhyankar, Anand, Dufek, Kasimdzhanov, Kramnik, Topalov, Vasiliev, WC 2010 | 1 Response