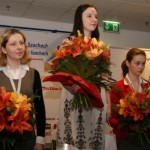 By mishanp on March 30, 2011
When the European Women's Championship was postponed, many women decided to take part in the men's event as well. Sergey Shipov reports on how that changes the chess (and social!) dynamics, and analyses a stunning win by the strongest female player in history, Judit Polgar.
Posted in Russian | Tagged Crestbook, European Individual Championship 2011, Pantsulaia, Polgar, Shipov, Sokolov, Zawadzka | Leave a response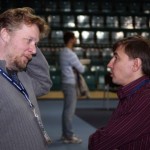 By mishanp on September 27, 2010
Evgeny Bareev's much-anticipated assessment of Russia's defeat against Hungary again pulled no punches, though the punching bag this time was himself. He admitted it was a mistake not to include Vladimir Kramnik for the match against one of this year's dark horses for the World Chess Olympiad.
Posted in Russian | Tagged Almasi, Bareev, Ivanchuk, Khalifman, Kramnik, Leko, Malakhov, Olympiad, Shipov, Sokolov, Svidler, Vasiliev | Leave a response