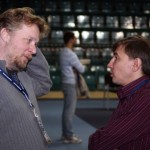 By mishanp on September 27, 2010
Evgeny Bareev's much-anticipated assessment of Russia's defeat against Hungary again pulled no punches, though the punching bag this time was himself. He admitted it was a mistake not to include Vladimir Kramnik for the match against one of this year's dark horses for the World Chess Olympiad.
Posted in Russian | Tagged Almasi, Bareev, Ivanchuk, Khalifman, Kramnik, Leko, Malakhov, Olympiad, Shipov, Sokolov, Svidler, Vasiliev | Leave a response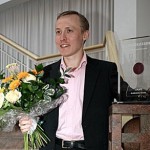 By mishanp on September 16, 2010
Fresh from his victory in Dortmund, ex-FIDE World Champion Ruslan Ponomariov gave an interview to GM Dmitry Komarov of the Ukrainian Fakty, where he talks about chess and music, the upcoming Olympiad, some of the secrets of his recent success, and a valuable preparation tip from Veselin Topalov.
Posted in Russian | Tagged Anand, computers, Dortmund 2010, Efimenko, Eljanov, Ivanchuk, Karjakin, Karpov, Komarov, Kramnik, Muzychuk, Olympiad, Ponomariov, Rammstein, Strauss, Topalov | 7 Responses
By mishanp on June 20, 2010
The second installment of Boris Gelfand's answers to the questions of Crestbook readers kept up the incredible length and quality of the first. A general title might be, "Everything you ever wanted to know about GM chess but never dared to ask". He patiently answers questions ranging from "e4 or d4" to "what's the meaning of life"!
Posted in Russian | Tagged age, Anand, Anti-Moscow, Carlsen, Caruana, cube, Elista, FIDE election, football, Gelfand, Giri, Grischuk, Ilyumzhinov, Ivanchuk, Karpov, Kasparov, Kramnik, Makropoulos, Najdorf, Nakamura, Petroff, Pirc, Rodshtein, time control, Topalov, WC 2010 | 5 Responses
By mishanp on May 6, 2010
Boris Gelfand's responses to reader questions at Crestbook were all you could hope for – patient, revealing and full of insights and anecdotes. Remarkably these translations are only a fraction of the original, and this is only part one.
Posted in Russian | Tagged age, Gelfand, Ivanchuk, Kasparov, Korchnoi, nature or nurture, Petrosian, Rubinstein, Tal | Leave a response
By mishanp on December 16, 2009
Kramnik gave a fascinating and controversial interview to Michael Khomich at Sports.ru after winning the Tal Memorial in Moscow.
Posted in Russian | Tagged age, Anand, Carlsen, Danailov, Elista, Ivanchuk, Karjakin, Kasparov, Khomich, Kramnik, Morozevich, style, Tal Memorial, Topalov, WC 2010 | 1 Response
By mishanp on November 9, 2009
Ilya Odessky's report included a transcript of Kramnik's demonstration of his game with Anand, given as proof of the folly of considering draws necessarily boring.
Posted in Russian | Tagged Barski, draws, Fominykh, Ivanchuk, Kramnik, Leko, Odessky, Ponomariov, Sofia Rules, Tal | Leave a response
By mishanp on August 15, 2009
Anatoly Karpov gave a long interview to the Russian RIA News. The most fascinating section is his assessment of his own place in the pantheon of Chess World Champions, including his controversial opinion that Anand and Topalov would have been unable to achieve the same success without computers.
Posted in Russian | Tagged Alekhine, Anand, Aronian, Bogoljubov, Botvinnik, Bronstein, Capablanca, Carlsen, Chigorin, computers, Euwe, FIDE election, Fischer, Ilyumzhinov, Ivanchuk, Karjakin, Karpov, Kasparov, Keres, Korchnoi, Kramnik, Lasker, Leko, Petrosian, Rubinstein, Spassky, Steinitz, Tal, Topalov | 5 Responses