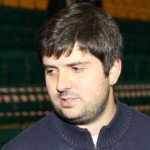 By mishanp on October 1, 2010
Peter Svidler's win with black in round 9 kept Russian hopes alive, and he gave an entertaining account of the day's play to Vladimir Barsky for the Russian Chess Federation website. Meanwhile, some remarkable turnarounds in the women's event inspired Sergey Shipov to formulate a law of women's chess.
Posted in Russian | Tagged Akopian, Bareev, Barsky, Grischuk, Guseinov, Ilyumzhinov, Karjakin, Karpov, Kramnik, Lebedev, Sargissian, Shipov, Surov, Svidler, Timofeev | 3 Responses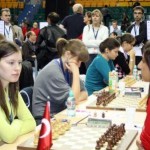 By mishanp on September 24, 2010
That comment on the endgame prowess of female chess players was one of the highlights of Evgeny Bareev's assessment of the Russian performance in round 2 of the Olympiad. He also describes the non-chess factors behind Kramnik's win, and how Svidler was permitted to offer a draw before things went from bad to worse. 
Posted in Russian | Tagged Bareev, Barsky, Galliamova, Grischuk, Kramnik, Lebedev, Malakhov, Olympiad, Shipov, Svidler, Topalov, Vasiliev, Vuckovic | 1 Response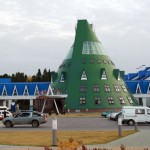 By mishanp on September 22, 2010
Russian first team captain Evgeny Bareev, not a man to mince his words, gave a refreshingly blunt assessment of the first day's play at the Olympiad. The Russian press also included some excellent photo reports, with Vladimir Barsky's description of his "chess flight" particularly memorable.  
Posted in Russian | Tagged Bareev, Barsky, Daly, Grischuk, Karjakin, Lebedev, Malakhov, Nepomniachtchi, Olympiad, Ponomariov, Svidler, Vasiliev | Leave a response