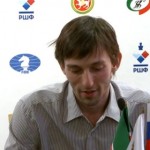 By mishanp on May 17, 2011
After yesterday's dramatic tie-breaks the two winners talked to the press. Although they both made short statements in English, the most interesting comments were in Russian. Grischuk, in particular, tried to explain his time trouble and match strategy, and defended the format of the event.
Posted in Russian | Tagged Candidates Matches, Gelfand, Geller, Grischuk, Kamsky, Korchnoi, Kramnik, Kutin | 8 Responses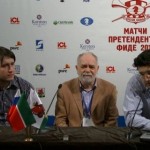 By mishanp on May 10, 2011
After a relatively dull war of attrition, the Kramnik – Radjabov match exploded into life in the tie-breaks, and particularly the incident-packed blitz games. The post-match press conference was unmissable, but was conducted in Russian. Here then, is an English translation of what they had to say.
Posted in Russian | Tagged Candidates Matches, Kramnik, Kutin, Radjabov | 20 Responses