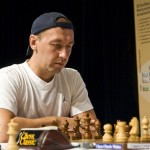 By mishanp on August 21, 2010
Gata Kamsky, in Azerbaijan for the Baku Open which starts on Sunday, gave an interview to T. Tushiev for extratime.az. The conversation inevitably centred around the uncertainty over the Candidates Matches, with Kamsky coming out against any last-minute changes to the line-up.
Posted in Russian | Tagged Baku Open, Candidates Matches, FIDE elections, Ilyumzhinov, Kamsky, Karpov, Olympiad, Topalov | Leave a response
By mishanp on May 16, 2010
On the final day of the World Championship match in Sofia, Levon Aronian was interviewed in Armenia by Vadim Mkrtchian of "Golos Armenii" ("Voice of Armenia"). The interview includes Levon's view on the match, the FIDE election, opening preparation, and his reasons for not wanting to play candidates matches in Baku.
Posted in Russian | Tagged Anand, Aronian, Candidates 2011, computers, FIDE elections, Ilyumzhinov, Karpov, Topalov, WC 2010 | Leave a response