Archives by date
You are browsing the site archives by date.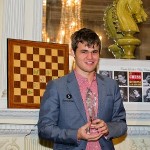 By mishanp on January 20, 2013
2012 in chess was, yet again, the year of Magnus Carlsen. The Norwegian prodigy finally surpassed Garry Kasparov's highest ever rating, causing Sergey Shipov to remark in his review of 2012 at Crestbook: "He's Kasparov's heir – not Kramnik, Topalov or Anand".
Posted in Russian | Tagged Anand, Carlsen, Crestbook, Dubov, Ilyumzhinov, Kasparov, Nakamura, Shipov | 7 Responses