While Sergey Shipov is yet to commentate on a non-drawn game in the Candidates Matches it would be hard to get closer than yesterday's "street brawl" between Gata Kamsky and Boris Gelfand. Both players missed clear wins in an enthralling and nerve-wracking encounter.  
Shipov's commentary in the original Russian can be found here at Crestbook, where you can also play through all the moves and analysis.

GM Sergey Shipov's live commentary on:
Candidates Matches, Semifinals, Game 3
GATA KAMSKY – BORIS GELFAND

Hello, dear friends! This is Grandmaster Sergey Shipov, with you to follow the next game in the Candidates Semifinals as closely as possible. Everything I notice, everything I grasp – I'll immediately let you know in written form. I won't hide a thing. Today we're again going to watch the struggle between Kamsky and Gelfand. They've got the same number of points, but different problems. Gata clearly has gaps in the opening, but he's very strong in defence and complications. Boris, on the other hand, despite all his powerful erudition and top-class preparation, has been playing unevenly, letting good chances slip. Now if you could combine them into one player… However, they're strong individually as well. And one of them will get into the final alone.
1. e4 c5 2. Nf3 d6 3. d4 cxd4 4. Nxd4 Nf6 5. Nc3 a6 The opening duel in the Najdorf Variation of the Sicilian Defence continues.
6. Be3 e5 7. Nb3 And here's a small change.
    [Previously in Kazan Kamsky withdrew his knight to the other side – 7. Nf3.]
7…Be7 Gelfand replied very quickly. He was also, of course, prepared for that entirely standard move.
8. h3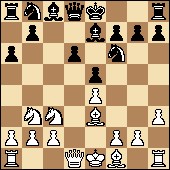 But this is genuinely interesting. White isn't only preventing Nf6-g4, but also preparing a pawn attack on the kingside. This isn't a novelty, but simply a rare move. In contrast to the most popular 8. f3, White keeps the possibility of attacking the centre with f2-f4. Boris has started to think – and rightly so. Meanwhile, I've looked in Megabase and discovered that the move 8. h3 has been played a couple of dozen times, but not by any really eminent player. The only surname that 'stuck' was Zawadzka. She played like this last year in the Women's European Championship and won convincingly. And who's Jolanta Zawadzka? That's Alexander Sulypa. And he's a serious theoretician. He wouldn't recommend his student played a bad move… Which means, it's a tricky line. Perhaps that's why Kamsky's team paid attention to the move 8. h3. (Translator's note: Sergey actually told an amusing story involving Jolanta Zawadzka in one of his reports from the recent European Championship.)
    [Besides the main 8. f3, also seen here are 8. Be2, 8. Qd2, 8. Bc4 and lord knows what else!]
    [By the way, among that "lord knows what else" is the principled move
8.f4, but it's not popular nowadays. White's results have been pitiful. For example, in the game D. Recuero Guerra – B. Gelfand, Spain 2009, there followed 8…O-O 9.Be2 b5! 10.a4 Bb7 11.fxe5 Nxe4 12.Nxe4 Bxe4 13.Bf3 Bxf3 14.Qxf3 Nd7 15.exd6 Ne5 16.Qe4 Bxd6 17.axb5 Re8 and Black had a dangerous initiative.]
8…Be6 On the one hand, this hints at the d6-d5 break. On the other hand – it's simply development.
9. Qf3 Very creatively played. White is preparing to castle long. But why put the queen on f3? Why did he prefer this square, and not d2, d3 or e2? There are a lot of questions, but no answers for now. The game will provide the answers! In Soviet times my last phrase would have been understood differently than it is just now… :) (Translator's note: the Russian "partia" means both a chess game and a political party – in this case the Communist Party!) By the way, you don't have to wait to see how events unfold. In many cases it's enough simply to look in Megabase. It turns out that the queen had already been placed on f3 30 years ago. And that set-up began to be popularised at the end of the last century by the efforts of Viorel Bologan, who for some reason people insist on calling Victor in the West. But we know better…
    [And here's how the game mentioned went: J. Zawadzka – L. Schut, Rijeka 2010:
9.f4 exf4 10.Bxf4 Nc6 11.Qe2 Ne5 12.O-O-O Qc7 13.g4 Rc8 14.g5 Nfd7 15.Qg2 b5 16.Kb1 O-O 17.Nd5 Bxd5 18.exd5 Ng6 19.Bc1 Nh4 20.Qe4 Rfe8 21.Bd3 Ng6 22.Qg2 Nc5 23.Nxc5 Qxc5 24.h4, and White's attack achieved its goal.]
9…Nbd7 The most harmonious set-up for the black pieces. The invasion of the white knight on d5 isn't dangerous. True, the knight on d7 takes away a square which could have come in handy for a retreat by its brother on f6. Therefore the g2-g4 push has gained in strength.
    [Here are a couple of important games by one of its originators:
9…b5 10.O-O-O O-O 11.g4 b4 12.Nd5 Nxd5 13.exd5 Bd7 14.Bd3 Bb5 15.Kb1 Bxd3 16.cxd3 Nd7 17.Nd2 Bg5 18.Ne4 Bxe3 19.fxe3, and Black didn't equalise, V. Bologan – K. Sakaev, Elista 1998.]
    [And 9…h5 10.O-O-O Nbd7 11.Kb1 Nb6 12.g4!? hxg4 13.hxg4 Rxh1 14.Qxh1 Bxg4 15.f3 Bh5 16.Qg1 Nfd7 17.Qxg7 Bxf3 18.Rd3 Bf8 19.Qg3 Bh5 with compensation for the pawn for White, V. Bologan – K. Sakaev, Elista 1998. That was almost a themed match.]
    [Also seen was
9…O-O For example, 10.O-O-O Qc7 11.g4 Rc8 12.g5 Ne8 13.Kb1 a5 14.a4 Na6 15.h4 Nb4 16.h5 Rab8 17.Rd2 Qd8 18.g6 Nf6 19.Nc5! with a powerful attack for White, S. Fedorchuk – U. Badjarani, Nakhichevan, 2011.]
10. g4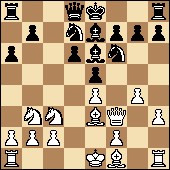 A logical rebuttal. The outline of the struggle is becoming clear. White is intending to castle long and mate. The clocks are, for now, atypical of Kamsky: 1:43 – 1:24. There's the advantage of an opening surprise! It allows you to win at least half an hour on the clock.
    [Worse is 10. 0-0-0 in light of b5! Then the black knight would go to b6 and Black would have an ideal attacking set-up.]
10…h6 You don't want to put the knight on b6 while the pawn's on b7. It's simply ugly to switch the f6-knight to e8. Therefore you have to weaken the kingside.
11. 0-0-0 After this White intends to continue the pawn storm. For example, with Rh1-g1, h3-h4 and g4-g5.
    [And now let's look at the original game:
11.Rg1 Rc8 12.O-O-O Nb6 13.g5 hxg5 14.Rxg5 Rxc3 15.bxc3 Na4 16.Rxe5 (an amazing career for the h1-rook!)
16…Qc7 17.Rxe6! fxe6 18.Rd4 b5 19.Bd2 e5 20.Rd3 d5 21.exd5 Qd6
(21…e4 22.Qg3! Bd6 23.Qg6+)
22.Qf5 Qa3+ 23.Kd1 Nb2+ 24.Ke2 Nxd3 25.Qc8+ Bd8 26.Qc6+ Kf7 27.cxd3 Re8 28.Nc5 Qxa2 29.Nb7 Kg8 30.Bg2 e4 31.Bxe4 Qxd5? 32.Qxe8+!, and Black capitulated, R. Mateo – D. Alzate, Lucern 1982. A vivid encounter!]
11…Rc8 It seems the idea of the exchange sac on c3 also appeals to Gelfand. As you recall, that was the blow he used in his victorious game against Mamedyarov.
    [Also seen here was 11…b5, though after 12. Rg1! Black can't be satisfied with the line 12…Nb6 13. Nc5! – that's the problem.]
12. Nd5 Kamsky has found a fundamental response to his opponent's threat – and in turn he's plotting an attack in the centre.
12…Bxd5 It was impossible to tolerate such impudence.
13. exd5 Nb6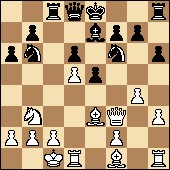 A useful manoeuvre. Note that Black is keeping his king in the centre for now – that's the safest place. The knight is heading to c4. You won't believe it, but nothing new has happened yet. The players are following a known path, and of course their home preparation. That's particularly the case with the American grandmaster, while it's entirely possible the Israeli is already playing on his own. He's seeking and finding logical positional solutions.
    [Having taken a deeper look at the position, I've got my doubts about Black's last move. Wasn't it better to first test out the c2-point? I've got in mind 13…Qc7! Then 14. c3 would give Black a hook for an attack – 14…b5. And if 14. Bd3 then the d5-pawn would be left without the necessary support – 14…Nb6. Perhaps that was the best approach.]
14. h4 It seems as though this attack is a little premature. It's a novelty. Gata thought for so long that there are no longer any doubts – he's also acting alone, without the help of any theoretical crutches. The most interesting question here is how deeply he calculated the line 14…Qc7 15. c3 Nbxd5! Who to be, or not to be, here depends on that. In that line (after 16. Rxd5 the pin 16…Qc6! is planned, and if 17. Bg2 there's also 17…e4!) wild and unclear complications begin, with all three results possible.
    [The main source here is another non-human game from the internet: Chopy – Necromant/ PlayChess.com 2008, in which the wise, human move 14.Kb1 was played. I think that's the most technical way of preparing the attack. There followed
14…Nc4 (not 14…Qc7 15.c3 Nbxd5? 16.Rxd5 Qc6 because of 17.c4!)
15.h4 Nxe3 16.fxe3 Nd7 17.Qf2 g6 18.Rh3 O-O 19.g5 h5 20.Rg3 Nc5 21.Nxc5 Rxc5 22.Rf3 Kg7 23.Bd3 Qe8 24.Rf1 Kg8 25.a3 – Black is completely paralysed, but it's worth following it further –
25…Kg7 26.Qe2 Kg8 27.b3 Kg7 28.c4 a5 29.a4 Kg8 30.Bc2 Rc7 31.Qd3 Bd8 32.c5!! Rd7
(32…Rxc5 33.Rxf7!)
(32…dxc5 33.d6)
33.Qc4 Be7 34.c6 Rc7 35.Be4 Qb8 36.Kb2 Kg7 37.Qb5 Qa7 38.R1f2 Bd8 39.Qd3 Rg8 40.Rxf7+!, and Black resigned. I fear not everyone can tell exactly why that was –
40…Rxf7 41.Rxf7+ Kxf7 42.Bxg6+! Rxg6
(42…Kg7 43.Bh7!)
43.Qf5+ Kg7 44.Qd7+ Kh8 45.Qxd8+ Rg8 46.c7, and here everything's already clear.]
14…Qc7 Yes! Boris has stumbled upon the correct path. The other continuations were too passive and allowed White to develop a threatening attack.
    [If 14…Nfd7 then you'd again have to look at the creeping
15.Kb1 with the idea of 15…Bxh4 16.Na5! Be7 17.g5! Bxg5 18.Bxg5 Qxg5 19.Nxb7 Qe7 20.Bxa6 – and then, if White doesn't manage to mate the black king, he'll dispatch his forces to the queenside, where he's got a heap of passed pawns.]
    [It was too bold to play
14…e4 15.Qg2 Nfxd5 16.Bd2!, after which the threats of taking on e4 and the g4-g5 push give White a noticeable edge.]
15. c3 Gata doesn't blunder mate-in-one.
    [He had no choice: 15. Bd3?! Nbxd5 16. Bf5 Nxe3! or 15. Rd2 Nfxd5! with an edge for Black in both cases.]
15…Nbxd5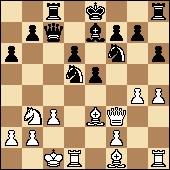 It happened! Now the direct line with captures leads to a position where Black is up the exchange but White has compensation. There's also the modest retreat 16. Bd2, which again gives White compensation, but in exchange for a pawn.
    [Switching the knights around would alter the result –
15…Nfxd5? 16.Rxd5 Qc6 17.Bxb6! with a win for White.]
16. Bd2 A very quick reply. It seems as though Kamsky had foreseen all of this. White is ready to develop a threatening initiative in the centre and on the kingside. Black has weak light squares and an uncastled king. The clocks show: 1:09 – 0:42.
    [Now let's take a look at the underwater part of the analytical iceberg:
16.Rxd5 Qc6 17.Bg2 (17.Qf5 g6!) (with the king on c1 it's no good to play 17.c4? on account of Qxd5)
17…e4 18.Qf5 g6
(bad is 8…Nxd5 because of 19.Bxe4 Nxc3 20.Bxc6+ – the check deprives Black of his queen)
19.Rxd6 gxf5 20.Rxc6 and here there's a difficult choice. If 20…bxc6 21.gxf5 then White has strong compensation. His bishops are active, and Black has a great number of weaknesses. The most practical move, in my opinion, is
20…Rxc6 21.Nd4 Nxg4! 22.Nxf5 (equally cunning)
22…Nf6 – and nevertheless chances are roughly even here. Each side has its pluses –
23.Re1 Rg8 24.Bh3 and so on.]
16…Nb6
    [I looked at the mischievous
16…Nb4 with the banal idea of exchanging queens on c6. There might have followed
17.g5 Nd7 18.g6! Rf8! 19.Kb1 Qc6! 20.gxf7+ Rxf7 21.Qxc6 Nxc6 22.Be3 – here White keeps compensation for the pawn, but without the prospect of a mating attack.]
17. g5 White is successfully developing an attack. Including the f1-bishop will double the storm's force.
17…Nfd7 An accurate solution. There's no point opening up new lines… Meanwhile, the predictable draw in the Grischuk – Kramnik game has been agreed. Moreover, the ex-World Champion played almost the whole game according to his home analysis…
    [After 17…hxg5 18.hxg5 Rxh1 19.Qxh1 Nfd7 very strong was
20.Bg2!, and if 20…d5 there would follow 21.g6! with great problems for Black.]
18. gxh6 Correct. It's worth clarifying the structure.
18…gxh6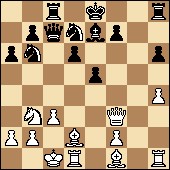 So then, White has good paths to the black king: the h3-c8 diagonal and the g-file.
    [The clever 18…g6 was too clever. You wouldn't manage to close up play in any case:
19.h5 g5 20.Qf5 f6? 21.Qg6+ Kd8 22.Qg7 Re8 23.h7, and you can resign.]
19. Kb1 Subtle. It seems as though Kamsky is intending to withdraw his bishop to c1 and activate his knight via b3 to d2.
    [My analysis showed the strongest move to be
19.Bh3! with the point that after Qc7-c6 you can move the queen not to h3 (as is possible in the game), but f5. Then there might follow 19…Nc4 (or 19…Qc6 20.Qf5! a5 21.Kb1 a4 22.Na1! and then Na1-c2)
20.Kb1! a5 21.Bc1 a4 22.Nd2 a3 23.Nxc4 Qxc4 24.b3! Qxc3 25.Qf5 – for a moment Black has two extra pawns, but he's in trouble – 25…Rd8 26.Bxa3 and White has a lethal attack.]
19…Qc6 Gelfand instantly exploits the flaw in the move order chosen by his opponent.
20. Qh3 Making sure not to lose the rook, the queen has taken a good square away from the bishop. On the other hand, g2 also won't be bad for it.
20…d5 A powerful continuation. Black is rushing to seize the key heights in the centre while his main enemy is still resting on f1. However, there's a serious drawback to the move selected. Reinforcing the light squares, Black is weakening the squares of the other colour. Now 21. f4! is asking to be played, opening up the d4-square. The currently passive b3-knight can settle there. Let's look at the clocks: 0:45 – 0:30.
21. Be2 Also a reasonable move. You have to complete development, one way or another. The question of how to break up Black's centre can be left to later, as Black doesn't, in any case, have a clear plan of action.
    [It looked promising to me to play 21. f4 e4 and… and you still need to see who'll use the d4-square – 22. Rg1 Bf6 23. Be3 – White has a decent initiative.]
21…Nc4 Boris has started to play quickly and confidently. He clearly doesn't want to end up in serious time trouble. He saw a natural positionally-justified move – and made it.
22. Bc1 Gata responds in the same manner.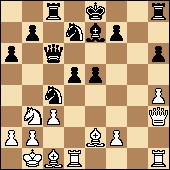 The invasion of the knight on c4 caused a certain unrest in the white king's residence, but it also weakened the d5-point.
    [The fighting continuation
22.f4 e4 23.Bxc4 Qxc4 24.Be3, in which White again makes use of the d4-square, was hard to select at the board. True, after the sensible reply
24…Rg8! it's not so easy to find anything more than a repetition of moves
25.Na5 Qb5 26.Nb3 Qc4 and so on.]
22…Nf6 There's the response. Black strengthens the d5-point.
23. Rhe1 Kamsky is diabolically methodical! He's gradually concentrating his forces in the centre, precisely where the enemy king has delayed – without any chance of escaping to the sidelines. He's threatening… It's hard to say exactly what he's threatening. That's what makes the position so tough to play for Black. White's threats are unclear, but sooner or later they'll appear.
23…Qe6 The exchange of queens wouldn't, of course, do Black any harm. But what's Gelfand intending to do after the white queen retreats? After all, the black queen is subject to the x-ray of the e1-rook. It looks very dangerous…
    [The alternative was 23…b5. Perhaps pawn counterplay on the queenside gave Black chances as well.]
24. Qh2 The natural and strongest response. It creates pressure against the e5-point. If given the chance White might simply jump with the knight to d4, beginning a sacrificial attack. Right now, for example! The Israeli grandmaster has had to take another serious think. The situation requires it. The clocks show: 0:33 – 0:19.
24…Qf5+ The cowardly queen is deserting the scaffold, leaving the king on it.
    [If 24…Rg8 then 25.Nd4! would work, after which there could be 25…Ng4
(very bad is
25…Qd7? 26.Bxc4 dxc4 27.Qxe5) (or 25…exd4 26.Bxc4 Qf5+? 27.Bd3)
26.Nxe6 Nxh2 27.Rxd5! and there's no fxe6? because of 28.Bh5+ Kf8 29.Bxh6+ Rg7 30.Rd7 with a decisive attack for White.]
25. Ka1 Another quick and flexible move.
    [Probably no worse was 25. Bd3, but that would have been the move that Boris would have considered first – which is probably why Gata rejected it.]
25…Kf8 No, the king's also escaped punishment. But forever?
26.f3 Subtle. Very subtle! Kamsky has closed off the e4 and g4 points with the clear intention of playing Be2-d3. You can't take the f3-pawn.
    [Here on 26. Bd3 there was 26…Qh5]
26…Bd6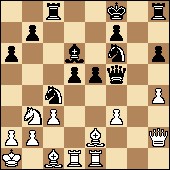 Gelfand is reinforcing the centre as far as possible. But, alas, it's impossible to make it really solid. The clocks are becoming an important factor: 0:28 – 0:11. It seems as though the American Champion is going to launch a decisive attack when his opponent has very little time.
27. Qg1 This manoeuvre looks too cunning. Is the invasion of the white queen on a7 really a serious threat? In my opinion, it's in vain that Gata's getting distracted from much more weighty goals. But I could be wrong in the heat of the moment. The American's actions do have a practical justification – he's being cunning and unpredictable for his opponent.
27…Bb8?! A purely reflex response. And an inaccuracy. So Kamsky's cunning has had an effect. Now after the exchange on c4, and taking with the rook, the white queen will get to b6 to great effect.
    [More solid was 27…Qd7]
28. Bd3 The players are moving much faster, and as a consequence have begun to trade inaccuracies. The position is very complex and it's impossible to grasp it at high speed.
    [There was a big advantage after 28.Bxc4! Rxc4 (28…dxc4 29. Nc5!) 29. Qb6 – the b7-pawn falls and the black king is in danger.]
28…Qh5?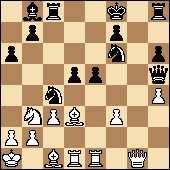 And again a dubious choice. While covering the kingside the black queen is leaving the queenside to its fate. After the invasion of the white queen on b6 not only the b7-pawn will be under attack, but also the f6-knight.
    [28…Qd7! left chances of survival.]
29. Qh1? What's going on, my friends? Gata spent a few minutes thinking – that should have been plenty in order to notice the obvious line – but he chose an amazingly passive move.
    [There was a convincing win after
29.Bxc4 with 30.Qb6 to come. For example,
29…dxc4 30.Qb6! Qf5 (30…cxb3? 31.Qxf6) (30…Qxf3 31.Na5!)
31.Nc5 and Black simply hasn't got any moves. If
31…Qxf3 then you win with the simple
32.Nd7+ Nxd7 33.Rxd7 with an irresistible attack.]
29…Ba7 An excellent manoeuvre, depriving the white pieces of important squares.
30. Qh3 A one-move attack – on c8.
30…Re8 Boris isn't blundering for now.
31. Bxc4 Finally Gata's decided to attack.
31…dxc4 32. Na5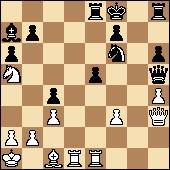 The position is opening up and becoming a street brawl. With the unrelenting clocks ticking away: 0:14 – 0:07.
32…e4! An excellent counter-blow.
33. Nxc4 Qxf3
    [It might have been stronger to play 33…exf3, offering an exchange of rooks and creating a strong passed pawn.]
34. Qh2 Only with queens on the board does White have a chance of continuing the storm. After all, for now the black king is bad and the rook on h8 is taking a rest.
34…Ng4 A good manoeuvre. Black is ready to set up a reliable shield on f2 if the white rook appears on f1.
35. Qc7 The best move. It threatens not so much the capture on b7, but Nc4-d6.
35…Bf2 While Kamsky was thinking Gelfand also managed to plan the strongest move! Everything else led to unpleasant consequences. I'll note a breakthrough moment: Gata now has less time on the clock: 0:03 – 0:04.
    [Here's an amusing line:
35…Kg7 36.Nd6 Rhf8 37.Qxb7 Bf2 38.Nxe8+ Rxe8 39.Rf1 Nh2 40.Rg1+ Bxg1 41.Rxg1+ Ng4 42.h5! Qf5 43.Qxa6 e3 44.Qe2 Re4 45.Bxe3!? Kh7 46.Rf1 Rxe3 47.Rxf5 Rxe2 48.a4! – it seems as though the white passed pawns should decide the outcome of the struggle.]
36. Rf1?!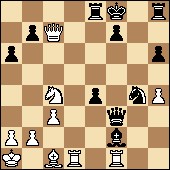 It never rains but it pours. Having missed a series of favourable possibilities, Gata is losing the thread of the game.
    [It was stronger to play the more active
36.Rg1!, for example,
36…h5 37.Qd6+ Kg7 38.Ne5 Qf6 39.Nxg4 Qxd6 40.Nxf2+ Qg6 41.Be3 with a persistent edge for White.]
36…e3 The black pawn is pressurising White, like a press.
37. Bxe3? A new mistake.
    [You had to win material back a little later: 37. Qd6+ Kg8 38. Qd3 and… and Black would still need to think about how to coordinate his forces and create the e3-e2 threat.]
37…Nxe3 Black has an extra piece. Checks by the white queen don't give anything.
38. Ne5 A good chance.
38…Qf5? A new mistake!
    [He should have got out of the pin of the f1-rook with 38…Qh5! – with a win for Black.]
39. Qc5+! Kg7 40. Qxe3 White has successfully won back the piece and regained chances of… of a positive result. In any case, he's no longer losing!
40…Rxe5 41. Qxf2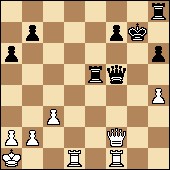 The nervous time trouble is over. We'll drink coffee and get away from what we've gone through! The position appears to have equalised – which was to be expected under my wise leadership :) (Translator's note: see Shipov's summary at the end of yesterday's game!) By the way, White's last move was also a new inaccuracy! Although it was already the 41st move. It seems as though Gata simply wasn't able to stop in time. And in the ending real problems might await him – the h4-pawn is weak, and the black passed pawn on f7, on the contrary, is very promising.
    [He should have kept the queens on the board with 41. Qd2! – the f2-bishop falls anyway. In that case White would have maintained attacking options.]
41…Qxf2 42. Rxf2 Rhe8 Black is already prepared for active measures. White, it seems, needs to activate his king immediately. Or things will get bad.
43. Rg1+ Played after 20 minutes' relaxation. Of course, it's useful to push the black king back a little. After that you can take care of your own.
43…Kf8 Now it's worth looking at 44. Kb1 or pushing the pawns on a2 or b2.
44. Kb1
Correct. If the white king manages to creep to the centre, then White's defences will hold.
44…Re2 An attempt to cut off the creeper.
    [I looked at the simpler, more obvious line –
44…Re1+ 45.Rxe1 Rxe1+ 46.Kc2 Re4 47.h5 Re5 48.Rh2 Ke7 49.Kd3 Ke6 50.c4 Rg5 51.b3 and how can Black push his pawn? If 51…f5 then there's 52.Ke3! Ke5 53.Kf3! Rg4 54.Re2+!, and the pawn ending after
54…Re4 can be calculated to a drawn outcome.]
45. Rf4 Gata is keeping as many rooks as possible on the board so it'll be difficult for the black king to become active. But has he chosen the right square on the f-file? I'm worried about the attack by the black rooks along the fourth rank…
45…R8e4 While, on the contrary, that attack appeals to Boris. It would be nice to take the h4-pawn.
46. Rgf1
    [Ready for 46. Rgg4 was 46…Re1+ 47. Kc2 R4e2+!, and the b2-pawn falls.]
46…Re1+ We've ended up with a beautiful rectangle of rooks. Just for a moment.
47. Kc2 No, for two.
47…R4e2+
    [47…Rxf1 48. Rxe4! Rf2+ 49. Kb3 f5 50. Rb4 b5 51. a4! promised nothing.]
48. Kb3 Solid and strong. Now there are lines with an extremely interesting passed-pawn race – when Black takes on h4, and White on b7. In analysis it turns out to be approximately equal, but in practice Black's chances are higher.
48…Rxf1 49. Rxf1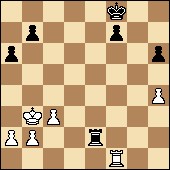 The headcount of rooks has halved. Black can choose between attacking the h4-pawn or activating his king. Times: 0:21 – 0:37.
49…Kg7 Activating his king and prophylaxis combined.
    [And here's how the race would have gone:
49…Re4 50.Rf6! Rxh4 51.Rb6 h5 52.Rxb7 Re4 53.c4! h4 54.c5 Re6 55.Rb4 Rh6 56.c6 Ke7 57.Rd4! Rxc6 58.Rxh4 and the position's completely equal.]
    [If 49…Ke7 then 50. Rf5! looked good, threatening the h6-pawn.]
50. Rf4 A reliable construction that prevents both the advance of Black's passed pawn and the king on g7 getting out into the world. It can only be destroyed by offering to enter various types of pawn ending. And at first glance, with normal play from both sides, they all lead to a draw.
50…Re6 Gelfand is being cautious.
    [Here's how the direct, obvious play would have developed:
50…Kg6 51.c4! f5 52.Kc3 Re4 53.Rxe4 fxe4 54.Kd4 Kh5 (54…Kf5 55.Ke3!)
55.Kxe4 Kxh4 56.Kf4! a5 57.b3 h5 58.c5 Kh3 59.a3 Kg2 60.Kg5 Kf3 61.b4 axb4 62.axb4 Ke4 63.b5 Kd5 64.c6 bxc6 65.bxc6 Kxc6 66.Kxh5 and there it is – the logical outcome of the game.]
51. a4 Kamsky is, as they say, revealing his aces. If he manages to advance the queenside pawns then the advantage will switch to White.
51…Kg6 52. Kc4 f5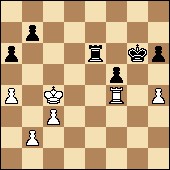 White's progress is obvious. He's out of danger.
53. a5 Gata is ready to exchange rooks, which will, as before, lead to a draw.
53…Kf6 Boris is hoping to bring his king to e5.
54. Kd3 Strange as it seems, no resistance is being put up to that idea. However, White has a counter-idea – switching the rook to b4 to put pressure on b7.
    [No worse was the simple 54. Kd4]
54…Re7 DRAW! This was a memorable and very dramatic encounter. It seems to me I've redeemed my commentator's guilt in regard to Gelfand and his supporters. The course of the game was unfavourable for Boris. He didn't equalise after the opening, came under an attack, and got into time trouble. And then we had the most interesting part of the game – wild swings in evaluation from +- to -+. With their flags about to fall the players made mistakes in unison and the position miraculously equalised. In general, you could say that both players got lucky, to a degree. So then, the balance of the match has been preserved. Tomorrow we'll have the last game at the classical time control. On that note, this is me, Grandmaster Sergey Shipov, ending this fascinating report. All the best and see you tomorrow!
1/2 – 1/2
As always after each day's play, Sergey Shipov later recorded a video round-up (in Russian):
Although Sergey "fulfilled his duty" by describing the Grischuk – Kramnik draw, and admitted they were playing "good, accurate chess", it's fair to say he did it without any great enthusiasm.
The more interesting part of the video is where Shipov again looks at Kamsky – Gelfand (from about 07:30 on). He slightly changed his mind on some of the statements in the commentary above, for instance concluding that 14. h4 by Kamsky was a "deep and promising idea". Gelfand might have been better off trying 16…Nb4!?
Shipov demonstrates the missed wins by both players – at 17:35 you can see the "obvious and logical" 29. Bxc4 for Kamsky instead of the "absolutely awful move" 29. Qh1. Or at about 21:10 Shipov starts talking about 38…Qh5 for Gelfand instead of 28…Qf5. He shows why 39. Nd7+, the move Kamsky suggested at the press conference when the journalists told him about the win, doesn't work (there was still a tricky move or two to find with a couple of minutes on the clock!).
I'll be translating Sergey Shipov's commentary on the final classical game of the semifinals, LIVE, here: