Grandmaster Sergey Shipov was perhaps a bit harsh on himself ("a known gravedigger for won positions") when he took the blame for Boris Gelfand's failure to beat Gata Kamsky in the second game of their semifinal! A fantastic struggle saw the American GM again demonstrate nerves of steel to hold the draw.
Shipov's commentary in the original Russian can be found here at Crestbook, where you can also play through all the moves and analysis.

GM Sergey Shipov's live commentary on:
Candidates Matches, Semifinals, Game 2
BORIS GELFAND – GATA KAMSKY

Good time of day to you, dear spectators! This is Grandmaster Sergey Shipov with the chance, finally, to commentate on the play of the oldest of the challengers – Boris Gelfand. Of course, Boris Abramovich doesn't consider himself an old man. He's sharp and fresh, strong and tough. But everything in this world is relative – and there's no lack of people to compare him with. Gelfand now often has to compete against young people who could be his sons. It's sad, but a fact. However, the Israeli grandmaster's opponent today is far from a 20-year-old spring chicken, but another highly skilled and experienced fighter. Gelfand and Kamsky have old scores to settle – dating back to the time of the USSR. Relatively recently, in 2007 (for us veterans four years is like a week) they met in a Candidates Match in Elista, and back then Boris won. He was the one who travelled to Mexico and achieved the greatest success of his whole career (in principle you can put winning the World Cup alongside that, but a bit lower, nevertheless). So now it's up to Gata to take his revenge. He's already paid back Topalov, one of those who hurt him. Now it's the turn of the second. Just like the Count of Monte Cristo! True, that man's enemies were, as a rule, villains and scoundrels, while here, on the contrary, we've got a good, decent man. One you'd even feel sorry for… but it's nothing personal. We'll see! And at the same time we'll keep one eye fixed on the Kramnik – Grischuk game, in which I hope there'll be a principled theoretical duel in the Grunfeld Defence. Looming behind Grischuk is the powerful figure of Svidler – the world's leading Grunfeld specialist. Kramnik, on the other hand, has much more experience. He even regularly beat Kasparov in that opening. In general, it should be interesting.
1. d4 Nf6 2. c4 g6 3. Nc3 d5 And now we've got the Grunfeld here as well! It's high time to mention that Kamsky's seconds include Emil Sutovsky, a great schemer and visionary. He's always full of ideas… The alternative was the Chebanenko System of the Slav Defence. I think Gelfand will have done fundamental preparation for both possibilities.
4. Bg5 An aggressive thrust – White puts pressure on d5.  
4…Ne4
    [In its time a lot of people liked the pawn sacrifice 4…Bg7 But times change. As far as I know, there are still difficulties for Black after 5. Bxf6 Bxf6 6. cxd5 c6 7. Rc1!]
5. Bh4 The bishop remains on this diagonal so that after Black castles the e7-pawn will be under attack.
5…Nxc3 6. bxc3 dxc4 At the cost of strengthening White's centre Black has won a pawn…
7. e3
    [Good after 7. Qa4+ is 7…c6 8. Qxc4 Qa5 9. e3 Be6 – that's how Kamsky played against Wang Yue in Sochi in 2008.]
7…Be6 …and won't give it up.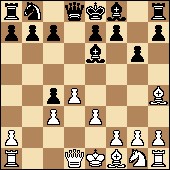 This gambit play by White has been studied very closely. There's a heap of games, but probably also no lack of hidden nuances.
8. Nf3 Bg7 9. Be2 Both sides are calmly completing development.
9…c5 It's useful to undouble the pawns, and pressure in the centre is also essential to restrain White's activity.
10. 0-0 0-0
    [No good here is 10…Nc6 in light of 11. Ng5! Bd5 12. e4]
11. Rb1 Black hasn't managed to complete his queenside development, so that's where White's pressure is directed. Gata is having a serious think, although the position's very well-known. That's the American's working style, however. He likes to think in the opening… I can see three reasonable moves – 11…b6, 11…cxd4 and 11…Nd7!? Three roads lie before our hero. As in a fairy tale.
    [Also seen here was
11.Ng5 Bd5 12.e4, but in the absence of a knight on c6 it's not so dangerous for Black. For example,
12…h6 13.exd5 hxg5 14.Bxg5 cxd4 15.Bxc4 dxc3 16.Re1 Bf6 17.Bh6 Qd6! 18.Bxf8 Kxf8 19.Rb1 b6 20.h4 Nd7 21.h5 Ne5 and Black had decent compensation for the exchange, M. Al Sayed – R. Kasimdzhanov, Guangzhou 2010.]
11…Bd5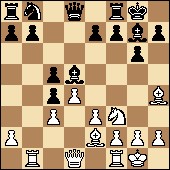 It seems this is a novelty. And the most amazing thing about it is that everything indicates it was born at the board! The hero has rejected the three roads and taken his own, a fourth. I don't remember such a story-line in any Russian fairy tales. As for the move itself, then its point is obvious. Black has defended the b7-pawn and preempted the Nf3-g5 attack.
    [Allow me to show the predecessor games. After
11…b6 the game I like best is F. Caruana – I. Nepomniachtchi, Moscow 2010:
12.Qc2 cxd4 13.Nxd4 Bd5 14.e4 Bb7 15.Bxc4 Nc6 16.Rbd1 Qe8 17.Qe2 a6 18.Nxc6 Bxc6 19.Bxa6? b5 20.Bxe7 Qxe7 21.Bxb5 Qxe4, and Black won convincingly.]
    [Also seen was
11…cxd4 12.Nxd4 Bd5 13.f3 b6 14.e4 Bb7 15.Bxc4 Nc6 16.Bd5 Rc8 17.Nb5 Ba6 18.c4 Bxb5 19.cxb5 Na5 20.f4 Qd6 21.e5 Qc5+ 22.Bf2 Qa3 23.Bd4 e6 24.Rf3 Qe7 25.Be4 Rfd8, and Black had resolved his opening problems, B. Vuckovic – T. Sanikidze, Aix-les-Bains 2011.]
    [The rare move 11…Nd7 strikes me as underestimated, for now. Here's the only game:
12.Rxb7 cxd4 (12…Bd5!?)
13.cxd4 Bd5 14.Rb4 (with the black pawn on c5 you wouldn't be able to play like that.)
14…Nb6 15.Qb1 Qd6 16.Bg3 Qc6 17.Rc1 Rac8 18.a4 Be4 19.Qa1 c3 20.Ba6 Nd5 21.Bb7 Qf6 22.Rb5 with an edge for White in P. Nielsen – D. Howell, Amsterdam 2010.]
12. Qc2 And this points out the drawback of Black's continuation. e3-e4 is threatened. It's interesting that Gelfand replied very quickly. It seems as though at home he'd looked at all the possible roads, paths, tracks and even the apparently impassable scrubland.
12…cxd4 In principle, as it's not hard to see, we might end up with the position from the Caruana – Nepomniachtchi game via a transposition of moves. White just has to take on d4 with the knight, and Black play b7-b6. Boris has started to think. He's looking for the most favourable option. Looking to take advantage! There's still plenty of time for now: 1:42 – 1:22.
    [The mechanical obstacle 12…f5?! would create new weaknesses in Black's camp. Moreover, after 13. Nd2! White's threats would be renewed. No, you can't play like that.]
    [But 12…b6 had a certain sense. That's something you need to think about at your leisure.]
13. cxd4 An understandable attempt.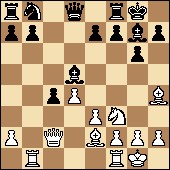 The stone wall of the d4-pawn is still limiting the g7-bishop. The c4-pawn is under attack, and again the pawn roller e3-e4 and d4-d5 is threatened. Visually, at least, White's initiative looks very dangerous. But that often happens in the Grunfeld Defence. It seems as though Black is in trouble, but then he demonstrates a series of accurate moves – and comes off unscathed.
13…b6 A simple and logical response. Black very calmly returns the pawn and will hide the bishop on b7. The idea is that White's apparent domination will gradually evaporate – the moment Black brings his remaining pieces into the battle.
    [For a while the fearless computer recommends the strange line
13…Qd7 14.e4 (14.Bxc4?! Rc8!)
14…Bc6 15.Bxc4 (15.d5 Ba4!)
15…Bxd4… but at this point human beings, i.e. I, start to get very angry! In an open position, just like that, you give up your dark-squared bishop? And for what! None of the variations that follow, like
16.Rfd1 Ba4! 17.Bb3 Bxb3 18.Qxb3 Nc6 can be of any interest anymore. That's clearly going too far.]
14. Bxc4 What should be done about the d5-bishop? Should it be exchanged on c4 or f3? Withdrawn to b7 or left where it is? It's very hard to play chess quickly and well when the choice is so great. Therefore you need to think calmly – which is what Kamsky's doing. There might be various things Kamsky needs to work on, but staying calm isn't one of them.
    [It was probably too risky to play 14. e4 Bb7 15. Bxc4 Nc6 16. d5 Ne5 17. Nxe5 Bxe5 18. f4 Bg7 – the white centre looks impressive, but what can you do next? The black bishops are ready to meet invaders.]
14…Nc6 A developing move which was asking to be played, but I don't like it. White can now seize the initiative without any trouble and invade on the seventh rank.
    [I'll begin by saying that
14…Bxf3 looks no good at all. You'd pity the bishop and the exchange doesn't combine well with the weakening of the light squares after b7-b6.]
    [If 14…Bxc4 15.Qxc4 Nd7 16.Rfc1 then Black will again face great suffering. If 16…Rc8 then there's the extremely unpleasant 17.Qa6!]
    [Therefore the correct move was
14…Bb7! The idea is that the pressure on the f7-point is a trifle. For example, 15.Qb3 Nc6! 16.Ng5 Qe8 – there's no way of upping the pressure, and Nc6-a5 is threatened.]
    [And in the line
14…Bb7 15.Ne5 Nd7 16.f4 Nxe5 17.fxe5 the pawn sacrifice continuation strikes me as relatively harmless –
17…Qd7! 18.Rxf7 Rxf7 19.e6 Qc6 20.exf7+ Kf8, and then, for example,
21.d5 Qd6 22.Bg3 Be5 23.Bxe5 Qxe5 24.Rf1 Rc8 25.Qd3 Kg7 – Black reaches a comfortable position. One of the white pawns will eventually fall.]
15. Rfc1 A simple and strong response. Now Black has no choice.
15…Bxc4
    [15…Rc8? is bad on account of 16. Ba6! Rc7 (16…Nxd4 17. Qxc8!) 17. Bg3 with a win for White.]
16. Qxc4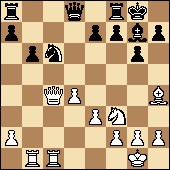 The c-file is in White's hands. The e7-pawn is weak. The g7-bishop is more dead than alive at the moment.
16…Na5 An invitation to enter the pantry.
    [If 16…Rc8 then it seems 17. Qb5 would follow, with the threat of doubling rooks. Also no picnic for Black.]
17. Qc7 Accepted! The outcome of the opening hasn't been in Black's favour.
17…f6 Kamsky's favourite manoeuvre. He likes to use his pawns in this bristling manner. The h4-bishop has ended up cut-off and the white knight no longer has the e5-point. In the coming endgame the black king can come to f7, solidifying the centre. If White doesn't exchange queens himself, then there's the idea of Rf8-f7 and e7-e6. Not a bad move! Let's not bury Gata ahead of time. He's saved worse positions than this.
    [After 17…Qxc7 18. Rxc7 e6 19. Rbc1 Black would simply have nothing to move with. All the pieces would be squashed up against the edge of the board and the f7 and a7 pawns would be bad.]
18. Qxd8 Boris has decided to speed up the process.
    [The combative 18. e4 was asking to be played with the strategic threat of d4-d5 and Nf3-d4, but then there would follow 18…Bh6! 19. Qxd8 (no good is 19. Rc2 Rc8!) 19…Rfxd8 20. Rc7 Kf7 and Black is already starting to create his own threats. I've got in mind the g6-g5-g4 push, with capturing on d4 to follow.]
18…Rfxd8 The only way. You can't leave the sufferer on a7 without support.
19. Rc7 Kf7 There it is – the planned king manoeuvre.
20. Rbc1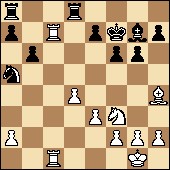 It's important to maintain control of the only open file. An exchange of rooks would significantly ease Black's task.
20…Ke8 Played with the clear intention of neutralising White's rook invasion with Rd8-d7.
    [20…b5 also looked obvious, with the idea of bringing the knight to c4. But White would respond with 21. Nd2! and then it would be easier for him to attack Black's queenside pawns.]
21. Bg3 Another move that barely needs any explanation. But that's my job – to explain even the obvious. After all, we're all different. What's obvious to one person is a mystery to another. With this move Boris is returning his bishop to the fray. And, in passing, he's eliminating all the virtual threats connected to the pushing of the g6-pawn. The difference in time remaining is becoming great: 1:17 – 0:37.
    [The alternative was 21. g4. That's the move I prefer. It would allow White to seize another couple of cubic metres of space, fixing his opponent's kingside. And only then would you switch the bishop to g3.]
21…Bh6 Nano-prophylaxis. The subtlest! The e3-pawn is being held back, for now.
    [If 21…Rd7 22.Rxd7 Kxd7 23.Rc7+ Kd8 24.Kf1 then Black is on the ropes. The rook can't come to c8 because of the loss of the a7-pawn.]
    [Talking about the a7-pawn…. Maybe it was worth thinking about playing the move 21…a6!? After all, Black wants to play b6-b5 and Na5-c4. Even if the knight doesn't manage to get to c4 (for example, after Nf3-d2), the advantage is that the pawns would get away, even if only briefly, from being stalked by the white rooks.]
22. Kf1 It's useful to bring the king into the centre. For now there's no concrete plan for White, but I can formulate his intentions as a whole: to strangle, strangle and strangle again! As P. P. Sharikov commanded. (Translator's note: the dog-turned-human in Bulgakov's The Heart of a Dog, who was given a job in 'pest control', or strangling stray cats…) And as for somthing concrete – here you need the help of the infantry. Either in the centre, or on the kingside, but there has to be a pawn advance. Though of course in chess a retreat isn't possible :) The most they can do is stay put.
22…Rd7 But Kamsky is nevertheless exchanging rooks. I don't see any reason to condemn that decision, although it doesn't resolve his problems, all things considered. The knight remains imprisoned on a5, and you can't drive the white rook away from the seventh rank.
23. Rxd7 Kxd7 24. Rc7+ Ke8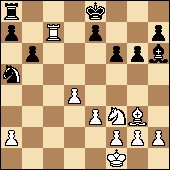 It's time for Gelfand to begin his advance. A factor of no small importance is his time advantage: 1:05 – 0:20. He has to pose his opponent problems in time trouble. To force threats. Kf1-e2 looks obvious, with e3-e4, d4-d5 and Nf3-d4 to follow. It looks very threatening. It's harder to carry out an advance on the kingside, as the bishop on g3 is inconveniently holding back the g2-pawn. In principle, if you really, really want to, you can come up with a plan that doesn't involve pawns. For example, Nf3-e1-d3-b4-d5. But, more likely than not, that's quasi-una-fantasia. And no more.
25. Nd2 It seems as though Boris actually has been distracted by fantasies in the spirit of Ostap Bender. (Translator's note: the con-man hero of Ilf and Petrov's comic novels, whose best known chess fantasy was to hold the first interplanetary chess congress in a backwater Russian town – Ilyumzhinov wanted to use the town's name for his Chess City in Elista…) It's as if he's saying, well, if Black's staying put and doing nothing, then we'll play Nd2-e4-c3-d5. A different route, but the idea's the same – to activate the knight and put pressure on e7. On the way the white knight on d2 devalues the plan mentioned for Black involving b6-b5 and Na5-c4.
    [After the immediate
25.e4 sharp counterplay looked good with
25…Rd8 and the idea of
26.Rxa7 Nc6 27.Ra6 Nxd4 28.Rxb6 Nxf3 29.gxf3 Rd2 – here it seems White won't manage to win.]
    [But after 25.Ke2 a6 26.e4 you had to look at
26…Rd8 27.d5 Rd7 28.Rc8+ Rd8 29.Rc2 f5 But here Black still has real problems –
30.Nd4! fxe4 31.Ne6 and there's no Rxd5? because of 32.Nc7+]
25…b5 But nevertheless. When you've got so little time on your clock it's hard to stay put. You want to break free at all costs.
    [It looks as though the players slightly underestimated the following defensive tactical resource for Black –
25…Rd8! 26.Rxa7 Nc6 27.Rb7 Nxd4! – as you can see, the bishop on h6 could also have come in handy. Here White was at risk of getting an ending with an extra pawn and woefully small chances of victory.]
26. Ne4 The son of a Turkish subject (Translator's note: Ostap Bender) is entering the fray. Now, by the way, c5 will also be good for the knight.
26…a6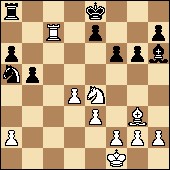 The a8-rook has, for a moment, been freed from defensive duties, but I fear that joy will be one of the last for Black… Time: 0:40 – 0:17.
27. Nc3 Clear evidence of Gelfand's plan-based approach to chess. He carries out what he was intending, not getting distracted by passing temptations.
    [The dramatic attack
27.Bd6 was only justified if Black got greedy:
27…exd6 28.Rxh7 Bf8 29.Nxf6+ Kd8 30.Rd7+ Kc8 31.Rf7 Bh6 32.h4! – the h6-bishop can't survive – and neither can Black's army as a whole.]
    [But after 27.Bd6 it's stronger to play the calm
27…Bf8!, and Black gets an important tempo to bring the knight to c4.]
    [It's unlikely that it was worth playing 27. d5 either. The threat of d5-d6 does, of course, make an impression, but Black has the refutation 27…f5! 28. Nc5 Rd8]
    [Though the temptation of
27.Nc5! wasn't so bad. The knight attacks the a6-pawn and is aiming for e6. Besides, in this line White isn't obliged to rush. Again it was possible to first improve the position – Black is almost helpless.]
27…Bf8 Defending the weakness in good time.
28. Nd5 The quasi-una-fantasia has been carried out! The rook is threatening to take on e7 with a fork on c7 to follow… If, of course, the white knight is then able to break out of the seige. Gata is using up his last minutes to calculate it: 0:27 – 0:09.
    [It's possible it was even better to continue methodically and accurately with 28. Ke2.]
28…Rd8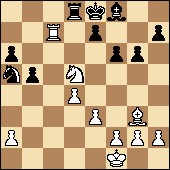 This is the drawback of the risky decision Boris took – the black rook abandons its grim post in the corner with a tempo. Now if the white knight withdraws to b4 Black will break out with the e7-e5 blow. The f8-bishop is firing at the knight. It seems, therefore, that you have to retreat to f4…
29. e4?! This appears to be an inaccuracy. Gelfand has clearly got carried away with the attack and is therefore categorically unwilling to retreat, even for a while. But the move in the game gives Black new targets. After 29…f5! Black will have counterplay.
    [It was nevertheless better to play 29.Nf4!]
    [Although 29.Nb4 also kept an edge. For example,
29…e5 30.Nxa6 Ra8!
(bad is 30…exd4 31.Rxh7! with the threat of mate on c7)
31.Nc5 Bxc5 32.Rxc5 exd4 33.exd4 Nc4 34.Rxb5 Rxa2, although that's a position you might not manage to win.]
29…f5 Kamsky begins the operation to save himself! His biggest problem is time trouble. The clock shows: 0:21 – 0:05. And, alas, there's no increment on each move.
30. f3 fxe4 31. fxe4 Rd7 The first pleasant moment – the hegemony of the white rooks on the seventh rank is over. And though an exchange isn't yet threatened, Black can play Bf8-g7 and e7-e6, squeezing White out of the centre.
32. Ke2 You won't come up with anything better.
    [On 32. Rc8+ there would follow not 32…Rd8 33. Nc7+! Kd7 34. Rxd8+ Kxd8 35. Nxa6 with a clear advantage for White, but 32…Kf7!]
32…Bg7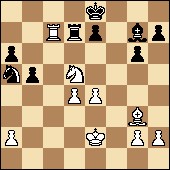 Kamsky sees the goal clearly and is striving towards it. The e7-e6 prod is already on the cards.
33. Bf2 You have to support and reinforce the centre.
    [If 33. Kd3 e6 then you'd have to exchange rooks immediately, which would deprive White of any chances of success.]
33…e6 34. Rc8+ This is the point. Boris is maintaining the most capable fighters on the board.
34…Kf7
    [Again no good was 34…Rd8 because of 35. Nc7+!]
35. Nb6 Rb7 36. d5 The players have started to blitz out moves. Gata – out of necessity. Boris – out of a desire to annoy his opponent.
36…exd5 37. exd5 Be5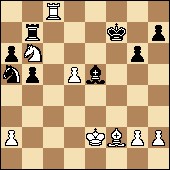 White's passed pawn is going nowhere. White's edge is almost equal to zero! If it's not already…
38. Ra8 An incursion for the a6-pawn is the last chance.
38…Nc4! An instant and accurate reply. Exchanges will leave the position completely depleted.
39. Rxa6
    [It was no better to play 39. Nxc4 bxc4 40. Rxa6 Rb5!]
39…Nxb6 40. Bxb6 Bxh2 Time trouble is over. The position has equalised. Gelfand and his fans can only regret the comfortable situation and big advantage he's let slip. While for us, commentators and spectators, all that's left is to drink the traditional cup of coffee – and watch the end of the game.
41. Kf3 A subtle hint at trapping the bishop with g2-g3.
41…Rd7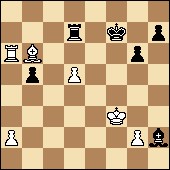 The best solution – Black simply ignores the threat. Its execution leads to another series of exchanges and a clearly drawn endgame.
    [If 41…Be5 42. Ke4 then you'd still have to struggle against the strong passed pawn on d5.]
42. Ke4 Realising that he hadn't managed to scare his opponent, Boris strives to support his trump pawn.
    [The line 42. g3 Rxd5! 43. Kg2 Rd2+ 44. Bf2 b4! was too obvious. White could only annihilate the bishop on h2 at the cost of losing his remaining pawns. After that it would be hard even to get an ending with rook and bishop against rook.]
42…Re7+ 43. Kd3 Rd7 There's no convenient post for the white king.
44. Kd4
    [The bishop ending after 44. Ra7 Rxa7 45. Bxa7 Bd6! is, at worst, harmless for Black. He'd have the chance to create a distant passed pawn.]
44…Bg1+ 45. Ke4 Re7+ A useful inclusion.
    [Worse was 45…Bh2 46. Bc5!]
    [But 45…Bxb6 46. Rxb6 Ra7! wasn't bad.]
46. Kf4 Bxb6 Correct.
    [Getting too cunning would only lead to trouble – 46…Bh2+?! 47. g3!]
47. Rxb6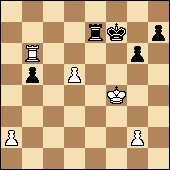 The rook ending is, of course, drawn. Moreover, with something to spare, I think.
47…Re2 An active rook – the number-one demand of the position.
48. g4 It's important for White to preserve at least a couple of pawns.
48…h5 Kamsky is defending in the most principled manner. He's creating an outside passed pawn, which will guarantee Black saving counterplay.
    [Strictly among ourselves, he didn't need to take any bold decisions yet –
48…Ke7 49.Rxb5 Kd6 50.a4, and here 50…h5 is already good, after which play isn't complicated by
51.g5 Rf2+ 52.Ke4 Re2+ 53.Kd4 Rd2+, and if 54.Kc3 there's Rxd5! In short, all roads lead to Rome.]
49. Rb7+ An excellent chance. What if his opponent sends his king forwards?
    [I looked at the line
49.g5 Rf2+! 50.Ke4 (50.Ke3 Rf5)
50…h4 51.Rxb5 h3 52.Rb7+ Kg8 53.a4 h2 54.Rb1 Kf7! 55.Rh1 Ke7 56.a5 Kd6 57.a6 Re2+ 58.Kf3 Ra2 – with an obvious draw.]
49…Kf8
    [Gelfand's idea was 49…Kf6? 50. g5#!]
50. g5 The best chance. If White's king can break through to f6 via e5, then… Of course that would be a draw as well. But with practical chances.
50…h4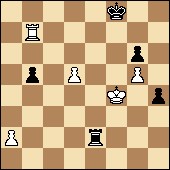 Distracting White's forces. The speed at which the US Champion carried out that move is revealing. He clearly has no doubts about the solidity of his position. And he's right. The clock shows: 0:31 – 0:32.
51. Rh7! Boris' king is able to invade on e5 at the right moment. Therefore the dangerous black pawn must be taken by the rook. Or at least held back by it. You have to admire the stubbornness of the Israeli grandmaster. He's managed to squeeze a few drops of life-giving water out of a stone. No simple draw is visible for Black. There are only not-so-obvious draws – in long variations.
    [It was completely fruitless to play
51.Kg4 Rxa2 52.Kxh4 (52.Rxb5 Ra4+)
52…Ra5! with b5-b4 to follow.]
51…b4 One of those long paths to a peaceful outcome.
    [It wasn't losing to play
51…Rxa2 52.Ke5 Re2+ 53.Kf6 Rf2+ 54.Kxg6 b4 55.Rxh4 b3 56.Rb4 b2 – Black's far-advanced passed pawn doesn't allow White to queen his own passed pawns –
57.Rb7 Ke8! 58.Kh6 Rh2+ 59.Kg7 Kd8 60.g6 Kc8 61.Rb5 Kc7 62.Kg8 Rg2 63.g7 Kd6, and ahead of us is a positional draw –
64.Kf7 Rf2+ 65.Ke8 Rg2 66.Kf8 Rf2+ and so on.]
    [Also saving was 51…Rh2 52. Ke5 Kg8!
(52…h3?! 53. Kf6)
53. Rh6 Kf7 54. d6 h3 – it's impossible to find an effective idea for White here.]
52. Rxh4 Ke7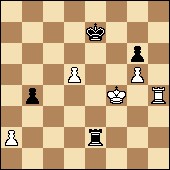 Another principled moment. Kamsky has decided to activate his king at all costs. It seems that's another way you can save yourself.
53. Rh6 Rxa2 It looks as though we're going to get lines similar to those shown in the last note. The b4-pawn keeps Black afloat.
54. Rxg6 Rd2 It's important that the rook attacks the white pawns from behind, and supports its own passed pawn from the side.
55. Re6+
    [Here's how the lines might have become absolutely identical –
55.Ke4 b3 56.Rb6 b2 57.g6 Rg2 58.Kf5 Kd7! 59.Kf6 Kc7 60.Rb5 Kd6 61.g7 Rf2+ and so on.]
55…Kf7 Also an option.
    [It also wasn't a mistake to play
55…Kd7, for example,
56.Ke5 Re2+ 57.Kf6 Rf2+ 58.Kg7 b3 and so on as we've already seen.]
    [While the most clever of manoeuvres
55…Kd8? led to ruin –
56.Re3! Rxd5 57.g6!, and the white pawn unexpectedly queens.]
56. Ke5 I'll note that the time on the clocks is gradually coming to an end: 0:17 – 0:07.
    [Of course, it was senseless to play 56. Rb6 Rxd5 57. Rxb4 Rd6 with a draw according to Francois Philidor's pattern.]
56…b3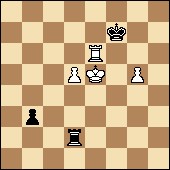 It's time, brother. It's time. (Translator's note: a line of Pushkin's from his poem, The Prisoner)
57. Rf6+ Unscheduled checks change nothing.
    [After 57. Rb6 b2 58. d6 Kg6 you get an immediate draw.]
57…Kg7 The king intends to take the g5-pawn, and it doesn't intend to be deflected from that goal.
58. Rb6 b2 And how can White get beyond the sixth rank? In that case the black monarch will attack its target. Equality is becoming obvious. In the game between Kramnik and Grischuk a draw has been agreed after an extremely interesting struggle. And we'll soon see the same in our live-commentary game.
59. d6 Gelfand is fulfilling his chess duty to the end.
59…Kg6 Kamsky is calm and accurate.
60. Ke6 Re2+ So the second control has passed. There's no more intrigue.
61. Kd5 Rd2+ 62. Kc6 Kxg5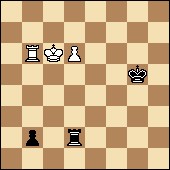 There's a theoretical draw on the board. Black doesn't even need the help of his king to hold back his opponent's pawn.
63. d7 Rc2+ Of course it wouldn't be worth blundering the blow on b2.
64. Kd6 Rd2+ 65. Ke6 Re2+ 66. Kf7 Rf2+ DRAW! A very painful outcome for Gelfand, as after all he had a big advantage – but he let it slip, and in his opponent's time trouble. But don't rush to criticise Boris. Firstly, the current Candidates Matches have had a mystic character – White is yet to win a single classical game. And the question is already looming: will White win at all? Secondly, Kamsky is known for his fantastic calmness and stubbornness. For example, he saved a much tougher position against Topalov. And thirdly, Gelfand was unlucky in the sense that this game was commentated on live by me – a known gravedigger for won positions. Under my wise mental leadership the defenders simply become impervious, while the attacking players lose confidence in their own abilities and miscalculate. In general, I must apologise to Boris Abramovich's supporters. I hope I'll manage to make up for it – in the games to come… Thank you for your attention, dear spectators. Working for you has been Grandmaster Sergey Shipov. See you tomorrow!
1/2 – 1/2
In the evening after the game Shipov again produced a video round-up of the day's play – as always, he speaks in Russian, but you can watch him demonstrating the moves:
Some very brief highlights:
Gelfand – Kamsky: Shipov didn't significantly change any of his opinions above on the game, though some of the judgements became more categorical. After the dubious novelty of 11…Bd5 he gives 14…Nc6? as an outright mistake. Kamsky should have tried 14…Bb7! – from about 3:25 on in the video you can see Shipov's explanation of why the pressure on f7 isn't fatal. Similarly 29. e4? is a clear mistake by Gelfand, though he had other alternatives before that point. Shipov concluded that if the Israeli grandmaster can stay calm he's still got every chance – he's playing well and is better prepared than his opponent.
Kramnik – Grischuk: Shipov starts his analysis of this game by saying it's hard to choose what to show as both players played excellently. He notes in particular that Grischuk seems to be in very good form and has been playing brilliantly in time trouble. Talking about Grischuk's rare 7…Bd6, followed by Kramnik's 8. c5, Shipov notes:
It seems as though Grischuk wanted to get away from Kramnik's home preparation, but of course he again didn't manage. It's always like that with Kramnik. You want to get away from his preparation but you fall right into it, because Kramnik has an all-out approach to opening analysis. He's not satisfied with the main lines, but looks at all the even slightly plausible moves.
Although Shipov notes the similarity between the two games (e.g. both Kamsky and Grischuk had a knight out of place on a5), he says that Grischuk didn't turn out to have such a bad position at all. He actually had easier ways to draw, and Kramnik might have had better chances if he could have activated his rook. A minor sensation at the end for those watching on-line with computer analysis was Grischuk's apparent blunder, 51…Rxa4, which is actually worth the exclamation mark Shipov gives it. He demonstrates the complete line from about 24:30 onwards, including showing how Kramnik would be unable to win at the end even with an extra queen.
I'm again translating Sergey Shipov's commentary live today. The game is Kamsky – Gelfand and can be watched here: