In today's game Alexander Grischuk offered Vladimir Kramnik an early draw in an apparently promising position. Sergey Shipov's, "that's not how you become a champion," no doubt voiced the feelings of many chess fans, though the players blamed computer preparation. 
I'll try to bring you more from what was a remarkable press conference soon, but for now here's my slightly tidied up translation of Sergey Shipov's commentary. The Russian original can be found here at Crestbook, where you can play through all the moves and analysis.

GM Sergey Shipov's live commentary on:
Candidates Matches, Semifinals, Game 1
ALEXANDER GRISCHUK – VLADIMIR KRAMNIK

Hello, dear spectators. This is Grandmaster Sergey Shipov at his post again. I invite you to follow the semifinal matches of the Candidates in Kazan. Among the remaining four I consider the clear favourite to be Kramnik. His class, his opening preparation and his match experience – those are weighty arguments. Grischuk, Kamsky and Gelfand remain in the ex-World Champion's shadow. And that's an advantageous starting position for them! The first two have already proved that paradox by winning in the quarterfinals against those backed by the experts and public. It's much easier for the dark horses to play – they can achieve a tremendous success but lose practically nothing if they're defeated. They can calmly go about their business with about any superfluous thoughts about responsibility. But still… Kramnik is Kramnik. A victory by him is the most likely outcome. I'm expecting a fight in today's game. A real fight by Grischuk with the white pieces! He twice failed to do that in his match against Aronian. Almost all the weight of the battle there was transferred to Grischuk's games with Black. Yes, he survived, and was able to continue and decide things in the rapid games. But that's a trick it'll be problematic to try repeating a second time. He needs to take his chances. But in order to do that he needs, at the very least, not to fall into some fierce computer preparation by Kramnik. Judging by the previous games between the players we can expect the Queen's Gambit Declined. But surprises can't be ruled out. After all, the current Candidates Matches have seen everything staked on cunning strategies. People who've spent their whole lives playing closed openings are playing 1. e4!, and principled King's Indian players are stubbornly playing the Queen's Gambit. In general, principles and habits are no obstacle for cunning. Anything goes…
1. d4 Nf6 So then… There's the first cause for reflection. A pawn hasn't immediately appeared on d5.
2. c4 e6 3. Nf3 A pity. A pity that it's not the Nimzowitsch Defence. I've missed it, like a relative.
3…d5 And there's that pawn.
4. Nc3 Be7 So we've got a Queen's Gambit after all. That means the surprises will come later – deeper.
5. Bf4 This is probably the most aggressive move nowadays.
    [After 5. Bg5 the Lasker exchange system kills all living things in its path. Teimour Radjabov will confirm that.]
5…0-0 6. e3 Nbd7
    [The once main line 6…c5 has now become a side line.]
7. Qc2 And there's a small step to the side. For now, White is maintaining the tension in the centre.
    [In the deciding game he won in the tie-break against Aronian, Grischuk chose 7. c5. We're not going to find out what Kramnik had prepared for that.]
7…c5 The pawns have got into a clinch. That usually leads to quick exchanges and one of the players being left with an isolated pawn.
8. Rd1 A rare continuation. The captures on c5 or d5 have been seen much more often. Sasha is striving to improve the position of his pieces, giving his opponent the right to start exchanges. The idea's clear – to make it harder for Black to develop his pieces. Note that the knight on d7 is hindering the c8-bishop. Well, and the white bishop on f1, in the spirit of the Alekhine – Capablanca encounters, is waiting as long as it can – it wants to take on c4 in one move. That's a known battle for a tempo.
    [This recalls the game T. Radjabov – K. Sakaev, Khanty-Mansiysk 2009, in which a white rook also came to d1, but as a result of another move:
8.O-O-O cxd4 9.Rxd4 Qa5 10.cxd5 exd5 11.Bd3 Nc5 12.Rd1 Be6 13.Ng5 Nxd3+ 14.Qxd3 g6 15.Ra4 Qb6 16.Nxe6 fxe6, and Black got good counterplay.]
8…Qa5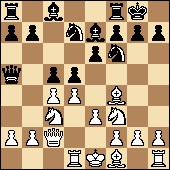 In the absence of the dark-squared bishop White's queenside is weakened, and the king having delayed on e1 also doesn't improve the situation. The black queen is pointing that out.
9. Nd2 A standard means of reducing the pressure from his opponent's fearsome piece. Jumps by the white knight to b3 or c4 can neutralise and cramp his opponent.
    [Also seen was
9.a3 Ne4 10.Bd3 cxd4 11.exd4 Ndf6 12.O-O Nxc3 13.bxc3 Bd7 14.Rb1 dxc4 15.Bxc4 Bc6 16.Ne5 Be4 17.Bd3 Bxd3 18.Qxd3 Nd5 19.Bd2 Qc7 20.c4 Nf6 21.Bf4 Qc8 22.Qf3 with strong pressure from White, Y. Shulman – A. Saidy, Las Vegas 2002. As it's easy to guess, Black's play was far from perfect.]
9…cxd4 And this is already a novelty.
    [It seems the advanced (human + computer) game R. Erdo – VoidChessICC, internet 2006, continued:
9…Nh5 10.cxd5 Nxf4 11.exf4 cxd4 12.Nb3 Qb6 13.Nxd4 Bf6 14.Qd2 e5 15.fxe5 Bxe5 16.Be2 Nf6 17.O-O Bd7 – Black got decent compensation for the pawn and managed to survive.]
10. exd4 dxc4 No other way of continuing to mobilise his forces was visible. After all, you're not going to play 10…Nb8! However, that would have been a clever decision…
    [But the attempt to bring out the light-squared bishop at the cost of restricting the queen was fraught with danger – 10…b6? 11. Nb3! Qa6 (still worse is 11…Qb4 12. a3) 12. cxd5 Qb7 13. d6 with a healthy extra pawn for White.]
11. Nxc4 Qd8 The Moor claims to have done his duty – helping to create an isolated pawn in White's camp. And that's correct.
12. Bd3 Nb6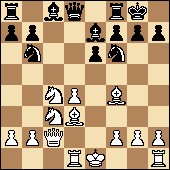 The position is essentially simple. White must up the pressure and avoid exchanges as far as possible, as they'll clearly be in Black's favour, as the more cramped side. Of course, both players need to keep an eye on the d5-point. The d4-pawn isn't yet a weakness but a support for the knight on e5 and, of course, a shell ready to be fired at any moment to d5… But at the given moment the circumstances mentioned hang in the balance. If White puts a knight on e5, then on the one hand he keeps the maximum number of pieces on the board, but on the other – Black maintains complete control over the d5-point. And if you allow the exchange on c4, then the d4-d5 blow is on the agenda. There's definitely something to think about… The clock shows: 1:34 – 1:51. It seems as though Kramnik is still in his home preparation, while Grischuk is playing himself.
13. 0-0 The desire to develop and maintain the tension in the centre won out.
13…Bd7 A standard manoeuvre. Black's most passive piece is heading for c6 in order to firm up control of the d5-point. The drawback of such a set-up is the possibility of exchanging the bishop on c6, and also the complete absence of any pressure on d4. And, by the way, Black still needs to survive until the set-up I indicated! Right now, when the bishop's mid-way on d7, White has an interesting idea of breaking through in the centre – after exchanging knights on b6 he can play d4-d5! Then extremely interesting complications begin…
    [I hope no spectators were considering the capture 13…Qxd4? here, as there's 14. Bxh7+]
    [If 13…Nbd5 14.Nxd5 then you can't capture with the f6-knight because of the loss of the h7-pawn. Black's also unlikely to equalise after 14…exd5 – in such a symmetrical structure piece activity will ensure White has an edge. All that's left is 14…Qxd5 15.Be5 and here it's clear to the naked eye that the queen really is a bad blockader. Black's behind in development, h7 is shaking, and so on.]
14. Nxb6 Qxb6 15. d5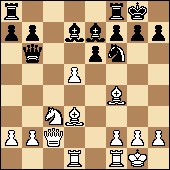 There it is. Grischuk has taken advantage of a convenient moment. The life of the d1-rook has gained meaning. The "Qc2+Bd3" battery is ready to fire.
15…Kh8 An almost instant response! Kramnik is a monster of home preparation, my friends. Or even a mega-monster! Whatever line you choose, everywhere he's got a couple of megabytes of analysis in store. True, at first glance it still looks promising for White to switch his queen with 16. Qe2. As was to be expected, Sasha has sunk into a long think… The position looks very pleasant for White. The main problem is how big his choice is.
    [The consequences of the naive capture 15…exd5? are no secret – 16. Nxd5! Nxd5 17. Bxh7+ Kh8 18. Rxd5 with an extra pawn and a strong attack for White.]
    [As an alternative I can only suggest the cool developing move
15…Rfd8, and if
16.Be5 then Black will play even more coolly –
16…Kh8 But it seems that for a living person the complications arising after
17.Bxf6 Bxf6 18.Bxh7 g6 19.Bxg6 aren't much fun.]
16. dxe6 This move looks too simple and compliant. It seems to me that it significantly eases Black's task. And there's nothing to it. Having made the move, Grischuk offered a DRAW, which was accepted.
    [If 16.Rfe1 Rac8 17.Qe2 Bc5! the weakness of the f2-point would hold back White's attack.]
    [But 16.Qe2! really was strong. The greatest danger for Black is when White's queen, not bishop, gets to h7. Therefore you have to switch them round. Just have a look at this approximate variation –
16…Bc5 (if 16…Rac8, then 17. Bb1! is strong.) 17.Be5! exd5 18.Bb1!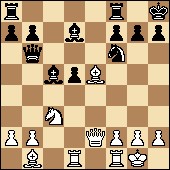 18…Rfe8 19.Nxd5 Nxd5?
(more stubborn is 19…Qa5)
20.Rxd5 Qc6 21.Rxd7! Qxd7 22.Qh5 and White has irresistable mating threats.]
While in the game there might have followed:
16…Bxe6 17. Rfe1 Rac8 18. h3 Rfd8 and here it would be time for White to start exchanges leading to total disarmament:
19. Bf5 and so on. Overall, unfortunately, there was no great fight in the first game of the match. Grischuk played well from a chess point of view, but was unable to demonstrate fighting spirit. In a very promising position, when he had the chance to develop an initiative, he was tempted by the possibility of getting away from the tension and having a rest. I'm not frightened of becoming a false prophet when I say that's not how you become a champion… In the day's second game the struggle is hotting up. I'll talk about it in detail in my traditional video. Thank you for your brief, but attentive interest in my work, dear friends. This has been Grandmaster Sergey Shipov. See you tomorrow!
1/2 – 1/2
I'll again be translating Shipov's commentary on the Candidates Matches tomorrow. That will be LIVE from around 15:00 Kazan time (07:00 New York, 12:00 London, 13:00 Paris).