After commentating on a perfect 13 draws, it seemed almost a shame for the sequence to come to an end in Grandmaster Sergey Shipov's final live commentary from Kazan – but the magnificent win by Boris Gelfand was a fitting way to qualify for a World Championship match against Vishy Anand. VIDEO ADDED!  
Sergey Shipov's commentary in the original Russian can be found here at Crestbook, where you can also play through all the moves and analysis.

GM Sergey Shipov's live commentary on:
Candidates Matches Final, Game 6
BORIS GELFAND – ALEXANDER GRISCHUK

Hello, dear spectators! This is Grandmaster Sergey Shipov, beginning the last live commentary from the Candidates Matches. The finalists are already like brothers to me – I've learned to understand them well. They're very different people… By the way, you can learn more about Boris Gelfand and Alexander Grischuk at the www.crestbook.com site – on its homepage in the news item on the matches in Kazan there are links to the KC-Conferences with these wonderful chess players. (Translator's note: I've translated the whole of Grischuk's interview, and excerpts from Gelfand's conference – part I and part II). They replied to hundreds of questions by chess fans. It was particularly interesting that in his conference Grischuk modestly admitted that he was no longer a participant in the fight for the World Championship. But here in Kazan, as you can see, he's still in uniform. It recalls Karpov's famous phrase at the beginning of his victorious cycle in the early 70s: "This isn't my cycle". Such craftiness is a feature of young, ambitious and, which is very important, intelligent chess players. They're creating an advantageous psychological backdrop. It's easier to play from such a starting position! Gelfand didn't declare that he was no longer a contender for the title, but he also didn't declare the opposite… In general, one of them will defy the scepticism of the spectators and become Anand's opponent, although that role was predicted for Kramnik, Aronian or Topalov. But where are they now? They're bitterly watching the final duel. There's almost nothing separating the duelists from victory – just one accurate shot. Will it happen today or are we going to see a new Western in rapid chess tomorrow – I won't try and guess. Let's watch! And support them.
1. d4 Finally! Finally we're going to see a real change in the opening. The English Opening has been retired.
1…Nf6 2. c4 g6 A brave decision. Gelfand and his team have no doubt spent a long time finding improvements in the Grunfeld Defence – but Grischuk is approaching the dangers head-on.
3. Nf3 Bg7 4. g3 A solid system. The apparent symmetry conceals very significant differences in the set-ups of both sides. White manages to seize the centre first. And then… Sasha is thinking about what to do next. There are two principled approaches. The first is to concede the centre to your opponent completely and then counterattack it via d6-d5 with piece activity to follow against White's pawn presence. The second is to fix a pawn on d5 in a symmetrical fashion, via c7-c6 and d6-d5. The first means going for a fight. The second a tough struggle for equality.
4…d5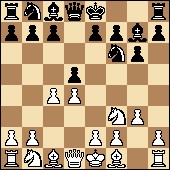 Playing for a fight! It's good to see Grischuk is in the mood to enter a real battle, without thinking about the colour of his pieces or the temptation to bring the match to rapid chess without a fight. It's interesting that among the Russian's seconds is his compatriot, Peter Svidler, the top expert on the Grunfeld Defence in our era. Well, Peter considers the second approach the most correct, which makes what's taken place all the more surprising.
    [I mean 4…c6 5. Bg2 d5 with a much more solid position. But also a duller one.]
5. cxd5 Nxd5 6. Bg2 Nb6 It's very important to restrict the d4-pawn before castling.
    [If 6…O-O then there's the strong 7.O-O Nb6 8.Nc3 Nc6 9.d5! with the idea of
9…Bxc3 10.dxc6!]
7. Nc3 Nc6 So it's been restricted.
8. e3
    [You can't play 8. d5 because of Bxc3+! (with check) 9. bxc3 Qxd5 and Black has a healthy extra pawn.]
8…0-0 9. 0-0 Re8 A sensible waiting and preparatory move. Black will only hit out with e7-e5 in appropriate circumstances. For example, after 10. b3, when White has momentarily weakened the long dark-squared diagonal.
10. Re1 White responds in the same manner.
    [The line 10.d5 Na5 11.Nd4 Bd7 has been heavily studied. According to the latest data, Black has decent counterplay.]
    [After both 10.b3 and 10.Qe2 you can successfully play
10…e5 For example, here there's no
11.d5 because of Nxd5, and Black's not afraid of any blows or pins:
12.Rd1 Nxc3!]
10…a5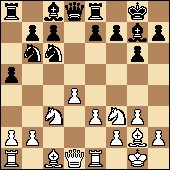 The recent fashion. This move has replaced the earlier continuations, giving White a great deal of difficulties. Black's pawn goes as far as it can. Apart from the pressure on White's queenside, it also solves the problem of developing the a8-rook.
    [Also tried here, of course, was
10…e5 Then you get a serious fight, in which there's already a lot of theory:
11.d5 Na5 12.e4 c6 13.b3 cxd5 14.exd5 Bg4 (worse is 14…e4 15.Nxe4 Bxa1? 16.Bg5!)
15.Ba3 f5 16.Bb4 e4 17.Bxa5 Qd6 18.Rb1 exf3 19.Bf1 a6 20.Re6, and the position is far from simplified, F. Caruana – L. Dominguez, Wijk-aan-Zee 2010.]
11. Qe2 The main line of theory. White nevertheless plans to put a rook on d1, in order to prepare a pawn expansion in the centre.
    [White has tried many different moves here. I can't help mentioning Magnus Carlsen's sad experiment in his game against Anish Giri (Wijk-aan-Zee 2011) –
11.Qd2 e5 12.d5 Nb4 13.e4 c6 14.a3 cxd5! 15.axb4 axb4 16.Rxa8 bxc3 17.bxc3 Nxa8 18.exd5?! Nb6 19.Rd1? e4 20.Ng5 e3! , and Black won.]
    [If 11.d5 then Black responds in the modern bold and cynical manner:
11…Bxc3! 12.bxc3 Qxd5 13.Nd4 Qc4 14.Ba3 Bd7, and holds on to his extra pawn, D. Navara – V. Ivanchuk, Prague 2009.]
11…Bg4 A cunning inclusion. Black's provoking the white pawn to h3. It seems the plan is then to retreat the bishop and win a tempo for the development of the queen, which will attack h3.
    [Previously here it was most common to put the bishop on its spot immediately –
11…Be6 And then, for example,
12.Nd2 Nb4 13.Rd1 c6 14.a3 N4d5 15.Nde4 Nxc3 16.bxc3 Bb3 17.Re1 Bd5 18.Nc5 Bxg2 19.Kxg2 e5 20.Bb2 Qc7 21.a4 Rad8 with approximate equality, V. Laznicka – A. Zhigalko, Plovdiv 2010.]
    [You could also play the principled 11…e5 here, but then White would try to prove that the a7-a5 push means a weakening of Black's queenside:
12.dxe5 Nxe5 13.Nxe5 Bxe5 14.e4 Be6 15.Rd1 Qc8 16.Qc2 Bh3 17.Bh1 Qe6 18.f3 Rad8 19.Be3 and so on, V. Gunina – V. Nebolsina, Moscow 2010.]
    [Given what happened next in our game, I'll show something else that took place previously in this line
11…Be6 12.b3!? In the encounter T. Petrik – S. Azarov there followed the principled
12…a4 13.Nxa4 (13.Ng5 Bd7!)
13…Nxa4 14.bxa4 Rxa4 15.a3 Bd5 16.Rb1 e5 17.dxe5 Be4 18.Rxb7 Qa8 19.Rb5? (it was worth continuing the feast with 19.Rxc7!)
19…Nxe5 20.Nxe5 Bxg2 21.f3, and here Black should have withdrawn the bishop to h3, maintaining the initiative.]
12. h3 Be6 13. b3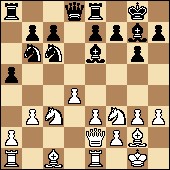 Formally a novelty! This has been played in games without the move h2-h3. What's the point? The black pieces are forbidden from coming to c4 and the white knight is threatening to attack from g5. But on the other hand, Black gets the nice idea of the a5-a4 break! It's just important to find the right moment. It seems it's possible to play it right away. Grischuk, as usual, is thinking for a long time – looking into it, seeking a nuance.
13…a4 He's gone for it! The position is very concrete and each tempo counts. It's extremely dangerous to delay here. You'll be squeezed out…
    [The modest 13…h6 gave White an important tempo for development. That could be exploited with 14. Ba3 a4 14. Nd2! with some pressure.]
14. Rb1 A restrained and solid continuation. By holding onto the b3-pawn White is continuing his general line – the plan of seizing the centre with pawns is still on the cards. It's curious that in the line 11…Be6 12. b3 a4 the move 13. Rb1 hasn't been seen before. So Gelfand's novelty isn't about individual moves, but a new plan.
    [The 14. Ng5 jump didn't apply any pressure – 14…Bd7, and the e7-e5 counterblow is already a threat.]
14…axb3 15. axb3 What can you do about the e6-bishop now? It's restricting the e7-pawn and making the positioning of the rook on e8 look silly. This is clearly only a passing set-up. Somehow you have to transform it… But how? The difference in the clock situations speaks for itself: 1:52 – 1:18. It looks obvious to switch the heavy pieces in the manner typical of the Grunfeld Defence: 15…Qc8 16. Kh2 Rd8!, after which it's hard for White to start an attack due to Black's heavy pressure on d4. What's Grischuk thinking about for so long? It seems that after 15…Qc8 he doesn't like 16. g4!? (then you need to look at 16…f5). The second direction for his thoughts is 15…Na5. There's also a third – 15…h6! The problem of choosing between different reasonable continuations is the toughest problem in chess, business, and life in general. Nevertheless, it's time for Sasha to make a decision. After all, he's got woefully little time left: 1:52 – 0:57. An hour behind!
15…Qc8 The alternatives have, finally, been rejected.
    [After 15…Na5 there'd follow the dry
16.Qc2 The knight looks odd on a5, and nothing better than
16…Nc6 is visible. You wouldn't, of course, want to beg for a draw in such an abject manner.]
    [After 15…h6 among other moves you'd have to look at
16.e4! The point is that the h6-pawn is not only guarding the g5-square, but is also a target for the c1-bishop. There might follow 16…Nxd4 17.Nxd4 Qxd4 (17…Bxd4 18.Rd1!)
18.Nb5 Qd8 19.Bf4 and White has a dangerous initiative.]
16. Kh2 Judging by the speed this was played, Boris wasn't planning on playing 16. g4 in any case. He's playing extremely solidly, under the pressure of what's at stake.
    [After 16. g4 f5 a serious conflict would begin:
17. Ng5 Bd7 18. Nd5 h6 19. Nxb6 cxb6 20. Qc4+ Kh8 21. Nf7+ Kh7 22. d5 and so on. A dark forest!]
16…Ra5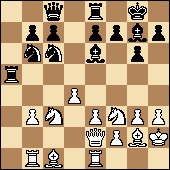 A bold rook switch. It might soon appear on h5, let's say in order to force the weakening h3-h4. At the same time one of Black's heaviest pieces prevents the white knight getting to g5. Although, of course, that's not a royal task… That function would have been fulfilled better by the pawn on h6. For the first time Boris has looked at the position with interest. His reserves of time are unusually great: 1:46 – 0:51. I've been taking a close look at my old acquaintance on the internet video broadcast. Boris is agitated! He's spinning a pawn in his hands and constantly changing his body position… He's put the poor thing on the table and has his head between his hands. Ah, it's tough work – you wouldn't envy him. It's not just that the position is extremely complex, and not just that he has a long stretch of matches with enormous stress behind him. The main problem is the nervous tension, the weight of responsibility for the result. It's a gigantic pressure, capable of crushing any nervous system, however strong. But our fighters are holding on, for now… What should White do? Playing 17. g4 is difficult simply in terms of the human perception of the logic of events. Then you've got the question – why didn't I play that last move? Why is the king good on h2 and why is the rook bad on a5? It's more likely the opposite. And then just try and calculate all the possible means of opening play, like f7-f5 and h7-h5. If 17. b4 Black really would play 17…Rh5, and the opening up of the c4-square might come in handy. Gelfand's restless "sleep" is continuing for an unusually long time – he's used up almost all of his advantage on the clock. The black pawn that's gone from the board and is in Boris' hands has already made thousands of turns in the air…
    [The solid 16…Rd8 was also possible here. The difficulty is purely psychological – you don't want to wait for your opponent's active ideas. You always want to advance and attack yourself! White could continue 17. Rd1, but I prefer 17. Bd2 with the idea of Re1-c1 and Nc3-b5 with pressure on the queenside. And let Black direct his forces against the stone wall of the pawn on d4!]
17. Rd1 Not an obvious reply, let's say. But a logical one. It corresponds to the plan I've mentioned a hundred times. Reinforcing the d4-pawn, White is preparing to push its neighbour on e3.
    [So then! On 17.g4 it seems Black shouldn't get too bold. In itself the advance of White's pawn isn't so dangerous. Yes, it stops the black rook getting to h5, but at the same time it weakens its own king. A struggle to manoeuvre might follow:
17…Rd8 18.b4 (so as not to have to think about the h7-h5 and f7-f5 breaks)
18…Ra8 19.b5 Na5 20.Ba3 Qd7! 21.Red1 Nd5 22.Nxd5 Bxd5 23.Bb4 c6 with good chances for Black.]
    [I also looked at the attempt to mechanically block the black rook –
17.Nb5 This move goes against the LPDO principle of John Nunn. It's easy to decipher: Loose Pieces Drop Off! The knight on b5 looks like a target and it's hard to believe that weakness won't tell anywhere. Though analysis doesn't show a loss for White. True, he also doesn't get an edge. Besides, the rook can after all get to the kingside from a5:
17…Nb4! 18.Bd2 c6 19.Nc3 (it doesn't look good to play 19.Bxb4 Rxb5 20.Qd2 Nd5 with an initiative for Black.)
19…Rh5! 20.h4, and here you have to look at Black's bishop coming to g4 or f5. If that's the case then it's hard to find any real sense in the artificial move 17.Nb5.]
17…Rh5 Bluntly posing the question. How can you defend against the blow on h3? The Nf3-h4 manoeuvre looks strange. So do you have to put the pawn on h4, weakening the g4-square?
18. Nh4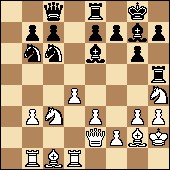 No. Gelfand doesn't find anything strange about this move. Even if the knight on the edge of the board is embarrassing, the black rook on h5 is no less deserving of condemnation! :) Very interesting play begins in the 18…Bf6 line, where you need to take into account sacrificing the h3-pawn – 19. Bf3 Ra5 20. Ng2!, and if it's taken then White pushes the rook away from a5 with b3-b4, and then invades with the cavalry on d5, with Ng2-f4 and Nc3-d5. There's a serious initiative, it seems. An interesting thought! I'll record the position of the clocks for posterity: 1:02 – 0:34. Grischuk is again getting left behind. Real time trouble is going to be almost inevitable today.
    [If 18. h4 Bg4! Black would have created the extremely unpleasant threat of g6-g5!]
    [It looked like good technique to play 18. Qf1, forming no weaknesses, but then, you have to ask, what can White do next after 18…Rd8? It's hard to respond. It's difficult to get rid of the pressure of the h5-rook.]
18…Bf6 Testing out the idea.
    [I'll note, in any case, that it was no good to play 18…g5? because of 19. Qxh5!]
19. f4 But the idea turns out to be completely different! The doubling of pawns on h4 isn't a problem, as for that Black needs to exchange his precious dark-squared bishop. White taking the h4-pawn with the rook will be fatal. No, he shouldn't do it. But, on the other hand, the f2-f4 advance weakens White's pawn structure to a degree. There's some sense in retreating the rook back to its own camp…
    [I'll show the alternative I looked at:
19.Bf3 Ra5 20.Ng2 Bxh3 21.b4 Ra8 22.Nf4 Bd7 23.Ncd5 – it looks threatening, but perhaps Black can endure –
23…Bg7! (worse is 23…Nxd5 24.Nxd5 Bg7 25.b5 Na5 26.b6!)
24.b5 Na5 25.Nxb6 cxb6 26.e4 Qd8 – nevertheless, White's initiative is clear.]
19…Rd8 A move made by a strong spirit! Grischuk's maintaining the tension, leaving his bold rook on the frontlines. Here the dramatic blow 20. f5 is asking to be played, after which capturing on f5 isn't favourable for Black. He'd have to retreat – 20…Bd7, and… And it's extremely difficult to evaluate the consequences.
    [So then, it was no good to play
19…Bxh4 20.gxh4 Rxh4? because of 21.Kg3! Rh5 22.d5, and White wins material.]
    [The timid
19…Ra5 gave White a powerful initiative in the centre:
20.Bd2 Ra8 21.Be1, then the knight will return from h4 to f3 and the e3-pawn will start its advance.]
20. Qf2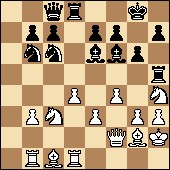 Gelfand isn't going for the direct tactical confrontation, clearly trusting his opponent's calculations and forcing him to resolve new, unexpected problems. The time available for that work is getting less and less: 0:54 – 0:22.
    [After 20.f5 there were wild, unclear lines:
20…Bd7! (if 20…Bxf5 21.Nxf5 Rxf5 22.b4! the f5-rook would be unable to return home.)
21.b4 Rxh4 (there's also the cunning 21…Qb8)
22.gxh4 Bxf5 23.b5! – an important nuance, making it possible to remove the pressure on the d4-pawn –
23…Na5 (it looks extremely miserable to play 23…Bxb1 24.bxc6! Bf5 25.cxb7)
24.e4 Be6 25.e5 Bg7 26.d5 Bf5 27.Rb4 – and Black seems to be in a bad way, but he'd continue the fight with –
27…e6 and so on.]
20…Bxh4?! He couldn't resist the temptation! I don't like this decision by the Russian grandmaster.
    [It seems Black had the right to play 20…Nd5!, not yet altering the configuration on the kingside. The f6-bishop might have been needed for other matters – that pitiful knight on h4 wasn't so juicy. If 21.Nxd5 then there was the promising piece sacrifice
21…Rdxd5 22.Bxd5 (not obligatory, of course)
22…Bxd5 23.Bd2 Na7! – the knight's in time to get to d6 via b5. It looks as though Black would have got a playable initiative in this line.]
21. gxh4 White's pawns have been weakened, his king is half-open, but White also has a secret trump card – the c1-bishop, which now has no rival.
21…Nd5 I fear Black won't be able to keep a firm grip on the light squares. The moment White's pawns start to move it'll get cramped for Black. For 22. Nxd5 Sasha no doubt has 22…Rhxd5 planned, but White is in no way obliged to accept that exchange sacrifice. And in fact he shouldn't.
22. Nxd5
    [It was certainly no worse to play 22. Bb2 with the ambitious idea of e3-e4 and d4-d5.]
22…Rhxd5 Of course.
    [It was simply losing to play 22…Bxd5? 23. e4 Be6 24. d5]
23. Bb2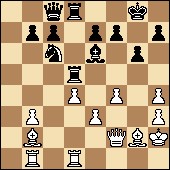 Simple and strong. White is leaving the black rook untouched. His task is to break open the centre, after which the executioner on b2 will carry out its mission. e3-e4 is threatened. The clocks are just as worrying for Grischuk's fans: 0:38 – 0:15.
    [It would have been an enormous gift to his opponent to play 23. Bxd5? Bxd5, after which Black has comfortable and simple play on the light squares.]
23…Rb5 Sasha is striving to complicate play as far as possible. He's giving his opponent the right to go on the attack in the centre… And in Boris' place few would reject that offer.
    [If 23…f5 White wouldn't, of course, take on d5. He's got another more juicy target to attack: 24. h5! Kf7 25. Qh4 – here Black's in trouble. Though it's possible this was the lesser evil.]
    [In the line 23…Qd7 as well as improving moves you need to look at the direct
24. e4 Rxd4 25. Bxd4 Nxd4 26. b4 – Black's an exchange down and has dubious compensation for it.]
24. Qe2
    [It seems as though you could also reach your goal with the crude frontal attack: 24. e4 Rxb3, and here simply 25. Ba1, with unstoppable threats in the centre along the a1-h8 diagonal. I think Black's position is simply hopeless here.]
24…Rh5 The closer to your own king, the safer. And it's also useful to worry the opposing king. After the h4-pawn the one on h3 could follow…
25. e4 Well, the break in the centre also looks completely justified now. They're no longer playing for pawns, but kings! It's important to seize the initiative.
25…Bxb3 You want to escape with tempo.
26. Rdc1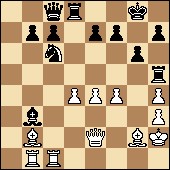 A quick and strong response. It threatens d4-d5, the b3-bishop is badly placed, and there's no serious counterplay visible. I'm ready to give an honest evaluation of the situation – it's bad for Black! The exchange of the important bishop on h4 turned out to be a serious strategic mistake. Black's flag is also close to falling: 0:27 – 0:07.
26…Na5 The knight defends the bishop and escapes the d4-d5 blow itself, but the configuration of Black's pieces nevertheless remains pitiful. They're all pushed up against the edges of the board. White's attack is obvious…
27. d5 The fatal diagonal for Black has been opened. The executioner has picked up his axe. First he's intending to execute Black's minor pieces with Bb2-c3.
27…b6 An attempt to defend the indefensible.
    [The unequal exchange
27…Ba2 28.Ra1 Nb3 29.Rxa2 Nxc1 30.Bxc1 c6 was just as hopeless. It's hard to imagine the rook could handle such powerful bishops –
31.Qf2 and so on.]
28. Be5 The man in the red robes has chosen another victim – the c7-pawn. But won't he be killed by the h5-rook?
    [There was a convincing win after 28. Qe1, with the queen coming to c3 or b4.]
28…c5 It's time for some tricks in the style of Houdini i.e. the real Harry Houdini.
29. dxc6
    [The alternative was 29. Qb5, which was also lethally strong – Black's queenside would completely collapse.]
29…f6 Blitz has begun! Grischuk is blocking the path along which unwelcome guests were heading for his king. But at the same time he's weakening the neighbouring path.
30. Ba1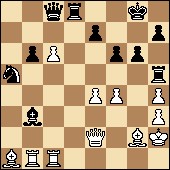 An instant response. During this game Gelfand has deliberately been making a series of moves together so as to complicate his opponent's decision making. There's just no time left: 0:10 – 0:03.
    [The zwischenzug 30.c7 promised an enormous edge, with
30…Rd7 31.Rxb3 Nxb3 32.Qc4+ Kg7 33.Qxb3 fxe5 34.Qxb6 exf4 35.Qb8 Rxc7 36.Qxc7 Qxc7 37.Rxc7 – you can't save such an ending.]
30…Rc5 The rook is rushing around the fifth rank in panic.
31. Rxc5 bxc5 32. Qb5 It seems this is the decisive attack – on everything at once!
32…Qc7 Sasha misses his last chance with his flag about to drop:
    [32…Ba2! 33. Rb2 Qc7 and you can't play 34. Rxa2? because of Qxf4+ 35. Kg1 Rd1+ and it's Black who wins.]
33. Rxb3 Crude and strong. Black is suffering losses.
33…Nxc6 Black's down a piece, and there's no also struggle…
    [Also sad was 33…Nxb3 34. Qxb3+ Kg7 35. e5!]
34. e5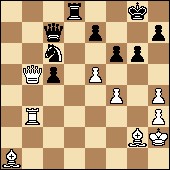 White's bishops are unleashed with decisive effect.
34…Nd4 35. Qc4+ BLACK RESIGNED. The first game in my live commentaries not to end in a draw has become the deciding one! The match has ended in a 3.5 – 2.5 victory for Gelfand. He's the one who's become the new challenger for the world crown. Bravo, Boris! The oldest of the contenders has beaten everyone and will dispute the World Championship against Anand – a man who's still young, you might say. By the way, a unique match awaits us – both players will be in their forties. Chess is for all ages! But Grischuk turned out to be right – it's not his cycle… Although you can't but admire his excellent preparation and calmness in the decisive moments of the struggle. For Sasha, today's loss will be an enormous disappointment, but he's still young, and he'll have many more cycles. The example of Boris Abramovich shows that it's never too late to start your march to the top… This is Grandmaster Sergey Shipov thanking the army of spectators for the attention paid to my live commentaries and videos. I tried my best, and I hope the work didn't end up too bad. All the best and until we meet again!
1 – 0
Sergey Shipov's final video on the Candidates Matches in Kazan was also extremely interesting, particularly for its analysis of where Grischuk went wrong, and of the chance he missed near the end to pull off another Houdini-like escape.
Shipov starts by congratulating both players for a final that was played at the very highest level, and then goes on to discuss Boris Gelfand's upcoming match against Vishy Anand. He takes pleasure in the fact that representatives of his generation (players over 40) are still proving they're good for something. The other cause he finds to be grateful is that Gelfand's path to the match against Anand involved no privileges, but winning the World Cup ("coming from the depths, from the people", as Shipov describes it!).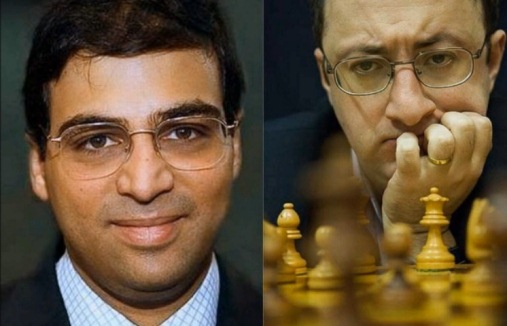 When he starts analysing the game Shipov decides to give two exclamation marks to Gelfand's 1. d4!!, rejecting the English Opening and going for a real fight in the Grunfeld Defence. He says Caissa rewarded Gelfand for that decision. Grischuk also went for a fight, but came up against a strong new idea from Gelfand (14. Rb1!). At about 07:20 in the video Shipov demonstrates Black's strategic problem – the minor pieces block their own pawns are in real danger from White's pawns.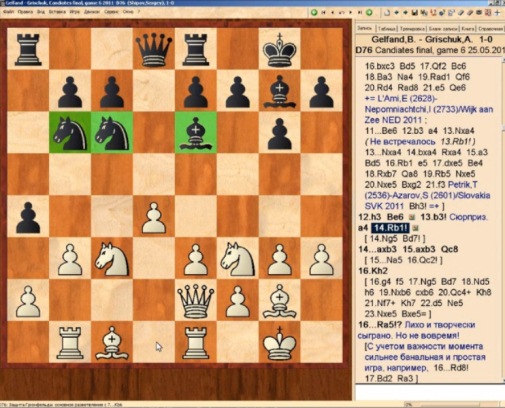 One of the most critical moments of the game (and the whole match), was Grischuk's 16…Ra5!?, played after a very long think. Shipov described it as "creative and bold… but impractical". Although the rook switch was in the spirit of games by Lasker, Tarrasch and Spassky, Shipov felt that "in the deciding game of the Candidates Matches [Grischuk] needed to quickly make the move 16…Rd8!, increasing the pressure on the d4-point".
In the game Shipov says that Gelfand found a "colossal solution to the problem". After the "modest but useful" 17. Rd1, Shipov gives Gelfand's next three moves an exclamation mark (18. Nh4!, 19. f4! and 20. Qf2!), and this was where Grischuk made a fatal error (20…Bxh4?). Shipov felt you simply couldn't give up the dark-squared bishop, and, as in his live commentary, recommended 20…Nd5! instead. Although 23…f5!? would have given Black some more chances, in the game Shipov says that after 25. e4 White's position is strategically won. The black pieces, "like cockroaches", have to flee the advancing white pawns.
However, although Shipov says that at this point it's essentially "beating a man when he's down", it turned out that with some good moves (28…c5! and 30…Rc5!), and one move from Gelfand that was objectively poor "but impossible to resist playing" (32. Qb5? instead of 32. e5!), Grischuk got one final chance.
With 32…Ba2! he would have created the threat of 33. Rb2 Qc7 34. Rxa2? Qxf4+ 35. Kg1 Rd1+. White does still have a win with 34. e5!, which Shipov shows from 21:00 onwards in the video, but the point is that it's very tricky (material is still equal, so White needs to be accurate). The clear win involves finding 37. f5! and then the idea of 39. Bf3. Shipov concluded that it's by no means certain Gelfand would have found those moves just before the time control. Therefore Shipov says that if 32…Ba2! had been played "I've got a strong suspicion the match would have continued".
As it was, of course, Boris Gelfand easily brought the game to its logical conclusion. I hope you've found Sergey Shipov's commentary on the games in Kazan as enjoyable and enlightening as I have. In the next few days I plan to make all the analysis available to play in a game viewer or to download as a PGN file. Stay tuned!