Sergey Shipov began today's commentary by comparing the players to Greco-Roman Wrestlers who couldn't throw their opponents, and ended comparing them to immortal Highlanders. Yes, the penultimate game was another draw, with Gelfand taking full advantage of Grischuk's slip in a promising position. 
Sergey Shipov's commentary in the original Russian can be found here at Crestbook, where you can also play through all the moves and analysis.

GM Sergey Shipov's live commentary on:
Candidates Matches Final, Game 5
ALEXANDER GRISCHUK – BORIS GELFAND

Hello, dear spectators. With you again is Grandmaster Sergey Shipov. The players in the Candidates Final remind me of heavyweights in Greco-Roman Wrestling. They're fighting as hard as they can and trying everything – but they can't execute a single throw, a single decisive move. That's because both of them have been very firm on their feet. They've very heavy and their skill and experience are of the highest level. They anticipate each of their opponent's moves in advance. So then, they stand opposite each other, breathing heavily – and don't know how to win. In wrestling even when you have a blank score the judges can award victory to the one who's been most active in the struggle – an arbitrary decision. In chess we don't yet have such rules – though people are starting to suggest them! The chess public has become bored with an endless series of draws – even if the games turn out to be bold and interesting. And I can understand spectators as I also miss decisive results. I'm tired of writing DRAW and embellishing it by talking about how combative the games were… But it can't be helped. The grandmasters in Kazan are fighting for the highest summit in the world and, sorry, they've got other concerns than entertaining the audience. They're totally focussed on the struggle. I suggest patience… and discussing different systems for running the candidates events, and also the World Championship as a whole. But that's for later. Right now we're going to watch the fifth game of the match, in which Grischuk will have White for the last time. Perhaps he'll manage to break the duck?
1. d4 Nf6 2. c4 e6 3. Nf3 d5 4. Nc3 The Queen's Gambit – for the Nth time.
4…Be7 5. Bf4 Each time that bishop enters the fray in a different manner. In Grischuk's last game with White it perished on f6 as early as the seventh move. Now it has chances of surviving longer…
5…0-0 6. e3 The main line of the variation.
6…Nbd7
    [We're not going to get to see 6…c5, which used to be the main move.]
7. c5 White is carrying out a positional squeeze on the queenside.
7…Nh5 But is forced to pay for that with the exchange of a precious bishop.
    [The drawback of the continuation 7…c6 was shown by Grischuk himself in his quarterfinal match against Aronian:
8.h3! b6 9.b4 a5 10.a3 Ba6 11.Bxa6 Rxa6 12.O-O Qa8 13.Rb1 axb4 14.axb4 Qb7 15.Qc2 Rfa8 16.Ne1! Bd8 17.Nd3 Ra3?! (17…b5!)
18.b5! with a serious edge for White.]
8. Be2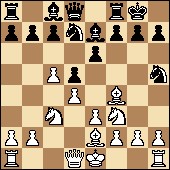 The first interesting moment. And strange as it seems, it's already a novelty. Gelfand is having a long think – looking for the snake among the flowers.
    [Usually the light-squared bishop was developed more boldly: 8. Bd3 Here's the freshest example: 8…Nxf4 9.exf4 b6 10.b4 a5 11.a3 c6 12.O-O Qc7 13.g3 Ba6 14.Bxa6 Rxa6 15.Qc2 Rfa8 16.Rab1 axb4 17.axb4 Ra3 18.Rb3 Rxb3 19.Qxb3 Qb7 20.Rb1 h6 21.h4 h5 22.Ne5 and a draw was agreed, T. Radjabov – V. Kramnik, Kazan 2011.]
8…c6 A microcosmic finesse.
    [Not everyone's capable of working about why 8…Nxf4 9. exf4 c6 is worse. For now, at least, I'm not up to the task.]
9. 0-0 The players have decided that the bishop moving to e5 or g3 isn't yet on the cards. But Black needs to keep his ear tuned – and exchange on f4 at the right time. Perhaps the position of the white bishop on e2 makes no real difference – let's say, it's possible to exchange it on a6 in accordance with well-known plans (see the previous note). But such an unusual development of the bishop has already borne fruit – Sasha's taken 20 minutes away from his opponent! Times: 1:56 – 1:32.
9…Nxf4 Correct. There's no point playing on your own nerves.
10. exf4 The structure has been clarified. It's unlikely Black will manage to break through in the centre with e6-e5. I'm judging that not based on a calculation of variations, but simply the fact that Grischuk's team must have looked at that plan. It seems that after f7-f6 White can lose a tempo on Be2-d3! and meet a breakthrough by Black with fierce countermeasures. If that's true then Black has to break through on the queenside. True, he won't manage to destroy the c5-pawn, but he'll manage to do something about the currently passive c8-bishop – bringing it out to a6.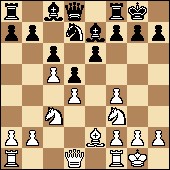 And what does White want? It's clear that his plans include a pawn roller on the queenside. Taking into account the position of the bishop on e2 it's also worth looking at active plans on the kingside… Perhaps the queen will come to c2, and after g2-g3, h2-h4 and Nf3-g5 there'll be the threat of mate on h7. Mate and not check, as would be the case with the bishop on d3. Of course, my modest attempt to decipher the idea of Grischuk's team doesn't seem convincing. But for now there's nothing else. The d3-square for the knight? For now that's not relevant. Although… If you recall the game between Grischuk and Aronian that I showed before, there the knight turned out to be very strong on precisely d3. Anything's possible! By the way, while Gelfand's been thinking – and it's been a drawn-out process – I've found a refutation of Black's idea with 10…Qc7 11. g3 f6. As I originally thought, White has fierce counterplay. White is White – it's dangerous to joke around with him. I'll show the precise line a little later.
10…f6 I didn't manage to finish writing before Boris decided to prepare the breakthrough in the centre! You might say he's fallen for the provocation of his cunning opponent. Times: 1:55 – 1:20.
    [Well, there's no way I can avoid sharing my accumulated knowledge now:
10…Qc7 11.g3 f6 12.Bd3 e5 13.Re1! e4 14.Nxe4 dxe4 15.Rxe4, and then great sorrow awaits Black –
15…Bd8 (the lesser evil is 15…Bxc5, true, then there's the phenomenal resource
16.Nh4! with the idea of Bd3-c4+ and Qd1-h5)
16.Qb3+ Kh8 17.Rae1 – the invasion on e8 is fatal. Black couldn't be more cramped.]
    [It remains unclear why the standard play wouldn't work:
10…b6 11.b4 a5 … OK, I'll try to dig around in this line as well:
12.a3 Ba6 13.Re1!? Perhaps the point was that after
13…Bxe2 14.Qxe2 the threat of f4-f5 would allow White to win an important tempo? No, my friends – it's a useless task. The secret will be revealed later…]
11. b4 Judging by the speed this was played, Sasha is still on home ground. With the move in the game he's reinforcing the advanced rock on c5. The d4-pawn is ready to be distracted by e5.
    [Here after 11.Bd3 you could successfully play
11…e5 – due to the weakness of the white c5-pawn. For example,
12.fxe5 fxe5 13.Nxe5 Nxe5 14.dxe5 Bxc5 and it would only lead to perpetual check to play
15.Qh5 g6 16.Bxg6 hxg6 17.Qxg6+ Kh8 18.Qh6+ Kg8 and so on.]
11…Qc7 Now Black's breakthrough has been prepared. White needs to apply concrete counter-measures. You can't allow your opponent simply to activate his dark-squared bishop for nothing!
12. Qd2 Combining defence of the f4-pawn and development.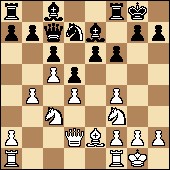 We await an explosion in the centre… It seems that 12…e5 would be met in roughly the same manner as I demonstrated in my comment on Black's 10th move i.e. 13. Re1! e4 (not an obligatory move) 14. Nxe4 dxe4 15. Bc4+ Kh8 16. Rxe4 with two pawns for the piece and powerful pressure for White in the centre. Gelfand has sunk into the calculation of variations. It's very tough for him now, as he's competing manually with his opponent's motorised brigade. But such is chess life. In the third game Boris caught his opponent out with a novelty prepared by computer. Today he's been caught out… You have to think, seek and simply play! The clocks show: 1:48 – 1:07.
12…Rf7 Apparently the first unexpected move, and one that's forced Grischuk to think. It looks modest, of course. It seems as though Black won't actually manage to break through in the centre, and therefore Gelfand's preparing to switch his knight to f8.
    [The key question was how White could attack after 12…e5 13. Rfe1 Kh8! The piece sacrifice 14. Bd3 e4 15. Nxe4 dxe4 16. Rxe4 is no longer as convincing as it was. But it's possible White has a strong initiative here as well. That's a question for analysis, which the Russian has had no problem with today.]
13. Rae1 A very candid approach. White is concentrating his forces in the main direction. It seems as though Black has to come to terms with the weakness of the e6-point and switch to a long, tough defence.
    [I looked at 13.Rfe1 with the main line
13…e5!? 14.dxe5 fxe5 15.Nxd5! cxd5 16.Qxd5 Nf8 (16…Nf6? 17. Qb3 +-) 17.Nxe5 Be6 18.Qe4 Rf6 19.Bc4 Kh8 20.Rad1 and it's hard for Black to hold back this multi-tonne press. He has a piece for three pawns, but almost nothing to move.]
    [Perhaps Sasha didn't like the fact that after
13.Rfe1 a5 Black was able to distract the a1-rook from business. True, in the line
14.a3 (worse is 14. b5 because of the weakening of the c5-point – 14…e5!)
14…axb4 15.axb4 Rxa1 16.Rxa1 e5? 17.dxe5 fxe5 18.Nxd5 it's even more effective to strike with
18…cxd5 19.Qxd5, and if 19…Nf8 there follows 20.Ra8! with Black completely paralysed.]
    [And now allow me to show a more likely line without clear cooperation:
13.Rfe1 a5 14.a3, and here it's stronger to play the immediate
14…e5 Then, of course, there would follow similar play –
15.dxe5 fxe5 16.Nxd5 cxd5 17.Qxd5 Nf8 18.Nxe5 Be6 19.Qe4 – well, White's got a dangerous initiative here as well.]
13…Nf8 Yes, you had to. I think Gelfand will already have cursed his impulsive decision to play f7-f6 a dozen times. White's edge has become obvious. He'll put pressure on the e6 and f7 points, and, perhaps, prepare to open up a front on the queenside. The position of Black's pieces is extremely passive… And Boris doesn't have a wealth of time either: 1:21 – 0:47.
14. Bd3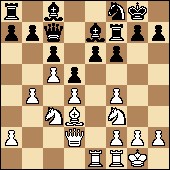 The pleasant thing about White's position is that he also has a lot of simple and obvious strengthening moves. You can play quickly and confidently.
14…Bd7 This isn't what this bishop was dreaming about in the opening. Not at all. The 14…b6 break no longer favoured Black here. He's not in a position to play as an equal across a wide front. The lack of space and the inability to quickly switch pieces from one wing to the other forces him to concentrate on one thing in particular. First of all, he'll try to accomplish his main task – withstanding White's pressure on the e-file. By the way, it's important not to blunder the f4-f5 prod. For example, after the doubling of the white rooks. How else can White attack? There's an option of putting a pawn on h5, pinning Black down completely on the kingside. If it's not possible to break through directly, then White will in any case manage to tie Black down. And then a blow on the queenside will follow… But on the other hand, it's too early to become presumptuous. If Black rejected carrying out e6-e5 a little earlier that doesn't mean he's rejected it for ever! In particular, after the natural 15. Re2 there's the interesting nuance 15…e5!? 16. fxe4 Bg4. If 15. g3 then 15…e5 16. fxe5 Bh3 definitely works. But I'm sure White can find a means of strengthening without allowing Black that liberty. For example, 15. h3, with doubling of the rooks to follow. Primitive, but effective.
15. g3 Sasha seems to be falling in with his opponent's plan! He's provoking the opening of the centre.
15…Re8 It looks as though Boris didn't look at the sharp lines! He seems to be tired of calculating and simply believed his opponent. His task is to reinforce the e6-point and perhaps to strengthen the potential threat of e6-e5. Let's say, with Qc7-b8 and Be7-d8-c7. But it's very hard to believe in the e6-e5 blow at a later date – White won't delay.
    [It seems that in the line
15…e5 16.dxe5 Bh3 Sasha was planning to push
17.f5! fxe5 (17…Bxf1 18.e6!)
18.Nxe5 Rf6 19.Bc2 with f2-f4 to follow. For the exchange White would get a pawn and long-term pressure.]
16. Re3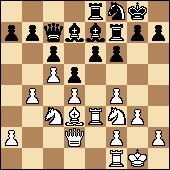 After the f4-pawn has been defended White can, with complete comfort, double… or perhaps even triple on the central highway. By the way, the bishop might switch to h3 via f1, increasing the pressure.
16…Bd8 Gelfand has started to play quickly, decisively rejecting all the passing options and overcoming his internal doubts.
17. Rfe1 Qb8 The plan's being strictly followed. The problem's just that it leads to a dead-end! For White it's high time, while keeping an eye on the possibility of e6-e5, to think about… or rather, to start a pawn advance on the queenside, as after all there are almost no black pieces left over there. But just a minute! Is it a dead-end for Black? I'm no longer capable of counting the number of attackers of the e5-point. Perhaps Black will nevertheless manage to break through in the centre? It needs calculating.
18. Na4 An unexpected manoeuvre. If Grischuk's hoping to switch the knight to d3 then it seems to me he's exactly one tempo too late. The e6-e5 break will work. But perhaps I'm too sceptical. White has Qd2-e2 or Qd2-c3 to add another attack on e5. And the break won't succeed.
    [Among the mass of lines I've looked at there are some in which Black manages to get a sharp struggle in the centre:
18.Bf1 Bc7 19.Bh3 Rfe7, and, let's say, after
20.Qc2 there's 20…e5!]
    [My rash suggestion of an advance on the queenside was even worse:
18.Qc2 Bc7 19.a4 (19.b5 Ba5!?)
19…Rfe7 20.b5 e5! with mutual chances.]
18…Bc7 The players are now even in terms of time: 0:36 – 0:36. In principle, in such a closed position (if Black doesn't manage to free himself) the players can make quite a lot of moves that change almost nothing. And make them quickly. So we might be able to get by without serious time trouble.
19. Nb2 The one going to d3 greets the one leaving d3.
19…Rfe7 The threat of a break has been created! White needs to attack e5 once more. There's no-one but the queen to do that. The knight will, as predicted, be a tempo too late. But perhaps it'll go there a little later.
20. Qc3 An only move, but a sufficient one.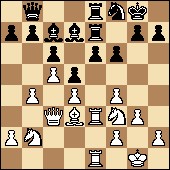 20…Rd8 Gelfand is demonstratively waiting. I don't think the Bd7-e8-h5 threat is realistically feasible.
    [In the key line
20…e5 21.dxe5 Bg4 White had the strong blow
22.Nc4!! Bxf3 (losing instantly was 22…dxc4 23.Bxc4+ Kh8 24.exf6! Rxe3 25.fxg7#)
23.Nd6 fxe5 24.Nxe8 d4 25.Qxd4! – fantastic, don't you agree! –
25…Qxe8! (hopeless was 25…exd4 26.Rxe7)
26.Bc4+ Kh8 27.fxe5 Bh5 28.e6 – White maintains his advantage in a position with a material imbalance.]
21. Bf5 A clever switching of the bishop… though it's not clear where to. In any case, the d3-square has been freed for the knight. In that case the bishop will retreat to h3 or g4. Such a switch will increase the pressure on e6. But there's also a drawback – the black knight gets the chance… at some point… in some lines… to jump to g6. For now that's impossible due to the exchange on g6 with the Nf3-h4 attack to follow!
21…Rf7 This is a trap! If the bishop retreats to g4 or h3 as planned, then there's the 22…e5 blow, with the cunning zwischenzug 23. Bxd7 exf4! It looks as though Grischuk should return his bishop to c2. In general, he's got no need to rush.
22. Bg4?! Alas, a blunder!
    [22. Bc2! kept the advantage, for example:
22…Re8 23.Nd3 Ng6 24.R1e2 Rfe7 25.Qe1 Nf8 26.h4! Ng6 27.h5 Nf8 28.Nh4 and so on. In any case, there were a lot of cunning manoeuvres ahead – a lot of reorganisations and plans.]
22…e5!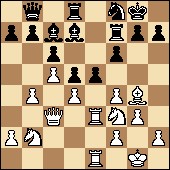 Yes! Boris has taken his chance.
23. Bxd7 exf4! Of course. This is the problem! And the good thing about Black's position. The previously weak pawn has become a threatening force.
24. Be8 Otherwise White would actually be worse.
24…fxe3 Sasha's spending a long time grieving, and his time's slipping away: 0:18 – 0:24.
25. Qxe3 One of the black rooks will perish, and material equality will be reestablished. And positional equality as well.
    [Black also had no problems after 25. Bxf7+ Kxf7 26. Rxe3 Re8]
25…Ng6 A creative approach. However, the moral here is the usual one – no-one dies from a check. Or even two.
    [It seems the Israeli grandmaster didn't want to think about the fate of the white rook on the back rank in the line 25…Rxe8 26. Qxe8 Qxe8 27. Rxe8 Rd7 28. Ra8 a6 and so on. Although of course there was nothing dangerous for Black there.
26. Bxf7+ Kxf7 27. Qe6+ Kf8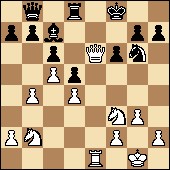 The structure has ended up quite safe for both sides. White's temporary activity will probably come to nothing.
28. Qh3 The Russian is trying to dispute my claim. The h7-pawn is under attack. If you dream a little, you can imagine the manoeuvre Nb2-d1-e3-f5 with an attack for White. If Qb8-c8 he has the right to reject the exchange with Qh3-h5.
28…Qc8 Immediately! A wonderful solution to all the problems. It turns out that you can't take the h7-pawn. True, White isn't obliged to help his opponent. He should simply move the queen to h5. Let's glance at the clocks: 0:13 – 0:16.
29. Qxc8 Without further ado.
    [If 29.Qxh7? Kf7 then the threat of trapping the queen forced White to give up the exchange –
30.Qh5 Rh8 31.Re7+ Kxe7 32.Qxg6, but of course that doesn't equalise –
32…Kf8 33.Nd1 Qe8 34.Qg4 Kf7 35.Ne3 Qe6 and so on.]
29…Rxc8 30. Kf1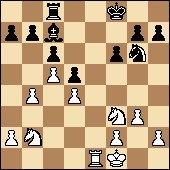 Played very quickly – in blitz style. But is it correct?
    [It might have been worth thinking about the decisive 30. a4, if only so that on 30…a5 you'd have 31. b5.]
30…Re8 Gelfand isn't displaying ambition.
    [30…a5 was asking to be played, opening the a-file. For himself.]
31. Rb1 Grischuk is still hoping for success. An attack on the queenside is his only chance.
31…Ke7 32. Nd3 If you manage to carry out b4-b5 and plant a knight on b4 then the c6-pawn will become weak. True, the king's help should be enough for the black pawns to feel safe.
32…a6 33. a4 The question still remains on the agenda. But, of course, the resources for a struggle aren't great here. The exchange of a couple of pawns on b5 and the black rook coming to the a-file are unlikely to fill White with joy. It's worth remembering that he's got a potential weakness on d4. It'll become real when a black knight appears on e6.
33…Kd7 34. b5 Grischuk is playing remarkably directly and quickly.
    [However, it's unlikely preparatory manoeuvres could have increased the threat. For example,
34.Nfe1 Nf8 35.Nc2 Ne6 and if 36.b5 you can again reply
36…axb5 37.axb5 Ra8 with equality.]
34…axb5 35. axb5 cxb5 A surprise!
    [It seems that after 35…Ra8 Gelfand didn't like the squeeze 36. b6. Although, speaking among ourselves… It's unlikely that would have posed real problems.]
36. Rxb5 Rb8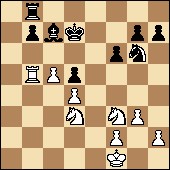 Black has destroyed his structure himself – and, it seems, is hoping to compensate for this flaw with active counterply. For example, with b7-b6.
37. Nb4 Ne7 The d5-pawn has been reinforced.
38. Ne1 But a second white knight is heading for it.
38…Nc6 Simple and strong. The d4-pawn is also weak. Moreover, the white rook is threatened with capture after Nc6-a7. The time trouble didn't prove fatal: 0:03 – 0:04.
39. Nxc6 DRAW! Well, this time the result was well-timed and logical. It's a different matter that Grischuk has got something to regret. He got a comfortable opening advantage, but didn't manage to keep his opponent on the ropes. He simply blundered on the 22nd move! That's the whole explanation. The finalists aren't made of steel. They're very tired and it's hard for them to play the whole game at the same level… As I promised at the end of yesterday's video (Translator's note: see the end of yesterday's commentary) the "next draw" took place today. Now all that's left is to make one more – and we'll see an entertaining tie-break. But Gelfand will probably fight in the sixth game. Well, there's a time for everything. Thank you for your attention, dear friends. Working for you has been Grandmaster Sergey Shipov. All the best!
1/2 – 1/2
Sergey Shipov entitled his video of today's game "Vampire's Hunger", and the lack of blood was the topic at the start.
Shipov mentioned that many professionals and fans had wanted longer Candidates Matches, but felt that would have been no more likely to result in decisive games. Instead it might have seen dissatisfaction grow to the extent that we'd have pickets outside FIDE offices all over the world :) He added:
The fact is no-one's dying in Kazan. We've got immortal Highlanders there – MacLeods. You can't kill them. In fire they don't burn. In water they don't drown. It's useless to shoot them.
That tone continued for a while into the analysis – when discussing the Queen's Gambit position he added "if the matches were a little longer we simply wouldn't be able to look at this position". Then it was all chess. Despite the "diabolic cunning" of the 8. Be2!? novelty, that seemed to trick Gelfand into the risky 10…f6?!, Shipov felt that he (and other spectators/commentators) had underestimated Black's resources. The e5-break and even sacs on f4 (mentioned by Grischuk in the press conference) were always a real threat, though White was also on the verge of sacs on e4 and d5 (Shipov demonstrates all kinds of tactics that prove the "closed position" was always on the verge of exploding).
Shipov felt Grischuk's idea with 18. Na4, transferring the knight to d3, was actually the best option. He simply needed to play 21. Bf1 instead of 21. Bf5. At about 23:00 in the video Shipov demonstrates how White might have continued to up the pressure to a point where he really should have brought home the win. As it was in the game, after Gelfand managed to play 22…e5! the draw was never in doubt.
The final classical game of the Candidates Matches, and the final commentary by Sergey Shipov, takes place tomorrow. You can, once more, follow it here:
http://www.chessintranslation.com/live-game/