Another day, another draw, but if you look beyond the headlines it was still an intriguing battle. The only problem was most of us don't understand chess at anywhere near the level required to follow what was happening – which was where GM Sergey Shipov stepped in with a free masterclass.
Sergey Shipov's commentary in the original Russian can be found here at Crestbook, where you can also play through all the moves and analysis.

GM Sergey Shipov's live commentary on:
Candidates Matches Final, Game 4
BORIS GELFAND – ALEXANDER GRISCHUK

Good day, dear spectators. This is Grandmaster Sergey Shipov bringing you the fourth game of the Candidates Final in Kazan. We're into the finishing straight! The players have got less and less energy, but the cost of any mistake is getting higher and higher. I'm sure Gelfand doesn't have a burning desire to transfer the battle to the tie-breaks. Grischuk plays phenomenally in rapid chess and particularly in blitz. We knew about that before, but in Kazan the Muscovite has enhanced his reputation with victories against the favourites – precisely in quick and super-quick chess. Consequently, the experienced Israeli grandmaster's best chance of success is in the classical games. He's going to have two attempts with White, and we can expect a serious onslaught from Boris and his General Staff. In the last game as Black they exploded a powerful bomb in the opening. It's likely today they'll also bring something explosive to the struggle… Our people in Kazan have informed us that today's game is going to start half an hour later than usual, at 15:30. The reason for the delay isn't yet known. (Translator's note: Arbiter Alex McFarlane noted at the English Chess Forum – "The start of today's game has been delayed 30 minutes due to another function in the hotel.") So let's wait.
1. Nf3 They've begun! 1…c5 2. c4 Nc6 The picture's the same one we've seen before – the English Opening.
3. Nc3 e5 4. g3 Boris is repeating the second game – clearly he's thought up an improvement.
4…g6 5. Bg2 Bg7 6. d3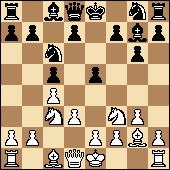 And here it is. A modest and reliable developing move, known about for a long time but new for this match.
    [If you recall, three days ago the lethally sharp 6. a3 Nge7 7. b4 d5 was played – clearly additional analysis has confirmed how strong Black's counterplay was.]
    [Usually players would enter a calm, positional struggle after move orders starting with 6. 0-0. Clearly there's some point behind Gelfand's transposition. Grischuk's thinking and trying to work out his opponent's idea. He's having a very serious think! He's even taken off his jacket… While for now I'll show you the game of the great champion celebrating his 60th birthday today:
6…Nge7 7.d3 O-O 8.Ne1 Rb8 9.Nc2 a6 10.Rb1 d6 11.b4 Be6 12.bxc5 dxc5 13.Ne3 b6 14.Ned5 Bd7 15.Bd2 Nxd5 16.Nxd5 Ne7 17.Qc1 Nxd5 18.Bxd5 Bh3 19.Re1 b5 20.a3 Qd6 21.Bf3 Be6 22.cxb5 axb5 23.Be3 Rfc8 24.Qd2 b4, and somehow Black, imperceptibly, achieved a large edge, G. Barcza – A. Karpov, Caracas 1970. Anatoly Evgenyevich always achieved his wins gradually and imperceptibly. And few understood how it actually happened. That's his style.]
6…Nge7 A routine manoeuvre. On e7 the knight doesn't restrict the f7-pawn from putting up a fight and is protected against the Bc1-g5 attack.
7. a3 As was to be expected, Boris is trying to save on castling. He's nevertheless intending to play the b2-b4 push, even if not as soon as happened in the second game of the match. It's probably worth considering the h2-h4 push as well if Black castles short.
    [It's probably unnecessary to point out that the move played most often here has also been 7. 0-0]
7…d6 Sasha maintains the king in the centre on pure instinct, making an obviously useful move.
    [So as not even to think about the possibility of
7…O-O 8.h4, although, to be honest, there was nothing dangerous for Black there. He even has the right to respond with classical counterplay in the centre:
8…d5! with good play.]
    [By the way, the immediate 7…d5 has almost never been seen, although I couldn't find a refutation of the move in my express analysis:
8.cxd5 Nxd5 9.Nxe5 (a typical response)
9…Nxc3 10.Nxc6 Nxd1 11.Nxd8 Nxb2 12.Rb1 Bc3+ 13.Bd2 Nxd3+ 14.exd3 Bxd2+ 15.Kxd2 Kxd8 16.Bxb7 Rb8 – it seems as though there would soon be equality.]
8. Nd2 Another cunning manoeuvre.
    [The cliched pawn sac 8. b4? would lead to fiercer sacs after 8…e4!]
    [If 8. Rb1 then Black would very calmly play 8…a5, unafraid of criticism and the weakening of the light squares.]
8…0-0 There are now no longer any fears about the safety of the king on the kingside.
9. Rb1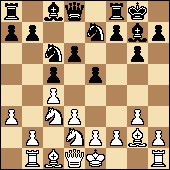 A positional threat has been created. As usual, Sasha is getting a long way behind in terms of time: 1:55 – 1:17. He's understood the advantage of the king delaying on e1. White gets the opportunity to save an important tempo with the manoeuvre Nd2-f1-e3-d5. And only then 0-0. It turns out that in the normal move order with early castling the white knight would have stepped on the f1-rook (as in backgammon) and continued its path to the centre – breaking the laws of chess. It seems as though Black has to think up some active counterplay – and it would be desirable to start it at the moment when White's roving knight ends up on f1… I've got one constructive suggestion for Black: not to play a7-a5 at all. There's the counter idea of 9…a6!? and on 10. b4 you play 10…cxb4 11. axb4 b5!. The pawn sac promises Black good counterplay. The same blow follows with even more justification after 10. Nf1.
    [Once again it was premature to play
9.b4 due to e4 10.Bb2 (10.Ndxe4 f5)
10…exd3 11.exd3 and here apart from banal moves (capturing on b4, bringing the bishop to f5) there's also the airtight blow
11…d5! with a sharp struggle that favours Black.]
9…h6 A surprise! A novelty. It seems as though Grischuk is constructing a simple tactical trap for his opponent. If 10. b4 there would follow the reply 10…e4! with the idea of 11. Ncxe4 f5! – and it's precisely here that it's important that the g5-square isn't available to White. At the same time Sasha is intending to expand on the kingside – in future.
    [Previously played here was only the formulaic 9…a5 and White only castled, but there's no doubt that in the game there would have followed 10. Nf1!, and if 10…Be6 11. Ne3 and White has managed to "seize" the d5-point.]
    [Of course the players should also have looked at the frontal
9…Be6 10.b4 cxb4 11.axb4 d5, but in this line White gets excellent prospects of an attack on the queenside. There might follow the cool
12.O-O! with an edge.]
    [I must admit I don't see any clear flaw in my own suggestion of
9…a6!? For example, 10.b4 (10.Nf1 b5!)
10…cxb4 11.axb4 b5 12.cxb5 axb5 13.Nxb5 d5! – Black has bold play and develops freely, while White has some problems with the position of his minor pieces. There might follow
14.O-O Bg4 15.Na3 (15.Nc3 e4!?)
15…Nd4 16.Re1 "White has an extra pawn", you say? I agree. But Black should nevertheless have compensation. "It's easier to sacrifice other people's pawns than your own", you add? I agree again. It's unlikely I'd be able to play like that at the board myself :)]
10. 0-0 A modest, restrained decision. It seems as though Gelfand considers he's got a favourable version of the main line, in which Black isn't in any way obliged to play an early h7-h6. On the other hand, White has also carried about the Nf3-d2 manoeuvre, which is also in no way obligatory. Sometimes the f3-knight would be left untouched, or sometimes it would follow the path f3-e1-c2, supporting the b2-b4 break and hoping to break through via e3 to d5.
    [It seems that after 10.Nf1 Boris was afraid of coming up against some crude counterplay by Black in the centre. For example,
10…a6! 11.Ne3 b5! 12.cxb5 axb5 13.Nxb5 d5]
    [Or 10.Nf1 a6 11.b4 cxb4 12.axb4 e4! 13.Nxe4 d5 14.cxd5 Nxd5 – with strong piece play. You'll agree that the knight on f1 looks silly here. And the king on e1 – pitiful.]
10…a5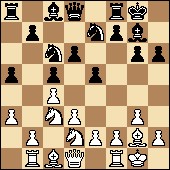 Returning to the bosom of theory. We've simply seen a non-standard move order. The time used is gradually equalising: 1:16 – 1:01. I can state that the novelty effect didn't bring Gelfand a clear edge. For now.
11. Nd5 A logical means of exploiting the position of the knight on d2. After an exchange on d5 it'll have access to the wonderful c4-square.
    [Also seen here was the entirely sensible 11. e3 with the idea of playing f2-f4.]
    [And also the strange 11. Nb5. However, the players in both cases were little known – let's not allow ourselves to get distracted.]
11…Be6 A normal move that was asking to be played. But it doesn't give Black a completely comfortable position.
    [Of course, it looked obvious to play
11…Rb8 with the idea of carrying out b7-b5, but White was ready:
12.Nxe7+ Qxe7 (12…Nxe7 13.b4!)
13.Ne4!, after which
13…b5 is bad for many reasons. There's also a knight blow on c5, but simplest is
14.cxb5 with the idea of
14…Rxb5 (14…Nd4 15.a4!)
15.Nc3! Rb6 16.Nd5, winning the exchange.]
    [You also wouldn't get the desired comfortable position after
11…Nxd5 12.cxd5 Ne7 13.b4, for example,
13…cxb4 14.axb4 b5 (14…a4 15.b5!)
15.bxa5 Qxa5 16.Ne4 Qa6 17.Qb3 f5 18.Nc3 Bd7 19.Qb4! and so on. The d6 and b5 pawns are in trouble.]
12. Nxe7+ Qxe7 13. Ne4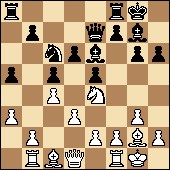 And here's the final novelty. The white knight is heading to c3 to replace its fallen comrade. Control over the d5-point is paramount.
    [What was played here before provokes physiological revulsion:
13.f4?! f5 14.fxe5 Nxe5 15.Nf3 Ng4 16.h3 Nf6 17.Nh4 Kh7 18.Qb3? Rab8 19.Bd2 b5!, and here I just don't have the strength to carry on. Black, of course, won in the game D. Boden – C. Schinkowski / Kiel 2002]
13…Kh8 Useful and very cunning prophylaxis. The king gets off all the white diagonals, and in such a way that in some lines the e4-knight can't jump with check.
    [The drawback of the king's position on g8 is demonstrated both by the simple line
13…Qd7? 14.Bxh6! Bxh6 15.Nf6+ winning the queen.]
    [And the slightly more complicated:
13…d5 14.cxd5 Bxd5 15.Be3 b6 16.Nf6+! Bxf6 17.Bxd5 with a persistent edge for White.]
14. Nc3 High time. Black was already intending to play d6-d5.
14…Qd7 Prophylaxis without any clear active ideas. I'm not convinced that the exchange of bishops on h3 (or g2) is dangerous for White. It's more likely to be the opposite, as after all the light squares in Black's camp are very weak. At the given moment the bishop on e6 is the only one who's defending them. It seems that with the move in the game Grischuk is preparing the manoeuvre Nc6-e7, doubling control over the d5-point. For now the clocks don't provoke any concern: 1:06 – 0:40.
15. Bd2 White's play looks unassuming, but it's venomous. The positional threat of b2-b4 remains, and breakthroughs in the centre by Black are premature. A pawn storm by Black on the kingside won't bring him anything for now except the formation of new weaknesses.
15…Rab8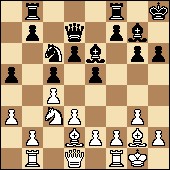 The b7-pawn will never again be left undefended. And if the white knight deserts c3 for d5, then the counterblow b7-b5 will follow. If 16. Qa4, then I've got the suspicion that there'll be the exchange attack 16…Nd4.
    [The 15…Ne7 manoeuvre brought no joy for now, due to 16. b4!]
16. Qc1 Indicating that the black king isn't located as solidly on h8 as it would be on h7. The h6-pawn is under attack. If you play 16…Kh7 they you have to look at 17. Nd5, with two ideas: b2-b4 and Bd2xh6!
    [Also worth looking at was the generally strengthening move
16.e3 with the idea of bringing the queen out to a4, or perhaps further, to b5. The visual weakness of the d3-pawn is irrelevant for now.]
    [But after the immediate
16.Qa4 it did indeed work to play
16…Nd4 17.Qxd7 (17.Qxa5? Nb3)
17…Bxd7 – in the ending White's edge would come to nothing, as on
18.b4 there follows 18…axb4 19.axb4 b5 with comprehensive exchanges.]
16…h5 The simplest response. The h5-pawn might not stop, by the way…
    [The line 16…Kh7 17.Nd5 turned out not to be as simple as it seemed:
17…b5! 18.Bxh6 Nd4! 19.Re1 bxc4 20.Bxg7 (20.dxc4 Nb3?)
20…Kxg7 21.dxc4 Bf5 22.e4 Bh3 and here it turns out that the loss of the h6-pawn works in Black's favour. He gets a serious attack along the h-file.]
    [It seems it also wasn't bad to play the sharp-toothed move 16…g5, but from a human point of view putting yet another pawn on a dark square in a position with light-squared weaknesses is something you simply don't want to do.]
17. Bh6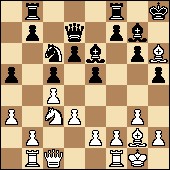 A modest choice. Very modest! It's unlikely the exchange of dark-squared bishops will be in any way dangerous for Black. The c5-d6-e5 pawn skeleton actually provokes a desire in Black to knock the bishops off the board! Gelfand, of course, knows best, but I don't like the move.
    [After 17.e3 Boris probably didn't like
17…h4!?]
    [You don't want to play 17.h4 yourself because of
17…Nd4 with Be6-g4 to follow.]
    [Perhaps it was worth admitting the path chosen was incorrect with
17.Qd1!? and if h4 then boldly play 18.Qa4!]
17…Bh3 A symmetrical response. If you're going to exchange, then do it en masse! The centre of gravity of the struggle is switching to the kingside, where Black's chances are no less.
    [Here I also looked at the aggressive thrust
17…Nd4, trying to seize the initiative. For example,
18.b4 cxb4 19.axb4 b5 with sharp and, at first glance, promising play for Black.]
18. Re1 All the bishops remain under attack and neither of the players wants to be the first to exchange. It really is fraught with danger to allow a queen to h6 or h3. And improving the position of your enemy's king with exchanges on g7 or g2 means helping them to attack on the kingside. With the move in the game Gelfand is preparing to retreat his bishop to h1. And offered a DRAW! Which was accepted. Well, Grischuk got off with a small fright. In the opening he came up against certain difficulties, but managed to resolve them and survive. The score in the match is equal: 2-2. All that's left for me, Grandmaster Sergey Shipov, is to bid you farewell, dear spectators. Until tomorrow.
1/2 – 1/2
After the game Sergey Shipov produced the following video account of the game for Crestbook:
At the start of the video Sergey addressed the issue of another draw (as I said in the introduction, I personally think his commentary was enough to rescue the game from being a complete disappointment!):
Perhaps the game only brought joy to a few specialists who understood some of the nuances, while in general I think an enormous army of fans was disappointed. There's nothing you can do about it, however. There's a great deal at stake and at a certain point the players preferred not to take risks.
The other issue he expressed a view on was the 30-minute "technical" delay before the game, memorably noting that "even a visit by the Queen of England can't justify such a decision". Then he moved onto the game:
There were few significant changes from the analysis in the commentary above, but Shipov recommended 8. Rb1 (05:00 in the video) as an improvement over the game. After forcing 8…a5 he felt White would be able to carry out the planned knight manoeuvre via f1 which didn't quite materialise in the game. 
Shipov stood by his suggestion that 9…a6!? was an option (07:45 in the video), but admitted it would have been "almost impossible" to play at the board. Grischuk's 9…h6! was instead an ideal move (in the press conference Grischuk said it looks idiotic at first sight, but then explained the same justification given by Shipov). White could actually ignore the threat and play 10. b4 in any case, but it becomes almost too complex to play without preparation (Shipov was surprised Gelfand's team hadn't looked at the move at home).
The last significant suggestion is 16. Qa4!? instead of 16. Qc1?! (19:20 in the video) as 16…Nd4 doesn't appear to equalise fully. The way the game developed Shipov felt Grischuk was on the verge of getting an edge, with prospects of an attack on the h and f-files – in fact Shipov suggested it was even "possible to blunder" Bxh6 by playing 16…Kh7?! (21:08 in the video). The loss of the pawn opens up an avenue of attack.
At the end Shipov felt Gelfand offered a draw at just the right moment, as Black might have got an edge in another couple of moves. Incidently, that contradicts the players in the press conference. Gelfand said it would no longer be chess to play on in such a drawn position, and Grischuk, when asked if it wouldn't have been worth playing on in the hope his opponent blundered when short of time, said that you could hold White's position with 15 seconds a move.
Shipov ended his report by saying that "the next draw will take place tomorrow"! I'll again be translating the commentary on game 5, LIVE, here: