Here I nearly fell off my chair – that was GM Sergey Shipov's immediate reaction to Boris Gelfand's 9…b5!! novelty. Alexander Grischuk recovered from the shock and responded well, but this was no short grandmaster draw. Shipov noted the game will be remembered for many years to come.

Sergey Shipov's commentary in the original Russian can be found here at Crestbook, where you can also play through all the moves and analysis.

GM Sergey Shipov's live commentary on:
Candidates Matches Final, Game 3
ALEXANDER GRISCHUK – BORIS GELFAND

Hello, dear spectators. This is Grandmaster Sergey Shipov. I've already completely come to terms with draws in the games between the challengers. At the end of the day, if both are playing well then a peaceful outcome really is the most likely. Grandmasters at this level defend brilliantly, have good technique and are cold-blooded. They almost never miscalculate and sense danger from afar. As for wins… For me, as a spectator and commentator, the process itself is more important – the fact of playing for a win. Pushing, applying pressure, striving to attack. Then you also get interesting and combative games. There's something to talk about. Something to disagree about! The final match has begun with two such fighting encounters. They ended, if you recall, on an almost empty board. Let's hope the confrontation will continue in the same spirit. It seems to me that with such an intense struggle sooner or later there'll be a breakthrough – a discharge of energy, lightning. And we'll have the first decisive game. We'll see… Today it'll be very interesting to find out if the players will be principled enough to insist on the variation we saw in the first game. And who'll be the first to deviate? The Queen's Gambit is the most likely opening, but there might be surprises in its depths. There's no longer much hope of the fighting Slav Defence, of the Meran or the Anti-Moscow. Gelfand's unlikely to go there. And that's a pity.
1. d4 Nf6 2. c4 e6 3. Nf3 d5 We're following the previous course – into the Queen's Gambit. They're stubborn…
4. Nc3 Be7 5. Bg5 Grischuk was the first to deviate.
[In the first game he didn't stretch as far as the g5-square – 5. Bf4.]
5…h6 6. Bxf6 A good means of avoiding the Lasker exchange system.
6…Bxf6 7. Qb3 The c4-pawn is defended and its friend on e2 is waiting for the moment to go to e4.
[7. e3, calmly developing pieces in the centre, has been played much more often.]
[After 7. e4 Black would get quick counterplay – 7…dxe4 8. Nxe4 Nc6!]
7…dxc4 Lively play.
[The solid 7…c6 led to calmer play… if, of course, White plays 8. e3. But the combative 8. 0-0-0!? has also been played.]
8. Qxc4 0-0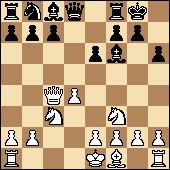 This strongly reminds me of the Indo-Pakistan incident – i.e. the Grunfeld Defence. (Translator's note: the phrase is from Vladimir Vysotsky's "Honour of the Chess Crown – the Game", where the player whose King's Indian is getting beaten recalls the war. You can listen to it here). Black has conceded the centre and is waiting for White to occupy it with pawns – and then he's planning to counterattack, exploiting the power of the f6-bishop. It doesn't differ much from the g7-bishop so beloved by Grunfeld and King's Indian players.
9. g3 Sasha has left the established cannons in the theory of this line – he isn't rushing to determine the fate of the e2-pawn. Perhaps, with the bishop on g2, it's going to stop on e3 in order to reinforce the d4-point.
[White usually occupied the centre immediately with
9.e4 For example, here are two authorities:
9…b6 10.e5 Be7 11.O-O-O Bb7 12.Bd3 Qd7 13.Be4 Bxe4 14.Nxe4 Qc6 15.Qxc6 Nxc6 16.a3 Rfd8 17.Nc3 Rac8 18.Kc2 Bf8 – Black is well prepared for a battle in the centre, and after
19.d5 exd5 20.Nxd5 Ne7 he had equal chances, J. Timman – A. Beliavsky, Frankfurt 1998.]
9…b5!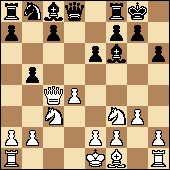 Here I nearly fell off my chair! And I don't begrudge another diagram. Of course, it's a novelty. And the computer is very much in favour! The strongest program in the world, Houdini 1.5a, is sure that this bold move is the first line. I ask computer specialists to test it on other good engines. It's interesting what they think about the idea… Black sacrifices a pawn for the initiative. He's also activating the second bishop, which had nothing to do on c8. On a6 or b7 it'll really gain in strength… During Grischuk's entirely natural long pause I've been looking at the principled capture on b5. At first glance it looks as though you should take with the queen – the variations there are simpler. White manages to complete the development of his pieces and castle. And the evaluation fluctuates around equality. You can, of course, timidly withdraw the queen – but that's a clear concession. In any case, Black has the idea of bringing the knight out to a6 or d7, and then striking a blow in the centre with c7-c5! Although you can also do that without preparation. After 10. Qb3 10…c5! is very strong. It looks more solid to play 10. Qd3 – there White manages to reinforce the centre. Well, that's a working version. So then, by the method of exclusion, like Stirlitz looking at sketches of the Nazi leaders, I can identify two probable candidate moves – 10. Qxb5 or 10. Qd3. (Translator's note: Stirlitz was the "Soviet James Bond" hero of the TV-series Seventeen Moments of Spring, and spawned a whole genre of jokes.)
[Solid predecessors here played in a corresponding manner:
9…Nd7 10.Bg2 e5 11.d5 Nb6 12.Qb3 Bf5 13.Nd2 Rb8 14.O-O c6 15.e4 Bd7 16.Rfd1 Bg4 17.Bf3 Bh3 18.a4, and White kept the initiative, W. Uhlmann, J. Hjartarson, Leningrad 1984.]
10. Qxb5! The exclamation mark is for boldness! Grischuk has decided to test out his opponent's idea. He's not afraid of entering into a fight against his opponent's computer analysis.
[So then, what was awaiting White after
10.Nxb5 – ? In my view, nothing good:
10…Ba6 11.Qa4 (11.Qb3 c5 changes nothing.)
11…c5! and here you can go two ways. After
12.Rd1 Qb6 13.e3 reinforcing the d4-point led to catastrophe –
13…Bb7! 14.dxc5 (14.Bg2? Bc6!)
14…Qc6 15.Bg2 a6 16.Nh4 axb5 17.Bxc6 Bxc6! 18.Qb3 Bxh1 19.f3 Bxh4 20.Ke2 Be7 21.Rxh1 Na6 – for the queen Black has a rook, bishop and knight, plus a strong initiative.]
[The second sub-variation:
10.Nxb5 Ba6 11.Qa4 c5 12.Bg2! – this leads to calmer play –
12…Qb6 13.Na3 cxd4 14.Nd2 Bb7 15.Ne4 Be7 16.Nc4 Qc7 17.O-O, but here as well I'd prefer to play Black. He's got an edge in the centre – 17…Bd5 18.Rac1 Nc6 and so on.]
[The line 10.Qb3?! c5! 11.dxc5 Qa5 looks wrong as a matter of principle. It's simply the juiciest of Grunfelds, a poet's dream:
12.Bg2 Bb7 13.O-O Na6! with a powerful initiative for Black. I'll carry it on a little –
14.Qxb5 Bxc3! 15.Qxb7 Nxc5 16.Qe7 Bxb2 17.Rab1 Bf6 – it seems Black will soon take the a2-pawn and push the a7-pawn to a1.]
[And here's the second real candidate… for the negotiations in Bern: (Translator's note: again referring to Stirlitz, and negotiations between Nazi Germany, the US and the UK which he managed to thwart.)
10.Qd3!? c5 11.Bg2 Nd7 12.O-O Bb7 – the position has acquired reasonable, classical features. If
13.dxc5 then Black maintains the tension with
13…Rb8!, taking aim at the b5-pawn. The naive
14.b4 would be met by the blow
14…Nxc5]
[The second interesting possibility in the 10.Qd3 line is the bold attack
10…Nc6!?, to which the strongest reply is
11.Rd1 (after 11.e3 Bb7 12.Bg2 Ne5! 13.Qe2 Nxf3+ 14.Bxf3 Bxf3 15.Qxf3 c5! Black has an edge)
11…Bb7 12.e4 (12.Bg2? Nxd4!)
12…a6 13.Bg2 – you get non-standard play, in which Black continues to put pressure on d4 (Qd8-d7 and Rf8-d8 will follow), while White holds on, maintaining a space advantage.]
10…Nd7 An instant reply. Black is ready to bring the rook out to b8, and also for the c7-c5 blow. It's no surprise what the clocks show: 1:09 – 1:55!
11. Bg2 Development is paramount. Such trifles as the b2-pawn can be conceded. Here Gelfand has, surprisingly, started to think. He hasn't, of course, exhausted his supply of home ideas… It looks as though he's choosing between different appealing possibilities i.e. between 11…Rb8 and 11…c5. I'll let you in on a secret. I've already analysed the first line to comprehensive exchanges and total equality. The second is a little more complex…
[It's also entirely possible that the Israeli grandmaster's team also studied subtle manoeuvres by the white queen. For example,
11.Qa5 Rb8 12.O-O-O, but few would choose to play like that as White at the board. Black has a powerful initiative:
12…Bb7 13.e4 c5 14.Qxd8 Rfxd8 15.d5 exd5 16.exd5 Nb6 – he wins back the pawn, but White's problems remain.]
[The second line is:
11.Qc4 Rb8 (11…c5 12.Ne4!)
12.Ne4 (here 12.O-O-O was suicide because of 12…c5! and 13…Qa5) (That same blow also followed after the bold move 12.b4 – c5!! 13.bxc5 (13.dxc5 Ba6!) 13…Qa5 14.Rc1 Rb4 15.Qd3 Nxc5 16.dxc5 Rd8 and White gets crushed.)
12…Be7 13.Bg2 Rxb2 14.O-O Bb7 – Black has successfully untangled himself and will manage to carry out c7-c5 in any case. True, White's close to equalising.]
11…c5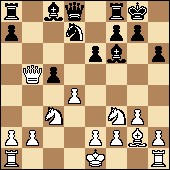 The most combative approach. Black decisively breaks open the centre, not giving White the chance to castle.
[If 11…Rb8 I looked at two retreats for the white queen – to a4 and a5. It seems both are possible. Let's have a look:
12.Qa4 c5 13.O-O Nb6 14.Qa5 cxd4 15.Ne4 Bb7 16.Nxf6+ Qxf6 17.Rfd1 d3 18.Rxd3 Qxb2 19.Re1 Nc4 20.Qxa7 Bxf3 21.exf3 Ra8 22.Qd4 Rxa2 23.Qxb2 Rxb2 – and here you can agree to a draw with a clear conscience.]
[You get a different kind of battle after
11…Rb8 12.Qa5 c5 13.Qxd8 Rxd8 14.O-O-O, but even without queens Black maintains the initiative –
14…Bb7 15.dxc5 Nxc5 16.Rxd8+ Rxd8 17.Rd1 Rc8! At worst, he'll win back the pawn and get approximate equality.]
12. 0-0 To be on the safe side. The king won't be mated – and that's worth celebrating! True, now Black can calmly win back the pawn.
[There was a new branch of complications after
12.dxc5 Rb8 13.Qa4 Rxb2, but, according to my express analysis, they also lead to equality –
14.Ne4 Be7 15.Qa3 Rb5 16.Rd1 Qc7 – the c5-pawn falls and the position simplifies.]
12…Rb8
[After 12…cxd4 you could play 13. Nxd4! with the idea of 13…Rb8 14. Qa4 Nc5 15. Qxa7! – White gets to take more.]
13. Qa4 A pleasant factor for Grischuk's fans is that he's started to play quickly and confidently. The difference in the times is gradually getting smaller: 1:03 – 1:29. It's not over yet, and it's not yet time trouble! Gelfand just can't make a move. It seems as though his team simply didn't have enough time to go into depth in this particular branch. They pronounced the words "Black has no problems and play is simple", and went on to analyse other, more complex, lines. So now it's up to Boris on his own to find the concrete paths i.e. a path to an edge for Black – that's the issue. Essentially it's only now that real chess has begun – at the board. As it used to be… After 13…cxd4 there'd be 14. Nxd4! Nc5 15. Qxa7 – the weakness of the b8-rook saves the d4-knight. What's left? Taking on b2 or frightening away the white queen – with the rook from b4 or the knight from b6. There's a huge number of lines and it's hard to have a clear preference for one of them. For the second time in this comment I'll glance at the clock faces: 1:03 – 1:10. They're almost even!
13…a5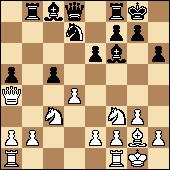 Revealing a new surprise. I wasn't expecting it… Gelfand is maintaining the tension in the centre and defending the pawn. But is that pleasure worth a whole tempo? It seemed to me that the position dictates the need for more decisive actions. After all, Black's a pawn down, and it's by no means certain that White will always be willing to offer it back…
[First and foremost the players should have looked at
13…Rxb2, when the easiest way to respond is
14.Rab1 Qb6 15.e3 – reinforcing the centre promises White a certain initiative as Black's minor pieces have got stuck on c8 and d7.]
[The line 13…Nb6 14.Qa5 (14.Qxa7? Ra8)
14…cxd4 15.Ne4 Bb7 16.Nxf6+ Qxf6 17.Rfd1 d3 is something we've already seen with a different move order. Very recently. It led to equality.]
[It was extremely difficult to assess the consequences of
13…Rb4 14.Qxa7 cxd4 15.Ne4 – Black should have an initiative, but it's hard to decide how strong that is. I'll go into a little more depth:
15…Be7 16.Rfc1 Bb7 17.Ne1! Ne5 (it's too dull to play 17…Bxe4 18.Bxe4 Rxb2 19.Rc7 Nf6 20.Bf3 Bd6 21.Rc6 and so on)
18.b3 Rb5 19.a4 Rxb3 20.Nc5 Bxc5 21.Qxc5 Bxg2 22.Nxg2 – it seems as though White gets an edge due to his strong passed pawn on the edge of the board.]
14. dxc5?! This appears to be a concession. White is helping Black to develop his pieces. But on the other hand, he gets rid of the tension in the centre. And the pawn remains in his pocket… Yes, it's weak and crippled, but for now it's still there. However, will White be able to withstand the pressure from Black that's going to follow?
[It was much more principled to play 14.Ne4! In that way White could hope for a real edge. For example,
14…cxd4 (worse is 14…Rb4 15.Nxf6+ Nxf6 16.Qa3 cxd4 17.Ne5 with typical Catalan pressure for White) (or 14…Rxb2 15. dxc5!)
15.Nxf6+ Nxf6 16.Qxd4 (16.Nxd4? Rb4)
16…Ba6 17.b3 Bxe2 18.Rfc1 – here there's hope of getting a distant passed pawn on the queenside.]
And here the players AGREED TO A DRAW. It seems as though Grischuk had exhausted his supply of mental resources to struggle against his opponent's opening surprise. And he couldn't continue the fight. There might have followed:
14…Nxc5 15. Qc2 Qb6 16. Rab1 Ba6 17. Rfd1 Rfc8 and Black has sufficient compensation for the pawn. At worst.
Well, my live commentary has ended up short, but enjoyable. I marvel at the breadth and depth of the opening preparation of the players in the final. Just think about what happened: Grischuk chose a very rare line in a rare opening – i.e. one of a hundred possibile ways of playing the Queen's Gambit, and far from top of the list of those currently popular – but it was precisely there that a powerful novelty by Gelfand lay in store for him. As one did in the other 99 lines. Just imagine the amount of work that's been done… And here are its fruits – in an important game in the final Boris made a draw with Black from a position of strength. That's an excellent result. The score's even: 1.5 – 1.5. But the Israeli grandmaster still has two games with White in reserve compared to one for the Russian. Nevertheless, I'd assess the overall winning chances of the players as even. Everything's still ahead of us! Tomorrow we'll all have a rest, while on Monday, a tough day, we'll return to Kazan – to watch the fourth game. With you has been Grandmaster Sergey Shipov. All the best!
1/2 – 1/2
After the game was over Shipov took another look at the game in his video for Crestbook. Although he's speaking in Russian it should be possible to follow most of the analysis:
Sergey's introduction is worth translating:
The game was apparently short, apparently a grandmaster draw, the sort of result grandmasters are normally criticised for, but what happened today fell outside the bounds of normal events. Gelfand unleashed a true opening bomb, stunning his opponent, spectators, and commentators. It was an outstanding moment, which I'll demonstrate to you now, and one which, I think, will be remembered for many years to come.
Much of the analysis was included in the live commentary above, but Shipov also gives a more general account of the game. For instance, at around 06:05 in the video he shows how a similar …b5 pawn sac can occur in a line of the Grunfeld, though there Black wins a pawn on e4. Along with the Grunfeld character of Black's position, Shipov also noted that Gelfand's team might have predicted that Grischuk, a Catalan player, would be tempted to enter the Catalan-like line 9. g3.
Among all the variations, it's perhaps worth focussing on the position at the end of the game. Shipov restated his view that objectively White should have gone for 14. Ne4, with very slight winning chances. He also felt that Black could have played on in the final position, as after a logical sequence of moves White's position would become very uncomfortable:
However, Shipov also noted that Gelfand might be uncomfortable with his opponent having an extra pawn, and that "a balance of interests" led to the draw, "for which no-one should be condemned".
My own personal highlight of the video is Shipov explaining at 18:18 that after 13…cxd4 White wouldn't play 14. Ne4, like "the stupid penguin who cowardly hides his blubber in the rocks", but 14. Nxd4!, as "the penguin isn't so stupid after all"! A little research reveals the reference is to Maxim Gorky's The Song of the Stormy Petrel…
I'll again be translating Sergey's commentary on Monday, 23 May, after the rest day. That will again be LIVE, here: