The second game of the Candidates Final saw Boris Gelfand and Alexander Grischuk engage in a hair-raising theoretical battle. When the dust cleared Grischuk had a near-winning edge in the endgame, but Gelfand found enough counterplay to hold on. Sergey Shipov explained an enthralling struggle.

Sergey Shipov's commentary in the original Russian can be found here at Crestbook, where you can also play through all the moves and analysis.

GM Sergey Shipov's live commentary on:
Candidates Matches Final, Game 2
BORIS GELFAND – ALEXANDER GRISCHUK

Good day, dear spectators! This is Grandmaster Sergey Shipov welcoming you to the start of my commentary on the second game of the Candidates Matches Final. The opening tendency of the matches has been clear – the players change, but the openings remain the same. The Queen's Gambit has been running like a thread through a few of the encounters: Grischuk – Aronian, Kramnik – Radjabov, Grischuk – Kramnik and, ultimately, the final. Now we're likely to see a continuation of the Grunfeld series. Or the Anti-Grunfeld, which is similar in terms of ideas. We had that in Grischuk – Aronian, and Kamsky against Topalov and Gelfand. I must admit, the direct and open Grunfeld is closer to my heart than all these English tricks: 1. d4! Nf6 2. c4 g6 3. Nc3 d5! I really want to find out what the players have prepared precisely for that honest move order. But I fear we're again going to see a game of cat and mouse… The law of the struggle is simple: deceive your neighbour, or a stranger will become your neighbour and deceive you. Boris and Sasha have long-standing friendly relations, but now they've come up against each other on a narrow path leading to Anand. And someone has to step aside.
1. Nf3 It's begun… Those same English tricks have begun!
1…c5 Grischuk is inviting his opponent to enter the Sicilian Defence.
2. c4 Gelfand isn't willing. He prefers to play the sharpest Sicilian schemes with Black, giving his opponent a one move headstart.
2…Nc6 To be honest, I've got the impression that the Kramnik – Grischuk match is continuing! The same positions in the opening. And drawn outcomes, for now. The players make no difference…
3. Nc3 e5 4. g3 No, there's nevertheless evidence of some novelty.
    [The ex-World Champion quickly closed the centre here with 4. e3 and 5. d4.]
4…g6 5. Bg2 We've got a completely standard structure for the English Opening – with the black pawn coming to e5 early on.
5…Bg7 Black has seized the dark squares in the centre with an iron hand, essentially ignoring the light ones.
6. a3 The intention of breaking through on the queenside with b2-b4 is obvious.
6…Nge7 For now Sasha isn't taking counter measures.
7. b4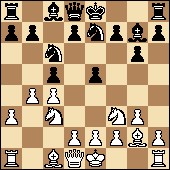 A pawn sacrifice! That's how White has taken advantage of the early emigration of the bishop from f8 and Black's extremely bold play in the centre. Everything in this world comes at a price…
7…d5 The Russian Empire lands a counterblow. Jobava and Avrukh have played this way. Without home analysis here there's nothing you can do – the position's too complex. Judging by the speed at which this is being played everything's ok with the players' analysis. We'll see whose digging turns out to have been deeper and of higher quality.
    [Black's troubles if he accepts the sacrifice were demonstrated by the game C. Troyke – V. Chekhov, Dresden 1996:
7…cxb4 8.axb4 Nxb4 9.Ba3 Nbc6 10.Ng5 O-O 11.Nge4 b6 12.Nd5 Rb8 13.Bd6 Rb7 14.Nef6+ Bxf6 15.Nxf6+ Kg7 16.Nd5 f6 17.Nxe7 Nxe7 18.Bxb7 Bxb7 19.O-O with a big edge for White.]
8. cxd5
    [Also played was the capture
8.bxc5 For example, 8…O-O 9.O-O dxc4 10.Rb1 Na5 11.d3 cxd3 12.exd3 Bg4 13.h3 Bd7 14.Bg5 h6 15.Be3 (each move involves real cunning!)
15…Bc6 16.Qe2 Nf5 17.Bd2 Re8 18.Ne4 b5 19.cxb6 axb6 20.Rfc1 Bd5 with complex and approximately equal play, K. Georgiev, B. Jobava, Barcelona 2008.]
8…Nxd5 9. Ng5 It seems as though this is a novelty. The manoeuvre itself, of course, is standard for the English Opening. But in the given situation it hasn't yet been played. There are subtleties…
    [In the encounter K. Solomon – B. Avrukh, Gibraltar 2009, there followed
9.Nxd5 Qxd5 10.Bb2 O-O 11.O-O e4 12.Bxg7 Kxg7 13.Ne1 Bf5 14.d3 Rad8 15.Qb1 Rfe8 16.bxc5 Nd4 17.e3 Nb3 18.Qb2+ Kg8 19.Rb1 Nxc5 20.d4 Na4 21.Qxb7 Qa2, and White paid for his greed and lack of attention to his own pieces. The knight on e1 and the bishop on g2… and also the rook on f1, look pitiful.]
9…Nc7 Grischuk replied so quickly that there's no doubt about the quality of his preparation – this very morning. He didn't even have to recall as he's got the moves in the game in his short-term memory.
    [After 9…Nxc3 10. dxc3 Qxd1+ 11. Kxd1 White got a small edge in the ending on account of the pressure on Black's queenside.]
10. d3 For now both players are striving not to pay any attention to the opposition of the b4 and c5 pawns. As chess players say in such situations, they're not playing for pawns. Development and piece activity are more important than trifling material considerations.
10…cxb4 But here, finally, materialism has replaced idealism. Black will manage to castle.
    [Complications that were impossible to evaluate would follow after
10…e4 11.Ngxe4 f5 12.Bg5 Bxc3+ 13.Kf1! Qd4 14.Bf6 fxe4 15.Bxd4 Bxd4 16.Bxe4 O-O and so on. Or rather, they're impossible to evaluate if you're seeing them for the first time! But the players in the final match know for certain who these horrors favour. So judging by the logic of events – White.]
11. axb4 e4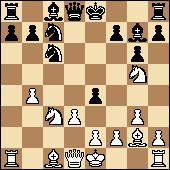 That's how you do it! It seems as though the exchange of pawns on b4 has been judged by Grischuk's team to be a favourable inclusion – before diving into the abyss of extremely complex lines involving the capture of major and minor pieces.
    [No good was
11…Nxb4 12.Qb3?! Qe7 13.Ba3 Qxg5 14.Bxb4 – the black king is kept in the centre. For ever, apparently.]
    [After the restrained
11…O-O White has a wide range of positional manoeuvres. The simplest is 12.Rb1]
12. Ngxe4 Gelfand isn't even pretending to think. He's an honest man and a solid chess player. I've had cases… yes, and no doubt any experienced chess player has had cases when his opponent demonstratively and painfully thought over every move in the opening, and then, as if catching a fish on a hook, he'd square up his shoulders and begin to play quickly and confidently, executing his prepared analysis. A childish psychological trick. It doesn't work on adults.
    [The variation 12.Qb3 O-O 13.Ngxe4 Be6 promised trouble for White. Black's initiative was strong:
14.Qb2 Nb5 15.Bd2 Ncd4! and so on. I'm sure the hard-working helpers of the candidates have also studied this line to a definite evaluation.]
12…f5 13. Bg5 Bxc3+
    [Unpromising was
13…Qd4 14.e3 Qxb4 due to 15.Bf6! Bxf6 16.Nxf6+ Kf7 17.Qd2 and you don't manage to win a piece:
17…Kxf6 18.Bxc6 bxc6? 19.Ne4+! So Black would be left with material equality in a position with clearly worse positional factors.]
14. Kf1 As you can see, we're following the line I mentioned in my notes, with the difference that there aren't pawns on c5 and a3. That probably does make some difference.
14…Qd4 There was nothing else. Otherwise White would win a piece, with an overwhelming advantage.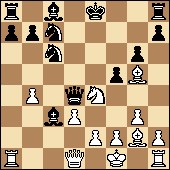 In this position there followed the first serious pause. Let's look at the clock faces: 1:32 – 1:39. Little by little, but both players are nevertheless using some time. They're playing methodically, lightly rechecking themselves.
15. Nxc3 A very interesting plot twist.
    [In the line 15. Bf6 Bxa1! 16. Bxd4 Bxd4 you could see the difference between the position and the one in my note to Black's 10th move. Missing is the c5-pawn, which right now could take the knight on d4! That was the tiny, but important difference.]
15…Qxc3 So then, White's playing a true gambit! He's a whole piece down, and his king's been deprived of castling, which has a negative influence on the effectiveness of the h1-rook. But still, the initiative is strong. The powerful dark-squared bishop is blowing like a gale across the board, terrifying the black pieces. The king on e8 is weak. But for now I'm more interested in the fate of the black knights, as they can easily be attacked…
16. Bf4 Appropriate aggression. Out of moving the knight to b5 or e6 the first option looks better – so the b4-pawn can't rush into the fray. But on the other hand, from the e6-square the prey might be able to catch the hunter – the f4-bishop. It needs calculating! Sasha has sunk himself into the position…
    [If 16. Rc1 Qxb4 17. Rxc6 bxc6 18. Bxc6+ Bd7 you can see the value of the c7-knight – it defends the a8-rook. With the move in the game Gelfand knocks it off its perch.]
16…Nb5 Trust your first impressions.
    [I studied the alternative
16…Ne6 until deep in the endgame:
17.Rc1 Qxb4 18.Rxc6 bxc6 (18…Nxf4 19.Rc4!)
19.Bxc6+ Kf7 20.Bxa8 Nxf4 21.gxf4 Be6 22.Bf3 a5 23.Qa1 Rc8 24.Kg2 – Black's passed pawn is very attractive, but he might be let down by the weakness of his king –
24…a4 25.Rb1 Bb3 26.Rxb3 axb3 (26…Qxb3 27.Qe5!)
27.Bd5+ Ke8 28.Qh8+ Kd7 29.Qxh7+ Qe7 30.Qxe7+ Kxe7 31.Bxb3 – and White retains some winning chances.]
17. Rc1 Qf6 The only move. Otherwise White wins back the piece by taking with the rook on c6.
18. Rc5 a6 This line is absolutely forced for both sides. White doesn't have the right to delay, and Black has no other means of defending. There's no doubt the opening preparation of both sides hasn't yet been exhausted! The question is who most accurately evaluated the ensuing positions?
19. Bxc6+ bxc6 20. Be5 White has nevertheless won something back – not a piece, but the exchange.
20…Qf8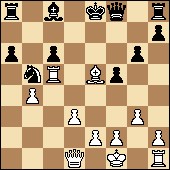 This is precisely the position that had to be accurately evaluated by Grischuk and Gelfand's teams in their home preparation. You can't entirely believe the computer here. It can go wrong in situations where the material balance has been upset and is so non-standard. By the way, it's not yet obvious that you have to take on h8. The e5-bishop is very strong. White's initiative is quite strong. You can put pressure on the c6-pawn, and also bring the h1-rook into the game. If you also manage to open up lines in the centre… But those are all dreams. And here's the reality: 1:14 – 1:22. A heap of time for the unaided struggle.
21. Qc1 An expected manoeuvre. White isn't only putting pressure on the c6-pawn, but is creating the threat of taking on b5 with a lethal check on c6 to follow. Besides, it's noteworthy that the queen went to c1 and not c2. It seems as though Boris has got in mind some diagonal manoeuvres, for instance Qc1-f4 or Qc1-e3. Personally, though, I'd prefer to bring the queen to c4, let's say, after 21…Bd7. However, in that case the prehistory of the movements of the white queen would be wiped clean. There's no difference which square it used to get there… Sasha, in turn, is selecting the means of defending the c6-pawn. The bishop will look miserable on b7, but if the rook leaves c5 then there'll be the c6-c5 break. The bishop looks a little better on d7… By the way, there's also a third method – to completely ignore the c6-pawn! (Translator's note: literally, "to spit on it from a high bell tower"!) I've got in mind the simple developing move 21…Be6. Then White, it seems, will again return to the strategy of materialism – taking on h8 and c6. It needs serious thought.
    [There was nothing promising after
21.Bxh8 Qxh8 – White has too few attacking pieces left, and the rook looks pale against the two minor pieces. There might have followed
22.Qc1 Bd7 23.h4 h5!, and then Black would methodically strengthen.]
    [Simply bad is
21.Rxc6? Bb7 22.Qc1 Kd7! 23.Rc7+ Nxc7 24.Qxc7+ Ke6 25.Qxb7 and there would follow the coup de grace from the monarch –
25…Kxe5! He won't die from checks.]
21…Bd7 The most natural response. Black is connecting his heavy pieces in one chain, and the one on the far right is about to leave for g8. Gelfand is again thinking hard, with his head between his hands. To take or not to take? The alternative is 22. Kg2 with the idea of opening the centre with e2-e4. Then the rook that's been getting bored on h1 will become a terrible force on e1.
    [Let's look at the other continuations that have gone by the wayside. I'll begin by saying that even White's most obvious threat wasn't so terrible:
21…Rg8!? 22.Rxb5 cxb5 23.Qc6+ Kf7 24.Qxa8 Qxb4 – an unclear position. With opposite-coloured bishops on the board both kings have something to fear. White can win a pawn with
25.Qd5+ Be6 26.Qb7+ Qe7 27.Qxa6 But then Black will seize the initiative:
27…Bd5 28.Bd6 Qd7 29.f3 Rc8 and so on]
    [I rejected the move 21…Bb7 out of aesthetic considerations.]
    [And 21…Be6 because of materialistic ones –
22.Bxh8 Qxh8 23.Rxc6 Kf7 24.f3! Qe5 25.Qc5! Bd5 26.e4 Qa1+ 27.Qc1 Qxc1+ 28.Rxc1 Bb7 29.Kf2 Rd8 30.Ke3 – here the rook and two pawns are stronger that Black's minor pieces. The pawns will soon reach their goal.]
22. Bxh8 Boris has decided not to play with only a pawn for a piece. He lacked the enthusiasm. Maybe that was in vain.
    [Not dangerous for Black was
22.h4 Rg8!, and if 23.h5 there's g5!]
    [Extremely dubious is
22.Rxc6, after which, by the way, you don't have to take the rook but can move the rook to g8. But let's also look at the capture –
22…Bxc6 23.Qxc6+ Ke7 – there's no perpetual check, but then there's the interesting romantic attack
24.e4! Still, to play in such a lively manner – a rook down! – in such a high-stakes match, is extremely tough.]
    [The only really relevant move was
22.Kg2 Rg8, and here there's a tricky choice. To immediately play e2-e4, or first to prepare this break with piece manoeuvres, or first to include the h2-h4 flank attack – that's the question. In any case, it's impossible to calculate it to anything concrete at the board. It's also not so easy in analysis…]
22…Qxh8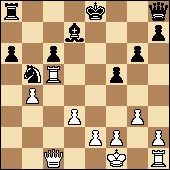 The position has clarified. The material balance – a bishop and knight for a rook and pawn – is pleasant and promising for Black. Above all, because there isn't a single completely open file on the board. It'll be hard to develop the rooks. It seems to me that overall the outcome of the opening is in Black's favour. He's playing on equal terms, at worst.
23. Qe3+ Played amazingly quickly. The point of this check is shrouded in mist. The black king will go to f7 and the rook from a8 will come out to e8. The e2-pawn is blocked and White's active ideas are drying up.
    [It seems to me it was worth pushing 23. h4, and if 23…h5 then the change in the structure would favour White. It wouldn't be a cardinal change – but from small seeds…]
    [The simple developing 23. Kg2 was also asking to be played.]
23…Kf7 White no longer has an attack. In what follows he'll have to put up a stubborn defence.
24. Re5 Ah, there's the idea of the Israeli grandmaster! He's not giving Black the chance to work on the e-file with his rook. The exchange of rooks on e8 seems to be something Boris considers favourable. And it's possible to agree with him on that. However, he needs to have foreseen the cunning response 24…Qf8!, stopping the threat of an invasion on e7 and creating the counter-threat of capturing on b4. For now time trouble doesn't seem to be on the cards: 0:52 – 0:45. That's another advantage of deep home preparation, besides the purely chess pressure on your opponent. Today the match participants have dazzled with the depth of their analysis, saving themselves no small amount of time at the board.
24…Qf8 Posing the question bluntly.
    [The move 24…Qf6 was very good from the point of view of solidifying the position, but it didn't contain a clear threat.]
    [And if
24…Re8 25.Rxe8 Bxe8 White could open up play with the push
26.g4!, and if 26…fxg4 it was strong to play 27.h3!]
25. h4 The h1-rook is striving for freedom.
25…h5 Played quickly and practically, so that the team of seconds don't get worried!
    [Other continuations looked risky. For example, if 25…Qxb4 then it was strong to play 26. h5, and 26. Qh6!? with the idea of 26…Rh8, 27. h5!]
26. Qf4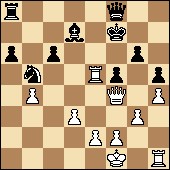 It's amazing how long Gelfand has been playing without having done anything about his king and the passive h1-rook. There's something incorrect and even unhealthy about that. Well, it's impossible to defeat N pieces of your opponent (the king doesn't count, which isn't, by the way, always correct), when you've only got N-2 fighters.
26…Qd6 A simple and obvious strengthening of the position. The e5-rook is hanging by a thread. Another attack will be critical for it. If queens are exchanged then Black will quickly reorganise and put pressure on the b4-pawn. For example, via Ra8-b8 and Nb5-c7-d5. By the way, the black knight can also do some harm with queens on the board. And it'll begin with a jump to d4.
    [There was also the option of a break on the flank with 26…a5, but the Russian decided not to immediately deprive his opponent of the weakness on b4.]
27. Kg2 Better late than never. But, alas, it really is late. Black's edge is obvious.
27…Kf6 The exchange of queens is the correct way of fighting for a win.
    [The manoeuvre 27…Nd4 28. e3 Ne6? had the small flaw: 29. Rxf5+!, and White wins the queen.]
28. Re4 The choice between the two evils has been made.
    [The ending after
28.Rc5 Qxf4 29.gxf4 Nc7! 30.Rb1 Rb8 was very unpleasant. It was hard to solve the problem of saving the b4-pawn. Later I looked at
31.Kg3 Ne6 32.Ra5 c5 (it's not clear that you have to rush, but in analysis anything goes)
33.Rxa6 cxb4 34.e3 Ke7 The combined efforts of the four black pieces should be enough to push the b4-pawn to its goal.]
28…Qxf4
    [Sasha chose not to look into the passing nuance, 28…Be6. To save time.]
29. Rxf4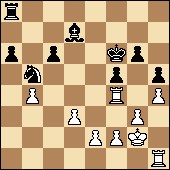 The rook on f4, on the one hand, looks good – it defends b4 and is defended itself. But on the other hand, it can be attacked by the black knight from d5 or e6. A third point is White's counterplay resource of f2-f3 and g3-g4 or e3-e4 to follow. Here Black should find an accurate plan of action. True, Grischuk's supply of time is coming to an end with treacherous speed: 0:34 – 0:20. That always happens suddenly!
29…Be6 Played to limit the f4-rook. The c6-pawn, it seems, will be defended by the black king. In person. If 30. Rc1 there's the reply 30…Ke5! and you can't take on c6 because of the fatal check on d5.
    [Here it was no longer so effective to play 29…Nc7 because of 30. Ra1 Nd5 31. Rc4 – the pressure of the white rooks on a6 and c4 restrains Black.]
30. Rc1 Ke7 Six of one, half a dozen of the other – the black king will get to d6 in any case. It seems it's already time for Gelfand to start thinking about sharp pawn actions. Otherwise he risks being strangled without any chances.
31. f3 Yes. Boris understands everything perfectly. He's closing the gaping hole on the h1-a8 diagonal and preparing counterplay with g2-g4. It's another matter that that counterplay is purely decorative. The f5-clamp is unlikely to be destroyed. The real goal is opening up at least one more file.
31…Kd6 32. Kf2 A useful advance.
    [On 32. g4 there might follow 32…hxg4 33. fxg4 fxg4 34. Rf6 Nd4! and the weakness of the e2-pawn gives Black a vital tempo for the attack.]
32…Rb8 Grischuk has decided to ignore his opponent's ideas. He's setting up a gun to fire at the b4-pawn. Black's knight is threatening the manoeuvre Nb5-c7-d5. The absence of time is becoming a factor: 0:18 – 0:13.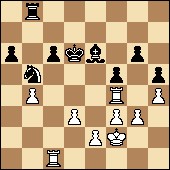 Gelfand is suffering at the board. I'm sure he's considering freeing pawn breaks.
33. e4 He's gone for it! The f4-rook looks comical for a moment, but it'll still put up a fight.
    [I also looked at
33.g4!, where a relevant line is
33…hxg4 34.fxg4 and on fxg4 35.Rf6 Black opens up a second front –
35…Nd4 36.Rxg6 Rxb4 with the position becoming much sharper. There are passed pawns on both wings. Great complications! It seems that might have been a decent chance for Boris. But he missed it.]
33…Nc7! An accurate and calm reply. The f5-clamp holds. The b4-pawn is under attack.
34. g4 Staking all on a storm! The f4-rook is blocked off by pawns on all sides now. But it'll soon break free.
34…fxg4 It seems as though Sasha intends to put his bishop on g4, and give the e6-square to the knight. And that makes sense, as the d5-outpost has been taken away from him i.e. from the knight :)
35. Rf6 Hindering the reorganisation mentioned for his opponent.
    [However, after 35. fxg4 Bxg4 36. Rf6+ Ne6 37. Rc4! White still had defensive resources.]
35…gxf3 Capturing is the easiest thing to do in time trouble.
36. Rxg6 Likewise.
36…Rxb4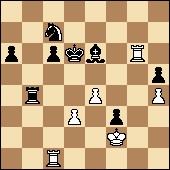 White's pawn ranks are disappearing, while Black has a strong outside passed pawn. His edge is growing.
37. Rh6 White's last hope is to organise his own passed pawn on the other side of the board. The times are: 0:09 – 0:04. The time control's near…
37…a5?! Very bold play. Very principled! But, it seems, incorrect… Time trouble has nevertheless had its say.
    [The materialistic 37…Rb3 was stronger.]
    [Or even 37…Rb5 38. d4 Rb4, and then if 39. d5 cxd5 40. e5+ Kxe5 41. Rxc7 Bg4 Black's advantage is great.]
38. Rxh5 a4 39. Rhc5! The most accurate refutation – White pushes the black bishop to the passive d7-square. At the same time he frees the path for the h4-pawn.
39…Bd7 Black's edge is slipping away. It seems White can neutralise the a4-pawn.
40. Kxf3
    [40. R5c4 seemed safer to me – the exchange of rooks guaranteed White survival. And if Black rejected it he'd be risking losing his own trump passed pawn. But it would be wrong to complain about the control move.]
40…Ne6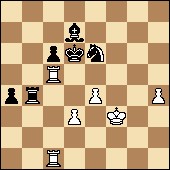 The time control has passed, and the flags have remained intact. It's time to drink strongly brewed drinks and look at the position without emotions… It looks as though Grischuk has let everything he had slip. Everything that he squeezed out by long and stubborn effort – by himself and his team.
41. R5c4?! A strange decision. Why did Boris rush like this? After all, he could have calmed down and looked around! There's a suspicion that he's underestimated the reply 41…c5! He simply didn't have time…
    [It's doubly strange that he didn't play according to the theory, known even to school children – 41. Ra5! Behind your opponent's passed pawn – that's the best position for the rook. Then in the lines that follow White survives on account of active counterplay:
41…c5 42.h5! Nd4+ 43.Ke3 Bb5 44.Ra8 Rb3 45.e5+! Kd5
(45…Kxe5 46.Rxc5+)
46.Rd8+! Ke6 47.Rxc5 Rxd3+ 48.Ke4 and so on. The ensuing positions are complex, but with equal chances for both sides.]
41…c5 But now things aren't what they were. With the knight on c7 Black didn't have such a resource. Now he does. He'll take control of the centre and resurrect the d7-bishop. The white rooks are on longer as powerful as they would have been after 41. Ra5! The exchange on b4 would, of course, be suicide.
42. h5 There it is, the chance of surviving. The pawn distracts Black from his own play and extends the front – which is particularly unpleasant for the non-long-range knight. Sasha has "fallen asleep" for about 20 minutes, which also provokes amazement. The manoeuvre of the rook to b2 is too obvious. There is, it's true, an alternative route via b8. In any case, it's worth leaving yourself more time for the second time trouble in the game. By the way, that might not be the last :) At the moment I'm writing these words the clocks show: 0:56 – 0:29.
    [The line 42.Rxb4? cxb4 43.h5 b3 44.h6 b2 45.Rb1 a3 46.h7? Ng5+, with a win for Black, is simple and obvious.]
42…Rb2 A good, strong move, but the time taken to make it was unacceptably long. The black rook is rushing to h2. It's no longer possible for White to close the second rank with rooks because of the fork on d4. What's left? It seems you have to put your rook on h1, and start a passed pawn race.
    [Including 42…Bb5 43. R4c3 was unlikely to be useful. After 43…Rb2 44. Rh1 the black passed pawn can't begin the race.]
43. Rh1 Yes. Boris isn't inclined to waste time in vain.
43…Nd4+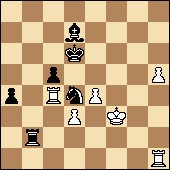 After another generous think the Muscovite has rejected the general direction of play. Now White has a path across on solid ground. It's simply important not to fall into little traps. For example, just now you shouldn't move your king to f4, as after Bd7-b5! you won't be able to put the rook on c3 because of the fork on e2.
    [It seems the race didn't lead to victory, but to prove that White would have to find no small number of finesses:
43…a3 44.h6 a2 45.Ra1! Only like that. (45.h7? Ng5+)
45…Bb5 46.h7! Ng5+ 47.Kf4 Nxh7 48.Rc3 – and here it's not quite clear how to save the a2-pawn. It seems you'd have to give it up –
48…Nf8 49.Ra3 Ne6+ 50.Ke3 Rh2 51.R1xa2 Rh3+ 52.Kd2 Nd4 , but Black's initiative here is, more likely than not, insufficient for anything serious. In fact, that's almost certain.]
44. Ke3 Gelfand is quick and accurate. Now the advance of the h5-pawn is doubly dangerous, as Black no longer has the knight fork resource on g5.
44…Be6 An interesting rearrangement. The bishop is attacking the enemy rook, leaving the a4-pawn undefended! It seems Grischuk is weaving a mating net around the white king. That's why he's trying to push the white rook off the c-file. But that can't prevent a drawn outcome either. After 45. Rxa4 Ke5 White is able to give up the rook on d4 – then his strong passed pawn won't allow Black to hold onto the d4-pawn. The analysis isn't complex… But there's a time for everything. Let Boris think calmly and he'll find it all himself.
    [You couldn't play 44…Ke5? because of 45. Rxc5+]
    [If 44…Bb5 then apart from retreating to c3 there was also a bloody way of drawing – 45. Rxd4+ cxd4+ 46. Kxd4, and then the white pawns start to fly… but not only that – 46…a3 47. h6 a2 48. Ra1, and Black has to give up the a2-pawn.]
45. e5+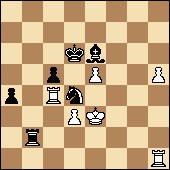 Not a bad alternative. White's clearing out the centre.
    [Here was the main path:
45.Rxa4 Ke5 46.Rxd4 cxd4+ 47.Kf3 Rb8 (it was very simple to play 47…Rd2 48.h6 Rxd3+ 49.Kf2 Bg8 50.h7)
48.h6 Rf8+ 49.Kg3 Rh8 50.h7 Bf7 (50…Kf6 51.Kf4!)
51.Rh6! Be8 52.Kf3, and Black can't make any progress.]
    [But here was a false trail:
45.h6? Bxc4 46.h7 Re2+! 47.Kf4 Rf2+ 48.Ke3 Rf8 49.h8=Q Rxh8 50.Rxh8 Be6 with an easy win for Black.]
45…Kxe5
    [The move 45…Kd5 was too clever – 46. h6!]
46. Rxc5+ Bd5 Threatening mate-in-one. There's no choice.
47. Rxd5+ Kxd5 48. h6 White's saved by his counterplay. Grischuk is using up his last minutes searching for something that seems not to exist: 0:31 – 0:03! And there's no increment after each move yet. In this situation it's important not to let your flag drop – that would be a terrible tragedy.
48…Re2+
    [On 48…Nf5+ the only saving move was
49.Kf3, which isn't difficult to find, it's true:
49…Nxh6 50.Rxh6 a3 (50…Kd4 51.Rh4+!)
51.Ra6 a2 52.Ke3]
49. Kf4 Ne6+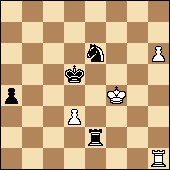 [There was also nothing after
49…Re8 50.Rh5+ Kc6 51.Ra5 Ne2+ 52.Kf5 Nc3 53.h7 Rh8 54.Kg6 Kb6 55.Rxa4! Nxa4 56.Kg7, and Black has to give up the rook for the h7-pawn.]
50. Kg3 In no way worse than other continuations.
50…Nf8 51. h7 Gelfand's confident of the evaluation of the rook ending.
    [After 51. Ra1 Re6 52. Rxa4 Rxh6 then, more likely than not, he'd have to defend a rook against rook and knight ending. Of course that's not difficult, but why put yourself through it?]
51…Nxh7 52. Rxh7 a3 It's time to push the pawn – not so much out of chess considerations as a desire not to let your flag drop!
53. Kf3 Re1 The rook is heading to a1. That's the last hope of confusing his opponent. Boris is having a serious think. He's saved by the circumstance that he's left himself a decent supply of time: 0:01 – 0:15.
    [It was fruitless to play 53…a2 54. Ra7 Rb2 55. Ke3! =]
54. Ra7 Ra1 55. Ke3 a2
    [If 55…Kc5 then the simplest move was 56. Kd2, bringing the king to the black passed pawn.]
56. Ra5+ Kc6 57. Kd4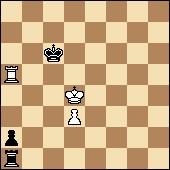 There it is – an elementary draw. The white king has hidden from the checks from below.
57…Kb6 58. Ra8 Kb7 DRAW! A painful miss for Grischuk. He deserved to win, but couldn't convert his advantage technically in time trouble. However, it's worth noting Gelfand's stunning composure. He was extremely accurate in a very tough position. Well, according to the tradition instituted in Kazan the shield has again proved mightier than the sword. I, Grandmaster Sergey Shipov, am celebrating a sad anniversary – the tenth draw in a row in my live commentary! Well, there are still four games to go, so let's hope that the first blood will eventually be spilled. Thank you for your attention, dear friends. Until tomorrow!
1/2 – 1/2
Later in the day Sergey Shipov also produced a video on the game:
He mentions at the end that if such a game had been played 50 years ago it would have taken a whole year to analyse, while now it's possible to draw conclusions (even if not definitive ones!) almost immediately – and the highlight of the video is watching Shipov's deep analysis. 
He identifies 22. Bxh8? as the critical moment in the game – Gelfand needed to play "in the style of Tal, Kasparov, Shirov and so on" and not try to win back material immediately. You can watch from about 09:00 onwards as Shipov demonstrates the possible lines, with his preference being for 22. Kg2 (when at one point Shipov delays showing Black castling long it's because he's telling a story of how an International Master once asked him during a tournament if you could still castle when the rook had to cross a square that was under attack!). Although objectively White probably has nothing more than a draw, it's a position where Black can easily go wrong.
Overall, Shipov doesn't suggest many serious corrections to his commentary during the game (he mentions 37…Rb5 is only a draw), though 31…Kd7!? is an interesting idea instead of 31…Kd6. At about 16:49 in the video Shipov points out how on the seventh rank the king wouldn't come under attack from the white rook or be liable to a check by a pawn on e5 – which would have made some of the lines in the game totally winning for Black.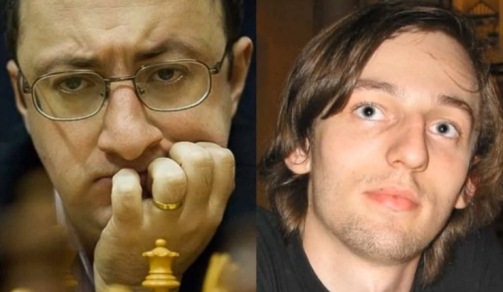 I'll again be translating Sergey Shipov's live commentary on the third game of the Grischuk – Gelfand match today. Follow it here!