The first game of the Candidates Final got off to a promising start, as Alexander Grischuk tried a new approach – playing for a win with the white pieces! Despite taking his time (Shipov wondered if he was trying to save Tal's hippo, or waiting for his wife to fly in from Georgia) he couldn't quite break through. 

Sergey Shipov's commentary in the original Russian can be found here at Crestbook, where you can also play through all the moves and analysis.

GM Sergey Shipov's live commentary on:
Candidates Matches Final, Game 1
ALEXANDER GRISCHUK – BORIS GELFAND

Hello, dear spectators. Rested and having had some sleep, this is Grandmaster Shipov again at my post – in my Moscow flat, in front of monitors, keyboards and mice. The selected songs of Boris Grebenshchikov are pouring out of the speakers. Tea has been brewed and the cats fed. I really hope that the players in the final match have also managed to rest and prepare well. Ahead of them is the most important match of their careers. Success will write the winner's name in the history of chess – regardless of how the match against Anand goes. It's high time to gather all their powers and give their best. We're going to see a classical confrontation between youth and experience, optimism and wisdom, a sporting gamble and an academic approach. Personally I like both of the contenders. I've had the chance to talk to both Boris and Alexander. On the www.crestbook.com website we've carried out impressive KC-Conferences with them, which will now be extremely interesting to re-read. I recommend them! (Translator's note: I translated all of Grischuk's interview, and large sections of Gelfand's: part I, part II.) As for the match itself, then it's worth taking into account the extended length from 4 to 6 games. That seriously alters the situation. It's likely that Grischuk will no longer be so modest with the white pieces. Holding on three times with Black, on demand, is the most difficult of tasks. It's also good that Gelfand hasn't been playing the Queen's Gambit that we've all had enough of. I hope we'll see… By the way, what will we see? For Grischuk switching to 1. e4 would be obvious, with a sharp battle in the Najdorf Variation of the Sicilian Defence. But, realising that, Boris might return to his fireproof Petroff. And if 1. d4 then we'd all, of course, be glad to see a duel in the Anti-Moscow Gambit – but that's so obvious, and so appealing, that Murphy's Law again means we can expect something else. In general, I won't try and guess the opening. I simply hope we'll see an interesting battle. And may you know who win!
1. d4 Yes! It seems as though the logical considerations about the move 1. e4 among Grischuk's team went approximately the same way as mine. And a move's been chosen that promises more chances of a tough struggle.
1…Nf6 2. c4 e6 3. Nf3 d5 But Gelfand's team also wasn't idle! Perhaps spectators are bored of the Queen's Gambit, but for the player with the black pieces it's very tempting to suck the life out of the game – and achieve a draw, following the example of Radjabov and Kramnik.
4. Nc3 Be7 5. Bf4 Of course Grischuk doesn't find the Lasker exchange system very appealing.
    [I'm talking about the line 5. Bg5 h6 6. Bh4 0-0 7. e3 Ne4, which for a long time has been considered dry and almost drawn. That evaluation was confirmed once more in the Kramnik – Radjabov match.]
5. 0-0 6. Rc1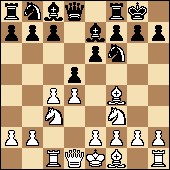 And here's the first surprise. White's keeping his pawn on e2 for now. If Black is brave enough to take on c4, then it'll appear on e4. Of course, the move in game has been known about for a long time. Pillsbury played that way in his stellar year of 1895. While in our time it's been played by Dmitry Jakovenko – Grischuk's companion-in-arms on the Russian team.
    [Previously in Kazan Sasha had played the solid 6. e3.]
6…c5 The most principled response – a counterblow.
    [Let's first look at the source, in which Black played the modest:
6…c6 7.e3 b6 8.Bd3 Bb7 9.O-O Nbd7 10.e4 dxe4 11.Nxe4 Nxe4 12.Bxe4 Nf6 13.Bb1 c5 14.dxc5 Qxd1 15.Rfxd1 Bxc5 16.a3 Rfd8 17.b4 Be7 18.Nd4, and didn't equalise, H. Pillsbury, G. Marco, Hastings 1895. But survived.]
    [And here's a fresh example of how on
6…dxc4 there followed 7.e4! c5 8.Bxc4 cxd4 9.Nxd4 a6 10.e5 Nd5 11.Nxd5 exd5 12.Bb3 Nd7 13.O-O Nc5 14.Bc2 Qb6 15.b3 Bd7 16.Be3 Qb4 17.f4 with an obvious edge for White, D. Jakovenko, E. Ghaem Maghami, Khanty-Mansiysk 2010.]
7. dxc5 Bxc5 8. e3 There's no need to rush. White is completing development, while for now Black has a passive c8-bishop.
    [Exploiting the direct force of the c1-rook and the weakness of the c5-bishop didn't work:
8.cxd5 exd5 9.Nxd5? Nxd5 10.Rxc5 Nxf4, and there are less White pieces.]
8…Nc6 Black is reinforcing the centre and getting the option of arranging exchanges in the centre with d5-d4. If the chance arises.
9. a3
    [In the encounter D. Jakovenko – M. Adams, Khanty-Mansiysk 2010, White was apparently in too much of a rush to exchange on d5 – 9.cxd5 exd5 10.Be2 d4 11.exd4 Bxd4 12.O-O Bxc3 13.Rxc3 Be6 14.Ra3 (or 14.a3 Qxd1 15.Rxd1 Nd5!)
14…h6 15.Ne5 Qd4, and Black had successfully resolved his opening problems.]
9…d4 The chance arose almost immediately!
    [A highly authoritative chess figure here prefered the restrained
9…a6 In the game P. H. Nielsen – Kasparov, Reykjavik 2004, there followed
10.b4 Bd6 11.Bg5 a5 12.b5 Ne7 13.Bxf6 gxf6 14.a4 Bb4 15.Be2 dxc4 16.O-O Nd5 17.Na2 Nb6 18.Qc2 e5 19.Nxb4 axb4 20.Bxc4 Nxc4 21.Qxc4 Rxa4 22.Rfd1 Qb6 23.Nh4, and a counterattack gave White a draw.]
10. exd4
    [No good is 10.Na4? due to Qa5+ 11.b4 Nxb4 12.axb4 Bxb4+ 13.Ke2 d3+! 14.Kxd3 (14.Qxd3 Qxa4)
14…Rd8+ 15.Nd4 e5 and a crushing win. Such a cooperative line wouldn't even have been possible in the 19th century. People only played so poorly in the 18th century and before.]
10…Nxd4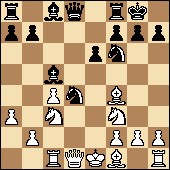 Gelfand's slight doubts in the opening shouldn't mislead anyone. At the moment the players are just exchanging their prepared moves. This opening of the centre was studied a long time ago and in depth.
11. b4
    [Tigran Vartanovich Petrosian here played the cunning move 11.Ne5, and won:
11…b6 (more accurate is 11…Nc6)
12.Bd3 Bb7 13.O-O h6 14.Re1 Nc6 15.Rc2 Qc8 16.Ng4! Be7 17.Nxf6+ Bxf6 18.Ne4 Be7 19.Qh5 with an extremely strong attack for White. That was how his game against Anatoly Bykhovsky went in Moscow, 1968. By the way, Bykhovsky trained none other than Grischuk!]
11…Nxf3+ 12. Qxf3 White has a pawn advantage on the queenside, where Black's rook and bishop are also passive. But there's also a clear drawback to White's position – the King's delayed in the centre. Here you have to keep a close eye on the e6-e5 counterblow.
12…Bd4 Now e6-e5 is definitely a threat.
13. Nb5 The prey turns into a hunter. And vice versa – it's uncomfortable for the d4-bishop.
    [After the modest
13.Be2 you could successfully play
13…e5, which has been proven in games. For example,
14.Bg5 h6 – that's how to do it, cynically –
15.Bxf6 Qxf6 16.Qxf6 gxf6 17.O-O a5 18.Bf3 axb4 19.axb4 Kg7 20.Rfd1 Rd8 21.c5 Bd7 22.Ne4 agreeing to a draw, M. Kobalia – V. Neverov, Dubai 2001.]
13…e5 The c8-bishop can breathe freely.
14. Bg5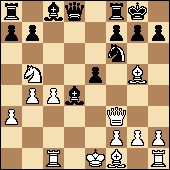 But the e-file remains closed. If White manages to complete his development then he'll have an edge – if only because he'll manage to exchange the powerful bishop on d4. And in terms of the endgame he'll have good chances on account of the pawn advantage on the queenside. The position still isn't new and there have been solid predecessors. But those playing the game are already taking long thinks. Strictly speaking, though, that doesn't mean a thing! Boris is patiently studying the position and choosing between the immediate 14…e4, which has been seen before, and the experimental 14…Re8!? 15. Bxf6 e4!. Yes, in the second line White isn't obliged to take on f6 immediately. You can also simply develop your bishop to e2. But first of all you have to fully calculate the ensuing exchanges. There's a chance that White will end up with a better ending… The clock situation isn't typical of Grischuk: 1:44 – 1:15. It seems as though this time his opening preparation has hit the bull's eye! While in the time available to him Gelfand didn't manage to peruse and analyse all the different branches of the very tempting and apparently drawn Queen's Gambit. C'est la vie.
    [By the way – it wouldn't have been good to rush to exchange on d4. After 14. Nxd4, Black has, apart from banal moves, the fantastic resource 14…Re8! – with a very strong attack.]
14…Re8 A novelty – the most stubborn continuation. I'm sure that Sasha and his team looked at it at home, which hasn't stopped due reflection about it at the board – that's the Muscovite's glorious tradition. According to my initial impression White should go for the direct line with an exchange of queens (15. Bxf6 e4 16. Bxd8 and so on.) The endings give White excellent prospects of queening one of his pawns on the queenside. I can't see any contraindications… Grischuk is continuing to meditate at the board. It seems as though he's not thinking about chess at all. Apparently he's resolving Tal's question: how do you drag a hippopotamus out of a marsh? He's using winches, levers and other lifting apparatus. Or perhaps he's waiting for his wife, Natalya Zhukova, to appear in the hall, having rushed from the ship to the ball. (Translator's note: a phrase from Pushkin.) The European Women's Championship ended yesterday in Tbilisi. By the way, congratulations to Viktorija Cmilyte on her brilliant and deserved success. The tournament didn't go well for Zhukova, but that's unlikely to have upset her too much. Her husband was playing for both of them.
(Translator's note: actually Grischuk's wife was dinosaur hunting in the Georgian mountains (!), as you can see in Evgeny Surov's photo report for Chess-News.ru.)
    [The improvement over the previous game was obvious:
14…e4 15.Qg3 h6 16.Rd1! hxg5 17.Rxd4 Bd7 18.Be2?! (There was a big advantage after 18.h4! g4 19.h5 Qe7 20.Nd6)
18…a5 19.O-O axb4 20.axb4 Ra2 21.Qb3! Qa8! (21…Rxe2 22.Nc3?)
22.Nc3 Ra3 23.Qb2 Re8 24.Rfd1 and Black didn't fully equalise, P. H. Nielsen – A. Beliavsky, Copenhagen 2004. And lost.]
    [Also bad for Black is the line
14…e4 15.Qg3 Nh5 16.Bxd8 Nxg3 17.Bg5! Nxh1 18.Nxd4 – the knight can't get out of h1, and White will eventually take it.]
15. Bxf6 So then, the hippopotamus has been successfully drowned in the marsh. Play's about to begin.
15…e4 There was no choice.
    [On 15…gxf6 it was strong to play 16.c5! with Nb5-d6 or Bf1-c4 to follow.]
    [And if 15…Qxf6 16.Qxf6 gxf6 then as White I wouldn't even allow Black to have compensation for the exchange after
17.Nc7 Bf5!]
    [More practical is
15…Qxf6 16.Qxf6 gxf6 17.Nxd4!? exd4+ 18.Kd2 with a comfortable edge in the endgame for the next hundred moves. Besides, it's unlikely Black would survive that hundred moves. The d4-pawn is weak and White's passed pawn will soon become a reality.]
16. Bxd8 exf3+ Galloping from the opening into the endgame. But such is contemporary theory. It's studied until it's falling apart, until bare kings.
17. Kd2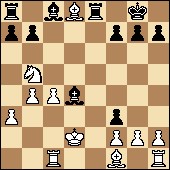 There's no point being modest or cautious here. In the endgame the king is an active piece. Boris has, in any case, started to think about capturing on f2, but he'll reject it, more likely than not. There's still plenty of time: 1:11 – 0:56.
17…Rxd8 Correct. Correct that he didn't have doubts for long! The minutes on the clock could still come in handy.
    [In the line 17…Bxf2 18.Bg5 f6 there's the idea –
19.Nd6 Re6 20.c5 Kf8 (20…fxg5 21.Bc4 Be3+ 22.Kd3 Bxc1 23.Nxc8! +-)
21.Bf4 g5 22.Bg3! Be3+ 23.Kc2 Bxc1 24.Kxc1, after which, due to the powerful d6-knight and the weakness of the b7-pawn, White gets a big edge. There might follow
24…Re3 25.gxf3 Rxa3 26.Kb2 Rxf3 27.Bc4 – Black even gets a formal material edge, but his position is objectively hopeless.]
18. Nxd4 Rxd4+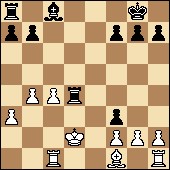 Now White has a serious choice of where to move – e3 or c3. In both cases Black has problems – White will inevitably up the pressure on the queenside. In some lines it no longer matters what happens on the kingside. White is within his rights to play boldly, with little sacrifices. In that respect it's not clear that Black should take on g2. A pawn here isn't as precious as a tempo. The bishop on g2 will, you'll agree, be extremely strong. And the b7-pawn will be weak. For me personally the first thing that springs to mind is moving the king to e3, if only so that it doesn't get in the way of the c1-rook, which will serve to push the passed pawn. And then our white majesty will be able to take on f3 in person, avoiding any damage to White's structure.
19. Kc3 No. Sasha has gone to the left. Not so much due to his political views but out of a desire to use his king to support the passed pawns. And the kingside can go up in flames!
    [After 19.Ke3 I couldn't find a clear path to equality for Black. The first line is:
19…fxg2?! 20.Bxg2 Rh4 (20…Rd6 21.Rhd1)
21.Rhd1! Be6 22.Rd4 Rxd4 (22…Rxh2 23.Bxb7)
23.Kxd4 Rd8+ 24.Ke3 Bc8 (24…b6 25.c5)
25.c5 – White has simple play and Black has nothing to do.]
    [The second line is:
19.Ke3 Rd6!? 20.Kxf3 Rf6+ 21.Ke3 Bd7 22.f3 Re8+ 23.Kf2 Rd6 24.c5 Rd2+ 25.Kg3 Re6 26.h4! – White keeps the extra pawn and gradually becomes active.]
19…fxg2 Here this is already possible.
    [Bad were 19…Rg4?! 20.g3! and 19…Rd6 20.c5, and if 19…Rd8 then there was some point in the immediate 20.gxf3!]
20. Bxg2 Rg4 An important resource to win a tempo. Black intends to bring his bishop out to e6 immediately, while the c4-pawn is hanging. Otherwise you can't develop the queenside. Grischuk is being true to himself and has managed to overtake his opponent when it comes to time spent: 0:40 – 0:48. That despite at one point having had 35-40 minutes in reserve. He squandered it all on doubts!
21. Rhd1 It's nice to threaten mate-in-one. But in actual fact this isn't an obvious move. It merely provokes Black to develop.
    [The difference in the position of the king on e3 or c3 tells in the line
21.Bf3? Rf4!]
    [But it was worth looking at
21.Bd5. If Be6, then apart from the exchange on e6, there's the interesting manoeuvre
22.Kb3 However, Black isn't obliged to exchange on d5 immediately and allow the white rook to c7. More accurate is
22…Kf8!]
21…Be6 Of course.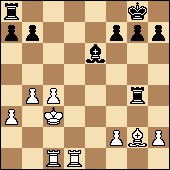 Black is close to equalising the position.
22. Bxb7 Without further ado.
    [I'd dare to suggest a slight deviation here as well – 22. Bd5. I think even without bishops White still has an initiative. The idea's the same – to invade with the rooks on the seventh rank and win a passed pawn race. After all, White does still have a certain lead for now.]
22…Rxc4+ 23. Kb2 Rxc1 24. Rxc1 Played after another serious think.
    [It strikes me that Sasha was right to have doubts. It didn't look bad to play
24.Kxc1, which wouldn't allow Black to activate his rook immediately. There might have followed:
24…Rb8 25.Bc6 Kf8 26.Rd4 Ke7 27.b5 Rc8 – no, there probably wouldn't be any real chances of success here either. Black manages to coordinate his pieces excellently and construct a solid defence.]
24…Rd8 It's worth noting that White's got weak pawns. Active counterplay will give Black real counterchances. There's less and less time: 0:21 – 0:45.
25. Kc3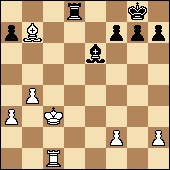 Two birds with one stone. On the one hand, the white king doesn't allow the enemy rook to get to d2, while on the other it supports the pawn pushes: b4-b5, a3-a4 and so on.
    [There were attractive complications after
25.Rc5 Kf8 (even more lively was 25…Rd2+ 26.Kc3 Rxf2 27.Ra5 and so on.)
26.Ra5 Ke7 27.Rxa7 Rd7! 28.a4 Bd5 29.Bxd5 Rxa7 30.a5, true, more likely than not those were in Black's favour –
30…Kd6 31.Bc4 f5 and so on.]
    [While 25.b5 was premature:
25…Rd2+ 26.Rc2 Rd3 27.Rc3 Rd2+ with an immediate draw.]
25…Kf8
    [You can't get by without the help of the king here: 25…Rd7 26. Bc6 Rc7 27. b5!]
26. b5 Precisely. After looking deeper into the position it becomes clear that White nevertheless has some chances of success. His pawns will inexorably creep forwards. Of course, it would be good for Black to exchange bishops, but who'll let him? Here and a little earlier after Be6-d5 there was the pin Rc1-d1.
26…Ke7 27. a4 The black king has got closer, but the white pawns have as well.
27…Rd6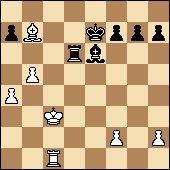 Constructing a fort. Behind the back of the rook the black king is rushing to c7.
    [If 27…Bd5 there was the unpleasant check 28. Re1+! with the idea of 28…Kd6? 29. Bxd5 Kxd5 30. Rd1+]
    [If 27…Kd6 then it seems as though the simple 28. Kb4 would follow.]
28. a5 White already has real threats. The b5-b6 break with a5-a6 to follow is obvious to anyone.
28…Kd8 A reliable defence. For 29. b6, as I understand it, 29…Bc8! is ready. Sasha is struggling to calculate lines in search of something that seems not to be there. And there's less and less time: 0:06 – 0:26.
    [I also couldn't find a win after the principled
28…Bd5, for example,
29.Bxd5 Rxd5 30.Kb4 Rd4+ 31.Kc5 Ra4 32.a6 Kd7! 33.Rd1+ Kc7 34.Re1 Kd7! and there's no 35. b6? because of Ra5+!]
29. b6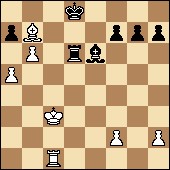 Grischuk tries his last chance. There didn't seem to be any other real means of fighting.
    [If 29.Kb4 then Black has many reliable paths. For example,
29…Rd2 30.b6 axb6 31.a6 Rb2+! 32.Kc3 (32.Ka4 Rxf2)
32…Ra2 and White's pawn is going nowhere.]
29…Bc8! Gelfand's accurate. Now he's out of danger.
    [There were serious consequences after
29…axb6? 30.a6 Kc7 31.Ra1! Rd8 32.Bg2!]
30. Bxc8 What about giving a check on c6? That's what Boris is thinking about now. But that's a diabolical temptation, which he should reject.
30…Kxc8 Correct. For the moment Hell will have to do without a grandmaster.
    [After 30…Rc6+? 31.Kb2 Rxc1 32.Bb7! Black would have had to play a pawn ending a bishop down –
32…axb6 33.Kxc1 bxa5 34.Bd5, but here the chances of survival are slim. The h8-point is, of course, the "wrong colour", but who needs that kind of suffering?]
31. Kb4+ Kb8 32. bxa7+ Ka8 33. Rc8+ Kxa7 34. Rc7+ White has won a pawn, but too few have survived and they're all weak. The draw is very close.
34…Ka6 35. Rxf7
    [If 35. Kc5, then 35…Rd2 36. Rxf7 g5! led to the goal.]
35…Rg6?!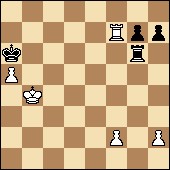 Also an option. But hardly necessary.
    [There was a simple drawn ending after
35…g5! 36.Rxh7 Rf6 37.Rg7 Rf4+! 38.Kc3 Rxf2 and so on. In that case the game would have ended in a minute's time, while now Gelfand will still have to play on a little…]
36. h3 Played so that after one pawn falls another won't immediately follow. For that they should be located on different files and ranks.
36…Rg2 37. f4 All White's hopes lie in this pawn. As passed pawns her friends on the edge of the board are an order of magnitude weaker. White's plan is clear – to rush his king to the kingside and, having taken the g7-pawn, to push his favourite to become a queen.
37…Rg3 38. f5 The h3-pawn has no significance. But the closer the potential passed pawn is to the goal, the better.
38…h5 39. h4 Sasha is playing with his flag about to fall – practically blitzing. Fortunately for him, the position's quite simple. It's clear what you need to play and what you need to strive for.
    [For the moment the king rush led only to a draw in simple lines:
38.Kc5 h4! 39.Kd6 Kxa5 40.Ke7 Kb5 41.Kf8 Rxh3 42.Rxg7 Rf3 43.Rg5 h3 44.Kg7 h2! =]
39…Rg4+ 40. Kc5 Rxh4 41. Rxg7 The time control has passed. And it turns out that Black holds without any trouble. Following well-known ideas.
41…Rf4 42. Rg6+ Kxa5 43. Rg5 h4 44. Rh5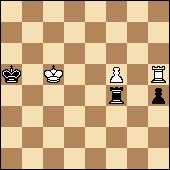 The players' passed pawns balance each other out. It's well-known that Black can also get by without the help of the king.
44…h3 45. Kd6 h2 46. f6+ Kb6 47. Ke6 Rf2 48. f7 Re2+ And perpetual checks and attacks by the black rook follow.
49. Kf6 DRAW! A very tense and tough game, in which Grischuk put serious pressure on Gelfand, but the latter defended extremely accurately. So then, it was a very interesting start to the final. It's clear that the players are well prepared and the whole battle's ahead. Thank you for your attention, dear spectators. For me, Grandmaster Sergey Shipov, it was difficult to deal with certain technical problems that suddenly arose during the live commentary. I hope that not everyone noticed them… :) Goodbye until tomorrow, with the hope that it goes better.
1/2 – 1/2
I'll again be translating Sergey's commentary on game 2, LIVE, here: http://www.chessintranslation.com/live-game/