It had all looked so good for Veselin Topalov in his must-win game against Gata Kamsky. He unleashed not one, but two novelties, upped the pressure until his opponent cracked in time trouble, and then… and then a 'real chess drama', as GM Sergey Shipov described it, unfolded before our eyes.
Sergey Shipov's original commentary in Russian can be found here at Crestbook, where you can also play through all the moves and analysis. After the translation of the live commentary I've also included the video round-up that Sergey produced in the evening after the games.

GM Sergey Shipov's live commentary on:
Candidates Matches, Quarterfinals, Game 4
VESELIN TOPALOV – GATA KAMSKY

Hello, dear friends. This is Grandmaster Sergey Shipov. Personally I wanted to end the review of the quarterfinals beautifully – by showing all four pairings. But the voting public, it seems, showed a lack of faith in Mamedyarov, not believing he'd be able to pose serious problems for Gelfand with the black pieces. It's clear to everyone, however, that Topalov with White will put serious pressure on Kamsky. Well, we'll see how that last onslaught goes for Veselin. Winning on demand is a classic situation in chess, both in knockouts and matches. There are a lot of famous examples from history with differing outcomes. Yes, it's hard to win, but if you look at things from the other point of view, then it's also not so simple to make a draw on demand. Particularly with Black. Particularly if your opponent is powerfully prepared in the opening… In the other two matches, Kramnik – Radjabov and Grischuk – Aronian, we've got an even battle for now. And the likelihood of play continuing in rapid chess is pretty high. Well, let's not get ahead of ourselves. Let's simply watch and support.
1. Nf3 Nf6 2. c4 g6 3. Nc3 d5 Again the Anti-Grunfeld. The theoretical duel continues.
4. cxd5 Nxd5 5. Qc2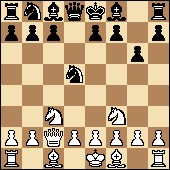 But here's the first surprise. And not only a surprise, but a novelty! No-one's played this way before. It seems as though White is threatening the crude capture on c7 after exchanging knights on d5. Well, Topalov's made a move that's strong in every respect. Flexibility and a lack of principles in the opening – those are the most important qualities for a match player. The first to set his opponent a problem, and preferably a serious one, seizes the initiative. What could be more pleasant than derailing your opponent's home preparation? The poor guy's sitting at the board and suffering: all morning he's been looking at the most complex of variations with his seconds, and now that's all gone out the window. He used all that effort in vain. And now he still has to use his own brains to struggle against the computer preparation of his treacherous enemy.
    [5. Qb3 was tried in the second game, continuing
5…Nb6 6. d4 Bg7 7. Bf4 Be6 8. Qa3 Nc6 9. 0-0-0 and so on.]
    [Of course the player with the black pieces also has to study the main lines: 5. Qa4+ and 5. e4 So here you have to work across a very wide front.]
5…Bg7 The threat to the c7-pawn has been judged harmless.
6. e4 And here's confirmation from the other party. The d5-knight has stopped at the crossroads. For a long time… Kamsky's thinking. I'm also not being idle. So far I haven't managed to find anything pleasant for Black. It's hard to identify the lesser evil. Allow me to look ahead a little. The point of the creeping move 5. Qc2 becomes clear in the line 6…Nxc3 7. dxc3! It turns out that White avoids the exchange of queens (compared to the line 5. e4 Nxc3 6. dxc3 Qxd1+!) and gets long-term pressure. The structure is unpleasant for Black – the vaunted bishop hits against the stone wall of the c3-pawn. There are no points of attack.
    [The greedy 6.Nxd5 Qxd5 7.Qxc7 was really only dangerous for White –
7…Nc6 8.Qf4 (8.Qg3 Nb4!)
8…e5 9.e4 (9.Qh4 e4!)
9…exf4 10.exd5 Nb4 – and Black has a serious initiative.]
6…Nb6 A tough choice has been made. I agree with Gata. Black concedes the centre in the hope of counterattacking it at some point.
    [So then, if
6…Nxc3 7.dxc3! Black would get no joy.]
    [It also wouldn't suit him to play
6…Nb4 7.Qa4+ N4c6 8.d4! O-O
(8…Bxd4 9.Bh6! is clearly bad)
9.d5 Ne5 10.Nxe5 Bxe5 11.Bh6 Re8 12.Rd1 – White's pressure is noticeable and it's extremely difficult to develop the queenside.]
7. d4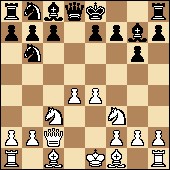 White is successfully deploying his forces. The capture on d4 here would only be feared by an incorrigible miser. Or to be more exact, a weak chess player. Firstly, exchanging the dark-squared bishop for the knight in the Grunfeld, even for the sake of a pawn – is immoral. Secondly, the pawn turns out to be poisoned on account of 7…Bxd4? 8. Nxd4 Qxd4 9. Nb5! So Black has to come to terms with White's beautiful centre. He needs to complete development and only then get down to sabotage.
7…0-0
    [It's premature to play 7…Nc6 because of 8. d5 Ne5 9. Nxe5 Bxe5 10. Bh6! and the black king is trapped in the centre.]
8. Be3 Knowing Topalov, it's easy to assume he's also considering castling long here. The sporting necessity of having to win has no doubt sharpened the Bulgarian grandmaster's attacking instincts even more. However, we first have to wait until his home preparation ends. He's unlikely to get creative until his crib sheet runs out. The clocks speak for themselves: 1:56 – 1:03… However! Via a transposition of moves we've come back to trodden paths. This position has been seen more than once before.
8…Bg4 Another pleasant factor for Kamsky is that the outlines of the position should be very familiar to him. All the ideas are visible at a glance.
    [In the game H. Koneru – R. Seger, Budapest 2005, which, by the way, started with the very cunning move order 1.d4 Nf6 2.c4 g6 3. Nf3 Bg7 4.Qc2!! d5 5.cxd5 Nxd5 6.e4 Nb6 (there was no-one to exchange for on c3) 7.Be3 0-0 8.Nc3 – so then, there followed:
8…c6 9.Be2 Bg4 10.Rd1 N8d7 11.O-O Qc7 12.h3 Bxf3 13.Bxf3 e5 14.d5 cxd5 15.exd5 Rac8 16.d6! Qb8 17.Qe4 Rc6 18.Qd3 Rcc8 19.Qb5, and White got a clear edge.]
    [Also interesting was the fighting
8…Nc6 9.d5 Ne5 10.Nxe5 Bxe5, true, here there might follow
11.Rd1!, after which the line-up of forces on the d-file hinders Black from getting down to destructive work in the centre. No, there isn't equality here either.]
9. Ne5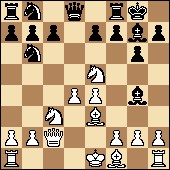 A logical rebuttal. While there's no-one behind the knight's back (neither a rook on d1, nor a bishop on e2) it has the right to make bold moves, worrying the black bishops. The only surprise is that Veselin thought for a long time over making such an obvious move… And I'll note the disappointingly quick draw in the Grischuk – Aronian encounter. Sasha again wasn't able to put up a serious fight with White. Well, rapid chess, and perhaps blitz, await that pair of competitors. But that's tomorrow.
9…Bxe5 Not a novelty, but nevertheless a serious surprise.
    [Predecessors held onto the bishops with 9…Be6. There then followed
10.O-O-O (Topalov would no doubt have played that way)
10…Qc8
(or 10…Nc6 11.f4 Qc8 12.Kb1 Nxe5 13.dxe5 c6 14.Bc5 Re8 15.Qf2 Bg4 16.Rd2 Qc7 17.Rc2 Rad8 18.Be3 Bc8 19.Be2 Qb8 20.g4! with an edge for White, H. Koneru – K. Nadig, Calcutta 2004.)
11.f4 c6 12.h3 f6 13.Nf3 Nc4 14.Bxc4 Bxc4 15.g4 b5 16.f5 a5 17.Rdg1 Na6 18.g5 Nb4 19.Qh2 Qb8 20.b3 Bf7 21.Kb1 Qxh2 22.Rxh2 Kh8 23.h4 with an initiative for White, D. Harika – M. Kiran, India 2007]
10. dxe5 Nc6 What did Black achieve by exchanging on e5? Yes, he's completing development, yes, the e5-pawn is weak. But nevertheless there's nothing that can compensate for the absence of the dark-squared bishop. Black's king is potentially weak. Moreover, White has a basis for an attack on either flank. I've got no doubts he has an edge.
11. h3 This move wasn't obligatory.
    [I thought that after 11. f4! Black would have to return his bishop to base, as after all the route back might be closed off with f4-f5.]
11…Be6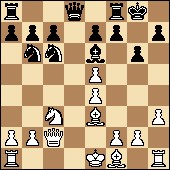 Here Veselin has again started to think. The appearance of the black bishop on e6 makes it possible to get to c4. If White allows new exchanges then his edge will be reduced… Therefore there's some point in looking at the prophylactic 12. b3, allowing the capture of the e5-pawn. At the end of the day, opening up the position and particularly new dark-squared diagonals will work in White's favour…
12. Rd1 An understandable inclusion.
12…Qc8 The question remains the same. You have to choose between f2-f4 and b2-b3.
13. f4 Fortune favours the greedy! It seems as though Topalov is hoping to develop an attack at absolutely no cost. That's his right. After all, it's HIS pawn. It's much easier for me to sacrifice it :) I'll update the remaining time: 1:31 – 0:54. It's still a long way to time trouble, but it's clearly going to come. The position's too complex, and Black has too many problems.
13…Rd8 Kamsky has started to play quickly and knowledgably. He understands perfectly well the drawbacks of his position. His pieces are cramped and there's no way through in the centre. So he has to provoke new exchanges immediately. Then it'll be easier to breathe.
    [In the line 13…Bc4 14.Bxc4 Nxc4 15. Bc5 there was the unpleasant threat of Nc3-d5!]
    [And if 13…Nc4 then it's strong to play 14. Bxc4 Bxc4 15. Nd5!]
14. b3 And here's the game's second novelty. I still insist on calling 5. Qc2 a perfectly valid novelty, while the fact that the game then returned to known tracks is just a set of circumstances. The little pawn move that's just been made limits the b6-knight and rules out the appearance of a black piece on c4. And that's an improvement in comparison to the previous game.
    [Here it is: 14.Be2 Nb4 15.Qb1 Rxd1+ 16.Bxd1?! (16.Qxd1!)
16…Nc4 17.Kf2 c5, and Black successfully managed to become active, R. Pogorelov, V. Fernandez Barrera, Albacete 2009.]
14…Nb4 Gata is reacting in a similar manner. He needs to take quick, energetic measures. If he allows White to complete development then Black will be totally strangled.
15. Rxd8+ Qxd8 16. Qb1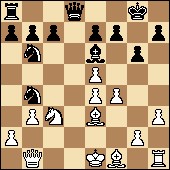 A sensible retreat. There's nowhere Black can invade. The f7-f6 break, in the absence of the g7-bishop, looks dubious. What can be done? After Bf1-e2 and 0-0 things will become really tough for Black. What can you use the remaining two tempos for? There's no answer yet.
    [I think you'd also get an edge with 16. Qd2 Qxd2+ 17. Kxd2 Rd8+ 18. Kc1, after which the check on d3 seems to be a dud – 18…Nd3+ 19. Kb1, and after Bf1-e2 and the rook coming out from h1 Black can expect unpleasantness.]
16…f5 A brave decision. Black, it seems, is forced to take the risk of opening up his king. There were no other medications to deal with the impending suffocation.
    [The 16…a5 advance only led to the creation of new weaknesses in Black's ranks. The most cruel way of shattering any illusions in that case was:
17.Bb5! Bd7 (17…c6 18.Be2 a4? 19.bxa4 +-)
18.Be2 a4 19.bxa4 Nc6 20.O-O Nxa4 21.Nd5 with an overwhelming advantage for White.]
17. exf6 Correct, there was no point trying to get clever. White straightens out his pawn structure, and opening the centre should work in his favour, in principle, as he has the pair of long-range bishops.
    [My computer initially championed
17.a3 Nc6 18.Bd3, but I didn't believe it. We continued analysing and after
18…fxe4 19.Bxe4 Nd5 20.Nxd5 Bxd5 21.O-O Bxe4 22.Qxe4 e6 the steel wonder agreed that White's edge was woefully small.]
17…exf6 Veselin is really taking his time on each move now.
18. Be2
    [It seems that he was looking at the cunning 18. Bb5, but judged it unnecessary.]
18…Qe7 Gata should hurry as he has no time to spare: 1:11 – 0:22.
19. 0-0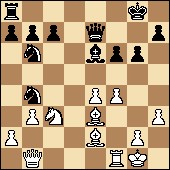 White has completed development with an undeniable edge. The e3-bishop is the emperor of the current position. Caesar. Caligula. Nero!
19…Bf7 Pressure on the e-file is the only small trump Black has. The Nb6-d5 jump is threatened!
20. Bf2 A simple defence, leaving the black knights nothing to do. Another cause for sorrow is that exchanging heavy pieces wouldn't improve the situation. Any ending would favour White.
20…Rd8 21. Rd1 Topalov also understands the above perfectly well. He's not a novice :)
21…Rxd1+ 22. Qxd1 By the way, whether to exchange queens or not is a pleasant choice for White. In either cases the winning chances will be great.
22…c5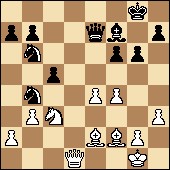 Yet another bold step from Kamsky. He's trying to arrange counterplay on the queenside. In any case, there's a chance of getting rid of the unpleasant pressure from the bishop on f2. For that you need to swap the knight on b6 for a pawn.
23. Bf1 Solid play.
    [I looked at the more obvious 'forwards' moves. For example,
23. Bh4 (with the idea of e4-e5), 23. Qd2 and 23. Bf3. But it seems as though Black has defensive resources in all lines. Therefore White needs to launch not a storm, but a siege…]
23…Nxc6 Eyeing the d4-square. True, now you always need to keep an eye on the c3-knight, which might jump to d5. But in that regard White's light-squared bishop would be better placed on f3.
24. g3 Emphatic patience.
24…Kg7 The way play's going the American Champion might get through the time trouble he was expected to have without any problems: 0:43 – 0:13.
25. Bg2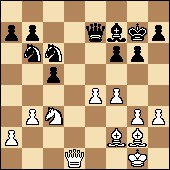 It seems as though the Bulgarian fighter also had the urge to plant his knight on d5. There's also the idea of organising the e4-e5 break. Then the g2-bishop will be in just the right place.
25…h5 Prophylaxis again. It looks as though Gata was worried about a pawn roller on the kingside – and that's understandable…
26. Nb5 But Veselin nevertheless couldn't resist creating concrete problems for his opponent, who doesn't have much time left: 0:34 – 0:11. True, the problems aren't complicated.
26…Nc8 The simplest of defences, needing no calculation.
    [If 26…c4 then there was 27. Nxa7!]
27. Qd2 Patient improvement and the imitation of threats – that's White's general strategy.
27…c4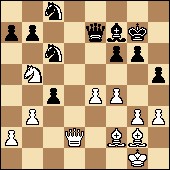 Striving for clarity. In time trouble you really want to simplify the position. But now there's a danger that the white bishops will make a break for freedom – and wreak havoc.
28. bxc4 Bxc4 29. Nd4 The d4-point – that's where you'd like to put the f2-bishop. From that position it could fire at the f6-pawn and the black king. The position's getting sharper. Every move matters here…
29…Qb4 For now Kamsky is playing very accurately. His task is to eliminate the a2-pawn. Then he'll have a great chance of surviving, as it's much easier to defend on one flank.
30. Qc1 White's got no interest in exchanges now. You also have to take into account the fact that with queens on the board you can organise a mating attack. The clocks are counting down the final minutes: 0:22 – 0:06.
30…N8e7 Skillfully solidifying the position.
    [30…Nxd4 31. Bxd4 Bxa2? 32. Qc7+! Ne7 33. Bc5 led to ruin.]
31. a3 As you can see, White is maintaining a pawn presence on the queenside. Consequently, the front remains wide, which is unpleasant for the short-legged black knights.
31…Qa4 32. Qb2 An excellent rearrangement. The b7 and f6 pawns are being targeted.
    [It was also strong to play 32. Qc3.]
32…b6 33. Kh2 Before attacking in the centre (the e4-e5 break awaits) it's worth removing the king from checks.
33…Kf7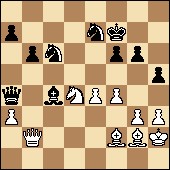 A similar decision. It was unpleasant to remain in the line of fire of the queen on b2. Black is holding…
34. Qc3 Correcting his own inaccuracy. It seems as though it was better to put the queen on c3 immediately.
34…Ba2 Stunningly cold-blooded! The knight on c6 is hanging by a thread (and after all the g2-bishop is also eyeing it), but it seems as though White isn't in a position to take advantage of that fact. The situation on the clocks is no less interesting than the position on the board: 0:14 – 0:01! And I'll remind you that there's no increment after each move…
35. f5 It was time! That's what Veselin decided. The move concedes Black the e5-point, but creates pressure on the kingside.
35…Qc4 An instant response. There was just no time to think. Gata has to blitz out moves.
    [More solid was 35…Ne5 with the idea of 36. Nf3 N7c6!]
36. Qb2 Of course, there's no point making your opponent's life easier with exchanges. I think the reason the pawn remained on f5 is also to leave Black with as many candidate moves as possible. The wider the choice, the easier it is to go wrong. Or to let your flag drop!
36…Ne5 37. Qd2 g5 38. Ne6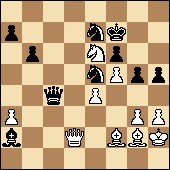 38…N7c6? The decisive blunder. Human powers turned out to have their limits.
    [You could have held the defence with the calm 38…Bb3! with the idea of 39. Qd8 Qc8!]
39. Qd6 The decisive infiltration.
39…Ke8
    [If 39…Ne7 then 40. Nxg5+! would end things.]
40. Nc7+ Switching the knight to d5 is one of the many ways of achieving the goal.
    [It seems as though the rushed capture 40. Qf8+ Kd7 41. Qxf6? would have allowed Black to escape punishment with 41…Qe2!]
40…Kf7 The time control has passed. The end is nigh. Topalov is choosing whether to put the knight on d5 or e6. In the first case you get to take the f6-pawn with check, but after that it's all not so simple – you have to somehow neutralise the enemy queen that creeps to e2. But with the knight on e6 I've already found a quick and clean win in analysis. I think Veselin's also capable of doing that.
41. Nd5 No. The ex-World Champion has gone his own way. It's a matter of taste.
    [This was the shortest route:
41.Ne6 Ke8 42.Bd4! with the aim of exchanging one of the black knights, after which White simply mates. The only means of prolonging the agony was:
42…Qd3
(42…Nxd4 43.Qd8+ Kf7 44.Qf8#)
(42…Qe2 43.Bxe5! fxe5 44.Qxc6+)
43.Qf8+ Kd7 44.Qxf6 Nf3+ 45.Bxf3 Qxf3 46.Qf7+ Ne7 47.Nf8+ Kd8 48.Qxa2, and it's all over.]
41…Qe2 There it is, the last chance.
42. Qxf6+ Ke8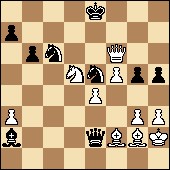 White has lots of checks. But how do you win? The answer's simple – not right away! You have to combine attacking moves with defending ones.
43. Qe6+
    [It seems the modest 43.Bg1 would also win, for example,
43…Bxd5 44.exd5 Nf3+ 45.Kh1 Ncd4 46.Qg6+ Kd7 47.f6! Qd1 48.Qg7+ Kc8 49.Qf8+ Kb7 50.Qe7+ Ka6 51.Qe3! and so on.]
43…Kf8 The most stubborn. It's interesting that the players have now switched places when it comes to time expended. Kamsky is playing quickly and confidently, making only moves that don't lose immediately, while Topalov is taking a long time thinking: 0:36 – 0:56.
    [If 43…Kd8 then the struggle would be ended by
44.Qd6+ Ke8 45.Nf6+ Kf7 46.Nd7!]
44. Kg1 This looks like a move repetition to gain time.
44…Qd1+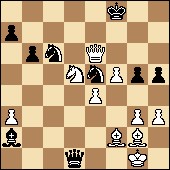 45. Bf1? But no. The Bulgarian grandmaster seems to have let the lion's share of his advantage slip! A real chess drama is unfolding in front of us. I've already drunk so much coffee during the game that the quantity of caffeine in my bloodstream has reached a lethal dose. But I'm still hanging on…
    [He should have returned to the position
45.Kh2 Qe2 and here I'll show one more method –
46.Qf6+ Ke8 47.Qh8+! Kf7
(47…Kd7 48.Qg7+ Ke8 49.Nf6+ Kd8 50.Qxg5 Qxf2 51.Ng4+)
48.Bg1! Nf3+ 49.Kh1 Bxd5 50.exd5 Ncd4 51.Qxh5+ Kf8 52.f6 and so on.]
45…Bxd5! A quick and accurate reply.
46. exd5
    [If 46. Qxd5 Qxd5 47. exd5 Ne7 then Black has reestablished material equality and gained decent drawing chances – on account of the fact that there are very few pawns remaining on the board.]
46…Nd4 The attack by the black cavalry is very dangerous. Everyone knows that 'Queen + Knight' is a powerful mating force. It's easy to guess that 'Queen + 2 Knights' is much stronger…
47. Qf6+ Kg8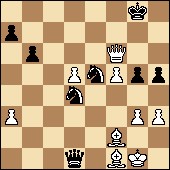 The g5-pawn would be no great loss. You won't believe it, but we're heading for perpetual check and Kamsky successfully getting into the semi-finals!
48. Qxg5+
    [Of course not 48. Qxe5? Nf3+]
48…Kf7 The checks are over. There are no more checks. To the black king, in any case.
49. Qd8 Veselin is giving his opponent the right to demonstrate a clear path to a draw. There are a few of them, by the way. While Gata's thinking and choosing let's look at the clock faces: 0:23 – 0:40. The shortest path to the semifinals starts with the exquisite quiet move 49…Qc2! after which perpetual check to the white king can't be avoided.
49…Qc2! There it is. He found it! You can't take the knight on d4 because of mate in two moves, while the perpetual Ne5-f3-e1-f3 and so on is threatened. I'm pouring myself a new cup of coffee. Simply so as to keep warm. Night's falling in Moscow, it's getting cool, and my energy's coming to an end.
50. Bg2 Qc1+ 51. Kh2 Qc2! This time it's the only saving move. Perpetual check or a repetition of moves – it makes little difference. The d4-knight still isn't appealing. Capturing it leads to mate.
    [51…Qd2? 52. Qc7+! again loses.]
52. Bg1 There's nothing left for Topalov but to try out all the remaining possibilities of altering the position.
52…Ndf3+ 53. Kh1 Ne1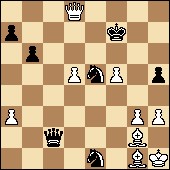 The black knights in all their glory! Now it's actually White who has to save himself with an only move. Although of course from the point of view of the struggle to get into the semifinals, a defeat is almost indistinguishable from a loss.
54. Bf2 Correct. Everything else lost.
    [For example, 54. Bf1? Qe4+ 55. Kh2 N5f3+ 56. Kh1 Nd2+! 57. Kh2 Nxf1#]
54…Qxf2 55. Qc7+ Kf6 56. Qd6+ Kf7 Again perpetual check. The match is coming to an end.
57. Qc7+ Kf6 58. Qd6+ Kf7 DRAW!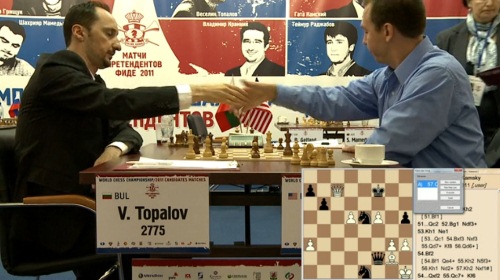 Kamsky has won the match 2.5 – 1.5, and goes through to the next round. Bravo, Gata! As for today's game, it was a real tragedy for Topalov. He played the opening powerfully and gained a solid edge. Then in his trademark style he upped the pressure and waited for what seemed to have been his opponent's decisive mistake. And then… And then Savielly Tartakower was again proved right when he said that the hardest thing in chess is to win a won position. It all started with minor slips. At first Veselin had a very quick and simple win – when with the knight on e6 he could have played Bf2-d4! – but after that he needed to show finesse at the level of an average computer program. There were lots of wins, but the Bulgarian didn't find them! He was tempted by a side line in which Black found a study-like save. Well, that's sport – not only the best player wins, but also the one who has the most luck. Today Kamsky was lucky. He's the one who'll play in the semifinals – against Gelfand, who today made a draw against Mamedyarov from a position of strength. While the line-up of the other semi-final will only be decided in rapid chess… Thank you for your attention, dear spectators. I wish everyone a good 9th May, Victory Day. See you for the first game of the semifinal! That's on the 12th May.
1/2 – 1/2
Sergey Shipov once again recorded a video round-up of all the day's games for Crestbook. It's in Russian, but also the international language of chess!
Shipov first described the other games of the day, which it's fair to say didn't quite match the excitement and emotion of Topalov – Kamsky. A brief summary:
Grischuk – Aronian: Once again Grischuk failed to pose Aronian any real problems with White. There were perhaps some chances – for instance, at about 03:00 in the video you can see Shipov's analysis of 16. g4!?, though Grischuk decided not to take the risk. In rapid chess, according to Shipov, Grischuk has almost the same chance as Aronian.
Kramnik – Radjabov: This time round Shipov was less critical of the pairing: "Their play's amazingly clean and accurate, but it's well-known that with clean and accurate play you get a draw." He said Kramnik was always exactly one tempo short of a big advantage, though we still got interesting complications after 17. Qxb6. 24…g5! and the 25…h6! follow-up (Shipov's exclamation marks) saved the day for Black. "An important theoretical draw".
Gelfand – Mamedyarov: Shipov felt Mamedyarov tried to be too creative in playing for a win, going astray as early as move 7. Simply castling would have been an improvement over 7…a6. It became a King's Indian-like position, but Black had no light-squared bishop or chance of playing f7-f5, leading Shipov to conclude that strategically it was very tough for Mamedyarov. The draw was the best he could hope for.
Topalov – Kamsky:  Shipov again described this game as a "big tragedy" for Topalov: "He conducted the game brilliantly and should have won, by chess logic…".   Topalov won the opening battle but after that both players did well. Shipov gives exclamation marks to Kamsky's 16…f5! and 22…c5! (though he thought 27…c4 was dangerous). He also praised Topalov for making non-obvious moves to increase the pressure in Kamsky's time trouble, and for playing 35. f5! at just the right moment.
The critical point (after Kamsky's blunder), was just after the time control, when Topalov took a long think. Shipov felt it shouldn't have been hard to realise that Black might be able to hold on with two knights, but not one, so Bd4! was the key move (the analysis of that is from around 21:50 onwards). In the play that followed in the actual game Shipov thought it was perfectly understandable for a human to fail to find the correct moves.
I'll next be translating Sergey Shipov's commentary on the semifinals, which will, as always, be here: http://www.chessintranslation.com/live-game/