Two Bedouins wandered the desert in search of something that didn't exist. GM Sergey Shipov's wonderful description of the second quarterfinal game between Vladimir Kramnik and Teimour Radjabov was almost enough to redeem what had become an unnecessarily long and lifeless encounter.  
Sergey Shipov's original commentary in Russian can be found here at Crestbook, where you can also play through all the moves and analysis.

GM Sergey Shipov's live commentary on:
Candidates Matches, Quarterfinals, Game 2
VLADIMIR KRAMNIK – TEIMOUR RADJABOV

Hello, dear viewers. This is Grandmaster Sergey Shipov commentating for you on the second round of the Candidates Matches Quarterfinals. Those who made a draw with Black yesterday gained a slight edge – they've still got the white pieces twice to their opponents' once. And in order to take advantage of that you have to play aggressively! I hope today we'll see some pressing by Kramnik, Topalov and Gelfand. As for Grischuk, I wouldn't want to predict anything. Yesterday's battle could have cost him a lot of energy… While today we're going to watch the Kramnik – Radjabov game. There are two conclusions you might take from yesterday's dull draw in this pairing. Either Teimour, following his old tradition, is deliberately playing for a draw in the classical games in the hope of beating his opponent in rapid chess (he's used such a strategy successfully in knockout championships), or he's simply not well enough prepared in the opening. In any case, it would be naive to hope that Vladimir will 'give up' a White so easily. He'll try to take his chance, and therefore an interesting struggle should await us… let's say, in the King's Indian. For many years now Radjabov has been the main engine of progress in that most interesting of fighting openings – while many grandmasters have abandoned it, fleeing to the solid Slavs and other forms of the Queen's Gambit Accepted. That makes it even more interesting to find out what Kramnik's prepared in the key lines. We'll see!
1. d4 d5 And there's the response. Radjabov has declined a duel in the King's Indian. He's also emigrated – like all the rest. Bologan and Inarkiev will probably condemn him. But I understand Teimour. A principle's a principle, but it's more important to become the World Championship challenger.
2. c4 e6 3. Nf3 With this move order Kramnik shows an entirely predictable desire to play the Catalan Opening.
3…Be7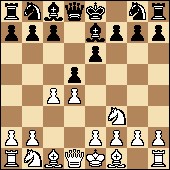 A cunning response. That's usually how people play after 3. Nc3, while here…
    [More often seen are the replies 3…Nf6 and 3…c6.]
4. g3 Having thought a little and finding no ambush, Kramnik follows the normal path.
4…Nf6 And in fact things have come down to a banal move order transposition.
5. Bg2 0-0 6. 0-0 So then, on the board we have one of the main Catalan positions.
6…dxc4 The pawn that's been neglected by the light-squared bishop had to die. Sooner or later.
7. Qa4 Another piece of pseudo-cunning. It seems as though there's no difference which route the queen takes to c4 – via c2 or a4.
7…a6 8. Qxc4 b5 9. Qc2 Bb7 Thanks to the unloading of the centre Black has been able to post a counterweight to White's fearsome Catalan bishop. The cost of that pleasure is the backward c7-pawn. An outline of the events to come – the struggle to play and prevent the c7-c5 push.
10. Bd2 Thanks to Kramnik's successes in his games this continuation has become the main line. The bishop is heading for a5… or only giving that impression.
10…Be4
    [If 10…Nbd7 then 11. Ba5! really is strong.]
11. Qc1 Bb7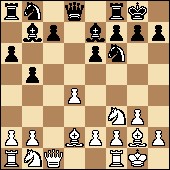 A known waiting manoeuvre. Black waits for the Bd2-a5 thrust, in order to meet it with the cavalry blow Nb8-c6.
12. Bf4 As you can see, it really was just pretending to have a desire to go to a5. The backward pawn is in danger…
    [Apologies, but IN ACTUAL FACT the players repeated moves once more here – 12. Qc2 Be4 13. Qc1 Bb7 14. Bf4, so that in what follows the real numbering of moves is two higher than in this commentary. But that essentially changes nothing.]
12…Nd5 Such is the bitter fate of White's dark-squared bishop in this line – to die under the hooves of the black knights. Sometimes that happens on f6 (after Bc1-g5xf6), sometimes on f4.
    [12…Bd6 has also been tried.]
13. Rd1 A rare continuation, but logical in its way. It's a useful prophylactic move, hindering the c7-c5 break. The knight on b1 is waiting for now, choosing between the squares c3 and d2. Radjabov has started to think. For him, a King's Indian man, such positions can be novelties. For Kramnik, it's his native environment…
    [Most commonly played is
13.Nc3, for example,
13…Nxf4 14.Qxf4 Qd6 15.Ne5 Bxg2 16.Kxg2 Nd7 17.Nxd7 Qxd7 18.Rfd1 Rac8 19.Qf3 Rfd8 20.Rac1 h6 21.e3 b4 22.Ne4 Qa4 23.Ra1 Rd5 24.b3 Qa5 25.Nd2 Rcd8 26.Nc4 Qb5 27.Rac1 Bf6, and Black held the defence in the encounter L. Dominguez – M. Carlsen, Monaco. The c7-c5 break was still carried out eventually, but much later…]
13…Nxf4 Teimour decided not to get clever, and did what he'd planned.
    [If 13…Nd7 then, by a transposition of moves, you get a position from the game V. Tilicheev – N. Abbasov, Batumi 2010. In that game there followed:
14.Nc3 Nxf4 15.Qxf4 Bd6 16.Ne5 Bxg2 17.Kxg2 f6 18.Nc6 Bxf4 19.Nxd8 Rfxd8 20.gxf4 c5 21.a4 b4 22.Ne4 cxd4 23.Rxd4 Nb6 24.Rxb4 Nd5 25.Rb7 Nxf4+ 26.Kf3 Ng6 27.Nc5, and Black was unable to equalise completely.]
16. Qxf4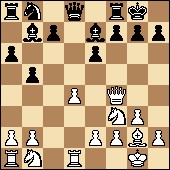 A logical novelty. Sometimes in such structures people take with the pawn, thereby increasing control over the centre, but in the given situation it's more important to get the queen off the first rank, where it's only getting in the way of the rooks.
    [The pioneer thought differently:
14.gxf4 c5 (a little early, perhaps)
15.dxc5 Qc7 16.Ne5 Bxg2 17.Kxg2 Bxc5 18.Nc3 Ra7 19.Ne4 Be7 20.Qe3 Rb7 21.Rac1 Qa5 22.Ng5! Bxg5 23.fxg5 Qxa2? 24.Qe4 Ra7 25.Rc3 and developed a deadly attack, L. Johannessen – T. Sammalvuo, Gausdal 2004. But that did, of course, need some cooperation.]
14…Bd6 The most natural rearrangement. The bishop frees the square for the queen – and by their mutual efforts they're preparing the programmatic c7-c5 break.
    [If 14…Qd6 Vladimir might have played 15. Nbd2!, making use of the knight having stayed back on b1.]
    [But 14…Nd7 deserved attention.]
15. Qh4 A creative approach… which coincides, by pure coincidence, with the computer's opinion. White offers to enter an endgame in which Black will probably be left with certain difficulties. After all, for now the pawn remains backward on c7.
    [I was more expecting the typical Catalan response 15. Ne5 In that case 15…Bxg2 16. Kxg2 f6?! would be harmless for White because of 17. Qe4!]
15…Qxh4 Radjabov agreed to his opponent's offer amazingly quickly.
    [It seems he understood that if 15…Be7 there wouldn't follow a repetition of moves, but some sort of trick like, for instance, 16. Qg4]
16. Nxh4 Bxg2 17. Kxg2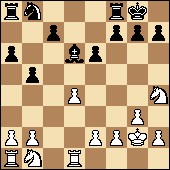 Let's take a look at the ensuing endgame. Even if Black manages to play c7-c5 the initiative will remain with White, as after all he'll quickly seize the newly-opened files. But who said that Black was obliged to carry out c7-c5? In changed circumstances general plans are also subject to change…
17…Nd7 Correct. There's no point rushing. Black is within his rights to leave the pawn on c7 under the protection of the bishop, in the meantime playing f7-f5 and Nd7-f6 himself. The external weaknesses of his position are offset by the fact that White isn't able to exploit them. Let's look at the clocks: 1:35 – 1:22.
18. Nc3 Yet another justified decision. There's now no point in directing the rooks at the c7-pawn, while the knight on c3 will probably help to create pressure on the queenside (via a2-a4). The d5-point is also no trifle.
18…Rfd8 Demonstrative solidity.
    [In Radjabov's place Carlsen wouldn't stand on ceremony, but would quickly advance his kingside pawns – 18…g5 19. Nf3 g4 20. Ne1 f5 – it seems as though Black can get away with such liberties. Then you could play Kg8-f7, h7-h5 and so on. But where is he, that Carlsen? He's watching the games now on the internet! He chose not to take part himself, arranging some time off for himself.]
19. Rac1 The players in the current game are playing solid, restrained and extremely cautious chess… You can sense the responsibility that's weighing on them like a hundred-ton weight. Therefore they're choosing moves with solidity in reserve. Topalov and Kamsky, on the other hand, are playing differently – bold and uninhibited chess. Shooting from the hip, like in the Wild West! Their game is distracting me more and more from the main one… But never mind. Evening will fall and when recording my video I'll tell you all I think you need to know about the cowboys. There's a time for everything.
    [Here I looked at 19.a4 and found the reply
19…bxa4!? 20.Rxa4
(20.Nxa4 Rdb8!)
20…Nb6 21.Ra2 Bb4 22.Nf3 c5! 23.dxc5 Rxd1 24.Nxd1 Bxc5 with play completely drying up.]
19…Be7 Teimour is keeping to the main canon of the Catalan. He's intending, without excessive creativity, to carry out c7-c5, simplifying play and gaining a draw. That's his right.
20. Nf3 Again, dry and solid.
    [Playing in a normal supertournament, Vladimir would have looked at the wild continuation 20. a4 and… nevertheless rejected it. After all, he's a classic. It's not his style.]
20…c5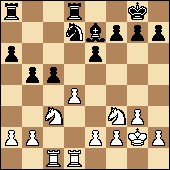 And there it is, the result of White's delay. Black has managed to prepare and carry out the freeing break in the centre. All that's left is to calculate the consequences of the 23. d5 push.
21. a4 Now, more likely than not, this break will only lead to quick simplifications and a draw.
    [On 21. d5 there would follow 21…Nb6! 22. dxe6 fxe6, and White's fabled advantage deriving from the number of pawn islands (for Black – three, for White – only two), is offset by the noticeable advantage Black has on the queenside.]
21…bxa4 The simplest move. The fewer pawns, the fewer problems.
    [It was too compliant to play
21…b4 22.Ne4]
    [It was also no good to play the sharp
21…c4 22.axb5 axb5 23.Nxb5 Rdb8 24.Na3 Bxa3 25.bxa3 Nb6 26.Nd2 – Black would be faced with playing a hundred moves in a rook ending a pawn down.]
22. Nxa4 After long doubts Kramnik made the move that any blitz player would have played in a second.
    [I think the ex-World Champion was studying the line 22. d5 Nb6 23. dxe6 fxe6, in which Black would end up with a whole five pawn islands. But the extra pawn might still tell. Moreover, the white pawn on b2 is also a potential weakness. In general, it was a strategic risk not only for Black, but also for White.]
22…cxd4 23. Rxd4
    [All true Catalan players dream of lines where they plant their knight on c6. But after 23. Nxd4 Black had the defence 23…Ne5 24. f4 Ng4 25. Rd3 Bf8 and all White's possible invasions have lost their force.]
23…Bf6
    [The easiest way to ensure equality was
23…Ra7 24.Rcd1 Kf8, with the idea of defending the d8-rook with the king, and then withdrawing the knight to d7. If
25.Ne5 it would move immediately –
25…Nxe5! 26.Rxd8+ Bxd8 27.Rxd8+ Ke7 and there's nothing left to play with.]
24. Rd6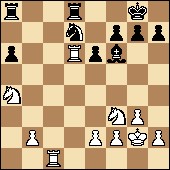 Here some doubts arise about the fate of the a6-pawn. But, I must admit, they're not great doubts…
24…Ne5! Ah, that's it. Radjabov will organise new exchanges in the very near future. The burning sands of the Sahara are destroying all life on the chessboard.
25. Rxd8+ Rxd8 On account of the back-rank weakness White manages to remove the a6-pawn, but he can't then hold onto his own on b2. A drawn outcome is close.
26. Nxe5 Bxe5 27. f4 Gaining space changes nothing.
    [Prepared for 27. Rc6 was 27…g6 28. Rxa6 Rb8!]
    [It's also unlikely you'd be able to liven up the landscape with
27.b4 g6 28.Nc5
(28.Rc6 Rd4!)
28…Rc8 29.Rd1 Rb8! 30.Nxa6 Rb6 – and the pawns on the queenside would again vanish.]
27…Bf6 The players have plenty of time: 0:39 – 0:46. But almost nothing to think about.
28. Rc6
    [Here if 28. b4, then 28…Be7 is strong.]
28…Rb8 That's one option.
29. Rxa6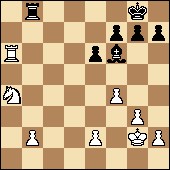 And now it's important not to rush to take on b2…
29…g6 The last child's trap has been avoided.
30. Nc5 Rxb2 31. Kf3 Are the players really going to play out such a lifeless position? That would be abuse…
31…Bd4 Yes, it seems that no-one wants to be the first to offer a draw. A war of nerves is going on. But for us, spectators and commentators, the goings-on have already lost any sense. The rest is silence…
32. Nd3 Rb8 33. Rd6 Bf6 34. g4 Rd8 35. Rc6 Be7 Ironically, the first game to end wasn't the encounter I've already stopped commentating on, but Grischuk – Aronian. In it White gained a stable edge in the opening and clearly didn't take all his chances. Another draw. The debriefing is over…
36. g5 h6 37. h4 hxg5 38. hxg5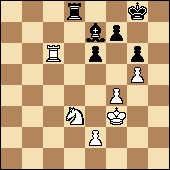 38…Rd7 39. Ne5 Rb7 40. Rc8+ Kg7 41. Re8 Rc7 42. Ng4 Rb7 43. e3 Rc7 Meanwhile, Gata Kamsky has gained a crucial victory, beating Topalov with the black pieces. Veselin conducted the game very poorly…
44. Ke4 Rd7 45. Nh6 Bf8 46. Rc8 Rb7 47. Kf3 Ra7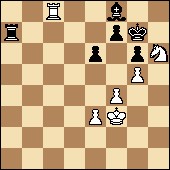 48. e4 Ra3+
    [The internet broadcasts first showed the move 48…Ra4? here, allowing
49.Rc7, but that was just a technical fault in the broadcast system.]
49. Kg4 Ra7 50. Kh4 The Gelfand – Mamedyarov encounter has also ended. In my opinion, the Israeli grandmaster had real chances of achieving success, but let them slip. While our sorrow continues… It seems it's my fate to commentate live on the longest game of each round. But they vary. They vary a lot!
50…Bb4 51. Kg4 Bf8 52. Rb8 Rd7 53. Kf3 Ra7 54. e5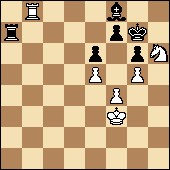 54…Ra3+ 55. Kg2 Ra2+ 56. Kg3 Ra3+ 57. Kg4 Ra7 58. Rc8 Rb7 59. Ra8 Rc7 DRAW
The game consisted of two parts. In the first there was a sandstorm – a continuous series of exchanges that led to complete equality. In the second, two Bedouins wandered the desert in search of something that didn't exist. Final impressions – thirst and sand on your teeth… Thank you for your attention and patience, dear spectators. Working for you has been Grandmaster Sergey Shipov. Until we meet again!
1/2 – 1/2
Once again, Sergey Shipov also produced a video report on the second day's play, commentating on all of the games:
Below I've mentioned some of the highlights, paying more emphasis to the details you can't follow without knowing Russian. The game of the day was of course:
Topalov – Kamsky: Sergey Shipov descriped this as an "epic" game. Despite the end result he said "it can't be ruled out that Topalov's novelty (9. o-o-o) will seriously alter the evaluation of this line". It was Kamsky's 10…Bh6!!, however, that he considered the move of the game, preventing White's strategic plan of e4 and d5.
The play that followed was very complex – looking at the "most natural" 13. Ng5 (from about 06:05) he notes that only computers are capable of navigating the complications. However, commentating on 15. Rd2? (the first move Shipov gives a full question mark) he says Topalov was let down by something else: "Topalov's a colossal chess player, he's very strong and energetic and so on, but he has inherent flaws. The main one, perhaps, and how he differs from Kramnik (here Shipov actually said, "and Topalov"!), is that he has an insufficient feeling for the interaction of the pieces." Shipov says that after 15. Be2, joining the rooks, White was risking nothing and what happened in the game wouldn't have taken place. Shipov repeats this after 18. Rh4?!, saying again that Topalov didn't sense the harmony of the pieces sufficiently. After 18…Kf7! Shipov says the rest of the game was just about converting the advantage, which Kamsky did brilliantly.
Grischuk – Aronian: Sergey thought neither player was really ready for a battle after their long game the day before. The highlight of Shipov's commentary on the game probably came from about 15:15 onwards. He says that commentators usually represent themselves as if they're very clever and see everything, but that when he looked at this position during the game he just couldn't work out why Aronian couldn't play 13…Ne4. It turns out it was because of a queen sacrifice – Shipov draws some consolation from the fact that a 2478-rated player had made that mistake in an actual game.
He identifies the key moment in the encounter as move 15 (about 16:30 on the video). After Aronian's dubious opening had given White an edge it seems he let it slip here for the opposite reason to Topalov: "He was let down by his classical education". He decided he had to castle, while 15. Qa4 would have maintained an edge. That wasn't the end, as Shipov still says that White had options on move 17, where Black's position isn't as easy to defend as the computer claims.
Gelfand – Mamedyarov: One curiosity here is that at about 24:20 Shipov says that he's "simply obliged, as a commentator, an upright man and a citizen to show an amazing line that popped up in analysis". Again, it involves a queen sacrifice.
The key moment in the game, according to Shipov, was on move 33. He was sure that Gelfand was going to win, and he could have "ensured a large edge with the banal move 33. Qb3". After 33…f4! it already seems to be too late. Shipov says that 34. Nd2 is incorrectly evaluated by the computer, and that Black has enough compensation in all lines.
Kramnik – Radjabov: There isn't, of course, a lot to add about this game, but Shipov decides to give 1…d5 an exclamation mark, noting that Kramnik would have prepared 15 strong novelties in the King's Indian – actually he says "Boris Vladimovich", instead of the correct "Vladimir Borisovich", which explains the laughter at the start!
The next, non-chess, interest comes in the discussion of 15. Rd1, which had only been played once before by a Norwegian chess player, Johannessen. At about 30:20 Shipov shows a photo of him with an unidentified woman, leaving it as homework to work out who it is… I'll save you the effort by pointing out that it's Shipov's daughter, and the photo comes from the wonderful report that Shipov (and his daughter!) produced for ChessPro on the tournament he won in Norway above Magnus Carlsen (I translated some of it for my article: The Kid Carlsen).
A final Norwegian theme is that at about 32:00 Shipov shows how Black could have advanced his pawns. "I've got no doubt that Carlsen, in a fighting spirit, would simply have played this position for a win as Black." When Kramnik started to play for a win in an almost dead-drawn endgame Shipov said it was "an imitation of fighting spirit", and a Candidate Master, or even a Class A player, would have held as Black. Overall he feels that Radjabov and Kramnik are both at least subconsciously happy for the match to go to rapid chess.
I'll again be translating Sergey Shipov's commentary on Game 3 today. It's Kamsky – Topalov, where we'll be able to see if Kamsky can be the first to qualify for the semi-finals!
Watch it live here: http://www.chessintranslation.com/live-game/