For his first live commentary from the Candidates Matches in Kazan, GM Sergey Shipov described what was undoubtedly the game of the day: Levon Aronian – Alexander Grischuk. What looked like a sure win for the Armenian favourite ended in an enthralling Houdini-like save by the Russian.
Sergey Shipov's original commentary in Russian can be found here at Crestbook, where you can also play through all the moves and analysis. 

GM Sergey Shipov's live commentary on:
Candidates Matches, Quarterfinals, Game 1
LEVON ARONIAN – ALEXANDER GRISCHUK

Hello, dear chess fans and connoisseurs. The site www.crestbook.com, represented by Grandmaster Sergey Shipov, is bringing you the Candidates Matches that are starting right now in Kazan. In 20 days' time the eight grandmasters will have produced a World Championship challenger. The matches are unfortunately very short, so the element of chance will be great. The whole pre-tournament balance of power might be destroyed by one successful find in the opening by an outsider, or one unforced error by a favourite. However, there simply aren't any outsiders in Kazan. All the competitors are very strong… In line with tradition, each day I'll first commentate live on a game chosen by popular vote, and then in the evening I'm planning to produce videos summing up all the games played. I remind you that the viewer doesn't update automatically. Please use the magic F5 key or the "refresh" option after clicking the right mouse button. Bon voyage!
1. d4
    [Initially the move 1. e4 appeared on the official site, and I even managed to comment: "The first surprise – on the first move. Previously Levon preferred closed openings." But it seems that things haven't yet reached the stage for such a fundamental overhaul of his opening repertoire. Perhaps one of the officials, opening the match, made an incorrect move for Aronian :)]
1…Nf6 2. c4 g6 3. Nc3 d5 The Grunfeld Defence – the sharpest of openings, and currently quite highly rated. So let's see if Aronian can show why it's bad.
4. cxd5 Nxd5 5. e4 Nxc3 6. bxc3 Bg7 7. Bc4 The classical system of development. That's how people played over half a century ago, and after decades of trying out roundabout approaches they've again come back to the wellsprings.
7…c5 8. Ne2 Precisely like that. The knight would be uncomfortable on f3 because of the possibility of Bc8-g4. After Black castles, of course…
8…Nc6 9. Be3 The d4-pawn holds, so White maintains his supremacy in the centre.
9…o-o 10. o-o b6 The first genuinely interesting move.
    [There are a lot of worthy alternatives here: 10…Bg4, 10…Bd7, 10…Qc7, 10…Na5 and so on. And there should accordingly be megabytes of information in the players' computers for each of them.]
11. dxc5 A logical rebuttal. With the pawn on b7 this capture didn't worry Black. But now after the first victim another lies in wait…
11…Qc7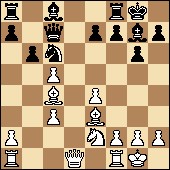 Black very calmly sacrifices a pawn in the hope of exploiting the weakness of the pawn islands White's left with.
12. Nd4 With an extra pawn up your sleeve who wouldn't try to exchange pieces? Moreover, in some lines the knight on e2 ends up out of play – if Black plays e7-e5.
12…Ne5 Grischuk, of course, doesn't want play to be overly simplified.
13. Nb5 Judging by the speed this was played the opponents are for now simply presenting each other with their analysis prepared at home. It's high time to look in the database and check the sources… Yes, all this has been played before more than once. The 10…b6 move was introduced into high-level play 30 years ago, and all that's followed has been tried in numerous games.
13…Qb8 That was how all the predecessors played, irrespective of their greatness.
    [Though this mischievous exchange sacrifice was worth looking at: 13…Qc6!? 14. Bd5 Qxb5 15. Bxa8 Ba6… especially as it's not really a sacrifice at all –
16.Bd5 e6 17.Bb3 Qxf1+ 18.Qxf1 Bxf1 19.Rxf1 Ng4 and Black is close to equalising completely. The ending with opposite-coloured bishops a pawn down looks… No, let me be a bit more precise –
20.Bd4 e5 21.Be3 Nxe3 22.fxe3 bxc5 23.Bd5 – and it doesn't, my friends, look quite so appealing. Black's going to have to work really hard to survive. The difference in the fighting capacity of the two bishops is just too great.]
14. Be2
    [It didn't bring White success to play 14.Bf4, for example,
14…bxc5 15.Rb1 a6! 16.Na3 Qc7 17.Bd5 Ra7 18.Nc4 e6 19.Nxe5 Bxe5 20.Bxe5 Qxe5 21.Bc6 Qxc3 22.Qd6 Qd4 and in the game N. Ristic – V. Jansa, Smederevska Palanka 1984, White had to fight for a draw from a position of weakness.]
14…bxc5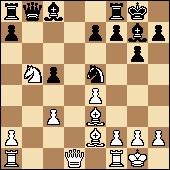 And there's the novelty of the season. A simple move that was asking to be played.
    [Previously preferred was 14…a6 Here's the last try:
15.Na3 b5 16.Nc2 Nc6 17.Nd4 Bb7 18.f3 Rd8 19.Qc1 Nxd4 20.cxd4 Bxd4 21.Bxd4 Rxd4 22.c6 Bc8 23.Qc5 Rd2 24.Rf2 Qa7 and the encounter K. Kulaots – W. So, Khanty-Mansiysk 2010 soon ended in a draw. It's easy to assume that Aronian found five improvements in it for each ten moves of the game.]
15. f4 The c5-pawn can wait.
    [If 15.Bxc5, then it seems there would follow
15…a6 16.Na3 Qc7 17.Bd4 Rd8 with counterplay for Black.]
15…Ng4
    [A greedy man would play 15…a6 16. Na3 Nd7, after which he'd be successfully strangled by 17. e5!]
16. Bxc5 So then, White again chooses the bird in the hand.
    [Unconvincing was 16. Bxg4 Bxg4 17. Qxg4 Qxb5 with equality.]
16…a6 17. Na3
    [Of course not 17. Nd4? Ne3!]
17…Qc7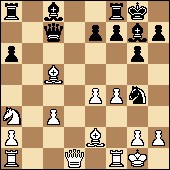 White's position is still far from comfortable.
    [Winning back the pawn brought Black new woes –
17…Bxc3 18.Rb1! Qc7 19.Bb6 Qd7 20.Qxd7 Bxd7 21.Rfd1 Bc8 22.Bc5 – that's not why people play the Grunfeld Defence.]
18. Bd4 The bishop's working as mortar to join up the pawn bricks.
18…e5 Grischuk lands a new blow, breaking up the white wall.
19. fxe5 Nxe5 20. Qc1 Bg4 A questionable decision. Why strive for exchanges if you can maintain and even increase the tension?
    [20…Be6 was asking to be played, with mobilising the rooks and, perhaps, pushing the a6-pawn to follow.]
21. Bxg4
    [Worse is 21. Bxe5? Qc5+! 22. Rf2 Bxe2 when it's Black who has an edge.]
21…Nxg4 22. Qf4 Qxf4 23. Rxf4 Ne5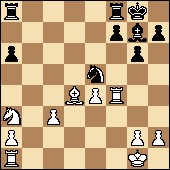 The result of the tornado of exchanges is an ending with an extra pawn for White and… probably with some small compensation for Black.
24. Rb1 White's task is clear – he should neutralise the activity of the black pieces, achieve new exchanges, and ultimately push the c3-pawn until it queens. Black's task is more complicated, and cloudy… As was to be expected, the Moscovite has sunk into serious thought. The clocks show: 1.41 – 1.35. Finally I can drink the cup of tea I poured before the live commentary started, and which has already cooled to room temperature! Thankfully, there's a microwave oven… After mature reflection, I can say that Black's affairs aren't yet so bad. If he can quickly and powerfully put pressure on the d4-bishop, knocking out the mortar in White's wall – then it'll collapse. Perhaps Grischuk simply evaluated the position more precisely and in greater depth than you and I? And the longer the official site remains frozen the more sober and balanced my evaluations will become! :) Apart from joking, what else can I do? The pause is becoming indecently long. One millennium replaces another but the habit of official sites and broadcasts collapsing on the first day of tournaments remains unaltered. It's our good old chess tradition…
24…Rad8 Praise the Creator! The information blockade has been broken and the moves have started to appear. Black is getting down to the aims I mentioned in the comment above.
25. Nc2 White isn't sleeping either. If he manages to hold onto the outpost on d4 then he'll also keep the advantage.
    [The naive 25. Rb7 would instantly lead to trouble – 25…Nd3! 26. Bxg7 Kxg7 27. Rf1 Rde8!]
25…Nd3 How can you not attack such a juicy pawn?
    [It also looked solid to play 25…Nc4 with the idea of 26. Rb4 Rc8!]
26. Rff1
    [If 26. Rf3 then Black can change the route of the knight: 26…Ne5 27. Rf2 Nc4!]
26…Rd7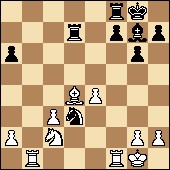 Simple and strong. One rook covers the seventh rank, while the other enters the struggle – let's say, by putting pressure on the e4-pawn. All that's left to work out is what Grischuk has prepared for 27. Rb6…? There's more than enough time for reflection: 1.13 – 1.00.
27. Rfd1 Accuracy is paramount.
    [Bold actions would, more likely than not, lead to prematurely simplified play –
27.Rb6 Bxd4+ 28.Nxd4
(28.cxd4 Rc8!)
28…Rc8 29.Rxa6 Nc5! 30.Rc6 Rxc6 31.Nxc6 Nxe4 32.c4 Rd2 and Black, on account of his piece activity, gradually equalises.]
27…Nf4 The knight is looking for points of attack. For example, it can go to e6, applying an additional 100 volts to the d4-square. For now it's threatening the banal fork on e2… Meanwhile, the first result has been fixed. In the game Radjabov – Kramnik the players agreed to a draw. Well, not a bad start for the ex-World Champion.
    [Here after 27…Bxd4+ it was good to play
28.cxd4! Rc8 29.Rd2 Nc5 30.Re1!, and the circus pirouettes of the black knight would soon run out –
30…Nd3 31.Red1 Nb2 32.Rf1 Nc4 33.Re2 and so on.]
28. Kf2 One more serious fighter enters the game. The king is just the one to neutralise all Black's minor assaults. A stabiliser. An insulator. Earthing!
28…Rc8 Now the exchange on d4 is threatened – and not all the targets on the c-file will be able to escape.
    [But perhaps it was stronger to play the straightforward 28…Rfd8 with the idea of Nf4-e6. Then in case of 29.e5 it wouldn't be worth rushing to capture:
29…Bxe5 30.Bxe5 Rxd1 31.Rxd1 Rxd1 32.Bxf4, and Black's in trouble.]
    [However, after
28…Rfd8 29.e5 he could continue the patient siege –
29…Ne6 30.Ke1 Nc7! with the idea of Nc7-b5, and White doesn't have time for 31.a4 due to Re8 – the e5-pawn falls, and chances are equal.]
29. Ne3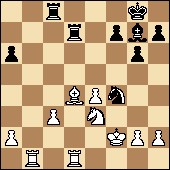 Effective and attractive. The knight escapes from under the attack of the black rook, while the c3-pawn is ready to switch comfortably to d4.
29…h5 Played after a hard think. Sasha clearly regretted his previous decision. Now he's suffering from a lack of constructive ideas. Levon has managed to consolidate excellently, maintaining his extra pawn. He's got considerable winning chances.
    [If 29…Rcd8 White would play
30.Kf3 Ne6 31.Bxg7 resulting in simple and pleasant endgames.]
    [And if 29…Ne6 then besides the banal exchange on g7 there was also the restructuring 30.Rb4!? Rcd8 31.e5, after which it's bad for Black to play
31…Bxe5 32.Bxe5 Rxd1 33.Nxd1 Rxd1 34.Bf6! and so on.]
30. Rb6 High time. The beautiful composition of pieces in the centre (the rook, bishop and knight defend each other in turn) now allows White to become active.
    [The alternative was
30.Bxg7 Rxd1 31.Rxd1 Kxg7 32.c4, but Aronian, I think, just couldn't bear to part with the reliable pair of "pawn + bishop" that had long since established itself in the centre of the board. Moreover, if you look closer at the ensuing position in that line you can note the weakness of the e4-pawn – 32…Ne6! with the threat of Ne6-g5.]
30…Ne6 Grischuk is right to force exchanges.
    [Moving the doomed pawn would only exacerbate the problems: 30…a5 31. Rb5 a4 32. Ra5!]
31. Bxg7 Rxd1 32. Nxd1 Kxg7 33. Ke3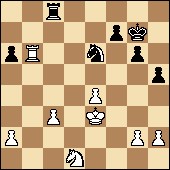 Logically and knowledgably played. The fewer pieces on the board, the more comfortable the king feels in the centre. And he's the one who won't allow any harm to befall the once weak pawns. I'll remind you of White's general plan: c3-c4-c5-c6-c7-c8-queen! For the moment it doesn't look as though there'll be time trouble in this game: 0:29 – 0:18.
33…Nc5 Sasha is trying to keep as many fighters in the ranks as possible.
    [If 33…Rc4 34.Rxa6 Nc5 35.Ra7 Rxe4+ 36.Kd2 White would get two passed pawns. And that's a lot…]
34. Rd6 Levon is patiently improving his position. In principle, White has technical difficulties ahead in the conversion of his extra pawn. His structure is, after all, broken up, while the black pieces are active. It's also worth taking into account the drawish tendencies of rook endings. In such a situation it's important to do everything gradually and according to a plan.
    [It was possible to first fix the kingside of his opponent with 34. h4]
34…a5 The pawn hasn't simply escaped the attack. She's dreaming of a great career! (Translator's note: grammatically pawns are feminine in Russian!) If in future Black manages to attack the a2-pawn, then there'll be a chance of creating a passed pawn.
    [Putting pressure on the e4-pawn wouldn't bring success – 34…Re8 35. Nf2 f5 36. Rd4!]
    [But it was worth considering the purely psychological move 34…h4 – perhaps that would provide a basis for a counterattack on the kingside.]
35. c4 One of the ways of returning the knight from the edge of the board. And the pawn's first step towards its desired goal on c8.
    [Though it was also possible not to rush – 35. Rd4]
35…a4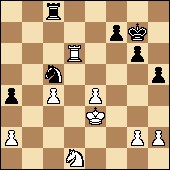 The stage debutante is soaring upwards… if you look at the board from Black's point of view. The players have simply been forced to speed up, as time is slipping away: 0:13 – 0:05.
    [If Grischuk had longer to think he might also have chosen the more subtle continuation: 35…Ne6! 36. Nb2 Rb8! with the planned activation of the rook.]
36. Kd4 Ne6+ 37. Kc3 The king successfully restrains the potential passed pawn.
37…Rb8 Again a routine manoeuvre. But isn't it too late?
    [It was worth looking at the bold activation of the king – 37…Kf6!]
38. Rd5 Playing it safe.
    [A commentator's metal helpers firmly recommend rushing into complications with 38. Nf2 Kf6 39. Nd3 Rb1 40. c5 Ke7 41. Ra6 Rg1 and so on. But us human beings perfectly understand that our flesh-and-blood fellow men at the board aren't in a condition to calculate all such variations – particularly when short of time. And in principle, with an extra pawn you don't want to overly rely on concrete lines. You want to minimise the risk…]
38…Nf4
    [It did no good to play 38…Rb1 39. Kc2, never mind 39…Ra1? 40. Kb2!]
39. Rd2 White doesn't allow Black to invade.
39…Ne6 A move for a move's sake with his flag about to fall.
    [Of course there was more of an idea behind 39…Kf6, but in that case you'd have to look at 40. Rf2 Ke5 41. g3 and capturing on f7.]
40. Rb2 Also a waiting move.
    [I think it was possible to allow the enemy rook to get to b1 – 40. Nf2 Rb1 and here, as well as the knight coming to d3, there's the simple 41. Rd1]
40…Rd8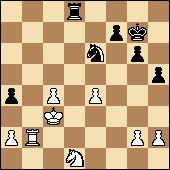 The time control has passed. White has preserved his extra pawn in a comfortable situation. His chances of winning are great. I suggest all viewers and the players in the game drink a cup of coffee. I hope that's not just my own bad habit…
41. Nf2 Aronian clearly leads a healthy way of life. Beside him at the table there's probably a glass of carrot juice. That's why he plays much better than us – coffee lovers.
41…a3 But Grischuk clearly drank a couple of aromatic cups of the divine drink – "for courage", so to speak – and then hurled himself into a last, desperate attack. Passive defence clearly promised nothing. White was threatening to play Nf2-d3, c4-c5 and so on. Therefore the Russian is striving for complications, no matter what. Meanwhile, the three remaining games have all ended in draws. Our game is the last hope for the spilling of the first blood! In my analysis I've already found clear paths to victory for White, but it's not so easy for an unarmed human being to find them at the board. There are far more ways to go wrong.
42. Rd2 That was to be expected. Levon again preferred not to get into complications.
    [After 42.Rb3 Nf4 fierce play began in which every tempo was worth its weight in gold. That's why White shouldn't take the a3-pawn. It's much stronger to play 43.c5!, after which Black's counterplay on the kingside is too late. For example,
43…Nxg2 44.Nd3 Nh4 45.c6 Nf3 46.Rb7 g5
(46…Nxh2 47.Ne5)
47.c7 Rc8 48.Nb4 g4 49.Nd5 Nxh2 50.Ne7 g3 51.Nxc8 g2 52.Rb1 Nf1 53.Nd6 g1=Q 54.Nf5+! Kh7 55.c8=Q – Black doesn't have a single check. It's no fun playing a rook down…]
42…Rb8 43. Nd3 A support group for the passed pawn.
43…Rb1 In for a penny, in for a pound!
    [It really was miserable to play 43…Rc8 44. Rd1 with the activation of the white rook to follow.]
44. c5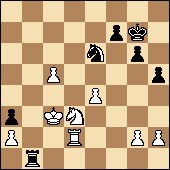 The second step to the promotion square. But, you have to admit, it's still a long way to go. The knight on e6 is an excellent watchman. Moreover, the black king should also have his say.
44…Kf6 There it is. Not even half an hour passed before Grischuk made his move. His habit of getting into time trouble is ineradicable: 0:40 – 0:16.
    [It was more cautious to play 44…Kf8, in order to get closer to the white passed pawn by a roundabout route – 45. c6 Ke8!, not allowing White to plant his rook on d7 with check in some lines.]
45. c6 A very fast response. It seems Aronian hasn't been idle while his opponent was thinking.
45…Ke7 It looks as though we're now going to see the difference between the routes of the black king very clearly.
46. Nb4 Precisely. White's both supporting the c6-pawn and ready to invade with the rook on d7. His king's ready to advance and, which is very important, the pawn on a2 is also defended.
46. Rc1+ 47. Kb3 No, Black's outside pawn isn't going to be the primadonna in any big or small theatres. (Translator's note: the Bolshoi Theatre is literally the "big/great theatre"!) She won't shine on stage, or sing at corporate parties. Her career's ending right at the outset.
47…Nc5+ 48. Kxa3 Nxe4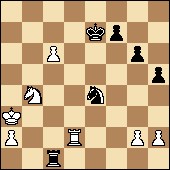 The position has simplified. I don't think Black will manage to deal with both of White's passed pawns. For that you'd need to give up the knight for both pawns and organise counterplay on the kingside. But who'll allow you to do that? It's unlikely to be Aronian…
49. Rd4 The most precise move.
    [Worse was 49. Rd3 Nc5! 50. Re3+ Kd6 with a solid defence for Black.]
    [Or 49. Re2 f5 50. Ka4 Kd6 51. Ka5 Kc7 – the white rook is out of play.]
    [And the check 49. Rd7+ only made sense with the black knight on e6. Here that square can be used by the king.]
49…Nd6
    [It also didn't help to play the apparently active 49…f5 because of 50. Ka4!]
50. Ka4 The king barges his way in to reinforce the passed pawns, while the Muscovite grandmaster is again behind on the clock: 0:25 – 0:07. Still 11 moves to go until the second time control.
50…Ke6 A move that doesn't change or hinder anything.
    [However, Black wasn't in any case in time to hold back the breakthrough – 50…Rc5 51. Rd5! Rc4 52. Ka5 and so on.]
51. Ka5 White's play is simple and obvious. Hit and run…
51…Rc5+ The hope that the white king will take fright and return to base is unlikely to be fulfilled.
52. Ka6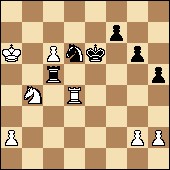 As expected. The end is nigh. Black's position is absolutely hopeless.
52…g5 Late. Too late.
53. a4 One passed pawn is good. Two is better.
53…Ke5 54. Rd2
    [It was a little more precise to play 54. Rd1 with the idea of 54…Rc1 55. Rb1!]
54…Rc4 The last time-trouble movements.
55. Ka5 The king is triangulating to b6.
    [Here if 55. Rb2 there was the resource 55…Kd4, and the threat of invading on c3 gives Black an important tempo.]
    [But again there was a more accurate path to victory: 55. Nd3+ Ke6 56. Kb6!]
55…f5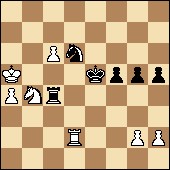 Well, well, well! White has unexpectedly come up against new problems converting his advantage. Who would have thought it? Aronian was in a rush and made a couple of inaccuracies. That's how his opponent's time trouble influenced him – a known effect.
56. Rc2 Testing if he'll go for the exchange.
    [The alternative was 56. Re2+ Kd4 and here both the invasion on e6 and the subtle retreat 57. Re1! were both good.]
    [There's probably no point even mentioning the mocking computer move 56. Rd1.]
56…Kd4 Grischuk withstood the test. The latest series of moves with his flag about to fall has really been impressive!
57. Rd2+ By hook or by crook. A normal sporting strategy – you have to test out your opponent's strength. How does he fare in different areas?
    [In the line 57. Rxc4+ Kxc4 58. c7 Kc5 you get an amusing picture of domination by Black.]
57…Ke5 58. Nd3+ The adventures continue. Levon's clearly gotten nervous. A win that was almost sealed might slip from his grasp…
58…Kf6 But Sasha's calm as a boa constrictor. He understands the evaluation of the position perfectly and is simply hunting for practical chances.
59. Kb6 Nc8+ 60. Kb7 Nd6+ 61. Kc7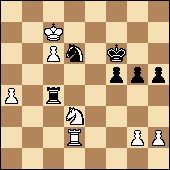 And the second time control has passed. The trials that faithful Aronian fans have undergone should soon come to an end. Their idol has nevertheless managed to keep hold of enough of an edge for victory… However, it's worth first looking a little deeper into the position. Perhaps there's also cause for joy for Grischuk's fans. Study-like saving possibilities can sometimes arise unexpectedly. Yes, the c6-pawn looks threatening. But if you managed to take on a4 then there'd be motifs involving the knight sacrifice idea mentioned before…
61…Ne4 Precisely. The Muscovite has for a long time now been walking a tightrope above the abyss and defiantly refuses to fall. A very stubborn and cold-blooded defender. The players have very little time on the clock: 0:14 – 0:10. But the third and final time trouble is eased by having 30 seconds added each move. To such a rhythm you can play normal… or, to be more precise, rapid chess.
62. Ra2 Friendly support won't help the dying pawn.
    [There were also great chances of success after 62. Rb2 Rxa4 63. Kb6 with c6-c7 to follow.]
62…Nc3 Yes, there was nothing else.
63. Rb2 This move wasn't worth such long reflection.
    [Of course, not 63.Rc2? Nd5+]
    [And if 63.Ra1 there was a subtle refutation
63…Nd5+! 64.Kb7 (64.Kd6 Ne7!) 64…Rc3 – it would be hard for White to save his fighters, while Black's king would approach –
65.Rd1 Ke6! and so on.]
63…Nxa4
    [The thing is that 63…Rxa4 64. Kb7 Nd5 would lose quickly to 65. Nb4! – but the tiring grandmaster still had to find that. It shouldn't be forgotten that we're already in the seventh hour of play!]
64. Rb4 A bold step towards the goal.
64…Rxb4 65. Nxb4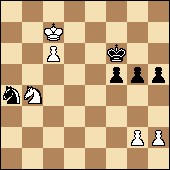 The Classics said that knight endings are evaluated in precisely the same way as pawn ones – if you take the knights from the board. And in the given situation it seems they're right…
65…Nc5 According to my analysis, Black isn't in time to create counterplay. The white passed pawn should soon become a queen.
    [There was no salvation in 65…Nc3 66. Kb6! either.]
66. Kb6?! This looks a lot like a mistake.
    [Winning was 66.Kd6 Ne4+ 67.Kd5 Nc3+ 68.Kd4! Nb5+ 69.Kc5 Na7
(69…Nc7 70.Nd5+)
70.c7 Nc8 71.Kc6 h4
(71…f4 72.Nd3!)
72.Kd7 Nb6+ 73.Kd8 Ke5 74.Nc6+ Ke4 75.Nb8 h3 76.gxh3 f4 77.Nd7 f3 78.Nxb6 f2 79.c8=Q f1=Q 80.Qg4+ and so on. An amusing line!]
66…Ne6 67. Nd3
    [If 67. c7, then as predicted Black would successfully give up the knight and create saving counterplay – 67…Nxc7 68. Kxc7 Ke5 69. Kd7 f4 and so on.]
67…h4? Time trouble mayhem has begun with inevitable oversights.
    [More accurate, it seems, was 67…Ke7!]
68. h3?! An attempt to halt the black avalanche.
    [Though it was possible to win with 68. c7 Nxc7 69. Kxc7 Ke6 70. Kc6! – the black king doesn't achieve a break for freedom.]
68…Ke7 69. Nc5? Aronian blunders last!
    [With 69. Ne5 he could still have maintained chances of success.]
69…Nxc5 70. Kxc5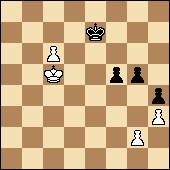 A distant passed pawn is good, but only if so many pawns aren't exchanged… And the only survivor isn't an outside pawn…
70…Kd8! The final touch to Grischuk's defensive masterpiece. And here the players AGREED TO A DRAW. The line 71.Kd6 g4 72.Ke5 Kc7 73.Kxf5 gxh3 74.gxh3 Kxc6 75.Kg5 Kd7 76.Kxh4 Ke7 77.Kg5 Kf8 didn't need to be played out.
What can you say… Chess is a cruel sport. It's not enough to have an absolutely won position – you also have to win it! Aronian conducted the game brilliantly, was very close to succeeding, but couldn't maintain his concentration to the end. He began to rush, make inaccuracies and slowly let his ingenious opponent slip. Alexander Grischuk showed himself to be a real escape artist. Every inch a Harry Houdini! And it's unlikely the best program in the world could have defended better in the Russian's place. In any case, our man demonstrated real nerves of steel – to match a machine. So then, the game ended in a draw – as did the remaining encounters of the day. All the matches are even. Working for you, dear viewers, has been Grandmaster Sergey Shipov. The most hardy of you will probably wait up for my nightly video on the first round. To the rest: see you tomorrow!
1/2 – 1/2
Sergey Shipov's videos appear at Crestbook after each round, and are also posted at YouTube:
Although in Russian, you can still try and follow the chess content if you don't know the language. For instance, from about 12:18 onwards you can see the variations surrounding Aronian's last mistake, and why the final position is drawn (useful for those, like myself, who didn't immediately follow what Shipov intended in his comment to 70. Kxc5!).
A (very!) brief summary of his comments on the games:
Aronian – Grischuk: "The most interesting game. (…) In terms of the number of incidents and what the players went through it contained as much as the other three games combined, and perhaps more." There were no significant corrections made to the analysis you've already read above.
Radjabov – Kramnik: "Quite dull. (…) I don't understand what Radjabov wanted. He simply gave up the white pieces. (…) Radjabov demonstrated nothing new. (…) I immediately had the thought that Radjabov wants to make four draws and take the games to rapid and blitz chess. That's great, but there are four games, and after all Kramnik will have the white pieces twice."
Mamedyarov – Gelfand: Shipov was impressed by Gelfand's creative play (16…Kh8). At about 18:52 in the video he talks about the one moment where he can suggest an improvement for Mamedyarov – 25. Na4! instead of 25. Rb5. "Gelfand might have had to pay for his creative play, but God loves creative chess players…".
Kamsky – Topalov: Sergey talks about the "fantastic" 7. a5 novelty, which he gave two exclamation marks. You can follow the analysis of why it's not great to take the pawn from about 21:30 onwards. The other critical moment Shipov mentions is at 24:30 when he suggests 17. Bb3 – "fixing an opening advantage" – instead of 17. b3.
You can follow my live translation of Sergey Shipov's commentary on the Candidates Matches at: http://www.chessintranslation.com/live-game/