For his last report from the European Individual Chess Championship, Sergey Shipov focussed on the role of coaches, which was particularly apt given that a coach, Russian GM Vladimir Potkin, won the title! Shipov also summed up his impressions of the event as a whole.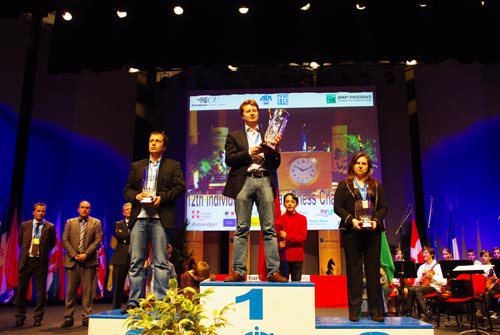 Vladimir Potkin was joined on the podium by Polish GM Radosław Wojtaszek in second, and Judit Polgar (no introductions required!) in third. The other key issue was who would qualify for the FIDE World Cup later this year. ChessVibes has a good final report that explains that surprisingly complex question.
Sergey Shipov's letter can be found in the Russian original at Crestbook.   
A coach's lot

There are three things you can watch endlessly: fire, water, and how someone else does your job. Besides, it's a pleasure to watch. It's nice to see the worries of others, not worrying yourself. It's nice to observe others at the board trying but failing to calculate a two-move variation, when you don't have to calculate it yourself. All the time you have the same doctor's thought running through your head: "It's good that he's the one who has to face this!"

If you were to gather together all the non-playing coaches at the championship you'd get a pretty decent team: Chuchelov, Kovalev, Zontakh, Sulypa… well, and I wouldn't let the team down.

We work as hard as we can between games, preparing our students, but when the next round starts – we get to take a little rest. However, not everyone manages to switch off from chess. For example, Sasha Sulypa sits in the playing complex with a computer and painstakingly studies the current positions. He also follows his pupils, of course. Volodya Chuchelov spends a lot of time talking to people, while I haven't seen Zontakh in the playing areas even once. He lives the life of a recluse. Myself, I observe what's going on a little, then head off home, to the hotel. It's hard to spend all your time in that competitive atmosphere. It draws you in, distracts you, doesn't allow you to rest. Moreover, worrying about your student sometimes turns into torture. Particularly when things aren't going well…

There are also player-coaches at the tournament – they're the ones who've got the most difficult time. All of them, that is, except Potkin. Volodya has had a brilliant tournament. I've got no idea how he manages to combine his own preparation with working with Ian Nepomniachtchi. Where does he get so much time and energy from? Judging by the tournament results the title of Honoured Coach of Russia should go to Nepomniachtchi! Working on the opening is a combined effort. So he's the one who prepared his own coach. Taught him how to play. Well done, Ian!

Other player-coaches have little to boast about. It was disappointing to see how top-class grandmasters (I won't name names) didn't display even a fraction of what they were capable of because they were torn between different tasks. Playing yourself and coaching students – those really are fundamentally different tasks. I've tried it myself on various occasions. That's why I didn't come to the championship to play.

All things considered, I think it was the right choice.

In conclusion, allow me to say a few words about the tournament as a whole.

When I heard, before it began, that 23 places at the World Cup were up for grabs, I said to myself: "That's a lot". But then, having seen the line-up, I revised my view: "That's not many at all"! There's been an incredible rise in the number of strong chess players. Back in my day when I had a 2662 rating it put me among the top-25 players in the world. Now, people with a similar rating are on the verge of falling out of the top-100. Yes, there's been some inflation, but the main reason is just the banal increase in the number of top-class players. Here, at the European Championship, there were 150 realistic challengers for the qualifying places. It was just like the selection process at a good university – six applicants for each place.

Those who won were, of course, the strongest.
Those who deserved it. Those who were best prepared.
Defeats can be accidental. Victories in tournaments as strong as this never are.

Overall, the local organisers didn't disappoint – the tournament was well-run. Yes, there were shortcomings, but they tried to fix them as they went along.

Unfortunately, I never did manage to do any proper sightseeing. There simply wasn't time. But such is our chess c'est la vie. Going all-out to compete means ignoring tourist attractions.  

I've got the vain hope that someday I'll come here simply as a tourist. And by no means a chess one.

Thank you to everyone who's been reading my letters.
I've got to fly!