The encounter between the front-runners, Hikaru Nakamura and Vishy Anand, didn't disappoint. Nakamura's unorthodox opening play led to a dangerous position that Sergey Shipov, commentating for Crestbook, described as "beautiful". Anand's failure to exploit his advantage means we now have four leaders tied on +3!  
Sergey Shipov's original commentary in Russian can be found at Crestbook.
GM Sergey Shipov's live commentary on:
Tata Steel Chess 2011, Rd 9
HIKARU NAKAMURA – VISWANATHAN ANAND

Hello, dear friends! This is Grandmaster Sergey Shipov inviting you to watch the key encounter of the 9th round. Moscow is counting the dead from the terrorist attack, and the mood is one of mourning. But life continues. "The show must go on" (Translator's note: quoted in English). From a sporting point of view today's game is extremely important. Someone losing would let a whole group of rivals catch up with him, as a whole quartet is positioned just behind Hikaru and Vishy. Let's assess Nakamura's fate in this tournament. He started brilliantly, but it's only now that he's reached the thicker layers of the atmosphere i.e. that's he's playing the main favourites. It's a difficult test. I'm sure that the loss to Carlsen was very painful – after all, they're arch rivals, and lately Magnus has regularly come out on top, both in blitz and serious games. Hikaru's pride has been wounded – and we all know that he's emotional. Now the strength of the American's character will be put to the test. Real champions also play very well after defeats. So we'll see… And who better to test out championship potential than the current World Champion? It's unlikely that Anand will play very aggressively with Black, but if the chance arises to attack – he won't let it slip… Among the other games today I'll note Vachier-Lagrave – Carlsen. Maxime has a wonderful chance of staking a claim in the elite if he can finish high up in the tournament. Unfortunately he hasn't yet ended up in my commentaries. But there's a time for everything…
1. d4 Nf6 2. c4 e6 3. Nc3 Bb4 The Nimzowitsch Defence.
4. Nf3 b6 A new system for this tournament!
    [Previously we looked at the Romanishin variation: 4…c5 5. g3!]
5. Bg5 We've ended up with a known hybrid of the Queen's Indian and the Nimzowitsch Defence. Both sides in unison use their bishops to attack the knights, which are fighting for the key e4 and d5 squares.
5…h6 6. Bh4 g5 A sharp continuation.
    [Common against 6…Bb7 nowadays is 7. Nd2!, not allowing Black to plant a knight on e4.]
7. Bg3 Ne4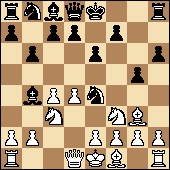 But here he manages. That's important.
8. Qc2 Bb7 Black should support the advanced knight for as long as possible. And if it has to be exchanged, then better for the bishop on g3.
9. e3 d6 The path for Black's second knight is via d7.
10. Bd3 Hikaru is increasing the pressure.
    [You can't not look at the classical "winning" of a piece
10.Qa4+ Nc6 11.d5 – the great Capablanca once blundered like that, though in a slightly different situation. In the given case Black has the refutation
11…Nxc3! 12.bxc3 Bxc3+ The a1-rook is more tasty and filling than the c6-knight.]
10…Bxc3+ It was time.
    [It was dubious to play
10…f5 11.Qa4+ Nc6 12.d5 Nxc3 13.bxc3 Bxc3+ 14.Ke2 Bxa1 15.dxc6 Bc8 16.Rxa1, and White gets two minor pieces for the rook. True, the evaluation of the position isn't so obvious. Moreover, over the course of that line Black had the strong resource 14…Qd7! No, I won't try to reinvent the wheel, I'll look in my database…]
    [Here's the last word of science after
10…f5 In the game Li Shilong – R. Miedema, Leiden 2008, they played
11.Bxe4!? Bxc3+
(if 11…fxe4 12.Nd2 the e4-pawn is under fire)
12.Qxc3 Bxe4 13.d5! e5 14.Nxe5! (That's how you do it!)
14…dxe5 15.Qxe5+ Kf7 16.Qe6+ Kf8 17.f3 Bc2 18.Kf2, and Black couldn't handle White's very strong and almost cost-free initiative:
18…f4 19.exf4 Bh7 20.Qxh6+ Ke8 21.Qxg5 Qxg5 22.fxg5 – the resulting material balance was extremely pleasant for White. Well, it was refuted!]
11. bxc3 f5 The proud knight is still maintaining its high position. As you can easily guess, for now nothing new has happened… Nakamura's thinking for a long time, despite this only being an opening tabiya, known since the middle of the last century. Lots of games have been played here! The most interesting approach is the 12. d5 blow. But the question is, did the American prepare it this morning? If not, then it's worth refraining from it. The clock situation speaks for itself: 1:20 – 1:40.
12. d5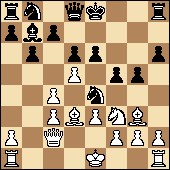 He's gone for it! Well done, Hikaru! He really is a noble fighter. The move intends to destroy the beauty and harmony of Black's pawn structure. It's very important that the white knight gets to d4.
    [If White plays in an unhurried manner then Black manages to finish his development and ensure himself a carefree future. For example, here's a game between two classics:
12.O-O Nd7 13.Nd2 Ndf6 14.Nxe4 Bxe4 15.Bxe4 Nxe4 16.f3 Nxg3 17.hxg3 Qd7 18.a4 a5 19.c5 bxc5 20.dxc5 O-O 21.Rfd1 Qc6 22.cxd6 cxd6 23.g4 Rac8 24.gxf5 Rxf5 25.e4 Rf7 26.Rd3 g4!, and it was White who had to earn the draw – which he did, S. Gligoric – M. Taimanov, Zurich 1953.]
12…Na6 Military cunning – the second black knight is setting off to help the first.
    [Answers to all questions of the "And what if?" type are again given by the classics:
12…exd5 13.cxd5 Bxd5 14.Nd4! Nd7 15.f3 Nxg3 16.hxg3 Qf6 17.Bxf5 O-O-O 18.Qa4 a5 19.Kf2 h5 20.Rab1 h4 21.e4 Bb7 22.gxh4 gxh4 23.Ne6 Ne5
(23…Rde8 24.Nc5!)
24.Qd4! Rdg8 25.Nxc7+ and in the game P. Keres – M. Taimanov, Moscow 1955, Black was crushed.]
    [As for the development of Black's queen's knight, it was usually done by 12…Nd7 It seems that in some lines the horse's position there restricts Black's options. For example, after
13.Bxe4 fxe4 14.Qxe4 Qf6 15.O-O O-O-O 16.Qxe6 Qxe6 17.dxe6 Black's not in time to exchange the bishop on f3. You have to play
17…Nc5 and in the game A. Dreev – B. Adhiban, New Delhi 2007, the f3-knight managed to escape –
18.Nd2, and as a result White won.]
13. h4 An amazing novelty! It wouldn't enter into my head to weaken the kingside like that – after all Black can take on g3 and spoil White's structure.
    [Here are a couple of solid references to the standard way people play:
13.Nd4 Nac5 14.O-O Qe7 15.f3 Nxd3 16.Qxd3 Nc5 17.Qc2 O-O 18.dxe6 Qh7 19.e4 f4 20.Bf2 Rae8 21.a4 g4 with good counterchances for Black, E. Bacrot – V. Topalov, Nanjing 2010.]
    [And 13.Bxe4 fxe4 14.Qxe4 Qf6 15.O-O O-O-O 16.Qxe6+ Qxe6 17.dxe6 Bxf3! (what I spoke about)
18.gxf3 Nc5 19.h4 Nxe6 20.hxg5 hxg5 21.Kg2 Rhf8 22.Rad1 Rf5 23.Rd5 Rdf8 24.Rxf5 Rxf5 25.Rh1 Rc5, and Black held the ending without any problems. Wang Yue – P. Leko, Nice 2009. And actually it's an open question who "held"…]
13…Qf6 Common sense and a practical manner of conducting the struggle are distinguishing characteristics of Anand's. He replied quickly and sensibly. Black has to develop. If Black was willing to sacrifice the e4-pawn a move ago, then why not also sacrifice it now, in an even more advantageous situation? Castling long has already been prepared. The exchange on g3 remains in reserve.
14. Bxe4 The sacrifice is accepted.
    [In the line
14.hxg5 hxg5 15.Rxh8+ Qxh8 the threat of invasion on h1 forced the reply
16.O-O-O, and then Black would manage to get his knights coordinating –
16…Nac5!]
14…fxe4 15. Qxe4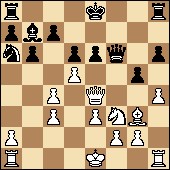 Boldly played! The c3-pawn is offered up on the altar of the attack. Along with the safety of his own king. Vishy is spending a long time analysing the position. He's thinking: "To take or not to take?" (Translator's note: in Russian "to take" (literally hit/beat) here sounds very similar to "to be", especially if they're pronounced by a non-native speaker…) Fortunately, he has plenty of time for now: 1:10 – 1:18. By the way, via a different move order we've returned to a position that's been tried out in practice! It's as if after 13. Bxe4 fxe4 14. Qxe4 Qf6 White played 15. h4 instead of the usual castling short. Well then, a true novelty still lies ahead.
    [You also had to look at
15.Nd2, but it's unlikely that Black would have any difficulties:
15…Nc5 16.Nxe4 (otherwise White has a strategically tricky position)
16…Nxe4 17.Qxe4 Qxc3+ 18.Ke2 Qb2+! – here there's no longer a knight that could defend the king, and so it has to advance –
19.Kd3 No, that would be a dangerous way to play.]
15…Qxc3+ He took it! Anand found the correct response to the eternal question. Now that is a novelty!
    [In the game I. Kincs – G. Kilgus (I've become tired of Russifying the unknown surnames), Zalakaros (but I've been to that city myself) (Translator's note: Shipov wrote the city, but not the surnames, in Russian letters) 2010 there followed the modest:
15…O-O-O 16.Qxe6+ Qxe6 17.dxe6 Bxf3 18.gxf3 Nc5 and we got…. a position from the Wang Yue – Leko game mentioned above, but without White having castled short i.e. White got more freedom of choice than he should have done.]
16. Ke2 Otherwise you can't save the a1-rook.
16…Nc5 With knights on the board the situation is extremely tense.
17. Qg6+ Ke7!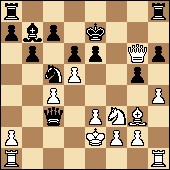 It's not often that you get to see a middlegame in which both kings have advanced so symmetrically – under enemy fire. It's a beautiful position! Worthy of a diagram. The first impression is that Black, at worst, is fine, while I wouldn't vouch for White. His minor pieces are passive, and the king's threatened by all sorts of checks, for instance from c4. In terms of time expenditure the players are working in symmetry: 1:04 – 1:08.
18. Rac1 The fruit of long doubts and torments. But nothing better was visible.
    [It was extremely dangerous to play
18.hxg5 Qxc4+ 19.Kd1
(19.Kd2? Ne4+)
19…Rag8! 20.Qf6+ Kd7 21.dxe6+ Kc8 with a very strong black attack.]
18…Qf6 Played in an extremely straightforward manner.
    [In my view it was worth including 18…Qb2+, provoking the move Rc1-c2, which interferes with the coordination of the white rooks – and only then withdrawing the queen to f6. And if 19. Nd2?! Rag8 20. Qc2 Qxc2 21. Rxc2 exd5 Black simply has a healthy extra pawn.]
19. Qxf6+ You have to enter a worse ending.
    [If 19.Qc2, then Black isn't obliged to immediately take the d5-pawn, allowing the white rook to get to h7. You can first play
19…g4!? 20.Nd4 and only then –
20…exd5]
19…Kxf6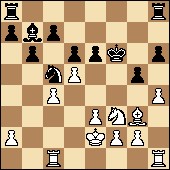 What can you do about the d5-pawn? Not an idle question. In any case it's clear that Black's minor pieces are significantly stronger than their white counterparts. And Black has no pawn weaknesses…
20. Rhd1 Stubbornly trying to hold on to the d5-pawn. But using your hands to hold on to the cork of an almost open bottle of champagne is not an enterprise lacking in risk. It can burst open at any moment.
    [It seems it was worth pouring it into glasses and drinking a toast to the desired draw:
20.dxe6 g4 21.Ne1 Nxe6
(21…Raf8!?)
22.f3 – and then hold on, hold on and hold on.]
20…exd5 Vishy clarifies the situation.
    [I think you could still have maintained the tension. For example, by 20…Rae8]
21. cxd5 The drawback of the pawn exchange is that now the c5-knight is using its puny body to protect the c7-pawn, so it can't go on the attack itself, let's say to e4. In that sense, if you go back a little, the prophylactic 20…Rh7 would have been good. However, it still won't be bad in future.
21…Ba6+ 22. Ke1 Correct. Such an exchange (I have in mind the line 22…Nd3+) perhaps needs to be sacrificed. But it's not clear that Black is obliged to take it…
22…Rae8 I agree. It's easy and pleasant, in principle, to agree with the World Champion. As if to say, I'd play like that too. I can also do what he can :)
    [After 22…Nd3+ 23.Rxd3 Bxd3 24.Rxc7 the threat to the d6-pawn forced Black to switch to a tough defence. There's no sense in looking at it seriously!]
    [But the move I mentioned was asking to be played
22…Rh7!?, defending the c7-pawn.]
23. Rc3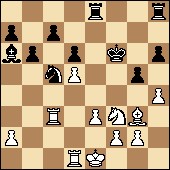 Nakamura isn't going to offer an exchange sacrifice twice. The rook takes up a good defensive position, but won't be against taking a bite on c7 or a7, if the chance arises. Let's look at the clocks: 0:47 – 0:36.
23…Re4 The black rooks also weren't born yesterday. One's now heading for a4, and it's unlikely the other will stay on the sidelines.
24. Rd4 Not letting the goat into the garden. (Translator's note: this seems to speak for itself, but possibly something to do with "setting the cat among the pigeons" (or a "bull in a china shop") is called for!)
24…Rhe8 A natural, but not an only move.
    [It looked interesting to play the crude
24…Rxd4 25.Nxd4 Bb7 with the inevitable downfall of the d5-pawn.]
    [Anand was probably worried by the possibility of
24…Rxd4 25.exd4! and after Re8+ there's the mischievous attack
26.Be5+! with unusual exchanges. Yes, it seems Vishy was right again. He sees everything!]
25. Ra3 Hikaru is also playing logically. Now both of his opponent's pieces are hobbled. Although it's not clear what White can play next, Black also doesn't have an abundance of active ideas.
25…Bc8 A surprise! It turns out that Anand doesn't pity the a7-pawn at all – it's the high price he's willing to pay to activate his pieces. But for now analysis doesn't show any positive lines for Black. It seems you can and should take the bait on a7 – otherwise Black plays a7-a5! and White's active ideas dry up for good.
    [With the same idea I looked at the more materialistic continuation
25…Bb7, and then
26.Rxa7 Ra8! 27.Rxa8 Bxa8 – Black wins back the pawn on d5, but is unlikely to maintain an edge.]
    [The most interesting option was to see what White does. Let's say, after
25…Kf5!]
26. hxg5+ This move is essential – you have to free the h4-square for the bishop.
    [Here's the justification:
26.Rxa7 g4! 27.Rxe4 (there's no choice)
27…Nxe4 28.Nd4 Nxg3 29.fxg3 Rxe3+ 30.Kf2 Rc3, true, that's not the end of the line –
31.Nb5 Rc2+, and there's still the fear that in a struggle on both flanks the bishop might prove more agile than the knight.
32.Kg1]
26…hxg5 27. Rxa7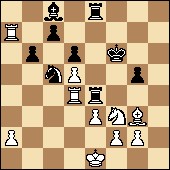 Correct. The American grandmaster's done everything right. There's a suspicion that his dangerous opponent from India has miscalculated something. Or on the other hand – has played something unbelievably subtle. Whatever else will we suspect…
27…R8e7 An instant reply. Black isn't giving up the c7-pawn. For now he's a pawn down, but in future he'll have the chance to get even with White. The bishop on g3 remains just pointless decoration. No active ideas are visible.
    [Here it no longer achieved anything to play
27…g4? 28.Rxe4 Nxe4 29.Bh4+! Kg6 30.Nd4 with a clear edge for White.]
28. Kf1 Getting out of a dangerous line-up with the rooks.
    [The raid into his enemy's rearguard would end ingloriously –
28.Ra8 Bd7 29.Rf8+ Kg7 30.Rd8 g4! and the method already shown above would lead to the destruction of White's set-up.]
23…Bg4 Black is revealing his aces. He's threatening destructive exchanges on f3 and d4.
29. Nd2 The only possibly reply.
    [After 29. Rd2? Rc4! Black would send a punitive detachment of cavalry to e4, with great effect.]
29…Rxd4 30. exd4 The number of weak pawns in White's ranks has doubled.
30…Nd3 31. f3 But the g3-bishop is showing signs of life.
31…Bf5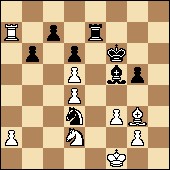 And though for now it's far from achieving the title of active piece, it fulfilled a most important function – it didn't allow mate on e1.
32. a3 Played very quickly. Nakamura always experiences a hunter's excitement when he sees that his opponent is entering the time trouble zone: 0:28 – 0:15. Although the pawn move prevents the Nd3-b4xd5 manoeuvre, it has its drawbacks…
    [It seems that the following led to equality: 32. Ne4+ Bxe4 33. fxe4 Rxe4 34. Rxc7 and so on.]
32…Nf4 There it is. The drawback! Black's ready to infiltrate with his rooks on the second rank – with the help of the preliminary move Bf5-d3. The rook on a7 is out of play for now. Piece coordination – that's what White lacks, while Black is absolutely fine in that regard.
33. Bxf4 Yes, it's no regret to exchange a bishop for such a knight. Particularly a bishop like that – which has stood idle for half the game.
33…gxf4 Strange.
    [Strange that Anand didn't play the very obvious check that clearly worsened White's position
33…Bd3+ However, it's possible that he spotted that after
34.Kf2!? you have to play sharply:
34…Re2+ 35.Kg1 gxf4 36.Ne4+ Bxe4 37.fxe4 – here the c7-pawn can't be defended. And there's no time for calculation!]
34. Ne4+ There's no other means of preventing the infiltration. But you don't need one. White is successfully defending.
34…Bxe4 35. fxe4 Rxe4 Vishy decided not to complicate things unnecessarily.
    [You could have tried to get a slight edge with 35…b5!]
36. Rxc7 Rxd4 37. Rc6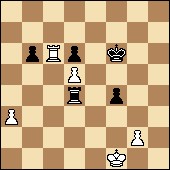 Exchanges are inevitable. The game is rapidly heading for a drawn outcome.
37…Ke5 38. Rxb6 Rd1+ 39. Ke2 Ra1 Played according to theory. The rook should stand behind your opponent's passed pawn.
40. Rb3 Kxd5 The time control has passed. Let's drink our traditional cup of coffee and examine Black's edge under the microscope!
41. g3! Though here, in fact, there isn't one.
41…Ke5 DRAW
A brief summary: Nakamura carried out a dubious opening experiment in a well-known position (he was probably creating at the board) and came up against difficulties. Anand could and should have slowly upped the pressure, but he let his opponent off lightly. He missed the opportunity to break away from his current rival, while at the same time the other players weren't idle! Kramnik has already won (against L'Ami) and caught up with the leaders. Now there are three. The other games are still continuing. Well, thank you, viewers, for your interest in my work. With you was Grandmaster Sergey Shipov. Was, is and will be. See you tomorrow!
1/2 – 1/2
Game viewer by Chess Tempo
I'll be translating Shipov's commentary on Round 10, LIVE, at 13:30 CET, Wednesday 26 January, here: http://www.chessintranslation.com/live-game/