Sergey Shipov introduced today's game by saying we needed a Terminator to deal with Hikaru Nakamura's run-away tournament lead. His opponent, Magnus Carlsen, proved up to the task, winning in devastating style after a tense middlegame phase in which it was never fully clear where exactly Nakamura went wrong.

Sergey Shipov's original commentary in Russian can be found at Crestbook.
GM Sergey Shipov's live commentary on:
Tata Steel Chess 2011, Rd 8
MAGNUS CARLSEN – HIKARU NAKAMURA

Hello, dear viewers. This is Grandmaster Sergey Shipov on duty to provide on-line commentary on the most interesting game of the 8th round. The main tournament intrigue can be stated simply: who'll stop Nakamura? And if you had to choose a candidate for the role of Terminator, then Carlsen with the white pieces would be top of that list! At the end of last year in London Magnus beat Hikaru. Now he has to repeat the same feat. I think the other favourites will also be rooting for Carlsen in this particular game. However, they won't have time to watch and worry about it – they've got their own concerns. The next most important game of the day is: Anand – Aronian. The third: Ponomariov – Kramnik. Those could fundamentally alter the leaderboard. We'll see…
1. e4 c5 The Sicilian Defence. Nakamura hasn't decided to play it safe. He wants a battle. A warrior!
2. Nf3 d6 3. d4 cxd4 4. Nxd4 Nf6 5. Nc3 a6 The Najdorf. Perhaps we'll see a continuation of yesterday's game between Carlsen and Anand?
6. Be2 No. Magnus surprises us again.
6…e5 The most aggressive move.
7. Nb3 Black has weakened the d5-point – but exiled the white knight to an unpromising position.
7…Be7 8. Be3 Another interesting moment. The move in the game provokes the suspicion that Carlsen wants to castle long…
    [If 8. o-o then White, as a rule, plays f2-f4 with the bishop on c1, so as to take on f4 in one go.]
8…o-o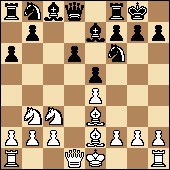 Well, now it's up to Magnus to have his say.
9. g4 And he said: "I'm coming after you!" (Translator's note: the strange grammar of the Russian original here is apparently because it was originally used by a 10th-century warrior prince who liked to tell his enemies of his attacking intentions) . After driving away the knight from f6, White intends to put a knight on the dominating height of d5. Or simply to get such a possibility… And in principle, it's logical to castle long and continue the pawn advance on the kingside, right up until mating the black king. If anyone thinks the move in the game is a novelty, then they're deeply mistaken. White's positional idea is as old as the hills, while this particular application originated in the middle of the last century, and a three-digit number of games has been played along these lines. Hikaru has started to think…
9…Be6 The standard response. A new defender of the d5-square replaces the old one.
    [The "prophylactic" 9…h6 was like trying to put out a fire with petrol – 10. h4!]
10. g5 No sooner said than done. The delays in the American grandmaster making his moves suggest that he in no way expected to encounter the given line at the board. That means the Norwegian has won the first stage of the duel – he's the first to spring a surprise.
10…Nfd7 Of course. The retreat to e8 is also frequently encountered, but I wouldn't play that way even if threatened with a firing squad.
11. h4 Carlsen's simply in a ferocious mood today! He wants to drive on and rip things apart.
    [Many predecessors preferred the developing
11.Qd2 For example, 11…a5 12.a4 Na6 13.Nd5 Bxd5 14.exd5 Nac5 15.Nxc5 Nxc5 16.h4 Qc8 17.Bb5 Bd8 18.Qe2 Bb6 19.O-O-O Nb3+ 20.Kb1 Nd4 21.Bxd4 Bxd4 22.c3 Bc5 23.Bd3 f5 24.gxf6 Rxf6 25.Qe4 Rh6 26.f4 and in the encounter S. Dolmatov – L. Ljubojevic, Madrid 1988, White developed a winning attack.]
11…Nb6 Black's again taken control of the key d5-square. It seems that the second knight will come to d7, and then the rook to c8. A sensible system. There's also the classical idea of advancing the a6-pawn. For the first time in the game Magnus has started to think… Clocks: 1:29 – 1:26.
    [The aggressive
11…b5 allowed White to make good use of the queen's delay on d1 –
12.Bg4, and then in the game S. Smagin – J. Gallagher, Hastings 1990, there followed
12…Nc5 13.Bxe6 fxe6 14.g6 h6 15.Qg4 Qc8 16.O-O-O Na4 17.Ne2 Nc6 18.Kb1 Rf6 19.Rh3 d5 20.Qh5 Bf8 21.Rf3 Rxf3 22.Qxf3 d4 23.Bxh6! with a decisive advantage for White.]
12. Qd2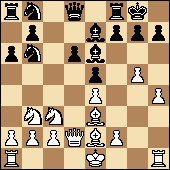 The attack's all well and good, but you can't forget about development. It's important to bring the a1-rook into the battle – then it'll be possible to attack without looking over your shoulder.
    [A different set-up was tried in the game G. Milos – K. Mekhitarian, Brazil 2005:
12.Nd5 N8d7 13.Qd3!? Bxd5 14.exd5 Rc8 15.Nd2! f5 16.gxf6 Nxf6 17.c4, and, in my opinion, White's prospects are better.]
    [One of the fathers…. one of the caring guardians of the line played hyper-aggressively here:
12.f4!? exf4 13.Bxf4 Nc6 14.Nd5 Bxd5 15.exd5 Ne5 16.Qd4 Rc8 17.O-O-O Nbc4 18.Nd2 b5 19.Nxc4 Nxc4 20.Bd3 and again achieved success, S. Dolmatov – Ye Jiangchuan, Shenyang 1999.]
12…N8d7 My premonitions didn't fail me. One black knight keeps an eye on the d5-point while the other – and this is very important for such structures – is always ready to switch guard duties with him.
    [Here Naum Rashkovsky tried
12…a5 and after
13.a4 changed the knight's route –
13…Nc6 with the obvious idea of putting it on b4. Here Sergey Smagin (this took place in Moscow in 1984) didn't get his attacking method right. He rushed the knight to d5, but didn't get an advantage. It was more promising to play:
14.O-O-O Nb4 15.f4!]
13. f4 An entirely logical move and… a novelty!
    [Previously played here was the even more logical
13.O-O-O For example,
13…Rc8 14.Kb1 Nc4 15.Bxc4 Rxc4 16.f3 Qc7 17.h5 Rc8 18.g6 fxg6 19.hxg6 hxg6 20.Nd5 Qd8 21.c3 – Black's attack is at a dead-end, while White's continued –
21…R4c6 22.Rdg1 Nf8 23.f4! exf4 24.Nxf4 and Black was soon crushed, Ian Rogers – R. Huebner, Wellington 1988. Of course, a lot of water has flowed under the bridge since then, and improvements for Black have been found…]
13…exf4 It would be fatal to allow the enemy pawn to get to f5.
14. Bxf4 Ne5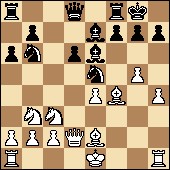 An excellent changing of the guard on e5. But… You know, there's one way in which the knight is inferior to the pawn – it doesn't control the d4-square, via which the passive b3-knight might go on the attack – let's say, to f5.
15. o-o-o Development is complete. Everything's prepared for decisive actions… Or almost everything! I'd still move the king to b1, and only then rush into battle.
15…Rc8 Black isn't taking his time either. His knights will soon invade on c4.
16. Kb1 As you can see, I'm not alone in my prejudices. This prophylaxis is a sign of good taste in the Sicilian Defence. In the beginning it's not always clear why it's played. Much later it turns out that it's precisely with this move that White avoids many troubles. For example, the black queen taking the c2-pawn is only check, and not mate. There aren't any unpleasant stings along the c1-h6 diagonal. And so on. Let's look at the clocks and admire the quick play of the opponents: 1:17 – 1:11. They're acting much more practically than Grischuk usually does. His time trouble is our mutual pain.
16…Qc7 Nakamura is waiting for a convenient moment to invade.
    [Here after 16…Nbc4 it was good to play 17. Qd4!]
17. h5 An extremely aggressive choice, but I'm not sure this advance will lead to success… Black's counterchances are no less weighty. And then, what exactly is Black being threatened with? The opening of the f-file after the g5-g6 push? That's double-edged… One of them is that the f8-rook and e7-bishop will stop being idle.
    [Perhaps the attack should have been prepared with prophylactic measures. For example,
17.Qd4, negating the strength of the black knights coming to c4.]
    [Or 17.Rh2 – in order not to have to think about the weakness on the second rank, while also preparing to double.]
    [While the bold
17.Nd4 had a flaw:
17…Nbc4! 18.Bxc4 Nxc4 19.Qd3 Qb6 and the knight has to return home to b3.]
17…Rfe8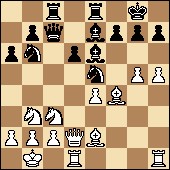 Another standard rearrangement for an experienced Sicilian player. The passive e7-bishop is rushing to become active on g7. Or at least not to interfere with the operation of its own rook.
    [On 17…Nbc4 there would follow 18. Bxc4! Nxc4 19. Qd3 and Black has nothing more than a harmless check on a3. True, he could try advancing pawns – 19…a5!]
18. Ka1 Prophylaxis squared! Now taking on c2 won't even be check. And the black knight jumping from c4 to a3 will only make people laugh.
    [Bringing the queen into the attack didn't work for now:
18.Qe3 Nec4 19.Qg3? Nxb2! 20.Kxb2 Qxc3+ 21.Qxc3 Na4+ – Black wins a pawn and gets a huge positional edge.]
    [Also unconvincing was
18.Qe3 Nec4 19.Bxc4 Nxc4 20.Qg3 in light of Na3+! 21.Kc1 Nb5 and White comes under unpleasant pressure.]
    [And as for prophylaxis – it looked good to go to the rim with: 18. Na5 in order to give visitors on c4 the welcome they deserve.]
18…Bf8 19. Nd4 Now there's something! It seems Magnus was obsessed by the idea of activating the b3-knight. The b2-pawn, as I understand it, will be taken care of by the d1-rook, which will switch to b1, if need be. Or you can boldly play b2-b3! If you can, then we're witnessing the birth of a new plan in a standard position.
19…Qc5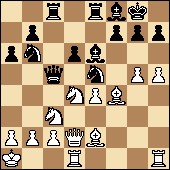 Hikaru is stubbornly refusing to put a knight on c4. Clearly he feels that the threat is stronger than the execution. The black queen, taking small steps, is approaching the white king. For example, it could stand on a5, looking at the a2-pawn, and not losing sight of the c3-knight. A dangerous plan. As you can see, the position of the knight on b3 had its plusses. However, it's White to move…
    [I considered the key line to be
19…Nec4 20.Bxc4 Nxc4 21.Qd3 Qb6 and here it became clear that my modest recommendations were incorrect. White defends the b2-point much more straightforwardly and reliably –
22.Bc1! Which, by the way, wouldn't prevent a later b2-b3 and Bc1-b2.]
20. g6! And there's the first blow at point-blank range! Hand-to-hand fighting is beginning. The f7-pawn, it seems, is overloaded with responsibilities. It needs to keep an eye on the bishop – which is in trouble from the white knight – and to protect the g6-point. It seems the advance of the white pawn was an unpleasant revelation for Hikaru. He's having a long think. The clocks show: 0:45 – 0:45.
20…Nec4 I agree. The best way to defuse the g6-pawn is to pay no attention to it. Taking on f7 or h7 isn't a direct threat to Black.
    [Materialism was out of place here:
20…fxg6 21.hxg6 Nxg6? 22.Nxe6 Rxe6 23.Bg4 and White wins the exchange.]
21. Bxc4 You have to reduce the headcount of black knights in order not to allow a blow on b2. Note that for now the pawn remains on g6. The question of what to do about it is for the future.
    [I already showed the pattern of White's potential misfortune:
21.Qd3? Nxb2! 22.Kxb2 Qxc3+ 23.Qxc3 Na4+ etc.]
21…Nxc4 22. Qd3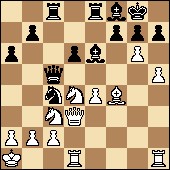 The queen remains close to its borders – keeping an eye on things, defending. It's perhaps time to sum up this fighting opening, which grew into an enthralling middlegame – White's chances are greater. He's the first to start an attack, and has everything under control in the centre. The American grandmaster perfectly understands that the situation is changing, and not in his favour. Therefore he's stubbornly looking for the most accurate move order. Time trouble isn't far off: 0:44 – 0:31. Note that the bishop on f8 has remained passive. If it had stayed on e7, then it would now be possible to bring it out to f6. The move Be7-f6! is Black's standard reaction to the g5-g6 prod. Tempos in such positions are worth their weight in gold, so I wouldn't recommend the manoeuvre Bf8-e7-f6. It's very unlikely to work.
22…fxg6?! A mistake, it seems.
    [Let me first show what Black is threatened with, in principle –
22…b5 (a nothing move)
23.gxh7+ Kh8 24.h6! g6 25.Nxe6 fxe6
(a little more stubborn was
25…Rxe6 26.Nd5 Ne5 27.Qf1 with pressure on f7)
26.e5! Nxe5 27.Bxe5+ Qxe5 28.Qxg6 Be7 29.Ne4 d5 30.Rdg1! dxe4 31.Qg7+ Qxg7 32.hxg7# – that's in broad brush strokes!]
    [I found the most solid move to be
22…h6!, justifying the position of the bishop on f8, which becomes the foundation of a defensive pawn construction.]
23. hxg6 Letting some of the advantage slip, it seems.
    [Leading to a big, and perhaps decisive advantage for White, was
23.Nxe6 Rxe6 24.Qh3! – precisely in this order –
24…Rce8 25.hxg6 h6 26.Nd5 – the white queen strives for f7 via f5, and if
26…Rxg6 there follows 27.Qf5 Ree6 28.Rdf1! and in order to avoid something worse Black has to sacrifice the exchange on f6.]
23…h6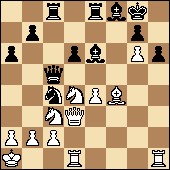 Now Black again has some hope. However, here as well it looks good to exchange on e6 with Qd3-h3! to follow. The sacrifice of the g6-pawn (which is no longer what it once was) should again pay off.
24. Qg3 No, the idea wasn't spotted. Well, the players don't have much time left (0:35 – 0:20), and it's a complex position.
    [After 24. Nxe6 Rxe6 25. Qh3! Rxg6 26. Nd5 I couldn't find a reliable defence for Black.]
24…Qb6 It's essential to check if your opponent will miss mate-in-one.
25. Bc1 He saw it! White's advantage is still undeniable. The black king doesn't look at all untouchable. There are many ways of getting to it. The h6-sac isn't yet an option. First some sabotage on the white squares is called for, as after all the e6-bishop can always be exchanged.
25…Qa5?! A fiery nature makes itself known. Nakamura doesn't want to defend (which you perhaps had to do with 25…Ne5!), but to counterattack. However, when the e6-bishop is exchanged all Black's ideas come to nothing. The passage of time is rapidly accelerating: 0:32 – 0:15. For some reason Carlsen's taking his time… He's thinking too long! The clocks show a situation that's very worrying for his fans: 0:15 – 0:15
26. Rdf1 But the move he made was superb and also leads to victory. White's threats on the f-file, in conjunction with the knight coming to d5 and the bishop sac on h6, are irresistible. By the way, it's perfectly clear now that the black queen's voyage to a5 was fruitless and even harmful. It didn't create any concrete threats, and the d4-knight no longer needs to be protected.
26…Ne5 Admitting the fruitlessness of his knight's attacking efforts. Yes, Black finally creates the threat of a blow on c3 with mate on a2 – but it's too obvious to go unnoticed.
    [If 26…Qe5 there was the decisive 27.Qf2! Rc7 28.Bxh6! gxh6 29.Nxe6 Qxe6 30.Nd5 with a double attack on c7 and f6. I'll finish the line:
30…Bg7 31.Nxc7 Bxb2+ 32.Kb1 Qe5 – Black's threatening mate-in-one, but White mates first –
33.Qf7+ Kh8 34.Qh7#]
27. Nd5 Young chess players are extremely stubborn people. First Hikaru rejected the knight move to c4 for longer than he should have done, and now Magnus as a matter of principle is rejecting the obvious exchange of the bishop on e6. The only thing you can say to defend him is that the move in the game is also very good.
27…Bxd5 28. exd5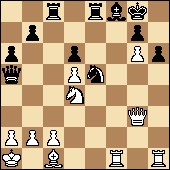 Now the Bc1xh6 blow with g6-g7! to follow is looming. Then the black king will be completely defenseless. A third factor is inexorably entering into the struggle – the clocks, which show: 0:10 – 0:09.
28…Qxd5 Nakamura is testing out his opponent's idea…
    [It was more cunning to play 28…Qa4 with the trap
29.Bxh6 gxh6 30.g7 Bxg7 31.Nf5? Qg4!, but it's much stronger to play 31.Rf4! with a win for White.]
29. Bxh6! …which is no longer any secret for us. White is winning with a direct mating attack.
29…gxh6
    [Also losing beautifully was
29…Qxd4 30.Be3 Qg4 31.Rh8+! Kxh8 32.Qh2+ Kg8 33.Qh7#]
30. g7! Be7
    [Very simple was
30…Bxg7 31.Nf5 Rc7 32.Nxh6+ Kh7 33.Ng4+ Kg8 34.Nf6+, and it's all over.]
31. Rxh6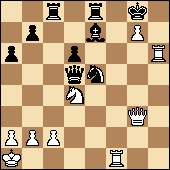 The black king has been condemned. There's no salvation.
31…Nf7 Hikaru can't believe what's happening – he's playing on to mate.
32. Qg6! Magnus is merciless. He's conducting the dramatic attack at lightning speed and with extreme accuracy.
32…Nxh6 33. Qxh6 Bf6 34. Qh8+ Kf7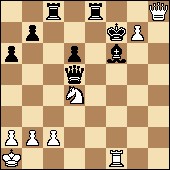 And, finally, the last blow:
35. g8=Q+! Rxg8 36. Qxf6+ Ke8 37. Re1+ Putting him out of his misery. And here, facing the choice between mate-in-one or giving up his queen – Nakamura RESIGNED. Bravo, Magnus Carlsen! Today he really was like a ruthless Terminator. The leader was destroyed in a beautiful and cruel fashion. It was a logical result, with no chances for Black. The fight for first place just got even fiercer… While this is me, Sergey Shipov, thanking viewers for following my work. Tomorrow we'll all have a rest, and the day after tomorrow we'll be back at the same time for the 9th round. All the best!
1-0
Game viewer by Chess Tempo
I'll be translating Shipov's commentary on Round 8, LIVE, at 13:30 CET, Tuesday 25 January, here: http://www.chessintranslation.com/live-game/