Magnus Carlsen and Vishy Anand didn't exactly set the world on fire in round 7. Their crossing of the tournament's "equator" saw becalmed seas, despite Magnus' "random opening generator" picking e4, and Vishy choosing the Sicilian, "a great opening for an adventure novel" (all the quotes are Shipov's!).
Sergey Shipov's original commentary in Russian can be found at Crestbook.
GM Sergey Shipov's live commentary on:
Tata Steel Chess 2011, Rd 7
MAGNUS CARLSEN – VISWANATHAN ANAND

Hello, dear chess fans and connoisseurs! This is Grandmaster Sergey Shipov, proposing that together we cross the equator of the super-tournament in Wijk-aan-Zee 2011, watching the game between the two ratings favourites. In everyday life the equator means the maximum heat and a tumultuous natural environment. In a chess tournament it's not quite like that. You cross the midway mark barely having warmed up. The tension will only continue to grow. For now one of the favourites, Anand, has pulled a point away from his main rivals. You can catch him by only beating those who are lower in class than you, but it'll be difficult. After all, Vishy is very good at that himself, as he's shown three times already in this tournament. I still hope the decisive encounters will be those between the strongest players, and today we have one of those. Carlsen has experience of beating the champion: in Linares 2009 he beat Anand in a serious game for the first, and to date, the only time. But Magnus has repeatedly upset his older comrade among the elite at rapid chess and blitz. In general, he doesn't have a complex anymore. You can beat Vishy. But if you ask me what the likelihood is that it'll happen today… I'd answer – 10%. No more.
1. e4 Today the random opening generator has chosen this move.
1…c5 The Sicilian Defence – a great opening for an adventure novel.
2. Nf3 d6 3. d4 cxd4 4. Nxd4 Nf6 5. Nc3 a6 Miguel Najdorf's Variation.
6. g3 A good line, which allows the player with White to avoid a duel in computer analysis.
    [While after 6. Bg5 or 6. Be3 you can't get by without some good "iron" preparation.]
6…e6 An important choice. Black plays in the spirit of the Scheveningen Variation – with a bristling spine of pawns.
    [Many prefer 6…e5]
7. Bg2 The bishop has taken up an important guard post. It's keeping watch over Black's queenside.
7…Be7
    [The sweeping 7…b5 meets a harsh punishment – 8. e5!]
8. 0-0 0-0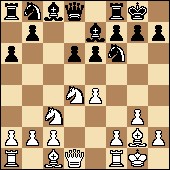 After evacuating the kings you can calmly get down to some landscaping work on the position.
9. Nce2 The knight makes way for the c2-pawn. This idea has already been around for 30 years.
    [Temperamental attackers here play
9.g4, on which there follows
9…Nc6 10.g5 Nxd4! 11.Qxd4 Nd7 12.h4 b5! with good counterchances for Black.]
9…Qc7 The queen holds the enemy pawn back on c2.
    [In the source game an English Hedgehog arose, but not in the best form for Black:
9…Nbd7?! 10.c4! Qc7 11.b3 Rb8 12.Bb2 b6 13.Rc1 Bb7 14.Nc3 Rfe8 15.Re1 Rbd8 16.h3 Qb8 17.g4! and so on. S. Taulbut – E. Mortensen, Silkeborg 1980.]
10. b3 But this pawn is helping its friend. At the same time White's preparing to fianchetto the second bishop.
10…e5 So… Interesting! It looks as though the "friend" took away a square that would have been convenient for the d4-knight to retreat to. It turns out this is an old idea of Leonid Shamkovich's. Everything new is something old that's been well forgotten. But, it seems, not everyone's forgotten it. In any case, Vishy didn't spend a long time thinking.
11. Nf5 Bxf5 12. exf5 d5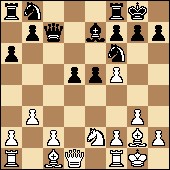 Beautifully played. Black seizes the centre. The d5-pawn, it seems, isn't so tasty. If it's left untouched, then Black will have a space advantage, but the white bishops will probably still have a real say in the matter. They fire from a long way off, but they hurt… Magnus is looking at the position in depth. Or is he recalling his analysis? One of the two. Time: 1:28 – 1:33. White has the interesting idea of striking on the flank with 13. g4!?
13. Bxd5 Nevertheless he took a bite. The young always have a good appetite. Now Vishy has started working hard – there's a choice of captures (on d5 or c2) or upping the pressure with 13…Rad8. By the way, the simple developing 13…Nc6 also makes sense.
    [Having looked at the idea
13.g4, I found it to be very promising. For example,
13…Nxg4 (otherwise White develops the knight to g3 with good prospects of an attack)
14.Nf4! exf4 15.Qxg4 Nd7 16.Bxf4 Qxc2 17.Qg3 with an initiative for White.]
    [And now let's look at the source:
13.Bb2 Rd8 14.c4? d4! 15.h3 h5! (no way through!)
16.Kh1 Nc6 17.a3 Qc8 18.Qd3 e4! 19.Bxe4 Ne5 20.Qb1 d3 21.Bxe5 Nxe4 22.Nf4 Qxf5, and Black's edge became overwhelming, S. Kagan – L. Shamkovich, Hastings 1977.]
13…Rd8 Played strictly according to theory.
    [It's practically impossible to calculate the pawn sac to a clear conclusion:
13…Nxd5 14.Qxd5 Qxc2 15.Qxb7 Nc6 16.Be3 Here's what would follow:
16…Rab8 17.Qxa6 Nb4 18.Qc4 Qxf5 19.g4 Qf3 20.Ng3 Rfc8 21.Qe4 Qxe4 22.Nxe4 Nc2 23.Rad1 Rb4 24.Rd7 Kf8 25.Ng3 Nxe3 26.fxe3 Rxg4 – Black's ok. As is White.]
14. c4 White's ready to further strengthen the bishop with the knight from c3. Therefore it'd be risky to take your time.
14…Nxd5
    [The computer recommendation: 14…Nc6 15. Nc3 Bb4 16. Bb2 Rd7 isn't for flesh-and-blood fighters.]
15. cxd5 Qa5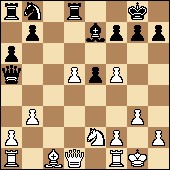 The d5-pawn is surrounded. It seems that all the pauses and doubts are just a mirage. The players know the source game perfectly well. They've simply been rechecking their knowledge at the board, looking for ways to deviate. But they haven't found them.
16. Qd2 The most technical approach. It's better to exchange Black's active pieces.
    [It seems that playing on with queens on the board would probably favour Black:
16.Be3 Nc6! 17.Qb1 Qxd5 18.Nc3 Qa5! 19.Ne4 Nd4 20.g4 Qb5! and so on.]
16…Qxd2 17. Bxd2 Rxd5 18. Be3 Not much of a novelty.
    [The encounter E. Safarli – A. Volokitin, Moscow 2010 didn't continue long:
18.Rfd1 Nc6 19.Be3 Rad8 20.Rxd5 Rxd5 21.Nc3 Rd7 22.Ne4 f6 23.Kf1 Nb4 24.g4 Kf7 25.Bd2 Nc6 26.Be3 Nb4, and the players signed the scoresheets on a peaceful outcome.]
18…Nc6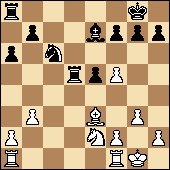 Black has no reason to be sad. The white knight will look great on e4 – but what good will it do? Black will put a pawn on f6 and calmly wait to see how things develop.
DRAW. What can you say? The game wasn't a success – there was no spectacle at all. The tournament favourites decided not to get into a fight. All their efforts will be concentrated on beating up weaker opponents. That's their right… Thanks for your attention. Working for you (though not particularly tired), dear spectators, has been Grandmaster Sergey Shipov. Well, I'll have more time to work on my next video round-up. (Translator's note: the videos can be found listed at www.crestbook.com – they're in Russian, but you might still get something from following the chess analysis. e.g. Round 6 is here at YouTube.) There are lots of games in the round – so there'll be something to get stuck into… All the best!
1/2 – 1/2
Game viewer by Chess Tempo
I'll be translating Shipov's commentary on Round 8, LIVE, at 13:30 CET, Sunday 23 January, here: http://www.chessintranslation.com/live-game/