With some dazzling opening preparation – Sergey Shipov called 14…Nxc5! the "cherry on the cake baked in Kramnik's laboratory" – Vladimir achieved an effortless draw as Black against the World Champion, Vishy Anand. Shipov commentated live on the game in Round 2 of the Tata Steel Tournament.
Shipov's original commentary in Russian can be found at Crestbook.
You can also now read through Shipov's commentary – and play through the analysis – using this game viewer: http://www.chessintranslation.com/tata-steel-2011/

GM Sergey Shipov's live commentary on:
Tata Steel Chess 2011, Rd 2
VISWANATHAN ANAND – VLADIMIR KRAMNIK

Good time of the day to you, dear chess fans and experts. This is Grandmaster Sergey Shipov, glad to welcome you to the second round of the year's first super-tournament. We're going to watch the encounter of the most renowned participants, two World Champions – the previous and the current. Judging by my database, Anand and Kramnik have already played 149 games, which means today's an anniversary! They're not far short of the record of Karpov and Kasparov (my database has 193 encounters) – less than 50 to go. I think Vishy and Vladimir will beat it. And some of us, dear readers, will live to see that day… The titans have made a confident start. Kramnik applied pressure as Black against Nepomniachtchi, while Anand actually managed to win – again, as Black, upsetting Ponomariov. It's important for the Champions to get their personal encounter out of the way, and then they can play with a sense of their own superiority – against opponents either inferior to them in terms of class, or in authority. Which, in essence, is one and the same thing.
1. d4 Vishy isn't ready to join the Scotch World Games, while the Scotch has already appeared in Shirov – Carlsen on the neighbouring board.
1…Nf6 2. c4 e6 3. Nc3 Bb4 The Nimzowitsch Defence.
4. Qc2 The Alekhine Variation – currently the most popular.
4…0-0 The most flexible.
    [Also popular are 4…d5 and 4…c5]
5. a3 Bxc3+ 6. Qxc3 d5 The height of fashion. This hybrid of the variations with 4…d5 and 4…0-0 is a virtual battlefield for thousands of analyticians and computers.
7. Nf3 One of the three trodden paths.
    [Experts also play 7. Bg5, and 7. e3]
7…dxc4 8. Qxc4 Otherwise Black will hold onto the pawn with b7-b5.
8…b6 This is the point of Black's variation. The bishop coming out to a6 allows him to deprive White of the advantage of the two bishops. As a rule…
9. Bg5 Bb7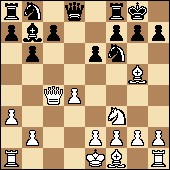 This move gives pause for thought. What I said is the honest truth. The bishop is more often moved to a6. It seems Vladimir has decided to surprise his opponent.
    [I'll give some sources which are, you might say, first-hand:
9…Ba6 10.Qc2 Nbd7 11.g3
(it's more practical to play
11.e4)
11…c5 12.Bg2 Rc8 13.Qa4 Bb7 14.O-O Bc6 15.Qd1 h6 16.Be3 c4! 17.Bd2 b5 18.Bb4 Re8 19.Qd2 Nb6, and Black gained a more promising position, E. Bareev – V. Anand, Moscow 2010.]
    [And also 9…Ba6 10.Qa4 c5! 11.dxc5 bxc5 12.Rd1 Qb6 13.Bxf6 gxf6 14.Rd2 Nc6 15.Qg4+ Kh8 16.Qh4 Kg7 17.Qg4+ with a repetition of moves, M. Carlsen – V. Kramnik, Dortmund 2009.]
10. Rc1 A reasonable response. The pressure on the backward c7-pawn is a serious argument.
10…c5 The idea of the Israeli grandmaster Alexander Huzman. It seems it received a high rating in the ex-World Champion's laboratory.
    [In the game M. Lomineishvili – L. Javakhishvili, Tbilisi 2005, Black ignored the threat with
10…Nbd7, but for some reason White didn't execute it. In my opinion she should have played –
11.Qxc7!]
11. dxc5 h6 Such subtleties! It's a novelty. It's no surprise that Anand has already used significantly more time than Kramnik: 1:22 – 1:43. It seems he's come up against some home preparation…
    [The originator played more straightforwardly:
11…bxc5 12.g3
(It was still more principled to play
12.Qxc5! , for example,
12…Nbd7 13.Qc7 and so on)
12…Nbd7 13.Bg2 Bd5 14.Qc2 Qb6 15.Bxf6 Nxf6 16.O-O Be4 17.Qxc5 Qxb2 18.Nd4 h6 19.Bxe4 Nxe4 and in the encounter M. Nedobora – A. Huzman, Israel 2009 a draw was soon agreed.]
12. Bf4 It's pleasant and easy to agree with the titan's moves. Of course, you wouldn't want to exchange the powerful bishop. And at the same time you don't want to hinder the development of the other bishop which is still sleeping, for now.
    [It was clearly fruitless to play
12.Bxf6 Qxf6 13.Qc3 Rc8! 14.Qxf6 gxf6, for example,
15.b4 bxc5 16.bxc5?! Nd7 – Black wins back the pawn, seizing the initiative.]
12…Bd5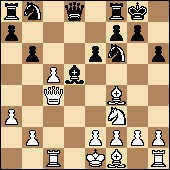 Played quickly and confidently. It's the computer's first line by quite some margin. There's no doubt that Vladimir has accurately checked all the lines with the help of a chess player's best friends. The move in the game gains an important tempo.
    [The immediate exchange
12…bxc5 13.Qxc5, it seems, doesn't fully equalise:
13…Na6 14.Qd4 Qa5+ 15.Bd2 Qh5 and here there's the bold attack
16.e4! – and White has an edge. The e4-pawn, of course, can't be taken. If
16…Rfd8 then there's the strong 17.Qe3]
13. Qc2 One of at least three retreats – but for each of them Vladimir Borisovich's computer will have had a corresponding analysis tree. He went through them again this morning…
13…Nbd7 It's become clear that it's not even just a matter of a tempo. Black has simply brought out the bishop so that it doesn't come under attack from the c5-pawn.
14. Bd6 Vishy chooses the simplest approach. As it seems to him…
    [In the line
14.c6 Rc8 15.c7 Qe7 Black gradually surrounds and takes care of the c7-pawn:
16.e3 e5 17.Bg3 Ne8! and so on.]
14…Nxc5! The point! The cherry on the cake baked in Kramnik's laboratory.
    [Comical would be
14…Re8? 15.c6 Rc8 16.c7! with great losses for Black.]
15. Bxf8
    [If 15.Bxc5 Rc8 16.Bxf8 Rxc2 17.Rxc2 Qxf8 18.e3 then White would be uncomfortable with his lack of development. It seems that Black manages to create pressure before the h1-rook is able to enter the fray.]
15…Qxf8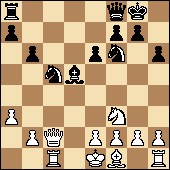 White is up an exchange, but Black has a dangerous initiative. I can already see how this might lead to a repetition of moves. Annoyingly soon! The clocks demonstrate that only one chess player is playing at the board: 1:07 – 1:43. While the other, for now, is suffering.
16. e3 The simplest of flesh-and-blood moves, leading to an unavoidable computer dead-end.
    [In analysis the first thing to look at is
16.Nd2 Rc8 17.Qd1 Rd8 18.Qc2 Rc8 and instead of a repetition you can try to send the queen into the corner –
19.Qb1 Nfe4 20.Nxe4 Bxe4 21.Qa1, but the all-seeing and omniscient Kramnik would no doubt play
21…Bc6 threatening a fork on b3. The queen on b1 or a2 will still be attacked by the bishop. While the rook, after
22.Rc3 – will be attacked by the knight i.e.
22…Ne4! … and you can't end the analysis there. There would follow
23.Rc2! Qd8 24.Qc1 Qf6 25.e3 Rc7! 26.Bd3 Nc5 – in short, he's stuck!]
16…Nb3 The c-file has passed into the complete and undivided possession of Black, while the king hasn't yet established himself. A dangerous position… Personally I can see salvation, with the help of electronics. But will the unarmed Anand find it at the board? What's going on with the clocks is even amusing. Kramnik's time, it seems, is only increasing on account of the added seconds: 0:50 – 1:44!
17. Bc4 It's hard for our brother to compete with the metal monsters. Vishy desperately wants, finally, to complete his development – which, it seems, gives Black a dangerous initiative… However, I'm exaggerating a bit. White still has solidity in reserve. The game still hasn't left the bounds of approximate equality. Black will win back the exchange, but analysis shows that White successfully defends. Vladimir has taken an interest in the board for the first time. He's also become involved!
    [A mathematically precise route to a draw was:
17.Rd1 Rc8 18.Qd3! Nc5
(18…Ne4 19.Nd4!)
19.Qb1 Be4 20.Qa2 Bd5 21.Qb1 – and there's another repetition.]
17…Nxc1 18. Bxd5 Only like that. The clock situation is becoming more respectable: 0:51 – 1:24.
    [18. Qxc1? Rc8 19. b3 b5 would lose.]
18…Nxd5 Too straightforwardly played.
    [More critical was
18…Rc8, after which White would have to demonstrate accuracy:
19.Bc4 b5 20.Qxc1 Rxc4 21.Qb1 b4! 22.O-O! bxa3 23.bxa3 Qxa3 24.Qb8+ Kh7 25.Qb1+ and for the nth time there's a repetition of moves, as it's no good to play
25…g6 because of 26.Qb7]
19. Qxc1 Rc8 20. Qb1 Qc5 21. 0-0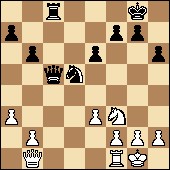 White has managed to complete his development – without any sacrifices. A drawn outcome is almost inevitable. The infiltration on c2 isn't dangerous because of the Nf3-d4 resource.
21…Qc2 Testing out what I said.
22. Qxc2 Just in case his adversary decides to remove the exchange offer.
22…Qxc2 23. Rb1 And now the white knight will constantly chase after the black rook, if the latter intends to stay on the second rank. And if it retreats, then the white king will quickly come into the centre. Therefore – DRAW! Well, the game turned out to be short, but extremely important for opening theory. Kramnik gave up his latest secret – for the judgement of the global community. Switch on your computers, brothers, engage your brains, come up with new ideas for White! You can't allow Black to escape so easily! Although today it was White who escaped – but that's because the level of the players' preparation turned out to be different. Well, for now I, Sergey Shipov, haven't managed to commentate on a fully-fledged and fighting game. But that, it's true, isn't my fault. I commentate on what the people decide. I hope it'll be third time lucky for us all. I'll be here tomorrow at the same time…
1/2 – 1/2
Game viewer by Chess Tempo
I'll again be translating Shipov's commentary on Round 3, live, at 13:30 CET, Monday 17 January : http://www.chessintranslation.com/live-game/