After Nakamura's impressive win against Nepomniachtchi, he was quoted by the official site as saying: "People may say I'm an aggressive player but it was clear 'Nepo' was the one out for a kill today". Sergey Shipov agreed, even mentioning a "grenade launcher", an item perhaps rare in the annals of chess commentary.
Shipov's original commentary in Russian can be found at Crestbook.
GM Sergey Shipov's live commentary on:
Tata Steel Chess 2011, Rd 11
IAN NEPOMNIACHTCHI – HIKARU NAKAMURA

Hello, dear viewers! The super-tournament in Wijk-aan-Zee, and myself – www.crestbook.com expert Grandmaster Sergey Shipov – are entering the finishing straight. All that's left is to watch the three deciding rounds. A desperate struggle's going on for the top spots, and I'm very glad that our young Russian Champion has become part of it. I'm confident that the win against Carlsen will inspire Nepomniachtchi to new heights. Now he's facing the intrepid leader – Nakamura. There's another extremely important and interesting game-of-the-day: Kramnik – Carlsen. In recent games between the two big Ks (Translator's note: Carlsen has a "K" in Russian!) the advantage has invariably been on the side of the ex-World Champion. If he wins today, then he'll have a great chance of winning the tournament. The Norwegian, on the other hand, seems to have slipped out of the fight for first place. Unless, of course, he pulls off the impossible today… Three years ago it was precisely in Wijk-aan-Zee that Magnus defeated Vladimir with Black. And I know what he needs to do to repeat that success – play the Hedgehog! The spiked one won't let you down… (Translator's note: Shipov is also the author of The Complete Hedgehog
.) In general, we'll watch one important game while not forgetting about the second.
1. e4 c6 A surprise! After Carlsen beat Nakamura in the Sicilian Defence, and Nepomniachtchi then beat Carlsen in the Sicilian as well, it's become clear to the American that competing with Russians in Sicilian analysis is pointless and dangerous. So he's gone for the more reliable Caro-Kann.
2. d4 d5 3. e5 But there are sharp lines here as well.
3…Bf5 4. h4 The first interesting moment. Ian is seizing space on the kingside in the style of a Go master. At a distance, insidiously… According to my database the first to play like this was the great Keres – at the start of the 1930s. Back then he was actually only a bright young talent.
    [Back in my youth it was popular to play 4. Nc3 with the idea of 4…e6 5. g4!]
    [Nowadays banal development is popular: 4. Nf3 e6 5. Be2 with the queenside then being opened up.]
4…h5 A firm blockade. The drawback is that it weakens the g5-point.
    [Please take a look at the first efforts of the Estonian genius:
4…h6 5.Bd3 Bxd3 6.Qxd3 e6 7.Ne2 Nd7 8.Nf4 Ne7 9.Nd2 Nf5 10.Nf3 c5 11.c3 cxd4 12.cxd4 Qa5+ 13.Bd2 Bb4 14.a3 Bxd2+ 15.Nxd2 Nb6 16.b4 Qa4 17.Rc1 with a small edge for White, P. Keres – R. Pruun, Tartu 1932.]
    [And 4…Qd7 5.c3 h6 6.Be3 e6 7.Bd3 Bxd3 8.Qxd3 Ne7 9.Ne2 Na6 10.Nd2 Nf5 11.Bf4 c5 12.Nf3 c4 13.Qc2 g6 14.Ng3 Bg7 15.Nf1 b5 16.a3 Qb7 17.Ne3 Kd7 18.Ng4 Ne7 19.Nf6+ Bxf6 20.exf6 Nc6 21.Qd2 with a decisive advantage for the player who should have the advantage, P. Keres – L. Palmas, Pärnu 1933.]
5. c4 Playing on a large scale! This advance has also been played without including the outside pawn moves, but in that case paths to equality have been found. Here it's a little more tricky.
5…e6
    [The a2-pawn would cost Black dearly
5…Bxb1 6.Rxb1 Qa5+?!
(also played here was the more solid 6…e6)
7.Bd2 Qxa2 8.c5! e6 9.Rh3! and the voracious queen can be saved from the Rh3-a3 threat only by sacrificing a piece
9…Bxc5 10.dxc5 d4, which, of course, wouldn't help save the game.]
6. Nc3 Capturing on b1 was already a serious threat – and not only in connection with destroying the a2-pawn, but with a check on b4.
6…Ne7 7. Nge2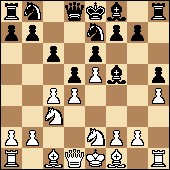 A flexible continuation. The knight's ready to go to g3 or f4, attacking the h5-pawn.
7…Bg4 Reciprocal cunning. Black's provoking the f2-f3 advance, which appears to be weakening. It's a novelty.
    [The American already has experience playing the given position. And it's painful experience:
7…dxc4 8.Ng3 Bg6 9.Bg5 Qb6 10.Qd2 Qb4 11.a3 Qb3 12.Nge4 Nd5 13.Rh3! Qb6 14.Bxc4 and White got a noticeable advantage, P. Svidler – H. Nakamura, Amsterdam 2010.]
8. f3 Nepomniachtchi has responded with emphatic speed. He doesn't like it when he's surprised in the opening. And even if that happens Ian prefers to reply quickly, according to his intuition, in order to maintain a psychological initiative. As if to say, I'm ready for your best continuation, dear opponent. Actually, White's move was asking to be played…
    [As alternatives it's possible to recommend the subtler 8. Qb3!? Qb6 9. Ng3]
    [Or the crude 8. Bg5]
8…Bf5 9. Ng3 Bg6 With the white pawn on f3 Black has no problem defending the h5-pawn. It's no longer visible to the queen on d1.
10. Bg5 Qb6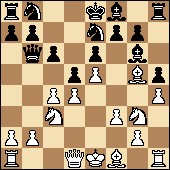 Typical sabotage from the queen.
11. Qd2 The b2-pawn is defended.
11…Nd7 Hikaru is playing quickly and confidently. He's clearly making moves he's analysed. Black isn't worried about the squeeze with c4-c5, as in that case he'll be able to carry out the b7-b6 break. And in any case his arsenal includes the f7-f6 break i.e. the apparently enormous white space advantage might disappear in a couple of moves.
12. a3 Played after a certain amount of absolutely forced reflection. Besides its prophylactic significance the move also makes sense as a means of strengthening the c4-c5 idea, with b2-b4 to follow. If Black doesn't manage to cut off the head of the white pawn on c5, then White's edge on the queenside will become a serious factor. Nakamura has also started to think: 1:25 – 1:30.
    [It also made sense to play
12.Rc1, asking Black the question, "what next?". Exchanging pawns on c4 with the white bishop still on f1 would simply be annoying. Which means that you'd have to play
12…f6 13.exf6 gxf6 14.Bf4 with an extremely unstable position which it's impossible to assess quickly. The point of putting the rook on c1 is revealed in the line
14…O-O-O? 15.cxd5 Nxd5 16.Na4 Qb4 17.Rxc6+! bxc6 18.Ba6+ with victory. Beautiful, don't you agree?]
12…f6 Agreed. Breaking up the centre allows Black to liberate his sleeping forces.
    [A man with no complexes might play 12…dxc4 13. Bxc4 o-o-o, but where will you find such a man? Complexes, doubts and fixed ideas are inherent to chess players – to all of us, without exceptions.]
13. Be3 Ian is trying to maintain the outpost on e5. Hikaru has immersed himself into the position in incredible depth. He's lost all of his time advantage and is now already quite a long way behind: 1:25 – 1:07. It seems something hasn't quite turned out as he'd planned. True, his position, in my opinion, isn't bad.
    [In the line
13.exf6 gxf6 14.Bf4 Black might pluck up the courage to play sharply in the centre:
14…e5!? 15.dxe5 Nxe5 with the idea of 16.cxd5 O-O-O 17.d6 Nf5 and so on. But why, actually, "pluck up the courage"? If White has allowed himself to play such a subtle prophylactic move as a2-a3 with his king on e1 then why shouldn't Black break open play, completing development at the same time? I don't see any logical obstacles.]
    [If 13.exf6 gxf6 14.Be3 the e6-e5 blow no longer works. Or no longer works immediately! But you could prepare it:
14…O-O-O 15.Rc1 Kb8 16.Be2 Qc7 and then anything's possible.]
13…Qb3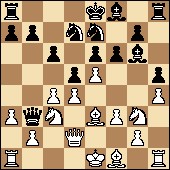 With incredible will-power he's managed to come back to the surface – to the real world – and make a move after all. Besides, Nakamura's move is precisely in his style – recall that battle against Svidler. In that game the queen's foray to b3 provoked a powerful white attack. It seems that this time the situation is different… Yes, it is. In any case the h1-rook isn't threatening the black queen. There's just too much interference on the third rank.
    [During the delay I looked at the more modest:
13…fxe5 14.dxe5 Qc7 15.f4 – here the availability of the white squares is appealing for Black. At this point you can clarify the pawn structure with15…Nb6, but it's even more principled to play
15…O-O-O 16.cxd5 Nxd5 17.Nxd5 exd5 18.Rc1 and… Nevertheless, White's better. Well, that means Nakamura's right. And he has no need for such a trifle as modesty.]
14. cxd5 Nepomniachtchi is the first to release the tension in the centre, and you can understand him – after all, Black was already threatening to take on c4.
14…Nxd5 Black gets the chance to also bring the f8-bishop into the battle. On the whole I have the impression that he's fine. You only need to work out what to do with the pawn islands in the centre. Let's say, if after exchanging a couple of knights on d5 White plays Ng3-e2-f4. Not a bad idea, by the way… But probably you'd also have to exchange pawns on f6.
15. Nxd5 Yes. Ian is following the path indicated by an older commentator.
15…Qxd5 The most principled move. Black is leaving the d5-square for his pieces. The prospect of putting pressure on the backward d4-pawn is very pleasant.
    [If 15…exd5 White would switch plans –
16.f4!]
    [On 15…cxd5 it looked good to play 16.exf6
(from our young fighter you might also expect
16.Rc1)
16…gxf6 17.Rc1 Bd6 18.Ne2 with Ne2-f4 to follow.]
16. Rc1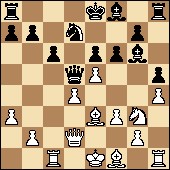 Sooo. Our young fighter (complete with headband and a grenade-launcher on his back) has found another way of sacrificing a pawn. He's offering Black the chance to taken on e5. White, naturally, is preparing the tempo-winning bishop attack from c4. It looks promising.
    [Us veterans would here play
16.exf6 gxf6 17.Ne2 and, it seems, would get no edge due to
17…Bd6! 18.Nf4 Bxf4 19.Bxf4 O-O-O]
16…Nb6 Cheap and cheerful… (Oh, I don't envy our translator, Colin. How will he convey that Russian expression in English?) (Translator's note: fortunately Google Translate had the answer :) Literally it was almost the opposite: "cheap and angry!?") Why calculate superfluous variations when you have a simple and solid continuation? Black is establishing total control over the d5-point. And where the king's going after e8 – that's still a big secret. Nepomniachtchi has "fallen asleep" for a long time. There's plenty to think about here… In the meantime, Carlsen has successfully resolved his opening problems in the battle against Kramnik, and even seized the initiative. It's getting interesting…
    [But no-one's stopping us looking into it:
16…fxe5 17.Bc4 Qd6 18.Ne2 – it seems White has a good initiative for the pawn. Yes, it doesn't look good to play
18…O-O-O because of 19.Qa5!]
17. Ne2 Ian insists on exacerbating matters.
    [It was unreliable, at first glance, to play the pawn sac
17.Ne4 Bxe4 18.fxe4 Qxe4 19.Bd3 Qg4 20.O-O Nd5! It doesn't look as though White will manage to break through the stone walls of Black's structure. That only happens in my express analysis:
21.Rf3! O-O-O 22.Bf2 Kb8 23.Be2! Qg6 24.Rb3 Rc8 25.Ba6 Rc7 26.Qe2 Ka8 27.Bxb7+! Rxb7 28.Qa6 Qf7 29.Qxc6 Nb6 30.Qc8+! Rb8 31.Qc6+ Qb7 32.Rxb6! axb6 33.Qa4+ Qa7 34.Qc6+ with perpetual check. But that's probably just wishful thinking…]
17…fxe5 Hikaru simply doesn't have a choice – he can't allow the white knight to get to f4 with great effect.
18. dxe5 Here the choice isn't huge either. White should be better in an ending with equal material. Therefore… Therefore we'll look at the clocks: 0:38 – 0:46. It's still possible to get into the details.
18…Qxe5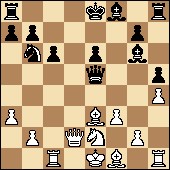 He took it! Well done, Nakamura. He doesn't hold back, he doesn't restrain himself based on non-chess considerations. He plays according to the position – with heart. And therefore it's always interesting to watch him play.
19. Bd4 Nepomniachtchi has chosen an interesting means of developing an initiative. But was it worth closing the d-file, making it easier for Black to castle long?
    [It looked reasonable to play
19.Bf4 Qd5 20.Qe3 and then the white knight will jump… it's still hard to say where exactly. There are variations. For example, if
20…O-O-O it looked logical to respond with a trip to the queenside –
21.Nc3]
19…Qc7 Amazing restraint for a samurai.
    [I expected the usual loitering on the front lines: 19…Qf5 and if 20. Ng3 Qf7 Black brings the rook to d8 with excellent counterplay.]
20. Qg5 A weighty refutation. Did the American miss this in his calculations? The black queen on f5 prevented precisely this attack by his opponent. The current evaluation of the position is that White has a decent initiative for the pawn. The current clock situation is: 0:36 – 0:36. And at the same time interesting events are taking place in the Kramnik – Carlsen game. Vladimir has sacrificed a pawn and has a slight initiative in the ending. But it looks as though the pawn's nevertheless worth more, so it's Magnus who's playing for a win! But I'd bet on a draw.
20…Bf5 21. g4 The Russian Champion is going all in!
    [Why did he reject
21.Ng3 – ? Here's my version:
21…Be7! 22.Qxg7 O-O-O and winning back the pawn is unlikely to bring White joy. He's not well enough developed and his minor pieces are under fire.]
    [It seems the most accurate continuation here was 21. Kf2 – it'll come in handy to have connected the rooks.]
21…hxg4 22. fxg4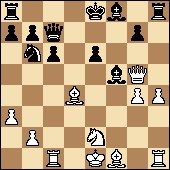 22…Be4 Not an obvious decision.
    [The calculation of the line
22…Be7!? 23.Qxg7 (not 23. Qe3 because of Bxg4) Rh7 24.Qg8+ Kd7 might have been stopped by Nakamura on the move
25.Bxb6 But I'll continue –
25…Rxg8 26.Bxc7 Be4! 27.Rh3 Kxc7 and, it seems, White loses the kingside pawns – and with them all hope of a positive result.]
23. Rh3 Now once more there are no clouds over White's initiative. It's all coming together!
23…Be7 This had to be played. Any further delay would lead to a deadly white attack.
    [For example, 23…Rd8 24.Qe3 Bd5 25.Nf4 and you'd have to play
25…Kd7, which, of course, is no fun –
26.Ng6! and so on.]
24. Qxg7?!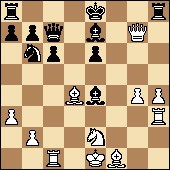 No! Why, Ian? This looks very much like a miscalculation.
    [With 24. Qe3! Bd5 25. Nf4 White would maintain a persistent initiative.]
24…Rh7 Hikaru nevertheless continued his calculation of variations to the required depth. And Black gets a solid edge everywhere. In the main line the best I can find for White in analysis is an ending with opposite-coloured bishops two pawns down. Moreover, with rooks on the board. Not a joyful prospect… Nepomniachtchi is again having a long think – it seems he's realised he made a mistake. And he's cursing himself for all he's worth!
25. Qe5 Well, it's possible this is correct.
    [While here's the promised ending:
25.Qg8+ Kd7 26.Bxb6 Rxg8 27.Bxc7 Kxc7 28.Nc3 Rxg4 29.Nxe4 Rxe4+ 30.Kd1 Rhxh4 31.Rxh4 Rxh4 and Black is much superior.]
25…Qxe5 A slight indulgence.
    [It was stronger to play the immediate
25…Bxh4+, for example, after
26.Ng3 Qxe5 27.Bxe5 Bg5! you can't reply
28.Nxe4? because of Rxh3 29.Nxg5 Re3+!]
26. Bxe5 Bxh4+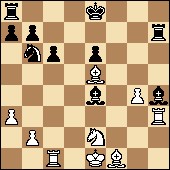 We've ended up in an ending where Black has an extra pawn – and serious winning chances.
27. Ng3 Ian – and this was to be expected – is trying to maintain as many pieces on the board as possible. From a practical point of view that's logical. Nuances don't count.
27…Nd7
    [I repeat – 27…Bg5! led to favourable exchanges.]
28. Bd4?!
    [It was a little… and perhaps not a little but a lot, more accurate to play 28. Bf4 in order to protect the g3-knight once more and support a break by the g4-pawn.]
28…Bf3 And here it's being attacked and Black simply wants to take it. Unfortunately, after 29. g5 there's the unpleasant sting 29…Bg4!
29. g5
    [It was completely joyless to play 29. Bd3 Bxg4 30. Bxh7 Bxh3 – you're down two pawns with no hope of salvation.]
29…Bg4 30. g6 Rh6 The pawn is rushing ahead with great energy. Ah, if only you could get it to g8!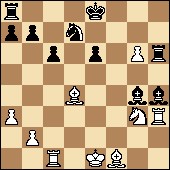 31. Rxh4! Precisely. For the sake of the initiative White doesn't begrudge giving up the exchange.
31…Rxh4 The clock situation isn't yet critical: 0:13 – 0:19.
32. Rc3 A technical reorganisation – the rook's going to e3. It's still too early to despair as White has counterchances. The bishops are strong and the g6-pawn is alive and well. The key question in the given position: can Black block off the oxygen supply to White's dark-squared bishop with e6-e5?
32…Bf3 Hikaru has found a more straightforward way to combat his opponent's strongest piece and… it seems, he's made an inaccuracy.
33. Rxf3 Ian is blitzing, trying to put pressure on his opponent. Here, however, it was worth taking a minute to think.
    [Better was 33.g7! Ke7 34.Re3! Kd6
(34…Rxd4? 35.Nf5+)
35.Rxf3 Rxd4 36.Rf7 with good counterplay for White.]
33…Rxd4 34. Bh3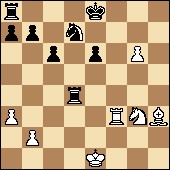 The pressure on the e6-pawn is only dangerous at first glance. Black will neutralise it without any problem and… Well, let's just see. Time trouble is time trouble: 0:08 – 0:09.
34…Ne5 35. Rf6 The last chance. You couldn't allow the g6-pawn to fall.
35…Nd3+! 36. Ke2 Nf4+ 37. Ke3 e5 38. Rf7 Rd3+! In time trouble Nakamura is being deadly accurate.
39. Ke4 Rxg3 40. Bd7+ Kd8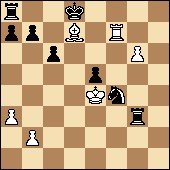 The time control has passed – it's time to count the casualties. White's blitzkrieg didn't succeed. If 41. g7 then 41…Nh5! ends the struggle.
41. Bf5 Nepomniachtchi is fighting to the end.
41…Nxg6 In order not to calculate any lines. At all.
42. Rg7 Rb8 Checks on the back rank are no longer dangerous.
43. b4 b5 44. Bxg6 Rg5!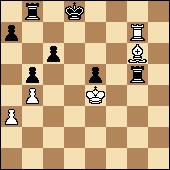 There's no way out of the pin. WHITE RESIGNED.
All in all Nakamura deserved his win – he was stable, positionally strong and tactically accurate. Up to a point Nepomniachtchi played superbly – he upped the pressure and got an initiative for the pawn… The breakdown came on the 24th move. It seems that Ian simply miscalculated, and as a result instead of a combative middlegame he ended up in a difficult endgame, which was brought to its logical conclusion. Well, it turned out to be a mission impossible. Nakamura has increased his lead, as Anand drew – and his chances of overall victory have grown dramatically! In the game Kramnik – Carlsen they're now playing an endgame with an extra pawn for Black. It seems to me that a draw is the most likely outcome… on which note this is me, Grandmaster Sergey Shipov, ending my report. Thank you for your attention and see you tomorrow!
0 – 1
Game viewer by Chess Tempo
I'll be translating Sergey Shipov's commentary on Round 12, LIVE, at 13:30 CET, Saturday 28 January, here: http://www.chessintranslation.com/live-game/