While a relatively quick 28-move draw might not sound thrilling, the first-round encounter between Magnus Carlsen and Levon Aronian at the Tata Steel tournament was actually razor-sharp until the final moments. Sergey Shipov was on hand to explain what took place.   
You can find Shipov's commentary in the original Russian, with a board on which to play through all the moves and analysis, at Crestbook.
UPDATE: You can now also play through the game with Shipov's commentary in English using this game viewer: http://www.chessintranslation.com/tata-steel-2011/ I'll try to do the same with all the games, though as it's very time-consuming it might be something I usually leave to the rest days!
GM Sergey Shipov's live commentary on:
Tata Steel Chess 2011, Rd 1
MAGNUS CARLSEN – LEVON ARONIAN

Hello, dear friends! This is Grandmaster Sergey Shipov, an expert from the site www.crestbook.com, starting my series of reports from the super-tournament in the Dutch Wijk-aan-Zee. As usual, a public vote on the KC forum determines the most interesting game of the day – and I'll commentate on it live. (Translator's note: today's voting took place here, but you need to be registered and logged in to see the result – and it's all in Russian). The tournament line-up is very interesting. On the one hand, there are the titans of chess, while on the other – young fighters. All that's stopping it being ideal is the absence of Topalov and Karjakin, but don't ask who they should replace. There just aren't enough slices of the tournament pie to go around… I'd like to pay particular attention to the performance of the newly-crowned Russian Champion, Ian Nepomniachtchi. I've trained him, and we're still in touch – so I'm not going to manage to hide my relationship with him behind the mask of commentator's impartiality. I'm rooting for Ian! I'd also like to note the appearance in elite company of the extremely pleasant Anish Giri. He's also… well, let's say he's not foreign to us. And although the young man's now playing for Holland we'll also take genuine pleasure in his new successes – though it'll be extremely tough to achieve them. There are clear favourites in Wijk-aan-Zee – Anand, Kramnik, Aronian and Carlsen. Everyone's betting on those four, and I'm no exception. I'll just add that a fifth person is bound to intervene in their struggle. His name, however, is still a secret for everyone… So then, the first round is about to begin. Let's watch the battle of the favourites.
1. e4 And they're off! 1…e5 2. Nf3 Nc6 Aronian's opening preferences are as stable as a mountain range. He's ready to spend all his life playing the Ruy Lopez.
3. d4 But Carlsen's decided to avoid the mountain range. The Scotch has again become extremely popular – precisely because of the rare solidity of the Ruy Lopez.
3…exd4 4. Nxd4 Nf6 The Kopayev Variation.
    [The classical continuation is
4…Bc5 Here it's now popular to play
5.Nxc6 Qf6 6.Qf3 and Black faces difficulties in the ensuing endgames. For example,
6…bxc6 7.Nc3 d6 8.Qg3 Qg6 9.Bd2 Ne7 10.f3 Qxg3+ 11.hxg3 Be6 12.O-O-O f6 13.g4! I. Nepomniachtchi – E. Tomashevsky, Moscow 2010.]
5. Nxc6 bxc6 6. e5 Qe7 7. Qe2 Nd5 8. c4 The main line.
    [In the recent Nepomniachtchi – Karjakin match 8. Nd2 was tried.]
8…Ba6 Black is ahead of White in development, but his pawn structure has chronic flaws, and in many lines the bishop on a6 is left out of play.
9. Nd2
    [9. b3 is also played nowadays]
9…g6 The best means of employing the f8-bishop.
10. b3 Bg7 11. Bb2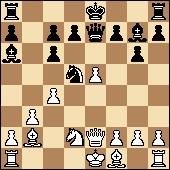 The e5-pawn is creaking, but holding. Black needs to choose his moment to attack it with a pawn.
11…Nb4 Threatening a fork on c2.
    [If 11…0-0 then White would respond asymmetrically – 12. 0-0-0!]
12. 0-0-0 An interesting pawn sacrifice – for development. It's a novelty!
    [Previously played was the banal:
12.Nf3 For example, in the encounter D. Petrosian – N. Grandelius, Sarajevo 2010 there followed:
12…c5 13.g3 O-O 14.Bg2 d5 15.a3 Nc6 16.O-O Rab8 17.Nd2 Rfd8 18.f4 Na5 – and Black's pressure became unbearable. White went for a desperate counterattack with
19.f5, but still lost.]
12…Nxa2+ Judging by the speed of his reaction, the new move came as no surprise to Aronian. The home preparation of both players went along the same lines.
    [If 12…0-0 13. a3 the unfortunate knight would have to balance on a knife-edge – 13… Nd5]
13. Kb1 Nb4 The two tempos haven't been wasted.
14. Ne4 But White has managed to "grab" the f6 and d6 points. That creates an excellent foundation for an attack.
14…0-0
    [It would be a serious blunder to play 14…Bxe5? in light of 15. Bxe5 Qxe5 16. Nf6+, and Black loses his queen.]
15. Qf3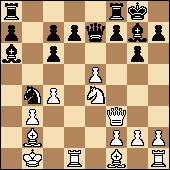 Magnus is continuing to play his home preparation quickly. White's ready to embed a saboteur on f6. There's also the h2-h4-h5 raid, which would allow the rook on h1 to enter the attack. Levon has sunk into serious thought – and rightly so.
    [It also looked interesting to play the immediate
15.Nf6+ Bxf6 16.exf6, true, Black wouldn't be obliged to exchange queens and enter a difficult endgame. It's more fun to play
16…Qc5! – with no lack of threats to the white king.]
15…Rfe8 A logical manoeuvre – the rook moves to a file that's just about to be opened once and for all.
    [It looked unconvincing to play the exchange sac
15…Bxe5 16.Bxe5 Qxe5 17.Nf6+ Kg7 18.Nxd7 Qa5 19.Qc3+ (an unavoidable retreat)
19…f6 20.Nxf8 Rxf8 and here, let's say,
21.Rd2]
16. Nf6+
    [16. h4 was too late because of d5! The efforts of Black's heavy pieces make it impossible to capture en passant on d6. It would be a shame for the e4-knight…]
16…Bxf6 17. exf6 The contrast in time expenditure is becoming noticeable: 1:44 – 1:13. On the one hand Black wants to send his queen into the attack – to c5. But on the other hand, it's terrifying to leave your king in such solitude. What if White suddenly manages to break through to g7 via h6 with his queen? In that respect it looks safer to retreat to f8. In general, White's king cover can be broken open without the use of the strongest piece, which for now can remain in seclusion.
17…Qc5 Boldly and energetically played! Aronian decided not to "sure things up". Playing on a collision course is, of course, more interesting. Black's queen is capable of paying a visit to the white king, via a5. The d7-pawn, of course, is poisoned: one check on e1, the next on f5, and the game's in the bag.
    [By the way, after
17…Qf8 there was no respite in prospect. The most relevant line is:
18.h4! d5 19.h5 g5! 20.h6! with great complications.]
18. h4 The Norwegian doesn't want to concede the initiative to his opponent.
    [It was also worth looking at the preliminary 18. Qf4 with the simple idea of 18…Qa5? 19. Qh6!]
18…d5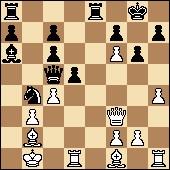 A very strong refutation. Black blows open the centre, making use of the currently superior activity of his pieces. By the way, after 18. Qf4! the 18…d5 blow wasn't so strong – in that case White would exchange queens on f8, after which his king wouldn't be under threat, and the bishops would gain in strength i.e. it turns out that the impetuous 18. h4 advance was inaccurate. However, it's still not too late to send the queen off on the f3-f4-h6 path and, if possible, to g7. But 19. h5 isn't so strong because of 19…g5! As Carlsen looks into the position in depth his time advantage is slipping away: 1:17 – 1:03.
19. Qf4 Yes, the most solid move. White should equalise!
    [During the break I looked at the hooligan-like
19.h5 g5! 20.Rh4!? – which is, by the way, a developing and entirely battleworthy move. However, in concrete lines White's attacking ideas don't work out:
20…dxc4 21.Bxc4? (who would have thought that such a natural capture loses?)
21…Bc8! (with the threat of taking the rook on h4 after all)
22.Rhd4 Bf5+ 23.Kc1
(23.Ka1? Qa5+)
23…Na2+ 24.Kd2 Rad8 25.Rxd8 Qa5+! and the white king won't last long. For example –
26.Bc3 Rxd8+ 27.Ke2 Nxc3+ 28.Qxc3! Re8+! 29.Kd2 Qa2+ 30.Kc1 Qb1+ 31.Kd2 Rd8+, and it's all over.]
19…dxc4 A logical continuation of what he started. The rags covering the white king are falling to pieces.
20. bxc4 Stunning composure!
    [Leading to a grim struggle was
20.Qh6 Qf8 21.Qxf8+ Kxf8 If 22.h5 then again Black's ready to play
22…g5 There might follow
23.Bd4 Kg8 24.Bxc4
(24.bxc4 Rad8! is no fun.)
24…Bxc4 25.bxc4 Rab8 – the computer is optimistic here, but I wouldn't wish playing such a position on a human.]
20…Rab8 Not, it seems, the most critical continuation, although it appears entirely logical. The cannon is taking fire at the white king.
    [On 20…Rad8 there was the defence
21.Be2!]
    [But after 20…Bc8! with the threat of the bishop appearing on f5, it was very unpleasant. The finesse is that on
21.g4 you would get the following combination
21…Bxg4! 22.Qxg4 Qxf2 23.Bd3 (anything else is worse)
23…Nxd3 24.Rxd3 Rab8 25.Qd4 Qxd4 26.Rxd4 Re2 – Black wins back the piece, keeping a countless number of extra pawns. However, there would still be drawing chances on account of the strength of the f6-pawn.]
    [Analysis showed an improvement. After
20…Bc8 21.g4 it's even stronger to play the restrained
21…Rb8, and there's no good defence visible for White. For example,
22.Qh6
(or 22.f3 Qa5 23.Qh6 Qa2+ 24.Kc1 Nd3+!)
22…Qf8 23.Qxf8+ Kxf8 24.f3 h5! and it's getting harder and harder to keep the black bishop on c8.]
21. Qh6 There's nothing else. The white king couldn't survive with queens on the board.
21…Qf8
    [The serious blunder, 21…Qf5+?? 22. Bd3! wouldn't be in Aronian's style.]
22. Qxf8+ Kxf8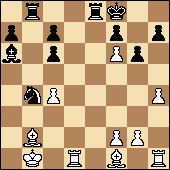 Black maintains the initiative. For now it's still an entirely middlegame struggle. The kings still need defending.
23. h5 The further you manage to push the pawn the easier life will be for the h1-rook.
23…Bc8 The saying "a stitch in time saves nine" applies here. The manoeuvre with the bishop via c8 was very strong three moves ago, but now it doesn't promise a lot. The most obvious line leads to the perpetual checking of the white king.
    [It was more ambitious to play 23…g5, to which the fearless computer recommends replying 24. Bd4 with, you won't believe, the idea of taking the a7-pawn! The machine isn't concerned about discovered checks. But it would be tough for Magnus to take such a decision…]
    [After 23…g5 a human being would play 24. Kc1, but then 24…Bc8 would follow, with an edge for Black.]
24. hxg6 Yes, we're heading for a draw.
24…fxg6! Precisely!
    [The rushed
24…Bf5+ would be met by White with the exquisite blow
25.Bd3! Nxd3 26.gxh7 Rxb2+ 27.Ka1 and Black's two extra pieces do him no good – his king really is bad.]
25. Rxh7 There's no alternative.
25…Bf5+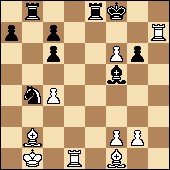 26. Ka1
    [Of course, not 26. Kc1? Na2+ 27. Kd2 Rxb2#]
26…Nc2+ 27. Ka2 Nb4+ 28. Ka1 Perpetual check. DRAW. A game that was interesting, above all, as an opening experiment. It seems to me that the pawn sac that Carlsen played has the right to exist. The move order after the opening just needs to be honed a little. That's a task for deep computer analysis… While in the game Aronian seized the initiative and got real winning chances. The decisive moment came on Black's 20th move. Levon didn't find the correct continuation of the attack – and let his winning chances slip. Well, it was a stormy opening, but everyone managed to survive. Working for you, dear friends, has been Grandmaster Sergey Shipov. I'll be here again tomorrow for the second round. All the best!
1/2 – 1/2
Game viewer by Chess Tempo
I'll be translating Shipov's commentary again tomorrow, starting at around 13:30 CET, here: http://www.chessintranslation.com/live-game/