When Sergey Shipov, introducing his commentary of Anand – Kramnik in the last round of the London Chess Classic, said Sofia Rules would protect us from a "lifeless grandmasterly draw" there may have been an element of wishful thinking. The chess was a disappointment, but Shipov's commentary was as lucid, witty and educational as ever.  
You can find Shipov's commentary in the original Russian, with a board on which to play through all the moves and analysis, at Crestbook.
GM Sergey Shipov's live commentary on:
London Chess Classic 2010, Rd 7
VISWANATHAN ANAND – VLADIMIR KRAMNIK

Hello, dear spectators. This is Grandmaster Sergey Shipov of the site www.crestbook.com bringing you the concluding round of the super-tournament in London. Left for dessert is the battle of the champions. The sporting situation is very complex: Anand and McShane are in the lead, Carlsen's level with them on the three-point system, though in normal terms he's half a step behind. Kramnik is definitely behind, and can only catch the leaders if he wins. Yesterday's cataclysm is unlikely to have helped Kramnik's mood. Moreover, today he has the black pieces, and his opponent's of the highest possible class. But let's not get ahead of ourselves. The Sofia rules give us some protection against a lifeless grandmasterly draw. I hope there'll be a battle. At the same time Carlsen is playing Short (there's your chance, Magnus), Nakamura's going to attack Adams, and finally, Howell's going to compete with the white pieces against McShane. There are lots of possible outcomes, and predictions vary…
1. e4 Vishy's going to storm the citadel of the Russian Game! The defences are in the hands of a Russian…
1…e5 2. Nf3 Nc6 But no. Vladimir is varying his openings. If you recall he lost to his arch rival in the Petroff at the start of the year in Wijk.
3. Bb5 Nf6 It couldn't have been anything else. The Berlin Variation of the Ruy Lopez. Kramnik is one of the instigators of its rebirth. How can you forget the match with Kasparov in 2000?
4. 0-0 Nxe4 5. d4 Anand's heading down the main line.
    [Against McShane he chose 5. Re1 – but didn't succeed.]
5…Nd6 6. Bxc6
    [In the line 6. dxe5 Nxb5 7. a4 it's not worth playing 7…d6 because of 8. e6! It's more reliable to play 7…Nbd4].
6…dxc6 7. dxe5 Nf5 8. Qxd8+ Kxd8 9. Nc3 The tabiya. 9…Ke8
    [In the first round Nakamura played 9…Bd7 10. h3 h6 11. b3 Kc8 against Anand, but didn't manage to equalise.]
10. h3 h5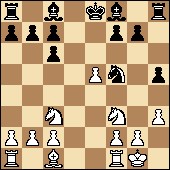 A good means of reining in the g2-pawn, which is eager to advance to g4. The move also gives the h8-rook some hope of getting out into the world. Let's say, via h5-h4 and Rh8-h5.
    [It's also very popular nowadays to advance the other outside pawn – 10…a5.]
11. Bg5 There's the minus of the bold move of the h7-pawn. The g5-point enters into the possession of the white pieces.
    [Sometimes people first play 11. Rfd1, as if choosing who'll go to g5.]
11…Be6 12. Rfd1 Be7 The famous advantage of the bishop pair isn't a dogma. If the bishops are exchanged then the black king can take a step forwards and unite the rooks, which are really missing each other.
13. g3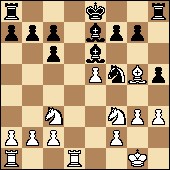 Gently, but persistently, White is implementing the strategy of advancing the kingside pawns. He's prevented the move h5-h4 (on which g3-g4 would follow). But it won't be possible to play g3-g4 anytime soon. It's essential to prepare it…
13…f6 A novelty, it seems! Judging by the speed it was played, Kramnik's brought it to the game from his home laboratory. Black's move is logical in its way. As White refrained from the exchange on e7, which would have helped Black to develop, Black's within his rights to remove the offer and leave the bishop pair on the board. Ready for the king is the no-less convenient f7-square. All that's left to work out is whether Black will have problems when play opens up…
    [All that was played previously was
13…Rd8, but the optimism of defenders of the Berlin Wall was reduced after the game Z. Efimenko – M. Pavlović, Vrnjačka Banja 2010:
14.Rxd8+ Kxd8 15.Rd1+ Kc8 16.Bxe7 Nxe7 17.Ng5 h4 18.g4 Ng6 19.Nxe6 fxe6 20.Ne4 Re8 21.Ng5 c5 22.b3 a5 23.Kf1 b6 24.a4, and in the end Black couldn't hold the defence.]
14. exf6 gxf6 15. Bf4 There's the first unpleasantness – the weak c7-pawn, which in the usual situation (with pawns on f7 and e5) would be inaccessible to White.
15…Rc8 "No problem, we can take it."
    [15…Bd6 didn't equalise because of 16. Ne2!]
16. Kh2 Hmmm… A completely understandable move. White defends the h3-pawn and doesn't put the king on g2, where it could face difficulties. But at the same time Black's given a tempo for development. However, I don't have any more convincing recommendations. A direct attack in the centre doesn't work. Here it's high time to regret that Rf1-d1 was played and not Ra1-d1. And that's cause for future novelties from White in this line.
16…Kf7 Of course. In my opinion, Black is successfully resolving his opening problems. He only needs to do something about the c7-pawn. The rook can't stay on c8 forever.
17. Rd2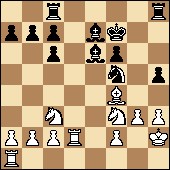 You need to use up an extra tempo to rearrange the rooks – I think the queen's rook will now proceed to e1. However, the means of rearranging them raises a legitimate question – isn't 17…Bb4 dangerous for White?
    [It was more reliable to play 17. Rd3 with the unsubtle idea of 17…Bc4?! 18. Rd7!]
17…Rcd8 Unearthly cunning, based – I hope – on accurate calculation. The c7-pawn remains under attack, but if you take it there's interesting dynamic play, in which Black is the side on the attack. Anand, as was to be expected, has started to think: 1:38 – 1:34.
    [Kramnik probably rejected 17…Bb4 because of the simple 18. Rd3.]
18. Rxd8 No. He decided not to get into the complexities of it – not to look for anything cunning. He's played simply and solidly.
    [The line 18.Bxc7 Rxd2 19.Nxd2 Nd4 20.Rc1 hid some real dangers for White. For example,
20…h4!
(20…Bf5 21.Nce4!)
21.g4 f5 22.gxf5
(22.Be5 Rd8!)
22…Bxf5 23.Nce4 Rh6! 24.c3 Bxe4 25.Nxe4 Re6! after which Black's threat of infiltrating with his rook on the second rank is very unpleasant.]
    [There was also the subtle move
18.Re2, but it led to simplification:
18…Bc4 19.Re4 Bd5 20.Nxd5 cxd5 21.Re2 – here White's edge is only symbolic.]
18…Bxd8
    [Here 18…Rxd8 would be wrong. After 19. Bxc7 Rd7 20. Bf4 White would simply have an extra pawn.]
19. Rd1 Well, White has kept his precedence on the d-file, while Black still needs to support the c7-pawn with pieces, which ties them down and keeps things cramped.
19…Re8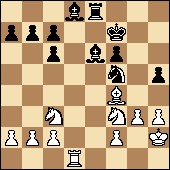 How can White attack further? Structural considerations suggest preparing and carrying out the g3-g4 blow. But then you have to take into account the fragile health of the white king. Being able to get at his majesty is just what Black's waiting for.
20. Nd4 Anand is stubbornly striving to exchange pieces, but won't that reveal the strength of the black bishop pair, which will gain space for large-scale actions?
    [I looked at 20. b3 with the idea of activating the c3-knight. Perhaps I was wrong – for the well-known "Berlin" reason that Black attacks the b3-pawn by pushing c6-c5-c4 or a7-a5-a4. Depending on circumstances.]
20…Nxd4 21. Rxd4 While now, as I feared, the black bishop has access to the f5-square – which is unlikely to please the c2-pawn.
21…Bf5 How could you not bother such a sweet thing. (Translator's note: I was going to translate the literal "sweet" – feminine because the Russian word for pawn is feminine – as "juicy pawn"… until I saw the next comment!)
22. Rd2 However, the girl has found a powerful suitor. Just try and touch her.
22…Be7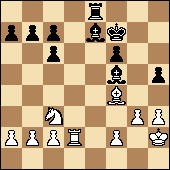 Yet another, and this time entirely understandable, sacrifice of the c7-pawn. It's that same classic situation, when the woman leaves the cart, it's easier for the horse. (Translator's note: the Russian idiom would usually be translated just as e.g. "good riddance", or "we're better off without you"). Or, as our English colleagues say, when a lady leaves the automobile, it drives faster! In general, leaving the pawn to its fate, Black achieves equality without any trouble, apparently in an ending with opposite-coloured bishops.
23. Nd1 Anand flatly rejects it, which has made Kramnik go into a long think: 1:22 – 1:14
    [After 23. Bxc7 Bb4! Black would exchange on c3 and wouldn't have a care in the world.]
    [The Champion's idea could also have been carried out by 23. a3, but he clearly wants to remove the suffering pawn from c2, to c3. That's his right.]
23…Rd8 Right! The path to a draw lies in new exchanges.
24. Rxd8 Bxd8 25. Ne3 Be4 26. g4 White has after all managed to carry out his old idea.
26…hxg4 27. hxg4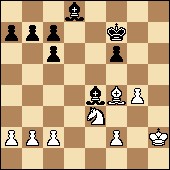 But the chances of success are woefully low. Bishops are bishops.
27…Be7! The third and most obvious sacrifice of the same pawn.
28. Bxc7 At last it's been accepted. God loves a trinity. The World Chess Champion does as well. They've got something in common…
28…Bc5 What will be will be. Entering an opposite-coloured bishop ending is inevitable. The draw's not far off.
29. c3 Bxe3 30. fxe3 An extra pawn in such endings doesn't give even the slightest hope of a win. White has no passed pawns, while Black has no weaknesses either.
30…Ke6 31. Kg3 a6 32. Kf4 Bc2 33. e4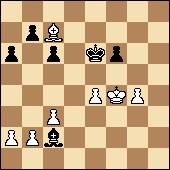 By and large this is already superfluous. There's no point playing such positions.
33…Bd1 34. a3 Be2 35 Bb6 Bd1 36. Bd4 Be2 37. Be3 Bd1 38. Bd4 Be2 39. Be3 Bd1
DRAW. The game ended up being lifeless on the surface: development, exchanges and a draw. But if you look a little deeper then you can also find some stuffing. As an experienced commentator and chess connoisseur I'll note the good novelty from Kramnik, and also his three brilliant sacrifices of the c7-pawn. But as a sincere friend of chess fans and all of you, dear readers, I'll share my impression that there was no great struggle in this game. Deep down Anand had no objections to a peaceful outcome. He stayed among the leaders and will await the outcome of the remaining games – which are still going on… While I, Grandmaster Sergey Shipov, am finishing my work. Today (a rare case) I'll be able to have dinner before midnight, which I wish you as well. We'll part now until Wijk-aan-Zee 2011, which I'm also going to commentate on live, perhaps supplementing that with video reviews. Merry Christmas and a Happy New Year to you all! All the best.
1/2 – 1/2
Game viewer by Chess Tempo