In what Sergey Shipov described as a "fantastically dramatic and vivid encounter" Magnus Carlsen pulled off a great escape in his game against Vladimir Kramnik at the London Chess Classic. The game had it all – an intriguing opening struggle, a smooth and powerful middlegame by Kramnik, and a study-like ending.
You can find Shipov's commentary in the original Russian, with a board on which to play through all the moves and analysis, at Crestbook.
GM Sergey Shipov's live commentary on:
London Chess Classic 2010, Rd 6
VLADIMIR KRAMNIK – MAGNUS CARLSEN

Good time of the day to you, dear friends! The internet is global and while I, Grandmaster Sergey Shipov, sit down to work as evening begins to fall, in England it's daytime, in America people have barely woken up, and in Australia and the Far East chess fans are bravely up in the middle of the night. Welcome to everyone and I invite you to watch the key game of the sixth round. Kramnik and Carlsen are chasing the leaders… True, according to the three-point system in place for the tournament Carlsen is actually level with Anand and McShane. But there's something not quite right about that… At www.crestbook.com I decided to put up the tournament standings according to the usual points system, so it was possible to compare. The three-point system hasn't yet caught on, and it's chronically flawed. Chess isn't football. Objectively the drawing tendencies in our game are very great. A draw is often the logical outcome of brilliant play by both sides. And therefore the ratio 3:1 (of the win to the draw) is clearly unfair. The ratio 2.5:1 would be better, but it has the aesthetic flaw of not having whole numbers. In general a perfect solution, encouraging aggressive play while not distorting logic and the essence of chess, hasn't yet been thought up. So we have a situation where the points are counted according to the three-point system but the result of the game is often still given as before as 1-0. And why not 3-0, you might ask? Clearly the disproportion would then be too obvious… Sorry, I got carried away. Let's get down to analysing the game.
1. d4 With all due respect to Vladimir Kramnik, I consider his favourite move 1. Nf3 not to be the best. But here he's used a continuation that really is strong…
1…d5 2. c4 Nc6 Excellent! The Chigorin Defence. A rare guest in contemporary chess. Only Morozevich has regularly used this ancient opening, but he too would usually put the pawn on c6 instead of the knight.
3. Nf3 One of the solid replies.
    [I prefer the classical 3. cxd5 Qxd5 4. e3 e5 5. Nc3 Bb4 6. Bd2 and so on]
3…Bg4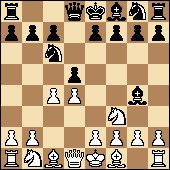 Black's playing extremely energetically and with a flourish. Quick development and real pressure on the white centre – that's the creed of the given opening.
4. Nc3 White replies to a blow with a blow.
    [Perhaps it's time to recall the greats:
4.cxd5 Bxf3! 5.dxc6 Bxc6 6.Nc3 e6 7.e4 Bb4 8.f3 f5! 9.e5 Ne7 with wonderful play for Black, G. Pillsbury – M. Chigorin, Saint Petersburg 1896.]
4…e6 Again played according to Chigorin. Black has employed one bishop and will now bring out the second. The chronic flaw in his position is the passivity of the c7-pawn, which has been hurt by its own knight. But it's hard to come up with a workable scheme for Black with no flaws whatsoever. Everything has its cost.
5. Bf4 An analogous approach. Before playing e2-e3 it's worth letting the black-squared bishop escape.
    [Here's how one of the games played by the opening's creator went:
5.e3 Bb4 6.Bd2 Nge7 7.a3 Bxc3 (Mikhail Ivanovich had no qualms about exchanging bishops)
8.Bxc3 O-O 9.h3 Bh5 10.g4 Bg6 11.h4 Be4 12.Rg1 (how riskily people played in those good old times!)
12…f6 13.h5 dxc4 14.Bxc4 Qd6 15.Nd2 Bd5 16.Bd3 Qh2! 17.Rg3 f5! – Black seized the initiative and won convincingly, V. Nenarokov – M. Chigorin, Moscow 1901.]
    [Also played here was
5.Bg5, to which the most solid reply is 5…Be7]
5…Bd6 A logical rejoinder. Overall the exchange of minor pieces is favourable for Black.
6. Bg3 Kramnik insists on an exchange on his own terms. If you think there's something new here then you're deeply mistaken. It's already been known about for more than a hundred years!
    [It's very unlikely you can get an edge after
6.Bxd6 For example, in the game B. Abramović – I. Miladinović, Herceg Novi 2007, there followed:
6…Qxd6 7.cxd5 exd5 8.e3 Nf6 9.Be2 O-O 10.O-O Bxf3! 11.Bxf3 Ne7 12.Qc2 c6 and there was a completely harmless position for Black, with a Carlsbad structure.]
6…Nf6 There's also no point in Black hurrying to exchange.
    [However, that was exactly what was played in the game D. Janowski – J. Taubenhaus, Paris 1905:
6…Bxg3 7.hxg3 Nf6 8.e3 Qe7 9.Qb3 Qb4 10.Qxb4 Nxb4 11.Rc1 Bxf3 12.gxf3 O-O-O 13.c5 e5! and Black got good counter-chances.]
7. e3 0-0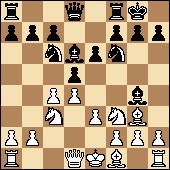 Black is first to complete his development. Now he needs to think up a plan of action. Of course, you'd like to open the centre and start an attack. But how? White has a different problem. If you bring out the f1-bishop then Black will immediately take on c4. You'd like to wait for that to happen with the bishop still on f1, but in that case you need to find other useful moves…
8. a3 Yes, there it is. A battle for tempos begins, mainly known about since the duels between the greats in the Queen's Gambit Declined (see the Capablanca-Alekhine match in Buenos Aires 1927). White also has the useful move Ra1-c1 in reserve… I looked in the database and couldn't have been more surprised. Such a logical and entirely predictable move (the logic of which I described before it was carried out) turns out to be a novelty!
    [In my opinion it would be a concession to play:
8.cxd5 For example, in the encounter A. Shchekachev – M. Bosiocić (not all surnames can be transcribed into Russian – Translator's note: Shipov usually tries to transcribe names in Cyrillic, and then I try to return them to Roman script!), Šibenik 2009, Black quickly equalised:
8…Nxd5!? 9.Be2 Nce7 10.O-O Nxc3 11.bxc3 c5! (the main problem has been resolved)
12.Qa4 Nd5 13.Rac1 Bxg3 14.hxg3 Qc7 15.Bd3 Bxf3 16.gxf3 Nxe3 17.fxe3 Qxg3+ 18.Kh1 Qh3+ and it ended in perpetual check.]
    [Hardly dangerous was
8.c5 For example, 8…Bxg3 9.hxg3 e5! 10.dxe5 Nxe5 11.Be2 Bxf3 12.gxf3 Re8 13.Qc2 c6 14.g4 Ng6 15.O-O-O Qa5 16.g5 Nd7 17.f4 Qxc5 18.f5 Ngf8 and in the game S. Panzalovic – S. Gramlich, Germany 2007 Black got good counter-chances.]
    [Well, and thought up for 8.Be2 is 8…dxc4 9.Bxc4 and here you can even play 9…e5!?]
    [But then when I found games in which the reasonable move 8.Rc1 was played, I stopped being surprised. White fought for tempos previously, simply choosing a different move order. I must admit I'd also start by moving the rook. In Kramnik's place.]
8…Ne7 A standard manoeuvre. As Black can't quickly organise the e6-e5 break he switches the knight to the kingside, at the same time freeing the c7-pawn for better things.
    [Also asking to be played was 8…Ne4 – and I didn't find any clear refutation. A perfectly good move. After that Black might consider the f7-f5 attack.]
9. Qb3 Vladimir sticks to his guns, and he's right to do so… By the way, with the move in the game White doesn't only attack the b7-pawn but also unpins the f3-knight, which can jump to e5 – leaving the g4-bishop looking a bit silly.
    [If 9.cxd5 then there's the strong 9…Nfxd5 with the idea we've already seen of exchanging on c3 and playing c7-c5.]
    [And if
9.c5 Bxg3 10.hxg3 Black would have no difficulty adapting to the already stable pawn structure. By the way, counterplay on the queenside is also possible:
10…b6 11.b4 a5 12.Bd3 axb4 13.axb4 Nc6!]
9…b6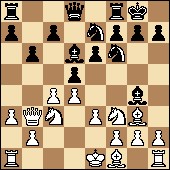 I agree with Magnus' decision here. The pawn has defended itself and prepared the c7-c5 attack. The players are operating equally in terms of time: 1:18 – 1:18.
    [If 9…Bxf3 10. gxf3 b6 White could allow himself the sharp move 11. 0-0-0! as there's already an open file for the attack on the kingside.]
10. Ne5 The most principled response, leading to serious complications. It seems as though the ex-Champion is in a very aggressive mood and isn't inclined to take extra precautions.
    [It was possible to simplify play a little with
10.cxd5, and, let's say, on
10…exd5 there's the excellent reply
11.Bh4!]
    [Therefore after 10.cxd5 it's better to play 10…Nfxd5 and then, for example,
11.Ne5 Bh5 12.Bd3 Nxc3, and however the black knight's taken c7-c5 would follow. As you can see, a standard and solid set-up.]
10…c5 Fierce play. A bone for a bone! A pleasure to watch. Note that Black still hasn't exchanged pawns on c4 and so hasn't allowed White to develop his kingside and evacuate the king. That means that Black still has one or two tempos in reserve. Even if the structure isn't the most ideal for Black, he'll no doubt get dynamic counterplay… I'll note a unique point: the two super-grandmasters have been struggling for two hours already, but only 10 moves have been made on the board. A very rare occurrence in our enlightened times.
11. Nxg4
    [Those watching the game with their engines switched on will no doubt have thought about the machine-recommended 11. Nb5. But that's going too far for a man. Our brother needs to have firm ground beneath his feet – positional bearings and his play corresponding to chess principles.]
11…Nxg4 12. Rd1 White has reinforced the centre. As before, any pawn exchanges will aid his development. Magnus is thinking for a long time, looking for ways of opening up play and using his advantages. Time: 1:03 – 0:55.
12…Bxg3
    [Here I looked at all the crude moves, like,
12…Nf5 13.cxd5 Ngxe3, but analysis didn't show a bright future for Black:
14.fxe3 Nxe3
(14…Bxg3+ 15.hxg3 Qg5 16.Ne4!)
15.dxe6 Nxd1 16.exf7+ Kh8 17.Kxd1 Bxg3 18.hxg3 Qxd4+ 19.Kc1 – having come through a couple of difficult moments, White is left with extra material.]
13. hxg3 Nf6 Solid and strong. Control over the centre comes first.
14. cxd5 Carlsen has after all won the long struggle of nerves – he's forced his opponent to be the first to defuse the pawn tension.
14…exd5 15. Be2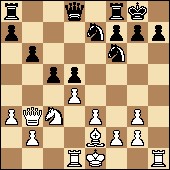 The pawn structure doesn't promise serious problems for Black. The d5-point is firmly defended. You can try to organise a roll on the queenside with c5-c4, a7-a6, b6-b5 etc.
15…Qd6 16. Qc2 There's nothing more for the queen to do on the flank.
16…h6 Just in case, so you don't blunder mate-in-one.
17. 0-0 You can't stay in the centre for ever. Although the position of the h1-rook looked good it was impossible to make use of it. It was time to castle.
17…c4 The first step in the "roll" mentioned. But hasn't Magnus rushed a little? It's possible that he should first have activated his rooks.
18. b3 Exactly. Vladimir launches a preemptive strike before his opponent has managed to bring reinforcements for the pawn on c4. On any other insipid move a7-a6! would have followed, and then it wouldn't have been possible to undermine the c4-pawn.
18…Qxa3 Played so quickly that it's become clear that before 17…c4 the Norwegian had considered precisely the move 18. b3. The position is really opening up.
    [Clearly bad was 18…cxb3 19. Qxb3 with pressure on the d5-point and the promise of the a3-a4-a5 raid.]
19. bxc4 dxc4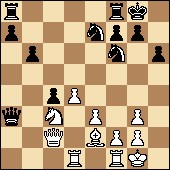 Can you take on c4? Won't the pins on the c-file be fatal? You need to analyse it…
20. Bf3 A negative reply.
    [It seems as though the Russian simply decided not to calculate the line
20.Bxc4 But it was perfectly good. For example,
20…Rac8 21.Ra1! Qd6
(21…Qb4 22.Ra4!)
22.Nb5 Qd7 23.Rxa7! Qxb5 24.Bxb5 Rxc2 25.Rxe7 and Black's position is in ruins.]
    [Or 20.Bxc4 Rfc8 21.Ra1 Qd6 22.Qb3 – the pressure on the f7-pawn gets in the way of all Black's ideas.]
20…Rab8 Wherever you retreat you have to leave the a7-pawn undefended.
21. Ra1 Qd6 There was no point stopping at b4, as then White would chase the queen away with the second rook as well.
22. Nb5 An extremely important manoeuvre.
    [The primitive 22. Rxa7 would give the initiative back to Black – 22…b5!]
22…Qd7 Again the question arises: what to take and what with?
    [If 22…Qe6 then 23. Rxa7! would follow.]
23. Qxc4 Simple and strong.
23…a5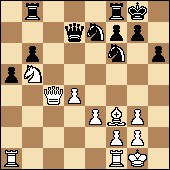 It's time to look at the position a little more carefully. The complications begun with the – it's already clear – rushed move 17…c4?! have led to a position with an obvious positional superiority for White. He has the centre, while the black pawns on the queenside are solidly blocked and, most likely, will come under serious pressure.
24. e4 No, Kramnik has played something even stronger than I expected. He's decisively attacking in the centre! When the pawn gets to e5, the knight on b5 will switch to d6. You wouldn't envy Carlsen now… Let's look at the clocks: 0:36 – 0:29.
24…Rfc8 It's not certain… It's not certain that that square is meant for the rook.
    [It might have been worth saving it for the knight. Here's a sample line:
24…Rfd8!? 25.e5 Nh7 26.Nd6 Ng5! 27.Qd3 Nc8! and Black has successfully got out of trouble. However, White is in no way obliged to rush with e4-e5…]
25. Qe2 What now? Active ideas for Black are nowhere to be found.
25…Rc6 Fantastically cold-blooded! Magnus is putting the rook under attack from the f3-bishop – but, it seems, there's no direct way to make use of that.
26. Rab1 Solid and competent. It makes sense for White to first bring out the rooks and only then advance in the centre.
    [If 26.e5 Nfd5 27.Nd6 then the exchange looked good
27…Rxd6 28.exd6 Qxd6 – and then Black's passed pawns become mobile.]
26…Rd8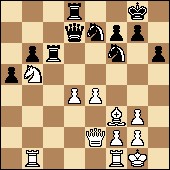 Standing and waiting – there's no alternative. Time, by the way, is slipping away: 0:33 – 0:17.
27. Rfd1 Hinting that the d4-pawn will be the first to step into the attack.
27…Rdc8 In no way interfering with his opponent's plans, but there was no way of doing that. It seems, however, that Carlsen has missed the Bf3-g4 resource in some lines. I have in mind 28. e5 Nfd5 29. Bg4!
    [More reliable moves looked so ugly that from a psychological point of view it would be very hard to make them. For example:
27…Rb8, 27…Nc8, and so on]
28. d5 Consistently played, in any case.
    [After 28.e5 it was most stubborn to play
28…Rc2! 29.Qd3 Nfd5 30.Nd6 R8c7 – although, of course, that position isn't much fun either.]
28…Rc2 Qe3 The advantage of the d4-d5 advance (compared to e4-e5) is that the black knights don't get outposts in the centre. Vladimir is hoping to methodically press them to the edge of the board. Like paste from a tube.
29…R2c5 But it's easier for the black rooks. Something lost, something gained…
30. Nd4 The weakness of the b6-pawn is also a factor.
30…Re8 All that's left for Black is to navigate based on tactical nuances. He's threatening the Ne7xd5 blow.
    [If 30…Rb8 I'd propose the manoeuvre 31. Ne2 with Ne2-f4 and e4-e5 to follow.]
31. Qd3 Qd6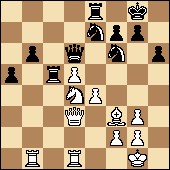 The players have both been defending against threats. Now Kramnik needs to come up with a new plan of attack. As he's already put aside the e4-e5 break… Or has he put it aside? The knight twist Nd4-b3-d2-c4, accompanied by attacks on his opponent's juicy pieces, is asking to be played. When the knight arrives on c4 either the b6-pawn would fall, or e4-e5 would work.
32. Qa6 Another approach. In time trouble (and it's approaching) it's easier to operate using concrete direct threats. By the way, Carlsen doesn't have the option of looking into the position deeply: 0:16 – 0:06.
32…Rb8
    [The slight delay was connected, it seems, to Magnus looking at the move 32…Nc8 – a move which, by the way, wasn't bad at all.]
33. Nb3 Rc2 34. Nd4 A generous gift to his opponent, whose time trouble is much more serious.
     [With your flag about to fall it would be unwise to enter unclear complications like these: 34. Nxa5 Qc5! 35. Rf1 Ra2 36. Nb3 Qxf2+ 37. Rxf2 Rxa6 and so on. Although here as well White has an edge.]
34…Rc5 It seems Vladimir doesn't see a direct way to win and simply wants to get through time trouble and then find a plan for a decisive offensive under calmer conditions.
35. Nb3 Rc2 36. Qd3 That's correct. The queen's place is in the centre.
36…Rcc8 If Black managed to move the knight from e7 to e5 then his life would be greatly improved.
37. Nd2 And there's the knight's long-expected dart for c4.
37…Ng6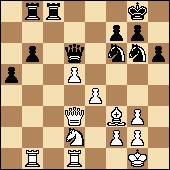 Again, not a surprise. The e5-square is wide open… I've got the suspicion that White has wasted some of his advantage.
38. Be2 Kramnik's preparing a warm greeting for the black knight on e5. f2-f4 is on the cards.
    [Simply bad was
38.Nc4?! Qc5 39.Rdc1 in view of b5! 40.Nxa5 Qxc1+ 41.Rxc1 Rxc1+ 42.Kh2 Ne5 with an unexpectedly strong attack for Black.]
38…Qc5?! The players have no longer got any time to think. They're blitzing – playing based on feel, almost without using their heads.
    [It was better to play 38…Ne5 39. Qd4 Ned7 etc.]
39. Rb5 Qc3 The exchange of queens, it seems, would only help White's pawn advance in the centre.
40. f4! Bold and well-timed! Making such critical and strong moves in fierce time trouble is only possible for a true master.
40…a4?!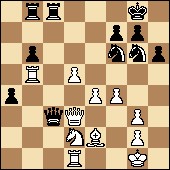 Nervy play with the flags about to fall saw swings in the evaluation. At first Kramnik almost let all of his edge slip, but then Carlsen got carried away, and we're back in the previous situation – White has a significant advantage…. Well, according to tradition I invite all spectators and participants to drink some coffee. It helps!
41. e5 In order to "find" such a natural and strong move, you only need one sip of the magic drink. White's strategy is triumphant – the black knights have been pressed to the edge of the board.
41…Nd7
    [It didn't help to play the pseudo-active
41…Qxd3 42.Bxd3 Ng4, after which White coolly increases the pressure:
43.Nc4, then Rd1-a1 and the harvest can be gathered.]
42. Qxc3 That's one way of doing it.
42…Rxc3 43. Ne4 But won't the active black rook be an unpleasant obstacle to White's play? Therefore I'd have preferred the immediate knight raid on e4, without exchanging queens on c3.
43…Rc7 No, it didn't happen. Let's sweep the nuances under the carpet!
44. Ra1 The pawn has allowed itself to get cut off from the pack and must be punished.
44…Ra7 45. d6
    [It was also possible to first block the victim – 45. Ra3]
45…Ngf8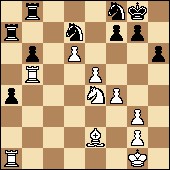 Magnus is doing everything in his power – he's trying to free the knights from their captivity.
46. Nc3 But Vladimir is in charge on two thirds (or even three quarters) of the board. He either wants to take the pawn, or to post the knight on d5. In general, the choice of how to convert the advantage is already a matter of taste.
46…Nc5
    [If 46…Ne6 the accurate 47. Rb4! would follow.]
47. Nd5 Threatening not so much to take on b6, as the raid Nd5-e7-c6. Things are bad for Black.
47…Ra5 But the Kid hasn't let himself get discouraged.
48. Rxb6 The first fruit.
48…Rxb6 49. Nxb6 Nfe6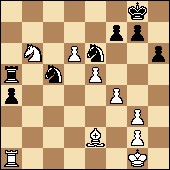 In exchange for the pawn Black has time to catch his breath, and even the hope of pushing his outside passed pawn – though it's unlikely to be dangerous for White. Another question is much more interesting: can Black break up the g3-f4-e5-d6 pawn chain? For example, with g7-g5. It's only in that case that there will be real chances of survival. And therefore White should bring his king to e3 – to hold the f4-point.
50. Bc4 Also a good manoeuvre. The bishop performs a mass of useful functions: from the a2-square to the f7-pawn.
50…Kf8 The king is preparing to back up the knights, who are raring to attack. Now on d6-d7 Black will play Kf8-e7 and hold White's passed pawn. It's also useful to unpin the f7-pawn… Let's glance at the clocks: 0:31 – 0:31. For now there's no rush.
51. f5 Powerful! It seems as though White is also capable of achieving his goal without the king's help. He's not defending his pawn chain, but throwing it into an assault.
51…Nd8 A sad necessity.
    [After 51…Nd4 52.Rd1! Nxf5 it was possible to win a piece with d6-d7, but even stronger to play
53.Rf1! g6 54.g4 – with the same result.]
52. Rf1 With the threat of e5-e6. It seems this is the most precise move!
52…Ncb7 The only means of stopping the pawn avalanche.
    [Even 52…Ke8 didn't help:
53.e6! fxe6 54.fxe6 Ndxe6 55.Rf5! Ra7 56.Re5 Kf7 57.Rxc5 and it's all over.]
53. Re1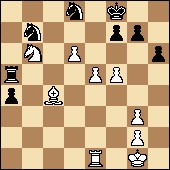 Kramnik, like a boxer going for a knock-out, is circling his prey, choosing the moment for the final blow.
    [It was even better to play 53. Rd1, renewing the threat of e5-e6. And on 53…Nc5 – 54. Rd5!]
53…a3 54. e6 He decided not to wait any longer.
    [54. Ba2! would have kept all the advantages of the position.]
54…fxe6 55. fxe6 Nxd6 56. e7+ Ke8 57. exd8=Q+ Kxd8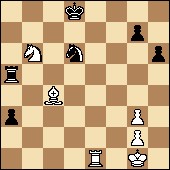 So, the avalanche happened – and brought White an extra piece. He should be able to deal with the pawn on a3. The long-range bishop is a guarantee of success. True, I'm a little concerned by the fact that the h8-corner is inaccessible for that same guarantor…
58. Rd1
    [It was also possible to start with 58. Ba2]
58…Kc7 59. Ba2 The ex-World Champion knows better than all the commentators in the world put together that you can't under any circumstances allow the exchange of the bishop. But knights – go ahead. If Black's able…
59…Rg5 60. Nd5+ Kc6 61. Nc3 A little trick. Go on, Magnus, take on g3.
    [Prepared for 61. Rd3 was 61…Ne4 62. Rxa3 Nxg3 – and the win is a long way off.]
61…Rc5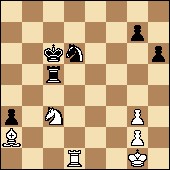 The second time control has passed. With the move in the game Carlsen is proposing a total exchange of pieces. But won't Kramnik agree to it? For now I can't see any reason not to… Wait! It really isn't all so simple there. You might not win.
    [Of course 61…Rxg3? would be followed by 62. Rxd6+ Kxd6 63. Ne4+]
62. Rxd6+ Kramnik accepted the offer remarkably quickly.
    [From a practical point of view it was worth looking at 62. Rd3! – so as not to risk it.]
62…Kxd6 63. Ne4+ Kc6 64. Nxc5 Kxc5 65. Kf2 Kd4 66. Kf3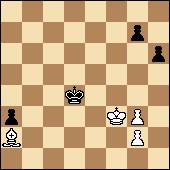 And here I'm concerned by the black king taking a detour – into White's rear-guard.
66…Kd3 Exactly. And isn't it a draw, dear spectators? I've got a strong feeling… Here Kramnik's sunk into thought. Did he really not spot the simple circumstance that the black king was in no way obliged to go to b2? It'll strive to attack the white pawns at the same moment the white king is busy taking the black pawns. The bishop is bound to the a2-square and therefore can't help to defend the pawns. When required the a3-a2 deflection will follow, and there won't be any pawns on the board at all. The players don't have much time at all: 0.23 – 0.14. But they're saved by the fact that after the 61st move they get 30 seconds added on each move. That should be perfectly sufficient to carry out simple manoeuvres.
67. g4 Yes, the only chance. Vladimir is trying to gain a tempo.
    [Very simple was
67.Kf4 Ke2! 68.g4 Kf2 69.Kf5
(69.g3 g5+)
69…Kxg2 70.Kg6 Kg3 71.Be6 a2!]
67…Kd2 The most precise move. Magnus hasn't been distracted by passing alternatives. You can see a clear draw? Then make it!
    [By the way, that alternative was fraught:
67…g5?! 68.Bf7 Kd4 69.Ke2 Ke4 70.g3 Kd4 71.Kd2 Ke4 72.Kc2 Kf3 73.Bh5! Kxg3 74.Kb3 and Black still loses in the end.]
68. Be6 Another slightly strengthening move. Before advancing with the king towards the goal you have to improve your position as far as possible. But, it seems, nothing can help White to win.
    [There was an amusing positional draw in the line
68.g5 hxg5 69.Kg4 Ke3 70.Kxg5 Kf2 71.g4 Kg3! 72.Kf5 g6+ 73.Kg5 Kh3 – the kings circle around the g4-pawn until infinity.]
68…Kd3 Correct. Now Black simply stands and waits to see what White does. I ask dear readers who are electronically armed not to be deceived by the computer's evaluation. There's most likely a drawn position on the board. Our famous metal friends aren't yet capable of "grasping" such concepts as a fortress, a positional draw and so on. That's why they come up with senseless materialistic evaluations, even when there's no win.
69. Kg3
    [Also asking to be played was bringing the king to the a3-pawn, but look at the amusing drawing line I managed to find:
69.Bf7 Kd2 70.Ke4 Ke2 71.Kd4 Kf2 72.Bd5! Kg3 73.g5 h5! (only like this)
74.g6
(or 74.Kc3 g6! 75. Bf7 h4 76. Bxg6 h3! 77. gxh3 Kh4!! and that same "wrong colour" of h8 has its say.)
74…Kf4 75.Kc3 h4 76.Kb3 Ke5 77.Bf7 Kd6 78.Kxa3 Ke7 79.Kb4 Kf8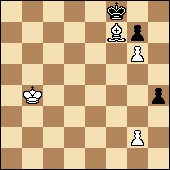 And in front of you is another fortress. Feed it into your computer! You'll be happy for the human race. It's possible such flourishes are superfluous and there's an easier way to "escape".]
69…Ke3 70. Kh4 Kf2 71. Bd5 g6 But was it necessary to play that?
    [I don't fully understand what problems Black would have had after the banal 71…Ke3 – that was the simplest path to a draw.]
72. Kh3 Kramnik's playing subtly. Very subtly…
72…g5 While Carlsen boldly changes the structure! A critical decision, I tell you.
73. Kh2 Kf1 74. Be6 Kf2 75. Bc4 Ke3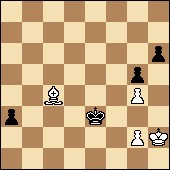 Now White's task is to free the king and manage to play g2-g3 without allowing his black counterpart to get to f4. Then it would be won. But how can you do that?
76. Kg3 Kd4 77. Be6 Ke3 We stand, we wait – and we don't let him out! It's a draw, my friends. It's a draw, after all.
78. Kh2 Kf2 79. Bc4 Ke3 80. Kg1 Kf4 81. Be6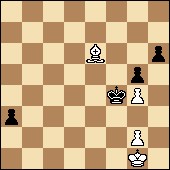 81…Ke5 The most precise move. White has no chances left.
82. Bb3 Kf4 83. Be6 Ke5 84. Bb3 DRAW! A fantastically dramatic and vivid encounter. A quick summary of what we've witnessed: Carlsen equalised in the opening, then clearly rushed with 17…c4? Kramnik launched a counterattack of the highest quality and gained a won position. Then he blundered while converting it – 62. Rxd6+? He rushed, forgetting to think and allowing his opponent to make a truly study-like draw. Analysing the ending provides great aesthetic pleasure above all because computer programs (which, objectively speaking, are stronger than all of us, including champions!) aren't capable of understanding what any competent flesh-and-blood player realises quite quickly. Long live chess – a game for people! Thank you, spectators, for taking part in this fascinating evening of chess. With you has been Grandmaster Sergey Shipov. Please bear in mind that tomorrow the last round starts two hours earlier than usual – at 15:00 Moscow time (12:00 UK time). Don't be late… P.S. The great and good have been writing to me on Skype to claim that White could after all have won – with 68. g5 hxg5 69. Kg4 Ke3 70. g3! and subtle play on zugzwangs to follow. I'll debate it with them… Well, it's one of those things. I'm sure subsequent analysis will reveal the absolute truth, but I don't think that's something you should demand from a live commentator who's been labouring away for 7 hours.
1/2 – 1/2
Game viewer by Chess Tempo