For his commentary on the fifth round of the London Chess Classic, GM Sergey Shipov chose the clash between the leaders, Vishy Anand and Luke McShane. Despite a position on the 11th move that Shipov noted was almost 150 years old, what followed sadly didn't recall the Romantic chess of the 19th Century!
You can find Shipov's commentary in the original Russian, with a board on which to play through all the moves and analysis, at Crestbook.
GM Sergey Shipov's live commentary on:
London Chess Classic 2010, Rd 5
VISWANATHAN ANAND – LUKE McSHANE

Good afternoon, dear spectators! This is Sergey Shipov (grandmaster, commentator, trainer, writer and who knows what else), commentating on the next round of the London supertournament for you. Let's watch the game between the leaders! Anand looks natural in the role – he's got used to it. And we're all used to it too. After all he's the World Champion and he's been an integral part of the elite for the last 20 years. We're not, however, accustomed to seeing McShane among the leaders. Luke was a young star for whom people had great hopes, but then he unexpectedly disappeared from view… But, as you can see, he's returned in time. Now he's no longer young, but he's far from being old. A man in the prime of his life. And now, it seems, he's playing his best chess. He's already survived the test of Carlsen and Kramnik. Now all that's left is to put up a good show against the world's top chess player. Let's root for McShane and support the new hero! The more lively players in the elite the better for all of us.
1. e4 e5 2. Nf3 Nc6 3. Bb5 The Ruy Lopez.
3…Nf6 To sit back and wait out the siege behind the high Berlin wall – that's Luke's unsubtle plan. Completely to be expected. We'll see if he can improve on Nakamura's play from the first round. On the KC-forum we carried out a fascinating analysis of the ending that arose in the game Anand-Nakamura and came to the conclusion that the Champion after all could and should have won. (Translator's note: the discussion starts from this post. It's in Russian, but with chess diagrams and notation – a very brief summary: Vishy shouldn't have let himself get distracted by a2-a4-a5.)
4. 0-0 Nxe4 5. Re1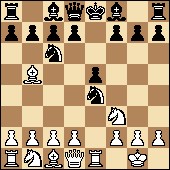 But no. We're not going to get to see McShane's home analysis because his experienced opponent has gone for a side line.
    [The first round game mentioned above went: 5. d4 6. Bxc6 dxc6 7. dxe5 Nf5 8. Qxd8+ Kxd8 and so on.]
5…Nd6 6. Nxe5 Be7
    [Of course not 6…Nxb5? 7. Nxc6+ with a rout.]
7. Bf1 Nxe5 8. Rxe5 0-0 Black has managed to evacuate his king. Now all that's left is to develop the queenside – and it'll be possible to face the future with confidence.
9. d4 The c8-bishop is hindered by the d7-pawn, the d7-pawn is hindered by the d6-knight, and that can't go to f5 because of the advanced white rook. Therefore it's worth driving it away with the bishop from f6.
9…Bf6 Logical. Guessing known, theoretical and at times only moves in positions – that's my thing!
    [True, here there was an alternative – 9…Ne8 But it's quite rare.]
10. Re1 Nf5 11. d5 A necessary unpleasantness. If Black managed to play d7-d5 (for example, after 11. c3), then he wouldn't have the slightest problem.
11…d6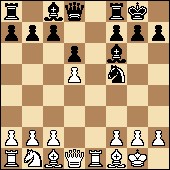 The c8-bishop has nevertheless been revived. A certain lack of space isn't fatal for Black… Here I looked in the database and was dumbfounded. The position's been known about since 1866! This was also played as Black by the still unforgettable Adolf Anderssen, the author of evergreen games and a rival of Morphy and Steinitz.
12. Nd2 One and a half centuries haven't passed in vain. Chess science has found new, more promising paths. With the move in the game the Champion avoids new exchanges – which is totally logical in a position with a space advantage.
    [In that source game (played in Berlin in 1866) the white pieces were in the hands of another well-known and strong chess player – Gustav Neumann (I've also seen his surname written as: Von Neumann). A strong master. This is how the struggle went:
12.Nc3 Bxc3! 13.bxc3 Qf6 14.Qf3 Bd7 15.Rb1 b6 16.c4 Rfe8 17.Rd1 Qg6 18.Bf4 Re7 19.Kh1 Rae8 20.Bd3 Nh4! 21.Qg3 Qh5 22.f3 Ng6 23.Bd2 Bf5 24.Re1 Bxd3 25.cxd3 Qf5 26.Re4 Qd7 27.Rbe1 Rxe4 28.Rxe4 Rxe4 29.fxe4 Qa4! and Black won that ending. A game of the highest class. Wonderful play!]
12…Nh4 Played after deep thought. It's already clear that McShane didn't prepare the 5. Re1 line this morning, which is why he's using up a lot of time. Either he's remembering what he'd studied, or he's creating on a blank page – like the 19th-century greats. However, he's played a tried and perfectly popular move. The knight switches to g6 so as not to hinder the c8 bishop from getting to f5.
    [Also played are 12…Bg5 and 12…c6]
13. g3
    [It's more common to start with 13.Ne4, for example, 13…Bf5 (there's also the move 13…Be7)
14.Qh5 Bxe4 15.Rxe4 Re8 16.Bd3 Rxe4 17.Bxe4 Ng6 18.c3 Qe7 19.f3 Qe5 20.Qxe5 Nxe5 with a minimal edge for White in the ending, S. Fedorchuk – M. Grabarczyk, France 2006.]
13…Ng6 The time difference is already noticeable: 1:54 – 1:33. Vishy hasn't yet begun to play. He's simply carrying out what he's long since assimilated… And just as I wrote that, the Champion sunk into thought.
14. a4 A novelty. White seizes space on the queenside. As if playing Go.
    [Played previously was:
14.Bg2 Ne5 15.h3 Nd7 16.Ne4 Be7 17.Qe2 Nb6 18.c4 Bf5 19.Be3 Re8 20.Rad1 Bxe4 21.Bxe4 Bg5 22.Bxh7+ Kxh7 23.Qh5+ Bh6 24.Bxh6 gxh6 25.Qxf7+ Kh8 26.Re6 Rxe6 27.dxe6 Qe8 28.Qxc7 Qxe6 29.Rxd6 Rc8 30.Rxe6 Rxc7 31.Rxh6+ Kg7 32.Re6 Nxc4 33.Re2, and White was unable to win in the game A. Brkić – I. Sarić, Šibenik (Croatia) 2005.]
14…Ne5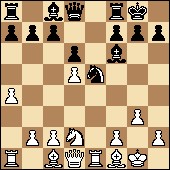 A standard manoeuvre for the given set-up. Black switches the knight via d7 to the queenside, threatening Bc8-g4 on the way.
    [It also didn't look bad to play the simple 14…Bf5]
15. Ra3 An elegant manoeuvre. White's queen's rook is entering the fray, bypassing the ponderous bishop on c1.
15…a5 Fixing the queenside – a debatable decision.
    [If 15…Bg4 (hoping to exchange a couple of bishops) there would follow 16. f3!]
    [But 15…c6! deserved very serious consideration. It's important for Black to achieve some improvement in the centre before White has developed all his forces.]
16. Ne4 The f3-point is covered by the rook from the side – so the knight is within its rights to go on the attack.
16…Be7 You have to feel sorry, of course, for the bishop.
17. f4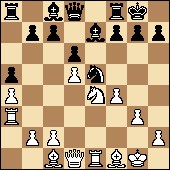 Very sharply played. Sensing his opponent's uncertainty, Vishy starts an all-out attack. The only thing left to understand is what he has in mind for 17…Bg4. You won't believe it, but once again White isn't obliged to exchange bishops on e2…
17…Ng4 Played very circumspectly. Luke's got a head on his shoulders! He calculated everything accurately and took an informed decision.
    [After 17…Bg4 there would follow the elegant
18.Qd2! Nf3+ 19.Rxf3 Bxf3 20.Nf2! after which Black loses one of his bishops. For example,
20…Re8
(or 20…Bf6 21.Qd3! Bh5 22.g4 Bg6 23.f5)
21.Re3 Bh5 22.g4 Bg6 23.f5 and you can't reply
23…Bg5? because of 24.Rxe8+ Qxe8 25.Qxg5 In any case in all lines White gets two pieces for the rook and pawn, and, it seems, winning chances.]
18. Bg2 A pawn advance on the kingside is on the cards for White. It's time for Black to bring his sleeping pieces into the battle. The clocks show: 1:36 – 1:07.
18…h6 Cunning.
    [Here I looked at the simpler continuations – 18…Re8 and 18…Bd7.]
19. c4 And now Anand's playing simply. He's occupying the greatest board area possible – everything that's put in front of him. Like a gas.
19…Nf6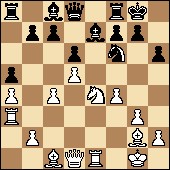 McShane, of course, isn't against exchanging knights, but it's unlikely that his opponent will accommodate him… Here I'd withdraw the knight to f2. There is, of course, one worry – in that case Black can switch the knight to c5, pointing out the flaws in the move c2-c4. Well, it's not worth rushing to judgement. It needs some thought.
20. Nc3 The Champion has creatively developed and improved upon my idea of not exchanging knights. He's found a more promising route.
20…Nd7 Luke, on the other hand, is closely following what was suggested above. However, the manoeuvre's too simple and there are no alternatives.
21. Nb5 There you go! On the way the knight puts pressure on the c7-pawn (taking is already threatened), but it's more likely that it'll return to d4.
21…Nc5 An excellent outpost, wouldn't you agree? At the very least one white pawn is under attack from the "jumper", and it's almost impossible for White to change the structure on the queenside. Black, however, if allowed, will play c7-c6.
22. Rae3 A standard reorganisation.
22…Bf6 The central file is in White's hands, but there are no squares on which to infiltrate, while Black has a simple and clear plan: Bc8-d7xb5, Qd8-d7 and so on.
23. Bf3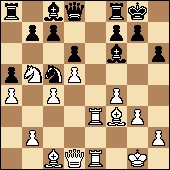 White, in the absence of better options, is gradually strengthening. By the way, Black isn't obliged to immediately place his bishop on d7. You can first provoke the g3-g4 push with 23…Bf5!? The prophylactic h7-h6 needs to be justified in some way. But it can't be recommended that McShane has doubts for long: 1:23 – 0:55. In that case you could end up in deep time trouble.
23…Bd7 Modest, but good.
24. b3 Making the life of the f6-bishop empty and senseless. If asked to draw conclusions from the opening I'd say: White's position is a little better, but not without strategic risk…
24…Rb8 A difficult decision – rejecting the exchange on b5. The move in the game, it seems, prepares the exchange of a couple of rooks on e8.
    [24…Bxb5 25.cxb5 Qd7 was refuted by 26.Bg4!]
    [While on 24…Re8 – 25.Rxe8+ Bxe8 26.Rxe8+! Qxe8 27.Nxc7 and White ends up with an extra pawn… By the way, I'm not sure that the ensuing position is definitely won.]
25. Kg2 Re8 Exactly! The fewer pieces, the easier it is for Black to defend.
26. Ba3 Clearly Anand's thinking about the physical elimination of the unpleasant black knight. The queen can't spend forever defending the b3-pawn… However, it's a pity to have to exchange the powerful black-squared bishop.
26…Rxe3 27. Rxe3 Bxb5 It seems it's time.
28. cxb5
    [The move 28. axb5 instilled some fear, as the a5-pawn in some lines can become a strong passed pawn.]
28…b6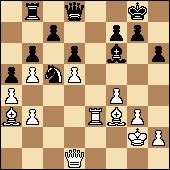 Black has successfully simplified play. The first visual impression is that he's close to equalising… The second is the same.
29. Bg4 The only problem is that it's difficult for the b8-rook to enter the battle.
29…g6 A logical reorganisation. The queen can get to g7 via f8. In terms of time, it's still not too late: 1:11 – 0:36.
    [In the line
29…Qf8 30.Qe2! Bd4?! 31.Re7 Nxb3 White would treat Black to the powerful winning blow
32.Rxf7! Qxf7
(32…Kxf7 33.Qe6#)
33.Be6 and so on]
30. h4! A very strong refutation. It seems as though Black won't manage to do what he intended.
30…Bg7 He didn't risk it.
    [The principled move here was
30…h5 31.Bh3 Qf8, but, it seems, McShane was worried by the weakening of the cover around his king. With the rook out of play the blows f4-f5 and (or) g3-g4 might follow.]
    [But even after rejecting h6-h5 it would have been more accurate, in my opinion, to play 30…Qf8]
31. Be2 Anand shows great respect for his opponent.
    [No doubt he looked at the direct (in the sense of asking to be played and most important) line 31. h5 g5 32. fxg5 Qxg5 (there's why the black bishop retreated to g7) 33. Bc1! which, in my opinion, would give White a dangerous initiative. In the ensuing struggle on the kingside Black is clearly missing the participation of the knight, which would stand on c5 and be unable to return closer to its king.]
31…Qf6 Here's one more advantage of the move Bf6-e7. Little by little Black is arranging his pieces as needed. The position remains, as before, solid.
32. Bc4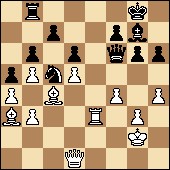 I see. Now the Champion's idea becomes clear. He's saving the rook (or queen) from the burden of having to defend the b3-pawn. At the same time there's also the crazy idea of exchanging on c5. Then in the case of b6xc5 the a5-pawn would become weak. And in the case of d6xc5 there'd be the bold breakthrough d5-d6 with White putting pressure on the f7-point.
32…Kf8 Well done, Luke. He's playing competently and solidly. This move prepares an exchange of rooks on e8.
    [It also wasn't bad to play 32…Nd7 with the idea… Hmmm, there aren't a huge number of constructive ideas. Ok, with the idea of returning to c5 – later, when the idea of exchanging on c5 is no longer an issue.]
33. Qf3 As you can see, Anand has completely rejected the h4-h5 idea.
33…Re8 No sooner said than done.
34. Rxe8+ Kxe8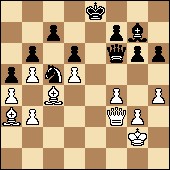 There's almost nothing left to play with…
35. Bxc5 dxc5 36. d6 Pretty and, it seems, totally harmless.
36…Qxd6 37. Qe4+ A couple of checks will still be announced by White, but there's no win visible. The opposite-coloured bishop position should entirely predictably end in a draw.
37…Kf8 38. Qa8+ Ke7 39. Qg8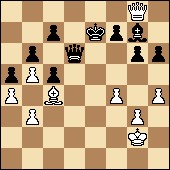 Again very energetically played, but Black's defence is too simple.
39…Qf6 40. Qc8 Qd6 41. Qg8 Qf6
DRAW! A convincingly conducted game by McShane. Well done! He held with the black pieces against a dangerous opponent, retaining the lead and further enhancing his self-esteem. That's very important – to feel that you CAN play the best chess players in the world on equal terms, and not simply watch them from the sidelines and admire. In general, it was pleasing to see from Luke… By the way, note that I didn't once during the commentary describe him as "the Englishman" or "the English grandmaster". The prefix "Mc" in his surname concerns me. I wouldn't want to judge Scottish-English affairs as an outsider… :) Could people in the know please tip me off on how I can describe McShane? So then, today I, Grandmaster Sergey Shipov, have finished my work earlier than usual. And that's a good thing – it's time for a rest. Tomorrow we'll all do that, as it's the tournament rest day. I'll be waiting for you, dear viewers, for the sixth round. Goodbye!
1/2 – 1/2
Game viewer by Chess Tempo
I'll again be translating Sergey Shipov's live commentary on Tuesday, 14th December, starting at around 14:00 London time: http://www.chessintranslation.com/live-game/