For round 4 of the London Chess Classic, GM Sergey Shipov followed the clash between the young contenders, Magnus Carlsen and Hikaru Nakamura. Despite his uneven tournament, the Norwegian gave a masterclass in pragmatic, positional chess, taking full advantage of his opponent's time trouble.  
You can find Shipov's commentary in the original Russian, with a board on which to play through all the moves and analysis, at Crestbook.
GM Sergey Shipov's live commentary on:
London Chess Classic 2010, Rd 4
MAGNUS CARLSEN – HIKARU NAKAMURA

Hello once again, dear friends! The London tournament is a short one and already, in the fourth round, we're crossing the equator. Along with me, Grandmaster Sergey Shipov, you're going to be watching the main encounter of the day: the battle between Carlsen and Nakamura. They've got a special relationship – tough blitz battles and an obvious struggle to be the spectators' favourite add particular interest to each new meeting between Magnus and Hikaru. For now the Norwegian is clearly ahead in terms of rating and results achieved, but the momentum the American's built up of late must make his fans more optimistic. You never know! Perhaps Nakamura can also confirm his place in the elite of serious chess and fight Carlsen for the title… of the best player in the West. And now's the most opportune moment to land a heavy blow. The Kid hasn't been playing well for the past few months, and his performance at the start of this tournament has been feverish. The game against McShane and yesterday's debacle against Anand make a painful impression. The varying quality of Magnus' play even during each round has been disastrous. Brilliant and simply top-class moves have been alternating with decisions which would cause me to scold a Candidate Master. There's no stability. There isn't the required concentration. And I don't know the reason – only Magnus and those close to him could say… Well, we'll watch the game, support (each their own) and, I hope, we'll enjoy this chess spectacle.
1. c4 Magnus has become addicted to this first move. He's taken a liking to the English Opening! It doesn't claim to bring a quick edge, but it gives you a chance to simply play chess without harsh concrete analysis from the first moves. Playing the opening in England is an act of respect towards the local spectators and organisers. By the way, last year it was in just this English Opening that Carlsen scored a memorable victory against Kramnik, while in this tournament he managed to overcome Adams. Let's see if that run will be continued.
1…f5 An attempt to drag things in the direction of the Dutch Defence, but while the white pawn hasn't appeared on d4 that won't be so simple…
2. g3 Nf6 3. Bg2 d6 4. Nc3 g6 Each of them is sticking to his own task.
5. e3 Bg7 6. Nge2 The knight has come out into the world in such a way as not to restrict the g2-bishop. The pawn configuration is a matter for the future.
6…0-0 7. 0-0 e5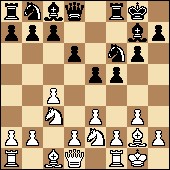 Without waiting for his opponent's d2-d4, Hikaru has in any case decided to seize the centre with pawns.
8. b3 But Magnus is keeping his pawn on d2 as long as possible. The e5-e4 push isn't an option without a knight on f3 – it would just give White something to attack, while the presence of the knight on e2 doesn't allow Black to attack with f5-f4. But where is White planning to advance? In the centre, I think. Asking to be played are: Bc1-b2, d2-d3, Qd1-d2 and then at some point f2-f4. Another, sharper plan is based on the d2-d4 blow, aiming after e5-e4 to undermine Black's advanced pawn with f2-f3.
8…Nbd7 Black also has a wide choice of ways to develop his pieces.
    [Also played here were 8…c6, 8…Nc6 and who knows what else.]
9. d3 Switching to the first plan mentioned above. Of course, the bishop on g2 directed at Black's queenside suggests a pawn advance but, you'll agree, it's a shame to need two steps to put a pawn on b4. And what can Black do now? There isn't yet a clear target to attack. You need to strengthen slowly. Put the queen on e7, the pawn on c6. The d7-knight, it seems, will jump to c5… In general, it's trench warfare. Nakamura's having a long think: 1.54 – 1.35. He's not remembering, but studying the position at the board. Creating. Giving birth to something.
9…c6 As you can see, the American came to the same conclusion as me. It's useful to limit the g2-bishop, as the b4-b5 pawn push isn't yet an issue… And then, by the way, with the queen on d8 you can play a7-a5 and Nd7-c5. The position's very flexible! The pawn chains are mobile and monolithic, and every twist changes the situation, as after all pawns can't move backwards.
    [Strangely enough, the move in the game is a novelty. Previously played was 9…Kh8 10.Bb2 Rb8 11.Qd2 a6 12.f4 b5 13.cxb5 axb5 14.b4 Bb7 15.fxe5 dxe5 16.e4 Nb6 17.Qc2 fxe4 18.Nxe4 Bxe4 19.Bxe4 Nxe4 20.dxe4 Nc4 and in the encounter J. Stanke – S. Kalinichev, Berlin 1998, Black got the better chances.]
10. Ba3 And there's a confirmation of my words – playing according to the situation. The black pawn has abandoned the c7-square, weakening the d6-point, and the bishop, having deftly refrained from developing to b2, has come out to a more promising position.
10…Qc7 A difficult and far from obvious decision. It strikes me that the queen's passively placed on c7. It won't be able to take part in the desired attack on the kingside.
    [More promising was 10…Qe7 – the queen there would come in handy in the struggle for the e5 and e4 points.]
11. Qd2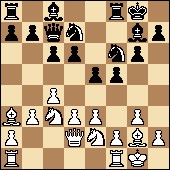 Played quickly and confidently. Carlsen clearly knows what he's doing. However, the white set-up is entirely standard and by no means only known about by super-grandmasters.
11…Re8 Reinforcing the centre in preparation for White's attacking blows. It can't be ruled out that Nakamura is intending to switch the d7-knight via f8 to… There are options. Perhaps Black is within his rights to consider the expansive h7-h6 and g6-g5. Then the wandering knight will end up on g6. It's important, though, that during the given reorganisation you don't allow the f2-f4 push at the most inconvenient of moments i.e. immediately after g6-g5.
12. Rae1 An extremely forthright and aggressive move. Magnus isn't hiding his intentions. The f2 and e3 pawns must be sent into battle. White's advantage is in the fact that all his pieces are in play, while Black's a8-rook and c8-bishop are sleeping. And the black queen also isn't dazzling us with its activity. The time situation isn't in Black's favour either: 1:38 – 1:12. Now Hikaru needs to take precise, concrete measures. Insipid play might lead to Black coming under a real squeeze.
    [I also looked at immediately pushing in the centre with –
12.e4!? when the principled refutation would follow:
12…f4! and then
13.gxf4 Bh6 14.d4 Nh5 15.Qd3 Nxf4 16.Nxf4 Bxf4 17.Ne2! Bh6 18.Rad1 – it seems as though White's got more in his favour here. The pressure in the centre is tangible, and f2-f4 is about to follow.]
12…Nc5 And there's the expected response. The knight opens up a path for the c8-bishop, it strengthens Black's control of the e4-point (it can be used if White plays d3-d4), and also provokes White into beginning a pawn attack on the queenside – which would devalue the move Ra1-e1. After all, after b3-b4-b5 the rook would be better placed on b1.
13. h3 A subtle reply. Not everyone would be able to see the use of gaining control of the g4-point.
    [It didn't look bad to change the focus of the attack with:
13.b4 Ne6 14.b5 Bd7 15.Rb1 and so on]
    [While 13.f4, it seems, wouldn't achieve its goal:
13…Qa5 14.Bb2 e4! – in this line the position of the white rooks is clearly unfortunate.]
13…e4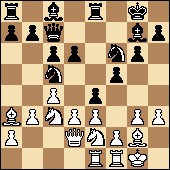 Very sharply played. It seems as though Nakamura took Carlsen's modest prophylactic move as a sign of a lack of confidence and the absence of good ideas for White. And decided to attack!
    [More circumspect, in my opinion, was 13…a5 – in any case, that move is definitely useful.]
14. dxe4 A quick reply. It seems Magnus decided there was nothing else. Or nothing else was needed.
    [Of course it was no good to play
14.d4 Nd3]
    [But it was worth considering
14.Bxc5!? dxc5 15.dxe4 fxe4 16.g4 with the idea of Ne2-g3xe4. But the Norwegian might not have liked the wild sacrifice
16…Bxg4 17.hxg4 Nxg4 18.Ng3 Qe7 with the threat of the black queen invading on h2. Sometimes practical chess players simply rule out such lines – not calculating and using up time. Which is what happened in the given situation.]
14…Nfxe4
    [It's bad to move 14…fxe4 15.Rd1, as Black has to play
15…Bf8, but White continues to lay siege to the black weaknesses with
16.g4! and Ne2-g3. As you can see, that same subtle h2-h3 move time and again comes in useful for Carlsen in different lines.]
15. Qc2 The pressure on the e4-point can't be withstood for long.
15…Nxc3 16. Nxc3 Be6 Black's completed development. The only problem is the weakness of the d6-pawn.
17. Rd1 Rad8 But it's hard to get at it.
18. Bb2 There's no point in constantly facing off against the immovable knight. It's better to create a counterweight to the g7-bishop.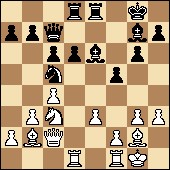 The opening duel is over. In my opinion, White has a small, but stable positional edge.
18…Bf7 But both sides have difficulty in choosing a specific plan. A subtle battle to manoeuvre is continuing.
19. Rd2 However, the doubling of heavy artillery on the d-file is hard to characterise as a subtle decision. It's actually completely open and very effective – it's useful to put pressure on Black's sore point.
19…a5 A long-awaited prophylactic move. In the future the a5-a4 break is also possible.
20. Rfd1 Be5 Defending the weakness and a challenge to his opponent. Go on then, fighter, play f2-f4! In Magnus' position I wouldn't take the risk. The time hasn't yet come for burning bridges behind you. There's more than enough time for reflection: 1:20 – 1:02.
21. Ne2 Played simply and solidly. The bishops have started open warfare, though each player will insist on his opponent striking first. It's not favourable for White to move the d6-pawn to e5, while Black doesn't want to leave it undefended. In the meantime, White's knight is marching towards f4. He also has the h3-h4-h5 break in reserve.
21…a4 Nakamura in all his glory. He's used to responding to a blow with a blow, and doesn't like to defend passively. It's better to take risks counterattacking that to hope your defences hold up. The move is entirely logical in itself – the desertion of the white knight has weakened White's queenside. Qc7-b6 is threatened with real pressure on b3. The response b3-b4 needs the most precise calculation, as after that the f7-bishop will also come to life and become a threatening weapon.
    [I also looked at the preliminary
21…Qb6 with the threat of a5-a4, but then it's good to play
22.Bc3 with the idea
22…a4 23.b4!]
22. b4 A natural reflex – how can you refrain from attacking such a piece! Carlsen hasn't allowed an exchange on b3, obviously hoping to soon take on a4. But will he be able to neutralise the pressure of the f7-bishop? The c4-point is vulnerable.
    [It looked more solid to play
22.Bc3, for example, 22…axb3
(22…Qb6?! 23.b4!)
23.axb3 Qb6 24.b4 Na6 25.Rb1 and there's no Bxc4 due to 26.Bxe5 Bxe2 27.Bd4 when White wins a piece.]
22…Nd7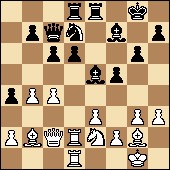 Correctly abstaining from spicy food.
    [After 22…Ne4?! 23.Bxe4 fxe4
(23…Bxb2 24.Bxf5!)
24.Bxe5 Rxe5 25.Nc3 Qe7 26.Rd4 instead of spicy sensations you'd have the bitterness of a difficult defence.]
23. Bd4 Magnus has stuck to the principle that he doesn't want to exchange bishops on e5, and that's that!
    [In seems it promised an edge to play
23.Bxe5 Nxe5 24.Rd4 c5 (the most natural)
25.bxc5 dxc5 26.Rxd8 Rxd8 27.Bd5! and after that White gets at the poorly fortified black king.]
    [While the insipid
23.a3?! was clearly no good:
23…Bxb2 24.Qxb2 Ne5 and the c4-pawn falls with quite a crash.]
23…Nb6 Posing a reasonable question. The weakness of the c4-pawn seems to force the exchange on b6.
    [The alternative was 23…a3!? – going to its death the pawn might introduce disharmony into the white set-up.]
24. Bxb6 Exactly. 24…Qxb6 But nothing terrible has happened to White. The e5-bishop is firing into space. All that's left is to stabilise the queenside – then it'll be possible to think about attacking options.
25. Rb1 Cunning! The Norwegian grandmaster is probably intending to attack with b4-b5. At the right moment, of course.
    [I'd have chosen 25. a3 Qa6 26. Rc1]
    [While the computer, a boisterous fellow, first recommends
25.b5 cxb5 26.Rb1, but after
26…Qc5 27.Rxb5 Qxc4 28.Rxb7 Qxc2 29.Rxc2 Rc8 it begins to realise that it got a bit carried away. Here Black is at least fine.]
25…Qc7 The American retreats his strongest piece from being under attack. The exchange of the c4 and a4 pawns would suit him, of course. Time trouble is approaching: 0:50 – 0:25. But there aren't that many moves left until the control.
26. Nd4 Correct. There's no point rushing. Let your opponent suffer, expecting an attack. No active play for Black is visible.
26…Rc8 Logical prophylaxis, preparing to meet 27. b5 by simply taking 27…cxb5.
27. Rc1 Qe7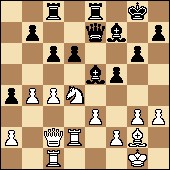 It seems as though Black's defence is solid, while at the given moment the a4-pawn is poisoned. Can you guess why?
28. Rd3 Carlsen, of course, solved that puzzle.
    [The answer's simple: 28. Qxa4? Bxg3! 29. fxg3 Qxe3+ with great losses for White.]
28…c5 Nakamura's right again. Instead of reflecting on the sad fate of the a4-pawn it's better to distract White's attention from it. Or write it off! Black's attack has been fully prepared. The knight on d4 itself stepped into the firing line. Now, it seems, you can get to the c4-pawn. Complications are beginning. The instruments show: 0:40 – 0:16.
    [Including 28…h5 29. h4! would only have worsened Black's position.]
29. bxc5 It's not certain this is the best choice, but it's the simplest.
    [A small edge was maintained after 29. Ne2! cxb4 30. Qxa4 Rxc4 31. Rxc4 Bxc4 32. Bd5+ Bxd5 33. Rxd5 – White wins back the pawn and puts pressure on Black's weaknesses.]
29…Rxc5 The minus of White's continuation is that after taking on a4 d6-d5! follows, and then you take on c4 with the pawn – which becomes a dangerous passed pawn.
30. Qxa4 Well, we'll test it out.
    [At least worthy of attention was 30.Qd1 Rxc4
(30…Bxc4? 31.Rxc4! Rxc4 32.Bd5+)
31.Rb1! with dangerous pressure for the pawn. White should, at the very least, be able to restore material equality. For example,
31…Rc7 32.Nb5 Rd7 33.Qxa4 and so on.]
30…Rec8?! A surprise, and I suspect a pleasant one for Magnus!
    [It was after all stronger to play
30…d5, but, it has to be said, you could sink in the calculations here:
31.Ne2! dxc4
(31…Rxc4 32.Qd1!)
32.Rd7 Ra5! and so on. The pieces jump around, your eyes see double…]
31. Rb1! Rxc4 32. Qd1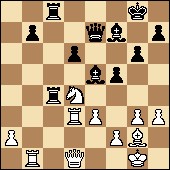 The pressure of the black piece batteries is directed at nothing. The b7-pawn is weak, the d5-point is bare. The black king will be weak in future. Conclusion: White has an edge again. And this time quite a noticeable one.
32…b6 Unconvincing bait. Hikaru makes it so taking the pawn will happen without an attack on the black queen – and then it'll be possible to take the white one by infiltrating with the rook on c1.
33. Nb5 An unpleasant move in chess terms, and also carried out quickly. Black's d6-pawn is weak. Besides, in some lines White is able to crowd out its faithful defender with f2-f4. Time is melting away on the clocks like snow on your hand: 0:28 – 0:06. Things are getting worse and worse for Nakamura.
33…R4c5 With his flag about to fall he strives for clarity – even at the cost of losing a pawn.
    [It was, of course, more stubborn to play 33…Rd8.]
34. Nxd6 Carlsen accepts the offer.
    [It would make it easier for Black if you played
34.a4 Ba2! 35.Bd5+ Rxd5 36.Rxd5 Bxb1 37.Qxb1 Rc5! – here he has chances of equalising.]
34…Bxd6 35. Rxd6 Bxa2 36. Ra1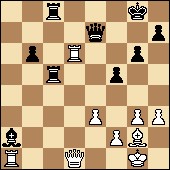 After the loss of the d6-pawn a painful defense awaits Black and his weak king.
36…Rc1 With only a minute left on his clock Hikaru has come up with a way of elimintating the rook livestock.
37. Rxc1 Rxc1 38. Rxg6+ You have to grab the pawn.
38…hxg6 39. Qxc1 Qd6 So then, White has won a pawn, but Black in exchange has gained a promising outside passed pawn. And therefore chances of survival.
40. h4 Bf7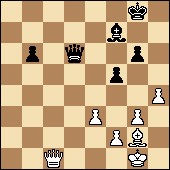 The control has passed. We'll drink the traditional mug of coffee (a small cup is no longer enough) and, without rushing, have a think about the position that's arisen.
    [It was still too early to start the race:
40…b5? 41.Qc8+ Qf8
(41…Kg7 42.Qb7+)
42.Qa6! and the runner is the first to die.]
41. h5 A powerful and very well-timed blow. Carlsen is confidently disembowelling his opponent's kingside. If the pawn's taken on h5 then check on c8 follows. The black king is becoming even more bare. The time isn't far away when White will get a pair of passed pawns. But in queen endings, as an even just slightly competent chess player knows, it's not the number of passed pawns that's important, but how close they are to their goal. So the task for Black is extremely clear – to push his pawn. Perhaps even at any cost.
41…Kh7 Correct. You have to suffer.
    [It was no good to play
41…gxh5 42.Qc8+ Kg7 43.Qxf5]
    [Or 41…b5 42.hxg6 Bxg6 43.Qc8+ Qf8
(43…Kg7 44.Qb7+)
44.Bd5+ Kg7 45.Qd7+]
42. hxg6+ It's not certain. It's not certain that it was worth immediately defusing the situation.
    [It looked good to play
42.Qb1 with the idea of
42…Qc5 43.hxg6+ Kxg6 44.g4!]
42…Kxg6 It's possible that here as well Magnus has come up with a way of opening up play. 43. e4 is asking to be played. There are also other appealing options.
    [If 42…Bxg6 the bishop becomes more like a pawn – 43. Qc8!]
43. Qc2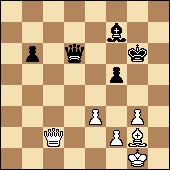 I've got no objections. The queen is targetting both the f5-pawn and the black king. There's still no time for the b6-pawn to take any steps, as after all 44. g4 is threatened.
43…b5 Hikaru is decisively contradicting me! Not even knowing it… He's actually carrying out my maxim: push your trump pawn at any cost. For example, the cost of the f5-pawn.
    [It was more solid to play 43…Be6 44. g4 Kf6]
44. g4 Of course.
44…Qe5 Amazingly quickly played. He'd thought about it in advance and then carried it out.
    [The most principled move was 44…b4 45. Qxf5+ Kg7 – you know, it's not so easy to find the win for White here. If there is one.]
45. gxf5+ Kg7
    [Of course not 45…Qxf5? 46. Be4]
    [After 45…Kf6 there's the unpleasant 46.Qc6+ with the simple idea of
46…Kxf5? 47.Bh3+ Kg5 48.f4+ and Black is left without a queen.]
46. Qe4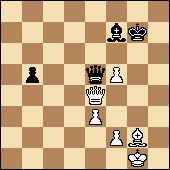 Accurately calculated. The exchange of queens, when I had a quick look at it, leads to a win for White. The b5-pawn is neutralised, move by move.
46…Qd6 Nakamura has repeated Carlsen's calculation, or simply believed him to save time. Which, however, there's still plenty of: 0:52 – 0:42.
    [I work on the principle "Verify, don't trust":
46…Qxe4 47.Bxe4 Ba2
(or 47…b4 48.f4 b3 49.Kf2 b2 50.Bb1!)
48.f4 b4 49.Kf2 b3 50.Bd5! (you need to have spotted this resource in advance)
50…Kf6 51.Ke1
(and also that it's no good to play 51.e4? Bb1!)
51…Kxf5 52.Kd2 – White calmly disposes of the b3-pawn and wins without any trouble.]
47. Qh4 You could also have given check on g4. However, White in any case has great winning chances. The black passed pawn should be held in check by the bishop… Or the queen! It looks as though Magnus has come up with the cunning 48. f6+! to meet 47…b4. Exchanging pawns would lead to an easily won endgame for White.
47…Bc4 A solid move, but it doesn't create any constructive ideas. For now the b5-pawn can't be moved.
48. Bf3 Played with solidity to spare. White isn't allowing Black to make even a single active move. There isn't even a check on d1, while the bishop will enter the attack from f3.
    [It was more decisive to play
48.e4 with the idea of
48…b4 49.e5! and then, for example,
49…Qd1+ 50.Kh2 Qc1 51.f6+ Kf7 52.Qh7+ Ke6 53.Qe4 – and after check on h3 White finishes off the black king.]
48…Qf6 Having realised that his king will fall first with queens on the board, Hikaru is returning to the idea of exchanging queens. White has a pleasant choice – the exchange is good, as is rejecting it with 49. Qf4.
49. Qxf6+ Simple and strong.
49…Kxf6 50. Be4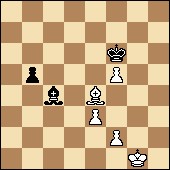 The game has entered the finishing straight. Black can't be saved.
50…Ba2 Nakamura is testing out the main line.
    [I'll repeat what I've said before: 50…b4 51. f4 b3 52. Kf2 b2 53. Bb1! and then e3-e4-e5.]
51. f4 b4 52. Kf2 b3 53. Bd5! That's the main move.
53…Kxf5 54. Kf3 Black's helpless.
54…Kf6 The American is fighting to the end.
55. e4 Kg6 56. Ke3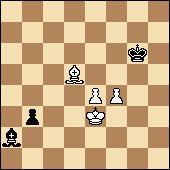 The Norwegian grandmaster isn't rushing and is playing extremely solidly. As required.
56…Kh5 The Guard dies, but does not surrender! (Translator's note: Sergey's Russian is a translation of the French "La Garde meurt mais ne se rend pas!" attributed to the French General Pierre Cambronne during the Battle of Waterloo.)
57. Kd4 Kg4 58. f5 Kg5 59. Ke5 BLACK RESIGNED. A convincing win for Carlsen! A fair outcome of the play. He's seriously improved his position and slowed down one of his main rivals. Moving ahead today were the titans of chess – Anand and Kramnik, who both achieved standard wins. For now McShane is still holding up well, but he's already lost the sole lead. The real struggle's still ahead of us. Thank you all for your attention. Grandmaster Sergey Shipov wishes you a good Sunday. Tomorrow we'll meet again, for the fifth round. All the best!
1-0
Game viewer by Chess Tempo
I'll be translating Shipov's commentary on Rd 5 live here: http://www.chessintranslation.com/live-game/