A lot's already been written about Kramnik's fateful piece sacrifice against Nakamura, but surely only Sergey Shipov, providing live commentary on the second round of the London Chess Classic at Crestbook, could have used a story about a turnip to explain what Kramnik should have done instead!

Sergey Shipov's commentary in the original Russian, with a board on which to play through the moves and analysis, is at Crestbook. 
GM Sergey Shipov's live commentary on:
London Chess Classic 2010, Rd 2
VLADIMIR KRAMNIK – HIKARU NAKAMURA

Hello, dear friends. With you once again is Sergey Shipov, and there's no change in the offing. There are few of us, terribly few! And a lot of tournaments. And just too many interesting games. You can't cover it all. Today the vote at the KC-Forum was for the game between the ex-World Champion and the leader of American chess. On the whole I've noticed the attention of fans switching from Carlsen to Nakamura. Perhaps it's only temporary, but on the other hand it's a very good thing – you can't only focus on one figure. The appearance of bright, new, and even occasionally scandalous, warriors will maintain the interest of the press and public in chess. Or rather, not allow it to die out entirely. In the mainstream media and on TV there's a consistent silence about our game, as a rule. It's left to us to do something about it, enthusiasts and devotees. Not for the first time… But returning to London. We await the resurrection of Carlsen against Adams, more fireworks from McShane and other interesting events. By the way, also playing today are Howell-Anand, Carlsen-Adams and Short-McShane. I hope it'll match the first day for decisive results. And may blood be spilt!… The extended pause before the start brings to mind the anti-cheating delay which some organisers introduce into game broadcasts. Well, I'm not against it. And I'm even for it. It's a necessary thing i.e. at times forced upon you.
(Translator's note: a Tweet by Nakamura 50 minutes before the start: "Shipov's comments are always incredibly amusing to read! Oh well, I guess it is time to go play some game called chess?!")
1. Nf3 Kramnik's trademark first move. He doesn't want, as he didn't want in his childhood, to play the Grunfeld or the Nimzowitsch Defence. But, of course, for all that's gained there are also losses…
1…Nf6 2. c4 Note that the pawn's not rushing to stand on d4.
2…e6
    [Prepared for 2…g6 is 3. Nc3 d5 4. cxd5 Nxd5 5. Qa4+! – the so-called Anti-Grunfeld.]
3. Nc3 Now the Queen's Indian Defence won't work either, as after 3…b6?! there would follow 4. e4!
3…Bb4 A flattering offer to switch to the Nimzowitsch Defence, after 4. d4.
    [It's entirely understandable that Nakamura didn't want to compete in the Vienna Variation of the Queen's Gambit 3…d5 4. d4 dxc4. It's true that instead of taking on c4 you could bring out the bishop to b4, or more solidly, to e7. But in all the lines his theoretical knowledge would clearly be inferior to the arsenal of the ex-World Champion.]
4. g3 A modest choice, clearly modelled on the Catalan past and present. The bishop on g2 is a common weapon.
    [If Vladimir was a little younger, he'd throw the pawn twice as far – 4. g4!?]
4…c5 Switching to the English Opening with a strange black-squared bishop for Black.
    [Here it's more common to play 4…0-0 – that definitely useful move is more flexible.]
5. Bg2 0-0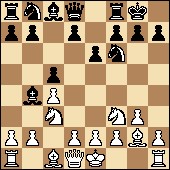 Note that Hikaru isn't rushing to exchange on c3. Clearly nothing's stopping the bishop returning via a5.
6. 0-0 The question is – how can Black develop further? Playing b7-b6 is terrifying because of Nf3-e5 or d2-d4-d5! And if you immediately play d7-d5 then you get a slightly worse Tarrasch Defence.
6…d6 Sensible flexibility. And in principle if the fate of the bishop is to be exchanged on c3, then it's better to put the pawns on black squares, so that the remaining white-squared bishop feels a little freer. But, according to my database, the given move has very rarely been used in practice.
    [More often played here is 6…Nc6, after which White is within his rights to either develop calmly (7. d3, 7. a3 etc.) or to immediately break open the centre with 7. d4, in order to get an advantageous version of the Hedgehog.]
7. d4 All correct. There was no sense in remaining modest. Formally it's a novelty, but it can't be ruled out that we'll get to known positions again with a different move order. Nakamura has "fallen asleep"… During such a deep and prolonged sleep I'll congratulate Hikaru – today's his birthday! May his stay in the elite be long and successful. And may he play less blitz… :)
    [Here's one of the predecessor games:
7.d3 Nc6 8.e4 Re8 9.Ne2 Ba5 10.Be3 Qe7 11.Rc1 Bd7 12.h3 a6 13.Nd2 b5 14.Nb1 Bb6 15.b3 Rac8 16.f4 Kh8 17.g4 Ng8 18.g5 f6 and in the ensuing battle the sides turned out to be evenly matched, S. Savchenko – S. Satyapragyan, Dubai 2010.]
7…Bxc3 Correct. In the given pawn structure that bishop isn't needed. Like that violin player from Daneliya's film… (Translator's note: Kin-dza-dza!)
8. bxc3 The position strongly resembles the Nimzowitsch Defence, and in a pleasant form for White. Black still has some problems in development. The most unfortunate piece is the c8-bishop.
8…Qe7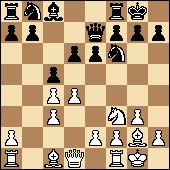 An attempt to improve the situation. If you manage to play e6-e5 then the bishop will be revived. The situation on the clocks is quite lopsided: 1.50 – 1.22. Here I had the idea of looking in my database and found out that my suggestion had come true – we've returned to the rails of theory! Along which quite a number of trains have hurtled past… And there's nothing surprising in the fact that they almost all began with the moves 1. d4 Nf6 2. c4 e6 3. Nc3! Bb4! I was also right to mention Uncle Nimzowitsch's influence on the game. As they say, if you won't praise yourself, who will? Now, for the first time in the game, Kramnik has sunk into serious thought. Clearly he didn't prepare this particular line. And, as I've said more than once, the move order in the opening had the intention of avoiding the Nimzowitsch Defence. But it's turned out that the game's ended up there anyway. Well, that's a reason to praise Nakamura's creativity. He grasped where to lure his opponent…
9. dxc5 An understandable desire, from a practical point of view, to play more straightforwardly in an unknown situation.
    [For me the most principled move was
9.Bf4 – that maintains the tension and doesn't allow e6-e5.]
    [And here's the heaviest train to have hurtled past along these rails:
9.Bg5 Nbd7 10.Qd3 h6 11.Bxf6 Nxf6 12.dxc5 dxc5 13.Rfd1 Bd7 14.Ne5 Ba4 15.Qd6 Rfe8 16.Rd2 Rac8 17.Rb1 b6 18.Rbb2 Qxd6 19.Rxd6 Red8 20.Rd3 Kf8 21.Rbd2 – draw, K. Georgiev – Adams, Turin 2006. Of course, I'm measuring weight in Elo points.]
9…dxc5 White's structure isn't the best, but he's a couple of tempos ahead in development. It's important to squeeze the maximum out of that time advantage before it slips away…
10. Ne5 A move emphasising the difference in strength between the white-squared bishops. If White manages to put the required pressure on b7 then Black will be in trouble. The players' time usage has levelled out: 1.15 – 1.16.
10…Qc7 A novelty – an attempt to drive the active knight away from the centre. On 11. Bf4, I sense, 11…Nh5 has been prepared. It seems as though everything holds together for Black i.e. he's not going to lose straight away! But in that line there's also the modest move 12. e3. You can, of course, retreat the knight to d3 – an excellent square, by the way. It's also useful to put pressure on c5. In general, it's a pleasant choice for White.
    [Previously a more natural continuation was played:
10…Nbd7 and then
11.Nxd7 Nxd7 12.Qb3 Rb8 13.Rd1 b6 14.Qa4 Nf6 15.Bg5 e5 16.Rd2 Bf5 17.Rad1 h6 18.Bxf6 gxf6 19.Bc6 Rfd8 20.Bd7! with an edge for White, H. Ramanna – R. Leenders/ Netherlands 1994]
14. Bf4 Nh5 My premonitions didn't fail me. Today's my day!
    [It would have been a clear mistake to play
11…g5? on account of 12.Ng4! gxf4 13.Nxf6+ Kg7
(13…Kh8 14.Qc2!)
14.Nh5+ and White's left with a healthy extra pawn.]
12. Qd2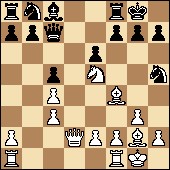 A clear provocation. Vladimir's offering his opponent the chance to win a piece with the move 12…g5. And to perish as a result of the coming white attack on the kingside.
    [It looked more solid to play 12. e3, after which the white pieces, like the characters in the fairy tale about the turnip, hold each other. Grandad holds grandma, i.e. the f4-bishop holds the e5-knight. Let's call their grandaughter the e3-pawn. The dog is definitely the f2-pawn, and the cat and mouse can be the white king and the f1-rook. And who then is the turnip? No doubt the black queen. But then how will they be able to pull it out… According to logic you'd get something like: 12…Nxf4 13. exf4 Nd7 14. Qh5 and, maintaining the e5-outpost, White would hold the initiative. There would follow doubling rooks on the d-file with an edge, in my opinion.] (Translator's note: thanks to the marvels of Google, you can read the fairy tale.)
12…g5 Hikaru deserves our praise – even just for how principled he is. And for making the game spectacular. It's getting interesting!
    [You couldn't solve the problem with half-measures. For example,
12…Rd8 13.Qe3 Nxf4 14.Qxf4 f6 15.Nd3 and in all lines White has very strong pressure on the queenside and the d-file.]
13. Bxg5
    [Clearly worse was 13. Ng6 gxf4 14. Nxf8 Kxf8 – here White has no attackers left, and the rooks won't get to enjoy themselves.]
13…Qxe5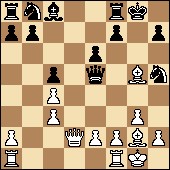 What on earth's happened? White's sacrificed a knight for nothing more than a pawn. But he has the prerequisites for an attack on the black king, and his opponent's queenside is still in a coma.
14. Rad1 A very solid developing move. But, it seems, not concrete enough – giving Black the chance to catch his breath.
    [After 14.g4 Black wouldn't fall for the trap
14…f6? 15.Bh6 Ng7 16.Bf4! capturing the queen. It's much better to play the cold-blooded 14…Ng7, after which analysis doesn't show anything convincing.]
    [However, it looked extremely strong to play the sharp
14.f4 Qc7 15.f5! True, in the line
15…exf5 16.Bf6! Nxf6 17.Qg5+ Kh8 18.Qxf6+ Kg8 it seems White has nothing better than a perpetual. Although… Although, it's worth checking
19.Rad1! – if you can bring another attacking piece (or a pawn) up to the black king, then instead of checks there'll be mates. And one would be enough.]
14…f6 Natural and strong. The black-squared holes in the black king's clothing have to be covered.
    [I'd no doubt have chosen 14…Nd7 – being so far behind in development doesn't appeal to me. By the way, that's also not a bad continuation.]
15. Bh6 Ng7 The knight, of course, isn't a pawn, and clearly isn't as good at stitching things together. But in the future he can become an active piece again…
16. Bf4 White's attacking resources are a little thin. The position is closed in character, and it's not so easy to invade the opponent's camp.
16…Qh5 Now you can post the bishop on d6, but then Black will simply retreat the rook to e8.
17. Bd6 Re8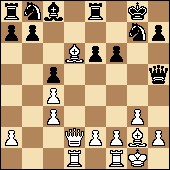 Exactly. And what has White achieved? He's a piece down, and the black king's feeling ok. The queenside will be developed next. The c5-pawn can be won if you want – not a great loss. No, Kramnik clearly made a mistake on the 14th move… Although he's in fact no doubt now criticising himself for the overly creative and reckless 12th move. The simple and solid 12.e3! would have given White a persistent, and more importantly, comfortable edge. While now he's taking real risks… As a member of the KC-Forum rightly noted, if Kramnik wanted to give Nakamura something on his birthday it would have been better to give… a small cake. But a whole knight – that's going too far. Too generous! Time is slipping away in sorrowful reflections: 0.36 – 0.43. Time trouble is approaching.
18. Qf4
    [Going after the pitiful c5-pawn would have cost White the loss of the initiative: 18. Bf3 Qf5 19. g4? Qg6 20. Bxc5 Nc6! and Nc6-e5 is already threatened.]
18…Nd7 The first harbinger. Soon Black's advantage in terms of piece numbers will become obvious. The knight can either go to e5 or to b6 – then it'll be the turn of the c8-bishop. But first you have to solve the problem of the f6-pawn.
19. g4 You have to attack. Otherwise it's a slow but sure death.
19…Qf7 Played, as they say, a bit more solidly. I think it could also have stopped at g6.
    [In which case it's no good to play 19…Qg6 20. Be4 because of f5!]
20. Rd3 Creaking and groaning, the white rooks are entering the fray. But who are they going to attack? It's too cluttered on the board, and Black's too solid. However, gaining tight control of the d-file is definitely useful – and then you can go from there.
20…e5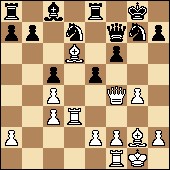 Correct. Solidity, humbleness, modesty and other similar qualities are no longer required – you need to deploy your forces and realise the potential energy of your pieces, which include an extra one. The move in the game greatly increases the stock of the c8-bishop. It's possible that it'll even manage to make a move in this game! The a8-rook certainly hopes so…
21. Qh6 All that's left is to bring out the bishop to e4 and also switch the rook to h3. But Black isn't obliged to wait for death to come.
    [Playing passively didn't leave any hope of a positive outcome:
21.Qg3 Ne6 22.e3
(22.Bd5 Nb6!)
22…Qg6 23.Rfd1 e4! 24.R3d2 Nb6, and things are bad for White.]
21…Qg6 The fewer queens on the board, the closer to an endgame with an extra piece.
    [Even stronger and more decisive was 21…e4! 22. Re3 f5 with sharp and advantageous play for Black. But it's easy to understand Nakamura's desire to squeeze the life out of the game.]
22. Qxg6 hxg6 Now "playing for pawns" begins (Translator's note: this phrase is usually used the other way around, when a mating attack begins and you're no longer "playing for pawns"). White needs to try and take a couple. Let's say, on c5 and b7.
23. Be4 The Russian grandmaster isn't abandoning his attempts to open up the enemy king. With that in mind he's provoking the f6-f5 advance but, it seems, missing a strong refutation… I'm thinking of the move 23…Nb6! The American's thinking. It's good that his supply of time hasn't yet run out: 0.17 – 0.22.
    [It was better to play 23. Bd5+ Ne6 24. f4! and in those muddied waters you might still catch a fish…]
23…Kf7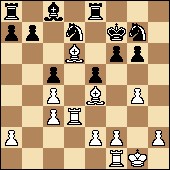 Strange. Very strange! After thinking for almost 15 minutes Hikaru played modestly, not taking advantage of a completely obvious chance to settle the struggle in his favour. With the move in the game his king comes under pressure from the f1-rook.
    [After 23…Nb6 Black's main idea was to develop quickly: 24. Bxg6 Bxg4 – here White's position is completely hopeless.]
24. f4! Of course. Now there's some suspense again. And less and less time…
24…exf4 25. Bd5+ Ne6 26. Bxf4 The white pieces are being deployed ready for battle. True, to create a really strong attack you could do with some more of them.
26…Nb6 "It never rains but it pours!" – so thought a native, sitting in a tree and looking at three crocodiles waiting for him below… Hikaru has clearly lost his self-control and begun to make one inaccuracy after another.
    [It was clearly more precise to play 26…Kg7 first.]
27. Be5 Kramnik's moves are simple and natural. He's getting real chances of… Saving himself, of course.
27…Nxd5 28. cxd5 The f6-pawn falls. White's compensation for the knight he once sacrificed is growing by the minute.
28…Nf8 29. Rxf6+ Kg8 30. Bd6 For now the g4-pawn can't be taken by Black (because of taking on f8 and g6). Always the same problem.
30…Kg7 31. Rf4 White has preserved two pawns (for the knight), and also a certain intiative.
31…g5!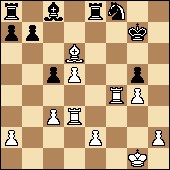 Nakamura, it seems, has gathered himself together and is again making strong moves. The move in the game gives Black a certain space to operate.
32. Rf2
    [Leading to a hopeless position was
32.Rxf8 Rxf8 33.Bxf8+ Kxf8 34.Rh3 Kg7! 35.Rh5 Bd7! 36.Rxg5+ Kf6 37.h4
(37.Rh5 Bxg4)
37…Rh8 and so on.]
32…b6
    [32…Bxg4 is bad on account of 33.Rg3!]
    [But 32…Ng6 with the idea of
33.Bxc5 Nf4! was strong]
33. Rfd3 Invading on f7 is an excellent chance.
34…Ng6 Calm and strong. You understand, of course, that no-one has yet died from a check.
34. Rf7+ Kh6 The king is in a cosy box.
35. h3 Defending the pawn and again putting obstacles in the way of the development of the c8-bishop.
35…Ba6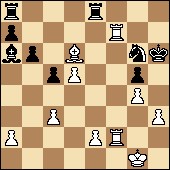 But it still got out. Which means that the a8-rook will soon also enter the fray, and Black maintains a solid advantage.
36. R2f6 Kramnik is attacking powerfully, threatening the h3-h4 blow! The time on the clocks: 0.01 – 0.03 i.e. almost none…
36…Bxe2 Sober calculation.
37. Be7 Trying to get the d5-pawn to the eighth rank.
    [37. h4 didn't work because of 37…Bxg4!]
37…Bc4 Another accurate defensive move.
38. Rd6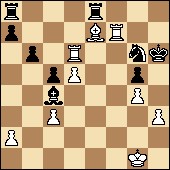 In extreme time trouble the players are playing very well. Extremely well!
38…Bxd5 I jinxed Nakamura. He rushed and took illusory threats for real ones.
    [He should have cooly started by moving the queenside pawns from under the attack of the white rooks. Let's say with,
38…b5 and if 39.Bf6 there's the refutation 39…Re1+ 40.Kh2 Rg8! with a decisive advantage for Black.]
39. Bxg5+ A simple combination, complicating the life of the black king.
39…Kxg5 40. Rxd5+ Kh4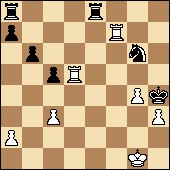 With his flag about to fall Hikaru managed not to blunder mate-in-one, but his most precious piece remains in a dangerous position… The time control has passed. I encourage all spectators, and also the players in the game, to drink a cup of coffee!
41. Rf3? What? Why? Vladimir has clearly been too hasty. He didn't finish his cup of coffee…
    [There would practically have been equality after 41.Kg2, as then it's possible to organise serious threats. Here's the main line:
41…Re2+
(simple is 41…Re5 42.Rxe5 Nxe5 43.Rf5 Nxg4 44.hxg4 Kxg4 45.Rf7 with an obvious draw)
42.Kf3 Re5 43.Rh7+ Kg5 44.h4+! (maybe Vladimir missed this subtle resource… though he should see things even trickier than that!)
44…Nxh4+
(there's a strong initiative for White after
44…Kf6 45.Rd6+ Re6 46.g5+ and so on – the pawns crawl forwards)
45.Rxh4 and on Rxd5 there's the saving
46.Rh5+ In general, it would be a draw.]
41…Re5 Of course. Now Black's in time to rebuff all White's threats and keeps that same knight he was once gifted.
42. Rxe5 Nxe5 43. Rf5 And here it becomes clear that Black isn't obliged to give up the knight on g4, as in the variation given above. White's clearly missing the king on g2.
43…Nd3 "Mine! I won't give it up!"
44. Kh2 Rh8 The mate doesn't work. The only question is whether Black can free the king? In my opinion he can, as after all the knight can move freely.
45. a4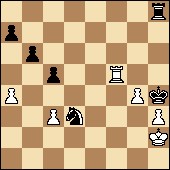 Exchanging all the pawns – that's Kramnik's last chance of salvation.
45…Rh6 But it won't be easy to do.
46. Kg2 There's nothing you can undertake. So you stand and wait…
    [On 46. a5 there would follow 46…bxa5!]
    [On 46. Rd5 – Nf4!]
46…a5 The most technical move. When the a4-pawn falls, and that's inevitable, Black will get a fast-moving outside passed pawn.
47. Kf3 No worse than any other moves.
47…Nb2 The goal is close.
48. Kf4 A psychological attack i.e. it could only be successful if your opponent took fright and invented something that doesn't exist.
48…Nxa4 But Nakamura is back on top of things. He has confidence in his position.
    [The most terrible of blunders 48…Kxh3? 49. Rh5+! with a win for White, isn't going to happen.]
49. c4 Nc3 The path's clear for the passed pawn.
50. Ke3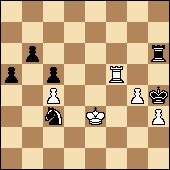 An attempt to stop the runner.
50…a4 51. Kd3 Nd1 A simple trick. If 52. Kc2 then there's a knight fork on e3.
52. Rf8 Vladimir is fighting to the last. He must now be very annoyed with himself… He almost managed to save the game, but then snapped.
52…Kxh3 53. g5 Rd6+ 54. Ke4 Kg4 The black pieces are always in time. There are just too many of them. WHITE RESIGNED. What can you say? Only Happy Birthday, Hikaru! (Translator's note: that was in English!) He had a great party. Only one guest turned up, but he was a very highly-regarded chess player. And he brought a wonderful present. Kramnik, coming out of the opening, had a solid edge, but then clearly lost control. He played not in his style, but in the style of Tal and Kasparov, sacrificing a knight. But such play requires extremely precise calculation, a subtle sense of dynamics and great decisiveness. Vladimir took things slowly and ended up with nothing. Then he gathered himself together, however, and put up heroic resistance – which brought him success. Hikaru got edgy in an easily-won position and gradually let his advantage slip. But after the time control history repeated itself – with a sure path to salvation available to him Kramnik blundered, and at the second attempt Nakamura managed to convert his advantage. Well done! The American's had a great start. In two games against chess titans he's picked up one and a half points. That's a wonderful starting position in the fight for first place… Working for you, dear friends, has been Grandmaster Sergey Shipov. We'll meet again tomorrow, at the usual time – 17:00 Moscow time (14:00 UK time). All the best! P.S. All my expectations today came true! Carlsen reanimated his fans by overcoming Adams, while McShane won a second game in a row, this time against Short. He's in first place. And the number of decisive games, you'll note, hasn't dropped…
0 – 1
Game viewer by Chess Tempo
I'll be translating Sergey Shipov's commentary on the third round, LIVE, here: http://www.chessintranslation.com/live-game/
It should start at about 14:00 UK time.
Friday 10 December, is also the final chance to ask super-GM and ex-World Champion Ruslan Ponomariov a question. The questions can be on anything you want! http://www.chessintranslation.com/2010/12/your-questions-for-gm-ruslan-ponomariov/