According to Sergey Shipov, providing live commentary on the London Chess Classic for Crestbook, Hikaru Nakamura was in dire need of a saw to rearrange the chessboard in his first round game against Vishy Anand. Despite the missing item the American still clung on for a very hard fought draw.
Sergey Shipov's commentary in the original Russian (with a board on which to play through all the moves and variations) is here at Crestbook. 
GM Sergey Shipov's live commentary on:
London Chess Classic 2010
VISWANATHAN ANAND – HIKARU NAKAMURA
Hello, dear chess fans and connoisseurs! This is www.crestbook.com expert Grandmaster Sergey Shipov beginning commentary from London, where the now traditional supertournament is taking place. No, no, I haven't traveled to the English capital myself. Why should I? Everything's perfectly visible on the internet. My task is to decipher what's going on at the board and explain it to you, dear friends. Chess is a complex thing. And when supergrandmasters try to trick each other at the board, not everyone's capable of immediately grasping what's going on… The line-up of the current tournament is impressive. The trio of Anand, Carlsen and Kramnik are a highlight of modern chess, and it's extremely difficult to place them in order. They've got almost the same ratings, and they can all come out on top against the others in tournaments. I'm sure that trio will include the future tournament winner. Of course, it's interesting to see how Nakamura performs – he was able to force people to respect him at the Tal Memorial. From the English I expect only local successes. They're not capable of fighting on equal terms with such powerful conquerors… [Translator's note: Sergey went on to mention that it's possible to vote for which game you want him to comment on at the KasparovChess forum, and to enter a prediction contest – but that's all in Russian. He also explained how to refresh his commentary…]. So let's begin. The World Champion is competing with the USA's best chess player.
1. e4 It's good to see that not all elite players have migrated away from open positions. There are still fighters on the Earth capable of taking on the Petroff and overcoming the Berlin Wall!
1…e5 2. Nf3 Nc6 3. Bb5 Nf6 By the way, the wall's in front of you now. A long time ago, at the end of the 19th century, Lasker and Tarrasch, living in Berlin, began to use the line successfully. While the label "Berlin Wall" came along much later, after the real Berlin Wall had fallen and after the Kasparov-Kramnik 2000 match, which also, by the way, took place in London.
4. 0-0 Nxe4 5. d4 Nd6 6. Bxc6 dxc6 7. dxe5 Nf5 Qxd8+ Kxd8 The variation's tabiya. The exchange of queens protects the black king from mating threats – but it gives White a pawn advantage on the kingside and the initiative. Black also has an ace up his sleeve in the two bishops. Along with great drawing tendencies.
9. Nc3 Bd7 One of the many topical continuations. It first saw the light of day only 15 years ago – which for such an ancient line is very recent. This was just how Kramnik played against Kasparov 10 years ago! The point of the move is that Black wants to hide the king on b7 after Kd8-c8 and b7-b6.
    [Also popular is 9…h6]
    [and 9…Ke8]
    [However, if you take a deep look in the database then you can find plenty of games with the moves 9…Be6]
    [9…Ne7 and more. The variation tree has an exceptional number of branches.]
10. h3 White is preparing the g2-g4 advance.
    [Having twice mentioned the classics I'm obliged to give an example of their games:
10.b3 h6 11.Bb2 Kc8 12.h3 b6 13.Rad1 Ne7 14.Ne2 Ng6 15.Ne1 h5 16.Nd3 c5 17.c4 a5 18.a4 h4 19.Nc3 Be6 20.Nd5 Kb7 21.Ne3 Rh5 22.Bc3 Re8 23.Rd2 Kc8 24.f4 Ne7 25.Nf2 Nf5 – draw. That was how the first game of the London 2000 match ended.]
10…h6 While Black doesn't want to see White guests on g5.
11. b3 Kc8 As you can see, today's opponents are gradually, with a different move order, approaching the path taken by the great Ks. I think Vladimir Borisovich on the neighbouring table will now be taking an interest in the given position. And will notice that he's seen it somewhere before…
12. Bb2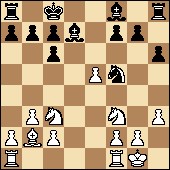 And now they've coincided completely. We'll soon learn what new ideas chess science has uncovered in this position in the past decade. Nakamura's thinking for a long time. He's casting a glance at the theoretical path taken, and remembering his analysis…
12…b6 You couldn't come up with a more logical move. At the end of the day, that's precisely Black's general idea. But who's going to allow it to be carried out…
    [Also tried was
12…Ne7, but Black can't allow himself excessive creativity. For example:
13.Rad1 c5?!
(it's more solid to play the standard 13…b6)
14.Rd2 b6 15.Rfd1 Be6 16.Ne2 Ng6 17.Rd8+ Kb7 18.Rxa8 Kxa8 19.Ng3 Be7
(19…h5 20.Rd8+ Kb7 21.Ng5!)
20.Nh5! Rg8 21.g4 and in the game R. Robson – M. Khachiyan, Saint Louis (USA) 2010 White got a persistent edge.]
13. Rad1 Of course. The king can't yet slip away to b7 – it would be a shame to leave the d7-bishop unprotected.
13…Ne7 An extremely important move for Black – in the Berlin line as a whole. That's how Black switches the knight to g6 to attack the e5-pawn, and also frees the f5-square for the bishop. According to Kramnik this manoeuvre can be ascribed to Zoltan Almasi – who really did use it often in the mid-1990s. But according to my knowledge the knight was also dispatched via e7 in the Berlin line before, and not by bad players at all. Bisguier in 1964, Minev in 1966, Reshevsky in 1977 and so on. In general, it's a moot point… While for now Anand is thinking for a long time about that well-known position. The time usage for both players is about the same: 1.36 – 1.37. Garry Kasparov has dropped into the PlayChess playing area (where the games are also being broadcast). I don't think the position in our game will have delighted him. It'll have forced him to remember what he'd like to forget once and for all…
14. Rfe1 And here's the expected sidestep – onto almost untrodden ground. Actually the move looks very blunt, even formulaic. But in chess everything's unsteady and deceptive. All the glitters isn't gold. Nor is everything that repels you wrong… So, the rook's come to the centre, overprotecting the e5-pawn. The knight remains on c3. Apparently in case of c6-c5. Then the weakening of the d5-square might tell. It's Black's move.
    [Apparently nothing constructive could be found in the path taken by the Champions: 14. Ne2 Ng6!]
14…c5 Nevertheless. For now the white knight won't move to d5 (the exchange of knights clearly isn't in White's favour), so it seems that Black has a constructive idea for reorganising with Bd7-c6 and Kc8-b7. If he can manage to bring the queen's rook into the game then all his problems will have been resolved.
15. Ne2 Normal heroes always go around. (Translator's note: the title of a song in the Russian children's movie, "Aybolit-66")
    [Clearly what was already played in the game M. Cornette – A. Rizouk, Montpelier 2003 was unsuccessful, as Black firmly seized the initiative:
15.Nd2 Be6 16.Nf1 Kb7 17.g4?! h5 18.Ne3 Ng6 19.Ne2 hxg4 20.hxg4 Nh4! 21.Rf1 g5 22.f3 Bg7.]
15…Ng6 Where the white knight goes, the black one follows – not allowing his opposing number to f4, after which there would be the unpleasant threat of the e5-e6 break.
16. h4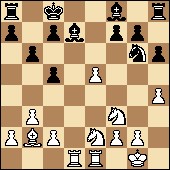 Again a known manoeuvre. The pawn interrupts the knights' duel. It threatens h4-h5, after which the white knight will after all manage to get to f4. It's a critical move, as after 15…Bg4 White will have to sacrifice a pawn. I think that at this point Michael Adams will have started taking a real interest in our game. After all, he was the one to introduce the h3 pawn push in the given position.
    [If 16. Ng3 then Black would prevent the white knight getting to h5 with 16…Nf4! An amusing knight dance, don't you think?]
16…Be7 A novelty. Hikaru is avoiding the principled lines. And at the same time he's weakening the g7-point, meaning that White's within his rights to look at the e5-e6 break. Right now!
    [Played in the predecessor game was:
16…Bg4 17.Nh2! Bxe2 18.Rxe2 Nxh4 19.Re4 Be7 20.g3 Ng6 21.e6 f5 22.Re3 Bf6 23.Bxf6 gxf6 24.Rf3 Rd8 25.Rxd8+ Kxd8 26.Rxf5 Ke7 27.Ng4 Rf8 28.Rh5 Kxe6 29.Rxh6 Ne7 30.Ne3, and Black couldn't hold the defence, M. Adams – K. Georgiev, Kemer 2007.]
    [And after 16…h5 despite the obvious idea of the knight jumping to g5 there's also the interesting pawn sacrifice:
17.e6!? Bxe6 18.Ng5 with a tangible initiative for White.]
17. e6! Exactly.
    [After 17. h5 Nf8! Black manages to construct a solid defensive wall.]
17…Bxe6 The white bishop and rook on e1 now have room to operate, and it begins to be all about concrete variations.
18.h5 Not only knocking the enemy knight off its comfortable perch, but also saving the h4-pawn.
18…Nh4 Here there was no longer any point in modestly retreating the knight to f8. It's better to reduce the number of pieces on the board.
19. Nf4! Once again, the optimum and most energetic move. Why voluntarily exchange knights, allowing the black bishop to escape the e1-rook's firing line? Let it suffer. The doubling of pawns on f3 in such a fierce battle is a mere trifle.
    [In the line
19.Nxh4 Bxh4 20.Bxg7 Black doesn't have to exile his rook on h7. The sacrifice of the h6-pawn pays off:
20…Rg8! 21.Bxh6 Bg4 22.Rd5 (otherwise h5 is ripe to fall)
22…Bf3 23.Nf4 Bxd5 24.Nxd5 Kd7 – and White has compensation for the exchange, but is unlikely to have real winning chances.]
19…Nxf3+ 20. gxf3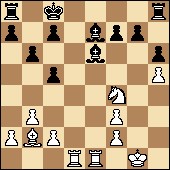 In front of White is a smorgasbord. A pair of bishops and the g7-pawn. For Black, however, the a8-rook is still out of play. All things considered Black doesn't appear to have equalised after the opening.
20…Bd6
    [Also not completely satisfying was
20…Bf6 21.Bxf6 gxf6 22.Nxe6 fxe6 23.Rxe6 Rg8+
(23…Kb7 24.f4!)
24.Kf1 Rg5 25.Rxf6 Rxh5 26.f4 – the f4-pawn is very dangerous.]
21. Nxe6 fxe6 22. Rxe6 As you can see, the g7 pawn has been left as an appetizer.
22…Rf8 Correct. Only active counterplay can save Black.
23. Bxg7 Rf5! It's important to destroy the main enemy – the h5-pawn.
    [Simply hopeless was
23…Rxf3 24.Rxh6 Kd7 25.Rg6 with h5-h6 to come.]
24. Re8+
    [It was no longer possible to play 24. Rxh6? on account of Rg5+]
24…Kb7 25. Rxa8 Kxa8 26. Bxh6 Rxh5 27. Be3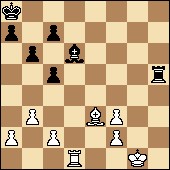 The position has simplified. White has an extra pawn (a passed pawn at that) and decent winning chances. Black has to immediately centralise his king… or begin counterplay on the queenside with the c5-c4 blow. The times on the clocks are a pleasant surprise: 0.40 – 1.00! The players aren't prone to doubts and soul-searching. They're playing quickly and surely, saving themselves, me and all the spectators time!
27…Kb7 I agree, that's the most stubborn move.
    [The tempting advance 27…c4 allowed White to immediately push his passed pawn towards the goal: 28. f4! (with the idea of Kg1-g2-f3), as after 28…Rf5 there's the resource 29. Rd4!]
28. c4 An understandable reluctance to have to calculate the consequences of c5-c4 on every move.
    [But perhaps it was worth activating the king immediately via 28. Kg2 Rh2 (28…Kc6? 29. f4!) 29. Kf1 Kc6 30. Ke2! and so on.]
28…Kc6 The king is rushing to the centre – let's say, to e6. And, it seems, it will be in time. It's going to be extremely tricky for White to break through the blockade on f5.
29. Kg2 You can't ignore the threat of f3-f4.
    [The immediate 29. f4?! led to the loss of a pawn – 29…Rf5]
29…Rh2+ Correct. 30. Kf1 The white king is forced away… but not where Black wants it to go. It'll still get out into the world via e2. The exchange of rooks would not, of course, be in Black's favour.
31…Rh1+ Sooo… I expressed my personal subjective opinion, neither calculating nor going into details. Live commentary is live commentary! But Nakamura, having thought for almost 20 minutes, came to the opposite conclusion.
31. Ke2 Rxd1 32. Kxd1 Kd7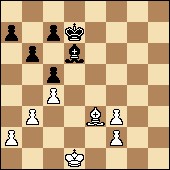 Well, Black's defensive idea after the exchange of rooks is extremely simple – creating a fortress. The king stands on f5 and prevents the activation of its white colleague.
33. Bg5 And there's Anand's refutation. Is seems as though he's switching the bishop to g3. White's dreaming of getting a pawn ending… I'll note an important nuance: if White had refrained from the c2-c4 advance (see the note to move 28), then the exchange of rooks would definitely have been unfavourable for Black, as then the white king would have had a gap to get to the queenside – via c4. But now… But now Black has real chances of saving the game.
33…Ke6 34. a4 Fixing the queenside. Black has no way of getting through White's white-square barricade and can't help but be left with weaknesses. Let's say, if after the white bishop appears on g3 Black has to completely abandon the h2-b8 diagonal, White will attack Black's chronic weaknesses with the bishop from b8 and c7. By the way, White must push his king forwards. The only question is where exactly – to e3 or h3.
34…c6 There's that abandoning the diagonal again.
    [Clearly bad was
34…a5 on account of 35.Bh4! c6 36.Bg3 Be7 37.Bc7!]
    [There was simply no point in the black king rushing forwards. After
34…Ke5 35.Bh4! Kd4
(35…Kf4 36.Ke2)
36.Bg3 it couldn't continue on its path to the b3 pawn as
36…Kc3 37.Bxd6 cxd6 38.f4 Kd4 39.f3! d5 40.cxd5 Kxd5 41.Kd2 with a simple technical win for White.]
35. a5 But there's a surprise! Vishy is striving to push the pawn to a6, so that the bishop coming to b8 will be as effective as possible. And if you take the dangerous pawn on a5, then Black's structure is in ruins. There's also the idea of the white king infiltrating the queenside via a4.
    [In the variation
35.Bh4 interesting nuances were discovered:
35…Kf5 36.Bg3 Bf4! (strange as it seems, it's possible to enter a pawn endgame)
37.Bxf4 (nothing's changed by 37.Ke2 Kg5!)
37…Kxf4 38.Ke2 a6 39.Ke1 Kxf3 40.Kf1 b5 41.Ke1 bxc4 42.bxc4 a5 43.Kf1 Ke4 44.Ke2 Kd4 – Black manages to take the c4-pawn and reach a drawn position.]
35…bxa5 36. Kc2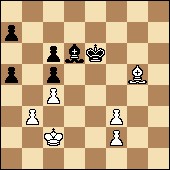 The king seems to be heading for a4…
36…a4 Seeing ghosts [Translator's note: lit. "Fear has big eyes"]. Hikaru's blocking the white king's path.
    [However, finding a win after
36…Kf5 37.Bh4 Be5 38.Bg3 Bf6 39.Kb1 Bc3! 40.Ka2 Bb4 isn't so easy.]
    [Or 36…Kf5 37.Be3 a6 38.Kb1 Be5! 39.Ka2
(39.Bxc5 Kf4)
39…Bc3 40.Ka3 Be1 41.Ka4 Bb4 – and White can't make progress.]
37. bxa4 Kf5 38. Be3 Played according to the Capablanca principle, "don't rush". Vishy is methodically prodding his opponent's defences. And piling on the psychological pressure…
38…a6 The fewer pawns on black squares the better.
39. Kd3 There's no way through on the queenside, so you need to look for zugzwangs and ways around. Imagine that Black just stands still – then the white king makes a long manoeuvre along the h-file and gets to f7. Of course, that's just a dream… But perhaps it's also a perfectly reasonable plan of action. Of course, Black shouldn't allow the white king into his rearguard. But the outpost on f5 also can't be abandoned! That fork is the basis of any coming zugzwangs.
39…Be7 40. Ke2 Yes! The World Champion is following the path indicated by your commentator.
40…Bf8 41. Kf1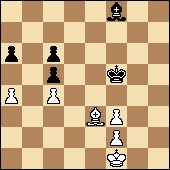 Nakamura now is only dreaming of one thing – a saw! If you could physically saw off the h-file, then White wouldn't have the slightest chance of winning. But back in reality you have to play across the whole board.
41…Be7 42. Kg2 Bd6 43. Kh3 Be7 44. Kg3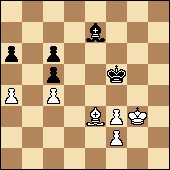 And there's the promised zugzwang. Black really wants to simply jump on the spot and press his clock again. But the rules don't allow it.
44…Bf6 An important choice. The American has rightly decided that it would be fatal to allow the white king to get any further.
    [Let's see if I'm right:
44…Bd6+ 45.Kh4 Be7+ 46.Kh5 Bf8 47.Bd2 Bd6 48.Bc1!
(it's even losing to play 48.Kh6? Bf4+!) 48…Bf8
(48…Be7 49.Kh6!)
49.Be3 – and once more there's a zugzwang on the board. It looks close to winning for White to me.]
45. Bxc5 Bd8 46. Be3 Be7 The black bishop is no longer tied to the defence of the weak pawn. He's keeping watch on the white king and isn't planning on getting distracted.
47. Kg2 Now the king has to come back. The result of the king's threatened breakthrough was taking a pawn which covered the b4 and d4 squares. Now it's those squares you have to try and use to break into Black's camp. From the other side… Maybe Black will be able to erect a solid barrier. Well, just show how! There are always practical chances.
47…Bd8 Standing and waiting – there's nothing else.
48. Kf1 Bc7 49. Ke2 Bd8 50. Kd3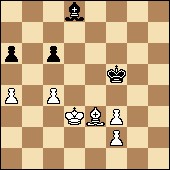 The hole in the fence is now only a couple of steps away.
50…Ba5
    [If 50…Bf6 then White recaptures the long diagonal, let's say by 51. Bd2 and then at the right moment Bd2-c3.]
51. Kd4 Personally I can't yet find a direct win. But Vishy will also be perfectly happy with a "crooked" one i.e. to probe and shake Black's defences – creating new problems for his opponent, and waiting for a mistake! That's the general plan.
51…Bb6+
    [The alternative was 51…Bb4, but simply visually it looks less solid.]
52. Kd3 The correct approach. You need to do everything little by little.
52…Ba5 53. Ba7 A new try. A second appearance of the white king on d4 is on the cards.
53…Be1 A serious refutation. The black bishop, like an experienced swordsman, is parrying each of its opponent's thrusts.
54. Bb6 Apparently changing nothing. Black is offered the chance to make a move – at times that's the most unpleasant of things.
54…Kf4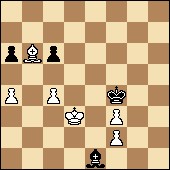 Attacking the pawn? I'm not sure that Black is really in a position to take on f3 – the king would get too far away from the centre and White would be able to break through.
55. Be3+ As they used to say back in the countryside – checking for lice.
    [Subtler was 55.Bc5 , after which it's bad to play
55…Kxf3? 56.Be3! Bb4
(or 56…Bxf2 57.Bxf2 Kxf2 58.Kd4 Ke2 59.c5!)
57.Kd4 Bd6 58.a5! with a decisive zugzwang.]
55…Ke5 Of course.
    [It was too obvious to miss 55…Kxf3? 56. Kd4 Bb4 57. Ke5! with a win for White]
56. Bc5
    [Changing the direction of the attack wouldn't work – 56. Ke2 Ba5 57. Kf1 Kf5 58. Kg2 Bd8, and with a tempo to spare Black has managed to set up a barrier in the way of the white king.]
56…Kf4 57. Ke2 Ba5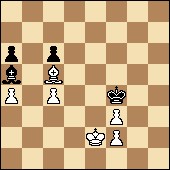 For now White's not managing to make any progress. Perhaps because it's impossible. Black is successfully holding things together. And it isn't proving possible to pose any serious practical problems.
58. Ba7 Kf5 59. Ke3 Be1 If one means of defence is working well there's no point trying to invent another one. Though now White can switch the bishop to g3 and free the king for greater matters.
60. Bb6 Vishy is slow as a boa constrictor. It's true, however, that he's unlikely to get to the rabbit… [Translator's note: I'm not sure if Shipov was thinking about it, but Ilya Odessky memorably described Wang Hao as a boa constrictor and not a rabbit recently.]
60…Bc3 61. Bc7 Everything's been done sensibly. The next control has passed. Now it's time to find another way to win. The players have a perfectly adequate supply of time: 0.31 – 0.30. From the 61st move on they also get 30 seconds after each move. Humane conditions!
61…Be1 62. Bd6 Bc3 And there's a new attack – the d4-square is out of bounds.
63. f4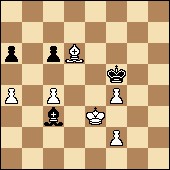 A desperate measure. Objectively it doesn't increase the winning chances. But you have to find some means of changing the position!
63…Be1 Now the crazy idea of trying to break through with the king to the once desired h5-square occurs – straight along the third rank. But then the f4-pawn is a concern… After all Black will quickly manage to gather White's falling leaves. And the pawn ending might not be won… Yes, it was just an illusion. Not to be taken seriously! Particularly given that when the white king gets to g3 the black bishop will come to d8.
64. Be5 For the World Champion it's simply a pity to part with a position with two extra pawns and agree to a draw. Painful. But there's no way of winning. It's sad, but a fact.
64…Ba5 Check on b6 is waiting for the white king. It's time for us to wrap up – both the game and the commentary.
65. Bd4 Bb4 66. Be5 Bc5+ 67. Bd4 Bb4 68. Ba7 Bc3 69. Kd3 Vishy won't release us…
69…Be1 70. Be3 Ba5 The white king has been freed from having to defend the f4-pawn. But what good will it do? There's still no way of it breaking through.
71. Kd4 Bb6+ What can be done here? If you put the pawn on c5, then too many white pawns will be on black squares. There's definitely no way of getting through via a5. However, White's risking nothing. He can try what he likes.
72. Kc3 Ba5+ 73. Kd3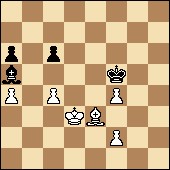 A neat triangulation. Useless, but pretty.
73…Bc7 74. Kd4 DRAW! Nakamura dealt with a difficult task brilliantly. Ending up in quite an unpleasant ending right out of the opening, he defended flawlessly. Perhaps Anand could have won, but it was a matter of the most subtle of nuances, which are extremely hard to find at the board. Well, it was a tough battle between worthy opponents. The sensation of the first day was the defeat of Carlsen by McShane. The mature English grandmaster is now on the up. He recently won a strong round-robin tournament – and now he's dazzling in front of his home crowd… Working for you, dear friends, has been Sergey Shipov. I'll be waiting for you tomorrow in the same place… no, but not at the same time! Instead two hours later, at 19:00 Moscow time (16:00 London time) – such are the quirks of the tournament schedule. In general, see you tomorrow!
1/2 – 1/2
Game viewer by Chess Tempo
I'll also be translating Sergey Shipov's commentary again tomorrow here: http://www.chessintranslation.com/live-game/