Sergey Shipov isn't commentating live on the classical part of the Tal Memorial this year, but he gave a round-up of all the games from the third round for Chess-News. Read on to find out what cockroaches and elite GMs have in common.
The photographs I've added to this report are taken from Evgeny Surov's live photo report from the round (live in the sense that photos were added during the day's play). You can play through the games on the board after Shipov's comments.  
Karjakin 1/2 – 1/2 Nakamura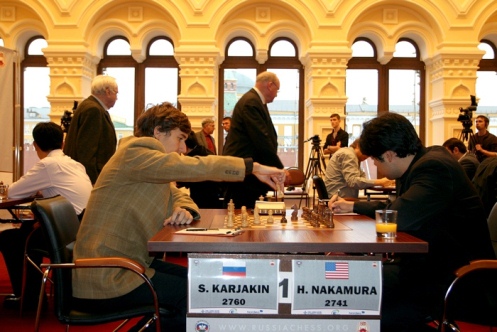 Nakamura is becoming a typical elite chess player – ready to play any rot, even the dullest of positions, ready to crawl across the board like a cockroach from corner to corner – just as long as he can resist. And today he resisted, showing excellent defensive technique. It seems Karjakin took with the wrong piece on move 18. He had more chances after 18. Nxe4!? In the game the American deftly brought play to a rook ending and exploited the infamous tendencies of which Tarrasch wrote. 
Aronian 1 – 0 Gelfand
The game of the day. Levon demonstrated a creative approach to the game and good form. All of his play, starting with 5. Qd3!?, continuing with the novelty 12. Nh4 and ending with the brilliant paralysing manoeuvre 28. Nb7! was one unbroken song.
Boris, clearly, missed important defensive resources right out of the opening. Black's position already looked miserable after the 16th move. By the process of elimination you have to look at 13…Nxc4!? instead of the automatic capture 13…Qxf6. Analysis shows that after the exchange of queens Black holds, and that's how you had to play. In the game, meanwhile, White's powerful pressure in the centre led to a logical victory.
Grischuk 1/2 – 1/2 Wang Hao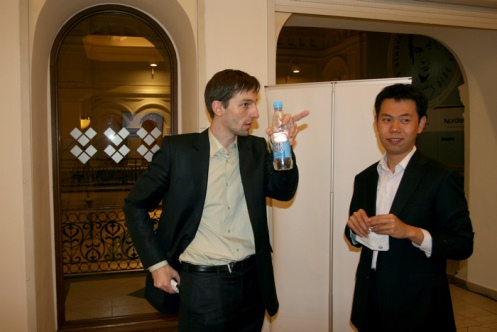 An unsuccessful effort by the Russian. The Chinese are traditionally strong in the Slav Defence; they understand it well and successfully handle the ensuing structures. Sasha tried to avoid the exchange of minor pieces, but only ended up creating problems for himself with development, while Black developed successfully. Realising in time what had happened Grischuk sensibly went for a repetition. It seems as though Hao has mastered high society. 
Eljanov 0 – 1 Kramnik
A typical case of creating a victory out of nothing in a game between a favourite and an outsider. Eljanov has had an extremely bad start and lost confidence in himself. Kramnik sensed the weak link in his opponent and began to deliberately strive for a win in a slightly worse endgame. Objectively speaking, Vladimir's efforts should have led to serious problems for Black (I found a couple of such points when analysing), but Pavel turned out to be in such deplorable mental shape that he couldn't overcome the temptation only to play for a draw – which led to ruin, slowly, but surely. Overall Kramnik's pragmatic risk-taking justified itself.
Shirov 0 – 1 Mamedyarov
When two creative and aggressive players engage in an all-out fight you get a game that's insanely complex and where the spectators, as a rule, understand nothing. Today even the technical equipment went crazy! The official broadcast came to a crashing halt and I couldn't obtain an adequate game score before the deadline. Shirov, as I see it, had an edge after the opening, and then… In general it'll take time to understand what really happened in this game. One thing's clear – Alexei needs to be rescued. Such an unsuccessful start from one of the most respected tournament players is the main negative surprise so far.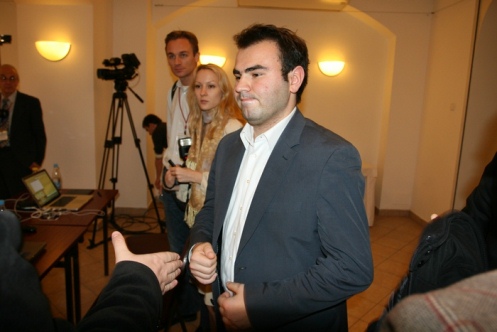 Game viewer by Chess Tempo