Grandmaster Sergey Shipov is providing live commentary on the games from Bilbao at the Crestbook website and I'll be translating his comments in real time here. Today's game, Kramnik – Carlsen, wasn't quite the fight we've become used to between the players, but was still a minor positional masterpiece by Kramnik.
Shipov's original commentary in Russian can be found at Crestbook.
GM Sergey Shipov's live commentary on:
Bilbao Masters Final Rd 1
VLADIMIR KRAMNIK – MAGNUS CARLSEN
Hello, dear friends! This is Grandmaster Sergey Shipov (this time without his cat "Lis" – translator's note: you can see the cat at the start of all Shipov's videos from the Olympiad!) at your service. I'm going to commentate on the games from the super-tournament in Bilbao in the old, normal format – providing commentary on a selected game each round. No, no, I didn't make a slip of the tongue – super-tournament. What the "Grand Slam" is, its stages, and how the events join together is pretty difficult to understand. I think that for 99% of spectators, like me, it's only of significance that the best chess players in the world have gathered together in a narrow circle and will establish the pecking order among themselves – without chasing after anything else. Looking at the line-up I can't help wanting to add Topalov and Aronian and make it a quadruple round-robin. Then you'd have a prestigious match-tournament for the World Championship! However, it's not bad as it is… Who do I consider the tournament favourite? Without doubt, Anand. He's got a serious advantage, as he's the only one of the four not to have played at the Olympiad in Khanty-Mansiysk. Moreover, Vishy is, in case anyone had forgotten, the World Champion. Also a factor! However, it's a very short race and the element of chance in deciding the winner will be very great. Anything could happen. One successful novelty in a key game and the whole pre-tournament alignment of forces could lie in tatters. I'll say a few words about the players. Everything's ok with Kramnik now – he played very solidly at the Olympiad. Will he have enough energy for the tournament? That's the key question. Carlsen clearly wasn't himself at the Olympiad. His play was all over the place, shooting from the hip, at times trying to crack a nut with a sledgehammer. But things pass very quickly for the young, they recover literally in a matter of days, so that there's a chance we'll see the previous Carlsen, solid and brilliant. Shirov, for me, will have to resist strong pressure from his opponents. Probably they've identified him in their pre-tournament considerations as the provider of points. Which is also backed up by the unflattering quotes of the omniscient bookmakers, according to whom Shirov is the clear outsider. But then, in a certain sense, that's even in Alexey's favour! Let them underestimate him, let them "throw themselves at him" – then it'll be easier to apply the counterblow… As always, there's a forecasting competition on the KasparovChess forum – have a go! An interesting tournament awaits us. Good luck!
1. d4 As ever, the first round didn't pass without a delay. But that's nothing. It's just important that they've begun!
1…Nf6 2. c4 e6 3. Nf3 b6 The Queen's Indian Defence. Although it doesn't have much to do with Indians. That's just how the name ended up historically…
4. g3 Ba6 5. Qa4
[Vladimir decides not to enter the now fashionable line 5. Qc2 Bb7 6. Bg2 c5 7. d5!]
5…Bb7 Having tempted the white queen to a4, black returns to the struggle for the centre.
6. Bg2 c5 With the queen on d1 here the clamp d4-d5 could be applied. But now you have to allow an exchange of pawns, easing black's position.
7. dxc5
[As practice has shown, after 7. 0-0 cxd4 8. Nxd4 Bxg2 9. Kxg2 Qc8 black has no problems]
7…bxc5 Until the 1970s people took on c5 with the bishop, but then they realised that being one tempo behind in development was an acceptable luxury. It's more important to create a pawn advantage in the centre.
8. 0-0 Be7 9. Nc3 0-0 10. Rd1 Pressure on the d file is the main line for white. And it should pushed as far as possible.
10…Qb6 While black is by no means obliged to play d7-d5. In that case white would have concrete and very accessible points of attack.
11. Bf4 Rd8 A flexible continuation. The d7 pawn isn't rushing to reveal its plans…
[11…Qxb2? would be a serious blunder in light of 12.Rab1 Qxc3 13.Rxb7 and there's no Nc6 because of 14.Bd2 trapping the black queen.]
12. Rab1
[In the years of my wild youth… they'd also play 12. Rd2 against me. Now fashion's changed. However, even now they sometimes recall the old methods:
12…d6 13.Rad1 h6 14.Qb5 Ne8 15.e4 g5 16.Be3 Nd7 17.h4 g4 18.Ne1 Qxb5 19.cxb5 Bf8 20.Nc2 Ne5 21.Na3 Rdc8 22.Bf4 Bg7 23.Bxe5 Bxe5 24.Nc4 and in the game Navara – Leko, Khanty-Mansiysk 2010, black had difficulties. And lost.]
12…h6 Yet another cunning and somewhat useful move. For now the pawn remains on d7…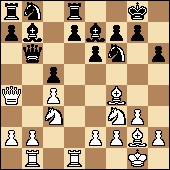 13. Qb5 Completely in Kramnik's style. He loves to play endings with a slight, but persistent edge. However, it's not yet time to assess the result of the opening. By the way, it's a surprise!
[Previously Vladimir first included the moves 13.a3 a5 and only then played
14.Qb5, which, to be honest, looks more logical than the continuation in the game. In the game Kramnik-Bacrot, Dortmund 2009, there followed:
14…Qxb5 15.cxb5 d5 16.Ne5 g5 17.Be3 Nbd7 18.Nc6 Bxc6 19.bxc6 Ne5 20.Na4 Nxc6 21.Bxc5 Bxc5 22.Nxc5 Rab8 23.e4 dxe4! and the exchanges led to equality.]
13…Bc6 That's the difference. Black's queen is defended, so it's not obligatory for him to exchange queens himself. Magnus is offering his opponent the chance to exchange on b6, so as to improve the pawn structure.
[It also looked good, with the same aim, to play
13…Nc6 For example, 14.Qxb6 axb6 15.Bc7 Rdc8 16.Bxb6? Ra6 and the greedy bishop gets trapped.]
14. Qxb6
[Good after the cunning withdrawal 14. Qb3 was 14…d6!]
14…axb6 15. b3 Very modestly played. Strong, but unpretentious.
[More interesting was
15.Bc7 Rc8 – here again you can't take on b6, but there's
16.Bxb8!? and after anything takes the bishop the knight comes to e5. For example, 16…Rcxb8 17.Ne5 Bxg2 18.Kxg2 … However, black has a way to simplify the game: 18…d5! and it's unlikely to be dangerous for him,
19.cxd5 exd5 20.Nxd5 Nxd5 21.Rxd5 Rxa2 and so on]
15…g5 Fighting for space and a clear provocation. If the bishop won't enter the fight by itself, it'll be driven away by pawn attacks!
[It seems to me that a route to simple equality was
15…Ne4, for example,
16.Nxe4 Bxe4 17.Rb2 Nc6 18.Ne5 Bxg2 19.Kxg2 Nxe5 20.Bxe5 d6 21.Bc3 d5 and the resources for a fight have really dried up. Perhaps Carlsen's looking for more?]
16. Bxb8 Without further ado. The black rook's left on d8, so that the knight fork on c6 in some lines will be particularly effective.
16…Raxb8 17. Ne5 Of course it's risky to leave black with a pair of bishops.
17…Bxg2 18. Kxg2 Now black has to refrain from the move d7-d6. There's a serious reason for that…
18…Rbc8 Covering the c6 square. The d7 pawn is ready to enter the fray.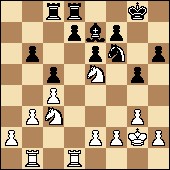 Visual impression – white has a certain initiative. The b6 pawn is chronically weak. However, the position's closed in character. It's hard to break through… The players have plenty of time: 1.13 – 1.01
19. e4 Correct. It's important to fix the backward d7 pawn. And the space won't do any harm either.
[The jump 19.Na4 made it easier for black to launch counterplay:
19…d6! 20.Nd3
(after 20.Nxb6 dxe5 21.Nxc8 Rxc8 it's difficult for white to develop his rooks)
20…Rb8 21.Nc3 d5! – here chances are equal.]
19…d6 A gulp of air is essential.
[The alternative was centralising the king – 19…Kf8. But in that case black could be let down by the move g7-g5, as after all white has a point of attack on the kingside.]
20. Nd3
[On 20.Nf3 Vladimir might not have liked
20…g4, and there could follow
21.Ne1 h5 22.Nd3 Nh7 23.Nf4 h4 – it looks as though black's fighting on equal terms here.]
20…Kf8 But nevertheless into the centre!
[Here 20…g4 is clearly out of place. After 21. h3 h5 22. Nf4! black just gets another headache – on h5]
[But 20…d5 looked logical – after all for a moment white had blocked off the d1 rook's working file with the knight. In that case there doesn't seem to be a clear way for white to get an advantage. For example, it's not possible to hoist the knight to c4 after 21. exd5 exd5 22. Ne5 because of Bd6!]
21. h3 Kramnik fixes the black pawns on black squares… but again he allows his opponent to break through in the centre. And what if he decides to do it? The alternative is 21…Ne8 with the bishop then coming to f6. And the knight heads for c7, and still supports the d6-d5 break. Well, Carlsen's got something to think about… Time: 1.06 – 0.49.
21…Nd7 A variation on the plan mentioned. True, it doesn't look like the most successful one to me. Now the white knight on b5 will be comfortably placed, and put pressure on the d6 pawn. And the rook on d8, whose own knight has blocked off his oxygen, is no doubt also unhappy.
22. f4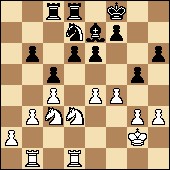 The war begins! The sharp g7-g5 move is making itself felt. White is opening lines on the kingside. By the way, at this point it's also possible to regret the move Kg8-f8. The king would be better placed on g7.
22…Nb8 A cold and very reasonable response. The knight returns to the centre via c6. White's a tempo or two short of direct threats. Black will manage to build a defence… If, of course…
23. Na4 Exactly! White returns the black knight to its awkward position. There's no-one else to defend the weak b6.
23…Nd7 It has to be said that black's actions don't make a good impression. Is Carlsen really still not in the best of form? Or perhaps the guy's ill? It happens in autumn in Russia. After all Magnus is just back from Khanty-Mansiysk.
24. Nf2 Logically and competently played. It's worth white doubling the rooks on the d file which will rule out black counterplay in the centre.
[Also reasonable and with the same idea was 24. Ne1, switching the knight to f3.]
24…Ra8 Amazing! It seems as though a new session with a mental wireless connection between the commentator and the player has started as this is the move I'd just seriously analysed and deemed to be worthy. Of course, the crazy idea of giving up the exchange on a4 is an unnecessary indulgence. Black is simply taking aim against the a2 pawn and intends, via Ra8-a5, to create the threat of the b6-b5 break. If it's possible to force white to return the knight to c3 then black can in turn go back to the manouevre Nd7-b8-c6… However, folk wisdom says that carrying out at the board the moves I recommend in my commentary is a bad sign. A true road to ruin. It's been tried!
25. Rd2 Simple and strong. One pawn (his) is defended, the other (his opponent's) is shaking with fear.
25…Ra5 Ah Magnus, Magnus… He's on the wrong path!
[There was no compensation for the exchange after 25…Rxa4 26. bxa4 Ra8 because of 27. e5!]
26. Nc3 Kramnik took his opponent's idea seriously.
[However, after 26. Rbd1 then 26…b5 27. cxb5 Rxb5 is actually good, and there's no 28. e5 because of d5!]
26…Nb8 And allowed him again to dream of activity.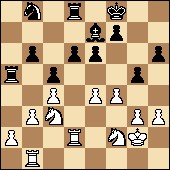 27. Rbd1 Again another simple and solid move.
[It was possible to leave the black rook out of action on a5 with the move 27.a4!?, but then the b3 pawn is weakened, which black could emphasise with the knight on d4 or a5. However, you have to look at the concrete lines:
27…Nc6 28.Nb5! Raa8 29.Rbd1 Na5 30.Rd3 and black's position doesn't inspire faith. Petrosian in positions like this would move the king to the queenside and win…]
27…Nc6 Nb5 Two birds with one stone. The enemy knight can't get to d4 and the pawn on d6 won't have a dull life.
28…gxf4 Clearly Carlsen was afraid that the pawn would get to f5, leaving black with an unpleasant structure on the kingside.
29. gxf4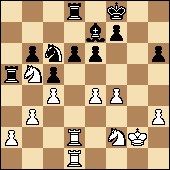 29…d5 Original! That's how Magnus uses the absence of the white pawn on a4. Firstly, it's simply weak on a2, and secondly it doesn't support the knight on b5.
[The alternative
29…Nd4, it seems, didn't equalise –
30.Nxd4 cxd4 31.a4 Bf6 and here instead of all kinds of blockade white attacks the pawn by
32.Ng4 Bg7 33.Nh2! and 34.Nf3. With, to all appearances, a solid edge.]
30. exd5 exd5 Kramnik continues to think hard. He's still got some time to spare: 0.37 – 0.18.
31. cxd5 Rxb5
[There wasn't full compensation for the pawn after
31…Nd4 32.Nxd4 cxd4 33.Rxd4 Rxa2 34.R4d2 – although chances for a draw might have remained:
34…Rxd2 35.Rxd2 f5!]
32. dxc6 Rc8 It seems as though black will be able to destroy the dangerous passed pawn. But at the same time his rooks will end up in extremely passive positions. The activity of the white pieces looks as though it could be the deciding factor in this position.
33. Ng4 First to step up.
33…Nxc6 The most natural move.
[The line 33…c4, it seems, is too optimistic:
34.bxc4 Ra5 35.Ne5 Bf6 36.Nd7+ Kg7 37.Nxf6 Kxf6 38.Rd6+ Kg7 39.Rb1 Rxa2+ 40.Kf3 Rc2 41.Rb4 and it's tough for black.]
34. Ne5 The knight has brutally clamped down on black's hopes of carrying out the simplifying c5-c4 break. Consequently, the b5 rook is kept out of play.
34…Re6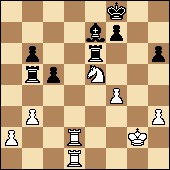 35. Kf3 There's time to improve the position. Soon it'll be the turn of the white rooks… And the freed up g2 square might really come in handy.
35…Ra5? A time trouble blunder.
[There were still chances of survival after 35…Rb4! Then 36. Rg2 wasn't dangerous because of Bf6 and the knight move
37.Nd7+ Ke7 38.f5 doesn't lead to black losses at all due to
38…Ree4!]
36. Rg2! The most precise move.
[If 36. Rg1 f5! the rook infiltration on d7 has to be postponed on account of the weakness of the a2 pawn.]
36…f6
[Here clearly bad were 36…Bf6 37. Nd7+ Ke7 38. f5! and 36…f5 37. Rd7!]
37. Nc4 A calm and strong continuation.
[The computer insists on 37. Rg6, in general not fearing the counterblow 37…c4 at all on account of 38. Rdg1, but people, as a rule, play more simply and solidly. And they're right to do so.]
37…Ra7 38. f5 One more touch from an experienced player. The black bishop becomes a total invalid.
38…Rc6 39. a4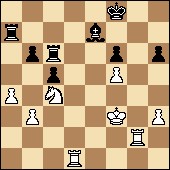 White's position is strategically won. Finally and irrevocably.
39…Rb7 Kramnik is thinking over the control move while having sat back in his chair. He clearly likes the position!
40. Rg6 As it's written in scripture, there's a time to gather pawns.
40…h5 The first time control has passed. I think the end is nigh… Black isn't even threatening the b6-b5 break because of the knight fork on a5. There's an abyss on the board.
41. Rdg1 With the threat of mate in two moves.
41…Ke8 42. Ne5 And now the rook's attacked.
42…Rc8 Black is defending with only moves and by a miracle balancing, for now, on the very edge…
43. Rg8+ Bf8 44. Ng6 The decisive pin. A precise path to victory.
44…Rf7 45. Rd1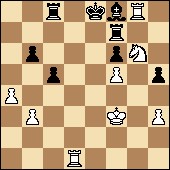 Black is completely paralysed. The rook on c8 can't abandon the last rank because of check on the e-file and then taking the bishop. On 45…Rb8 there would follow 46. Rd6 with total zugzwang… BLACK RESIGNED.
What's up with Magnus Carlsen? The question's becoming real. His current form (at the Olympiad and at the start of Bilbao) is simply horrifying. The level of his play has dropped catastrophically. The fighter isn't keeping his concentration, he's miscalculating, letting even simple resources escape his attention. But he has to play! The contracts have already been signed, there's no way to get out of it. Well, we hope Magnus and his team can get through this difficult period. He's risen up high and shouldn't fall low. And after failures new victories should follow… His opponent's problems do nothing to lessen the brilliant play of Vladimir Kramnik. He was himself – he played a clean and even textbook game. And he's now tournament leader as Shirov and Anand drew… Working for you, dear chess fans and experts, has been Grandmaster Sergey Shipov. I'll be waiting for you at the same time and place tomorrow. All the best!
1 – 0
Game viewer by Chess Tempo