Grandmaster Sergey Shipov today commentated live on Carlsen – Shirov from the Bilbao Masters Final. The game wouldn't have disappointed if Carlsen had brought his original attack to its logical conclusion, but instead we were treated to a spectacular endgame where, for a while, it seemed that Shirov might defy computer evaluations and survive.
Shipov's original commentary in Russian can be found at Crestbook, where there's also a board on which to play through all the analysis.
GM Sergey Shipov's live commentary on:
Bilbao Masters Final Rd 5
MAGNUS CARLSEN – ALEXEY SHIROV

Greetings, dear chess fans and experts. This is Grandmaster Sergey Shipov commentating for you on the next round of the elite event in Bilbao. Today we're going to try a cunning ploy (translator's note – literally "a knight's move"!) – we're going to ignore the cult Kramnik – Anand encounter! Let the titans once more exchange opening analysis, while we'll watch the struggle between the less successful and less predictable participants in the tournament. One of them should sooner or later have some luck. In the first half Shirov and Carlsen fought for 175 moves, but still no-one ran out the winner. And therefore today I'm prepared to comment on 200 good moves, at least! I went to a shop specially before the game and stocked up on supplies. For the long haul… By the way, I was really moved by the happy ending to the mining story in Chile. All last night until the early hours I watched the rescue of the prisoners of the deep live. The salt of the earth! Stubborn, masculine and very warm people. It's hard to credit that they managed not to go crazy in the first 17 days when they didn't have any contact with the Earth. What must these people have had inside themselves to allow them to stand up to it all? Who among us, the soft-bodied, could have passed such a test with honour? And we complain about our trivial, ridiculous troubles… In general, the Chileans should be an example to us. Let's listen to Chilean music, drink Chilean wine, and play chess. But for now let's watch how Carlsen and Shirov play chess.
1. e4 The Norwegian youngster's first move is already hard to guess.
1…e5 2. Nf3 Nc6 3. Bb5 The Ruy Lopez.
3…a6 4. Ba4 Nf6 5. 0-0 b5 6. Bb3 Bc5 The Tkachiev-Malaniuk-Onischuk Variation. In the mid-1990s fruitful ideas were found in it for black – and since then many well-known players have successfully played it.
7. a4 Rb8 8. axb5 axb5 9. c3 White seizes the centre…
9…d6 10. d4 Bb6 …while black maintains the defence.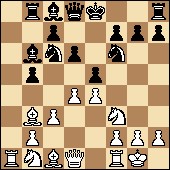 The position of the bishop on b6, and also the threat of Bc8-g4, make the life of the pawn on d4 almost intolerable.
11. h3 Logical prophylaxis.
   [The play is sharper after
11.Na3 O-O! 12.Nxb5 Bg4, and according to the latest data black's counter-chances are great. Here's a relevant example:
13.Bc2 Bxf3 14.gxf3 Nh5 15.Kh1 Qf6 16.Rg1 exd4 17.Bg5 Qe5 18.Nxd4 Nxd4 19.f4 Qe8 20.cxd4 f6 21.Bh4 Nxf4 22.Qg4 Ng6 23.f4 Bxd4 24.f5 Bxg1 25.Rxg1 Rxb2 26.fxg6 Qxg6, and in the game Palac – Shirov, Italy 2010, white was left with nothing.]
11…0-0
   [Of course not, 11…Nxe4? 12 Bd5!]
12. Re1 The rook supports the potentially weak pawn. White is still planning on bringing out the knight to a3 and putting pressure on the b5 pawn. Alexey, quite surprisingly, has sunk into thought – although he's precisely the main person who's moved theory forward in the given position for black… Clearly he's rechecking his home analysis. Or selecting one of two possible paths.
   [There have been good results for white after 12. Be3 with the idea of Nb1-d2.]
12…h6 Everything changes over time. Habits, tastes and even your temperament. The reliable move in the game is characteristic of the current Shirov. A solid and circumspect man.
   [But just look how he played in his younger years:
12…Bb7 13.Na3 exd4 14.cxd4 Na5 15.Bc2 b4 16.Nb1 c5 17.Bg5 h6 18.Bh4 g5 (without fear or reproach)
19.Nxg5 hxg5 20.Bxg5 b3 21.Bd3 c4 22.e5 dxe5 23.Rxe5 Qxd4 24.Re3 and here in the game Topalov – Shirov, Madrid 1997, black gained a decisive advantage with the move 24…Rfd8!]
   [It's true, over time shadows began to appear on such bright play. But all the same Alexey continued to experiment:
12…Bb7 13.Na3 exd4 14.cxd4 Na5 15.Bc2 b4 16.Nb1 c5 17.Bg5 h6 18.Bh4 and here in the game Navara – Shirov, Carlsbad 2007, he side-stepped with –
18…cxd4 19.Qd3 b3 20.Bxb3 Nxb3 21.Qxb3 g5 22.Nxg5 hxg5 23.Bxg5 d3 24.Nd2 Bxf2+! and a sharp struggle ended in a draw.]
   [I was more impressed by the old battle of Anand – Topalov, Wijk-aan-Zee 1998:
12…Re8 13.Na3 b4 14.Nc4 bxc3 15.bxc3 exd4 16.Nxb6 Rxb6 17.cxd4 Nxe4 18.Bxf7+ Kxf7 19.Rxe4 Rxe4 20.Ng5+ Kg8 21.Nxe4 Bf5 22.Ng5 Ne7 23.g4! Bg6 24.Ne6 Qc8?
(24…Qb8!)
25.d5 Bf7 26.Nxg7 Kxg7 27.Qd4+ Kf8 28.Bh6+ Ke8 29.Re1 and black resigned.]
13. Na3 The most principled move.
   [There's also a safer path:
13.Be3 Bd7 14.Nbd2 Re8 15.Qb1 b4 16.Qc2, and here in the game Kamsky – Almasi, Reggio Emilia 2010, black flung himself into an attack, missing a sharp counter-blow:
16…Na5 17.Rxa5! Bxa5 18.dxe5 dxe5 19.Nc4 Rb5 20.Ba4 b3 21.Qd1 Qb8 22.Nfd2 Be6 23.Qa1 Rc8 24.Ba7! and couldn't survive.]
13…exd4 Black, following the known recipes, removes the tension in the centre in order to attack on the queenside.
   [After 13…Re8 white can play positionally:
14.d5 Ne7 15.Bc2 with the idea of b2-b4 and Bc2-d3.]
   [Or tactically:
13…Re8 14.Nxb5 exd4 15.cxd4 Ba5 16.Nc3 Bxc3 17.bxc3 with the trap
17…Nxe4?
(17…Rxe4!)
18.Bd5 Nxc3 19.Bxc6! Nxd1 20.Rxe8+ Qxe8 21.Bxe8 and in the game Houard – Goldsztein, France 2008, black hadn't fully counted the pieces.]
14. cxd4 Here the c6 knight, no longer concerned about defending the e5 pawn, is free to enter the fray.
14…Na5 15. Bc2 b4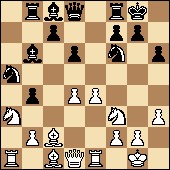 16. Nb5 An interesting manoeuvre which forced me to wake up! In comparison to the predecessor games in which the white knight hid on b1 here it's showing suicidal bravery. It's a novelty.
   [In the encounter Istratescu – Sofroni, France 2004, the struggle didn't last long:
16.Nb1 c5 17.dxc5 dxc5 18.Bf4 Qxd1 19.Rxd1 – draw.]
16…Ba6 Bluntly posing the question.
   [The alternative was 16…d5, after which… no, I'll leave those rapidly-hatched and clearly not very deep conclusions to myself. In order not to amuse serious analysts who've studied the position. In general, either 17. e5 or 17. exd5!? I'm inclined to favour the latter.]
   [While on 16…Bd7 at no great risk of being mistaken I'd point out the reply 17. Qd3 with the perfectly understandable idea of the e4-e5 blow. If it works.]
17. Na7 Miraculous agility! White is exploiting the fact that the b6 bishop is overburdened with responsibilities. Such tricks, carried out so quickly, can only be played by a man who's studied the position in depth at home. That hypothesis is confirmed by a glance at the clocks: 1.24 – 0.52.
   [After 17. Bd3 black has many appealing options. For example, 17…Qd7 18. Qe2 Rfe8 with pressure in the centre that's dangerous for white.]
17…Bb7 This seems to be the most reliable move. The c6 point is covered.
   [If 17…Ra8 18. Rxa5! Rxa7 19. Ra4 black experiences some real discomfort.]
   [And it was definitely no good to play 17…Qd7?! on account of 18. Rxa5! Bxa5 19. Ba4 and the knight gets to c6. With great effect.]
18. d5 Usefully fixing the structure. The b4 pawn is cut off, and the c7-c5 break is no longer going to happen. The b7 bishop has been reined in.
18…Ra8
   [The line 18…Bxa7 19.Rxa5 Bb6 might not have appealed to Alexey because of
20.Ra4, but, speaking among ourselves, in that case black got excellent counterplay in the centre after 20…c6! It's true that Magnus no doubt had something prepared for that line. For example,
21.e5! dxe5 22.d6 with unclear complications, at worst.]
19. Nb5 What a knight! It's returned alive from hell.
19…Nc4
   [After 19…Qd7 20. Nbd4! the knight-wanderer would head for f5 with serious attacking ideas.]
20. Rxa8 Qxa8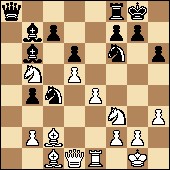 Black has an awful lot of pieces on the queenside. Isn't it time for white to come up with something constructive on the other side of the board? By the way, Carlsen has started to think seriously for the first time in the game. Times: 1.13 – 0.30. The shortfall is, you have to admit, great. A couple more difficult moves and Shirov will be in time trouble. But how should white attack? For a right hook to the jaw it is, it seems, a little early i.e. the bishop sac on h6 with play in the style of the great Tal to follow doesn't work, at first glance. Breaking up the centre with the e4-e5 blow is also perilous for white – as then black's white-squared battery of Qa8 + Bb7 will be released. So it seems you have to continue subtle manouevring… But the options for that aren't so great. On 21. Nbd4 there's the strong reply 21…Qa7! with pressure on f2. By the process of elimination I'd come to the decision 21. b3!? Firstly, in that way you can drive away black's active knight, and secondly in order to employ the c1 bishop. For example, sending it to b2.
21. Nbd4
   [I still think it was more promising to play 21. b3 Ne5 22. Bb2 True, after 22…Re8 black holds.]
21…Qa7 Illustrating the point. The pressure of the black battery on the diagonal prevents white putting the knight on f5. If, of course, the exchange sac doesn't work… But what if you're not afraid of gossip and the emotions of your fans and you just plunk the knight down on f5?
22. b3 Well, a move later Magnus returns to the idea I pointed out as the most promising in the diagram position.
   [After 22.Nf5 Bxf2+ 23.Kh2 it really was dangerous to take the rook on e1. But black could just have satisfied himself with the extra pawn and successfully defended:
23…Bc8! 24.Ne7+ Kh8 25.Nc6 Qb6 26.Rf1 Ne3! 27.Bxe3 Bxe3 and no threats are visible for white.]
22…Ne5
   [The fact that the knight was hanging on d4 gave black a justification for the manoeuvre 22…Na3 – now white can't move the bishop to d3. But there is the good move
23.Bb2! Nxc2 24.Qxc2 and the threat of Nd4-f5! is towering over black.]
23.Bb2 The cannon's loaded. Starting now you need to seriously calculate direct, violent attacks for white, while Shirov has less and less time for deep calculations: 0.46 – 0.25. The exchange on f3 looks dubious – as that opens up the g-file, which can be used by the white rook. You also have to look at moving the queen to a2. It's important to get at the white pieces, to disturb them, so that they don't have the chance to launch an attack in a neat formation.
23…Nxf3+ But nevertheless.
   [Perhaps it was worth maintaining the cover on e5. By, for example, 23…Re8.]
24. gxf3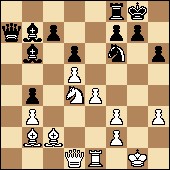 Now white has a simple and effective plan of attack: Kg1-h2 (or h1), Rf1-g1 and in a couple of moves there'll be a mate on the board.
24…Qa2 And there's the promised "harassment" of the white bishops.
   [It was too sluggish to play
24…Nd7 25.Kh1! Ne5 26.Rg1 g6 27.Bb1! after which there's no defence against the direct attack beginning with f3-f4.]
25. Qc1 The bishops are defended. And the white queen, among other things, has one eye on the h6 pawn. The position of the black king is becoming extremely perilous. The slightest delay or carelessness will be fatal for black.
25…Bxd4 A serious positional concession. But the knight on f5 was extremely threatening in some lines.
   [When you attempt to recommend something other than the move in the game you keep coming up against new problems. For example,
25…Re8 26.Bb1! Qa7 27.Qd2! and the threat of Nd4-f5 is again very dangerous.]
   [And if you try to construct a barricade on the long black diagonal via
25…Nh7 with the idea of f7-f6, then white first stops the black knight from appearing on g5 by
26.h4, and then prepares to put a rook on g1. It's not fun for black!]
26. Bxd4 Now white simply has an appreciable positional advantage. And all's not well with the black king.
26…Nd7 27. Kh1 Magnus is bringing to life my rough plan.
27…f6 Neutralising the pressure of the white bishop, black at the same time concedes a new weakness. And the herd of white bishops (translator's note – elephants in Russian!) might still in future be able to break through to their goal after f3-f4 and e4-e5.
28. Rg1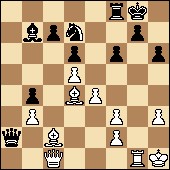 Black's king is suffering, while the queen is standing idle on the other side of the planet. Unable to interfere with the process.
28…Rf7 The time situation is also not in Shirov's favour: 0.35 – 0.11.
   [Extremely unpleasant after 28…Kh8 was 29. Be3! with the threat… i.e. with the irresistible threat of a blow on h6.]
29. Qd2 A simple and strong rejoinder. The threat of "mate" to the black queen (Rg1-a1!) forces a withdrawal that leaves the c2 bishop unattended. And then white can calmly take the h6 pawn.
29…Qa8 There's nothing else. Giving up the pawn, Alexey is hoping to break open the centre and get some counterplay, even if it proves fatal i.e. a practical chance to save a game which at the moment is inevitably rolling towards the abyss.
30. Qxh6 Of course.
   [I don't think anyone thought about the other pawn – 30. Qxb4. Not the players, not the commentators and not the spectators.]
30…Ne5 And there's the first counter-threat from black. Even if it's easy to repel.
31. Bd1 Another very strong move. The bishop isn't simply defending the pawn. It's ready, after f3-f4, to jump to h5. Black's position isn't very pleasant… Black clearly won't manage to break up the long white diagonal with 31…c6.
31…Qe8 The powerful defender has returned, at last, to its king. But it's just too late.
   [No good at all was: 31…c6 32. f4 Nd7 33. Bh5! Re7 34. Bxf6 and so on.]
32. Qe3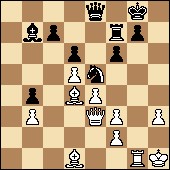 Clearly played out of a desire not to calculate variations. And, it seems, the move in the game will seriously extend the path to the goal.
   [It was much more energetic to play
32.f4! Nd7 33.Bf3 with an overwhelming position and serious threats. For example,
33…c6 would lead to a spectacular defeat:
34.e5! dxe5
(34…cxd5 35.exf6!)
35.fxe5 Nxe5 36.Be4 g5 (otherwise checks on h7 and c5 follow)
37.f4 Ng4 38.Qg6+ and takes on g4]
32…c5 33. Bb2 Leaving the black bishop in limbo.
33…Re7
   [It might have been worth trying 33…c4]
34. f4 White renews the pressure on the long black diagonal. Shirov's flag is close to falling: 0.20 – 0.02.
34…Nd7
   [There was just no time to calculate the consequences of the sharp
34…Ng6. I'll give an approximate line:
35.Qg3 Rxe4! 36.f5 Re1 37.fxg6 Bxd5+ 38.Kh2 Rxg1 39.Qxg1 Qe4 40.Bc1! and white still wins.]
35. Qg3 Black doesn't manage to take on e4 because of mate on g7.
35…Qf7 36. Bf3 Ba6 The prisoner is free. But who needs such an empty diagonal?
37. Bg4 Once more offering the poisoned pawn on e4.
37…Nf8
   [Of course 37…Rxe4 was bad because of 38. Bxe6]
38. Bf5 The guillotine is hovering above the black king. The execution can't be stopped.
38…c4 39. bxc4 Bxc4 40. Qh4
   [It was also possible not to rush – 40. Kh2! That move would let you win without calculating lines.]
40…Bxd5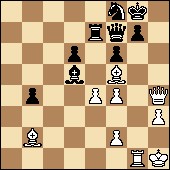 A clever counter-blow. But it doesn't save black. Alexey managed not to let his flag drop – and that, it seems, will be the end of his achievements. White just isn't obliged to take on d5. The simple 41. f3 makes the result clear.
41. f3 Of course. Now the black bishop and f6 pawn are both under attack. There's no salvation.
   [Prepared for 41.Bxf6 was
41…Rxe4! 42.Kh2 Rxf4 43.Qxf4 Qxf6, true, here the salvation is problematic –
44.Rd1 – white should gradually destroy the pawns on d6 and b4. And convert being up an exchange.]
41…Be6 Shirov is fighting to the end. The end is near.
42. Bxf6 Carlsen is precise.
   [It would be a serious lapse to play 42. Bxe6? Qxe6! 43. Bxf6 Rf7, and black comes to life.]
42…Bxf5 43. exf5 There's no need to rush to take on g7. There's a time for everything.
   [Another false path was 43. Bxe7 Ng6!]
43…Rc7 So… Wait a minute! Does white win the ensuing ending with a queen and pawns against a rook and knight? Won't there be an impenetrable fortress there?
44. Rxg7+ It wasn't possible to squeeze more out of the position.
   [44. Qh6? Rc1!! was even losing.]
44…Qxg7 45. Bxg7 Rxg7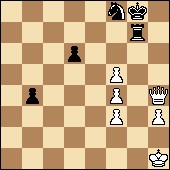 It's time to assess black's plan of defence. Let's say that he loses both pawns and stands still, moving the rook along the seventh rank. How can white break through? There are lots of pawns, but they're not capable of getting to f7 or h7. There's a sneaking suspicion that Magnus was wrong. Really wrong! His rushing on the 40th move has seriously altered the course of the game, which should already be over.
46. f6 Speed. The speed of Carlsen's play – that's Shirov's lifeline. The young, impulsive player is giving his experienced opponent chances of survival. By the way, attention should also be paid to the possibility of 41. Bxf6. There was also a won position for white there. While in the game – and the impression's becoming ever stronger – black might be able to hold.
46…Rd7 47. Qe1 The queen's setting off to collect pawns. No doubt that's a mission possible. But is the second, more important mission – that's not clear.
47…d5 48. Qxb4 d4 It's unlikely this pawn will go far. It should be lost due to zugzwangs.
49. Qc4+ Kh7 50. Qd3+ Kg8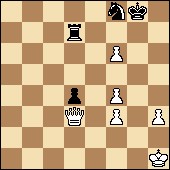 White needs to bring his king into action in order to release the queen from the humiliating work of a blockader.
51. f5 And the point is?
   [After 51. Kg2 the move Ne6? wasn't possible on account of 52. Qc4 Kf7 53. f5]
51…Kf7 Alexey has decided after all to reduce the headcount of white pawns.
52. Kg2 Kxf6 You see, soon there won't be any at all.
53. Kg3 Kg7 By the way, it's not yet clear whether black will establish the Maginot Line on the seventh rank. There are options…
54. h4 Nh7 As I was saying. There are also some decent strong points on the sixth rank.
55. Kf2 The king is still planning on replacing the queen.
55…Nf6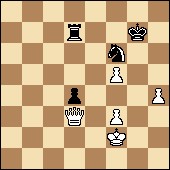 Black is methodically strengthening. The computer still laughs at his efforts, giving out a monstrously high evaluation in white's favour. It seems as though we'll soon be able to laugh at it…
56. Qd2 Nh7 57. Ke1 d3 One square further, one square nearer – it makes no difference.
58. Qg2+ Kh8 59. Kd2 The change of functions has been accomplished. Now the queen will enter the attack.
59…Nf8 A return to old haunts.
60. Qg5 Kh7 To stand and wait! The simplest of strategies… But, you know, during the pause I studied the position in depth and discovered that after the loss of the pawn black does lose after all. There's no fortress!
61. h5 Correct. White has the powerful idea f5-f6 and Qg5-e5-e7! And, it seems, that's not the only one. But it's enough to win.
61…Kh8 62. f6!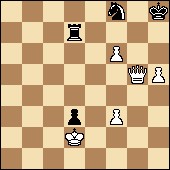 Magnus has also found the winning idea mentioned. He should still get what he wants! And before the 200th move.
62…Kh7 63. f4 Kh8 64. h6 And there's the second good idea – the invasion of the queen on g7. Well, it's even prettier.
64…Kh7 65. f5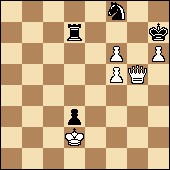 The pawns have gone as far as they can. Now for the queen-kamikaze. The most interesting thing is that white needs exactly three pawns to win. If you removed the f6 pawn from the board then, it seems, there's no longer a win… BLACK RESIGNED! I'll show you why:
65…Rf7
   [65…Kh8 66.Qg7+! Rxg7 67.fxg7+ Kg8 68.gxf8=Q+ Kxf8 69.f6 Kg8 70.Kxd3 is very simple.]
66.Kxd3 Rd7+ 67.Ke4 Ra7 68.Kd5 Ra5+ 69.Kc6 Ra7 70.Qg7+! Rxg7 71.fxg7, and the black knight is helpless. So then, Carlsen won, if not without adventures. All in all it was justified. He demonstrated excellent preparation in the opening, seized the initiative, gradually created strong pressure on the enemy king and then, after a couple of missed opportunities, treated us to an impressive destruction of the mythical black fortress. Well done, Kid! Today we saw the previous high-flying and powerful Carlsen… With you, dear friends, has been Grandmaster Sergey Shipov. I'll be waiting for you tomorrow at the same time for the final round.
1-0
Game viewer by Chess Tempo
I'll also be translating Sergey Shipov's live commentary tomorrow at: http://www.chessintranslation.com/live-game/