Today Grandmaster Sergey Shipov commentated live on the Carlsen-Kramnik game from Bilbao. Carlsen tried the English Opening he used to beat Kramnik in London 2009, but that was where the similarity ended in a marathon game that only the Russian had chances of winning… if only it was possible to win rook endings
Sergey Shipov's original commentary in Russian was at Crestbook (there's a board there on which you can click through all the analysis).
GM Sergey Shipov's live commentary on:
Bilbao Masters Final Rd 4
MAGNUS CARLSEN – VLADIMIR KRAMNIK
Hello, dear friends! This is Grandmaster Sergey Shipov bringing you the start of the second half of the super-tournament in Bilbao. Kramnik is leading with a score of +2, while Anand's following on +1. It's going to be difficult for Carlsen and Shirov to get involved in the battle for first place – unless they start to win every game… But probably even their most ardent fans don't believe in that. And that's not based on an assessment of the possibilities of Magnus and Alexey. The question is, WHO can they win against? Vladimir and Vishy in the lead are in such great shape, their opening preparation is so deep, that it's not clear at all how to beat them. In general, you get the impression just now that they'd be capable of withstanding even the metal monsters. By the way, beating those monsters, alas, is no longer possible. I can't but express my admiration for the work of the programmers nowadays. Their best creations demonstrate play with no clear flaws. Exceptionally solid and competent. They "think" unbelievably quickly and accurately. And a man who's capable even for part of a game of matching a computer, and who doesn't make any clear mistakes, is practically untouchable. For now we've got two such men in Bilbao.
1. c4 Sidestepping the topical lines! By the way, it's worth recalling that a year ago in London Carlsen managed to overcome Kramnik in precisely the English Opening.
1…e5 2. Nc3 Nf6 3. Nf3 Nc6 4. g3 d5 5. cxd5 Nxd5 So the first player ends up with the Dragon variation i.e. with colours reversed. The extra tempo given to black (who's become white) changes a lot. An awful lot.
6. Bg2 For example, here black (i.e. the one who was white) can't maintain the outpost on d5.
6…Nb6
   [If 6…Be6 7.O-O Be7 white gets an edge via the advance
8.d4!]
   [While 6…Be6 7.O-O Bc5 is even worse –
8.Nxe5! Nxe5 9.d4]
7. 0-0 Be7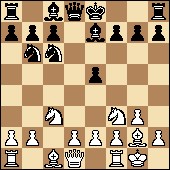 8. d3 A small surprise. It sometimes happens that good old moves, which were played thousands of times and appeared natural in previous centuries, become surprising for contemporaries, who are used to following opening fashion.
   [The current fashion is to choose between 8. Rb1]
   [8. a3]
   [or 8.b3]
8…0-0 9. Be3 The solid main continuation. Keres, Szabo and other grandmasters from the first half of the 20th century played that way. White's threatening… or at least planning, the break-through d3-d4.
9…Re8 A surprisingly quick reply. It would be interesting to know if there's even a single move in theory that would make Kramnik think for as much as five minutes? No doubt there are such moves, but they're very weak! The continuation that's occurred in the game entered into practice only in the 1980s i.e. it's quite a modern approach. The black rook waits in ambush…
   [In the game Szabo-Landau (not the great physicist, but the average chess player), Hastings 1938, there followed,
9…Be6 and white carried out his not very dangerous threat –
10.d4 exd4 11.Nxd4 Nxd4 12.Bxd4, but didn't get an edge:
12…c6 13.Qd3 Bf6 14.Rfd1 Bxd4 15.Qxd4 Qxd4 16.Rxd4 Rfd8 17.Rad1 Rxd4 18.Rxd4 Kf8 19.Rb4 Rd8 – draw.]
   [Also played here was
9…Bg4]
   [9…f5 and so on]
10. Rc1
   [On 10.d4 the simplest approach is
10…exd4 11.Nxd4 Nxd4 12.Bxd4 c6 with a solid position for black.]
   [Although people have also played
10.d4 Nc4, leading to serious complications.]
10…Bf8 Note that the bishop on c8 is waiting for now and keeping the pawn on b7 afloat, as in some lines the g2 bishop might take that. And where should the piece go when it comes out of hiding – to e6 or g4 – that will be resolved in the very near future.
11. Ne4 Preparing the invasion of the white pieces on c5. Once again lord knows where the danger lies. But it's still a plan!
   [Black was already able to ignore the plan of a pawn attack on the queenside:
11.a3 Nd4 12.Ne4 c6 13.Bxd4 exd4 14.Qd2 Bg4 15.Rfe1 a5 16.Qf4 Bxf3 17.Bxf3 Nd5 18.Qd2 Nf6 and Topalov as white couldn't overcome an opponent named Arizmendi-Martinez (Villarrobredo 2007). The contrast in the resonance of the names speaks for itself, I think.]
11…Nd4 Once again played almost without thinking.
12. Bg5 A side step – in all the meanings of that expression.
   [The most popular move here is
12.Nc5 , but in practice black successfully deals with all his opening problems. For example,
12…Nxf3+ 13.Bxf3 c6 14.Qb3 Bxc5 15.Bxc5 Be6 16.Qa3 Qd7 17.e4 Bg4 18.Bxg4 Qxg4 19.f4 Nd7 20.Bd6 exf4 21.Rxf4 Qe6 and in the game Minasian – Smirin, Moscow 2009, the ensuing bloody battle ended in white's demise.]
12…f6 I've got that bad commentator's habit of commentating on every move. I'll comment on this one too: Kramnik didn't blunder his queen!
13. Nxd4 After provoking a certain weakening of his opponent's position Carlsen begins to clarify the relationship and structure in the centre of the board.
13…exd4
   [Taking with 13…Qxd4 was no good because of 14. Bxf6!]
   [While 13…fxg5 is simply immoral – you won't be allowed to become a champion playing like that!]
14. Bd2 Why not to f4? Clearly Magnus felt sorry for the bishop that might fall under the hoofs of the black knight after Nf6-d5. Maybe not right away, but eventually, no doubt.
14…Be6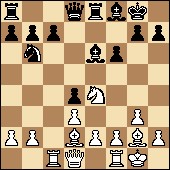 Black is successfully completing his development. Visually everything seems to be fine, but you still need to check how solid his queenside is… By the way, the move in the game is a novelty.
   [Previously only the modest 14…c6 had been played here. No, it's probably better to call the move very solid. As after all there's usually just a different move order. I looked at the predecessor games and got a little concerned. The white players in them were so weak that it would be awkward to show the games. Magnus would no doubt have played actively there. For example, 15.b4, intending to demonstrate activity there where it's needed…]
15. b4 And no sooner had I finished writing the previous note than the Norwegian youth played the same move, in a different situation. Now the invasion of the white knight on c5 will have a great effect. While the threat to the a2 pawn isn't a big sacrifice. Particularly if you take into account that white will win the pawn back in a couple of moves. Let's look at the clocks: 1.04 – 1.17 Vladimir, as always, has started to think about the position on his own later than his opponent i.e. now!
15…Bd5 A solid reply. No white-squared bishops, no problems with the pawn on b7. The next step is the f6-f5 sting!
   [It's dubious to play
15…Bxa2 16.Nc5 Bd5
(saving the pawn will cost the life of the bishop –
16…Bxc5 17.bxc5 Nd5? 18.Qa4!)
17.Nxb7 Qd7 18.Nc5 Bxc5 19.Rxc5 Bxg2 20.Kxg2 – here black has more pawn weaknesses than white.]
16. a4 The most logical move. The white pawns are capable of advancing pretty far…
16…c6 A fighting move. Kramnik isn't rushing to put all his cards on the table. He's waiting for a more convenient moment, giving his opponent the chance to display activity and, perhaps, blunder.
   [It also didn't seem bad to change the guard on d5 –
16…f5 17.Ng5 Bxg2 18.Kxg2 Qd5+ 19.Nf3 c6 with approximate equality.]
17. a5 The first advance, but clearly not the last.
   [It was also worth considering the cunning manoeuvre
17.Bh3, hindering the f6-f5 sting. True, you'd then have to think what to do after the reply
17…Be6 It seems as though it's good to exchange on e6 and then go to c5. Or to be specific:
18.Bxe6+ Rxe6 19.Nc5 Bxc5 20.bxc5 Nd5 21.Rc4 Qe7 22.Re1 Re8 23.Rxd4 with the idea of 23…Rxe2 24.Re4! But that's all behind us.]
17…Nc8 Another solid move by an experienced positional player.
   [On 17…Nd7 you can play the bold blow
18.b5! with the tactical idea:
18…cxb5 19.Nd6! Bxg2? 20.Qb3+ Kh8 21.Nf7+ Kg8 22.Nh6+ Kh8 23.Qg8#!]
   [While the sharp 17…f5, although possible, is not in Kramnik's style. There might follow:
18.axb6 fxe4 19.dxe4 Bxe4 20.Bxe4 Rxe4 21.bxa7 Rxa7 22.Qb3+ Kh8 23.Qd3 Qd5 24.Ra1 and white has a certain initiative. Which would, it seems, soon come to nothing.]
18. Re1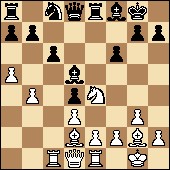 A remarkably modest choice. Of course it's useful to defend the pawn on e2, thereby freeing up the queen.
   [But it's not clear why Carlsen didn't finish the raid of the outside pawn:
18.a6! It's not even a pawn sacrifice, as after
18…bxa6?! black has more weaknesses than there are leaves on a tree.]
   [And if
18.a6 b6 (or 18…b5) white is within his rights to switch to breaking up the centre – after which the weakness of the c6 point might well tell.]
18…a6 Of course. Now the queenside has "died", and the b4 pawn is vulnerable. Eternally.
19. Nc5 A serious step. It's true that as hard as I try I can't yet find pleasant consequences for white.
   [The cunning 19. Bh3 would be met by the equally cunning – 19…Na7! and the knight gets to b5.]
19…Bxg2 20. Kxg2 Freeing up the d5 square for more important guests.
20…Qd5+ 21. Kg1 Let's glance at the clocks: 0.33-0.58. Vladimir's play, as before, is quick, sure and high quality.
21…Nd6 An understandable manoeuvre. It turns out that black can get away with ignoring the white knight on c5.
   [However, there was also nothing preventing the continuation
21…Bxc5 22.Rxc5
(22.bxc5 Na7!)
22…Qd7 with the knight then coming to d5 or b5.]
22. Qb3 You need to exchange your opponent's ideally placed pieces, don't you?
22…Qxb3 23. Nxb3 Nb5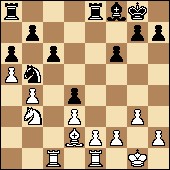 Black's comfort has become absolute. From a practical point of view his position is even a little better. You can pressurise the e2 point and slowly push the pawns on the kingside. While there doesn't seem to be a promising plan for white.
24. Kf1 Rad8 A move based on general considerations.
25. Rc4 A subtle hint at the Bd2-c1-b2 manoeuvre with pressure on the d4 pawn.
25…Rd5 A flexible move. It's still not clear where this rook will direct its attack…
   [The trick 25…Na3 26.Rxd4 Nc2 would have worked if the black rook hadn't gone to d8 –
27.Rxd8 Rxd8 28.Rb1 Nxb4 29.Na1! c5 30.Nb3 with a white edge.]
26. Bc1 Red8 There's no doubting the d4 pawn's support.
27. Bb2 There's still no answer to the question, "what next?". The position's closed and solid for both sides. In order to break it open you need to take serious risks.
27…Kf7 28. Kg2 The possibility of strengthening the position is to push the kingside pawns. But that has to be done extremely carefully…
28…h5 It's begun. 29. h3 And continues. Meanwhile in the Anand-Shirov game white already has a serious advantage. The pursuer has a real chance of catching the leader…
29…g5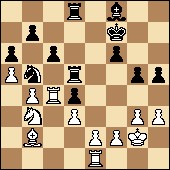 The pawns haven't yet come into contact. If that happens the struggle will become much sharper. While for the moment the position on the board is about even. If white play's correctly…
30. g4 A sensible way of fixing the structure. When there are black-squared bishops on the board put your pawns on white squares. A known and universal rule.
30…Kg6 Vladimir maintains the tension. It seems as though he's planning to provoke an exchange of pawns on g4 by playing f6-f5. If black manages to open some files then there'll be a chance to disturb the white king with the rooks. After all, black has a clear advantage in terms of space, which means the possibility of effectively switching the pieces from one side of the board to the other. The white pieces on the queenside, on the other hand, won't get to the kingside anytime soon.
31. Rf1 Patience, only patience! There's no time trouble, and there won't be any: 0.22 – 0.38. You can almost touch the time control.
31…Be7 The caution of an experienced predator. Every tiger knows that you can't just throw yourself thoughtlessly at a large prey. You might run onto its horns.
   [For example, like this:
31…f5 32.gxf5+ Kxf5 33.e4+! dxe3 34.fxe3+ Kg6 35.Re4 and white seizes the initiative.]
32. f4 The energy of youth must be released.
   [An older player would have stood still, giving his opponent the chance to declare himself. For example, by 32. Kg3]
32…hxg4 33. hxg4 gxf4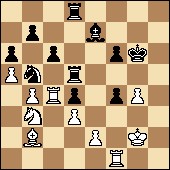 And there's the opening of files! It's upsetting the white king, but also the d4 pawn.
   [Worse was 33…f5 on account of 34.gxf5+ Rxf5 35.Nxd4!]
   [And if
33…f5 34.gxf5+ Kxf5 35.fxg5+ then you have to retreat the king to g6, as on
35…Kxg5 there follows 36.Rf7!]
34. Rxf4 Bd6 Not only an attack, but also defending the d4 pawn. If need be the bishop can also go to e5.
35. Rf3 Correct. You need to choose the lesser of two evils.
   [After 35.Re4 Be5! black attacks via Rd8-h8-h2. And you shouldn't forget the knight fork Nb5-d6. The sharp move
36.e3 doesn't equalise:
36…Rh8! 37.Bxd4 Nd6! 38.Bxe5 Nxe4 39.Rxe4 Rxe5 – here white's chances of survival aren't so great.]
35…Rg5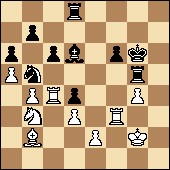 Kramnik goes for the storm at a moment when Carlsen's beginning to experience a lack of time. Well, it's a practical decision.
36. Bxd4 An inaccuracy, it seems.
   [A fragile balance was maintained after
36.Nxd4, for example,
36…Rxg4+ 37.Kf2 Nxd4 38.Bxd4 Rxd4 39.Rxd4 Bc5 40.bxc5 Rxd4 41.Rg3+ Kf7 42.Rh3 Kg6 43.Rg3+ with a logical draw.]
36…Nxd4 37. Nxd4 Note that white didn't manage to threaten the f6 pawn. That's the minus of the knight instead of the bishop. In the given position.
37…Rxg4+ 38. Kf2 Rh8 Black will plant a rook on h2. The initiative is in his hands.
39. e4 An acceptable risk. Black's checks aren't fatal for now.
39…Rh2+ 40. Ke3 Magnus has managed, at least, not to let his flag drop. It's too soon to talk about "at most"…
40…Rb2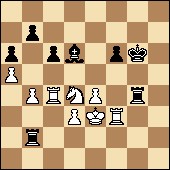 First of all you need to work out if white isn't going to lose the pawns on the queenside. But the traditional cup of coffee needs to be drunk before that. I'll mention the first result of the day – Anand didn't manage to beat Shirov! Draw. But let's return to our game. It looks as though black has to give up the b4 pawn, staking everything on active counterplay with his pieces. That aim can be achieved by the move 41. Rc2! Magnus is thinking…
41. Nc2?! Too passive.
   [In good form Carlsen here would play 41.Rc2! Rxb4 42.Nf5 Be5 and now not 43.Rh3? Rgxe4+!, but
43.Rf1! , intending to invade black's back ranks with his rooks. Analysis shows that in this case black is taking no fewer risks than white. It's approximate dynamic equality.]
41…Rg5 Now white has the most serious of problems. The b4 pawn is close to ruin. There don't seem to be any counter chances.
42. d4
   [It seems as though it was worth trying to transfer the knight to c3: 42. Nd4]
42…Rb5 Of course. The fruit's ripe.
43. Kd3
   [I thought that the Kid was intending to distract the experienced gardener by the ruffian-like push
43.e5 But that didn't give any clear promise of salvation –
43…fxe5 44.dxe5 Rb3+ 45.Kf2 Rxf3+ 46.Kxf3 Rxe5 – and there's a serious danger of being two pawns down.]
43…Bxb4 44. Rxb4 R5xb4 45. Nxb4 Rb3+! An important finesse. The white king is pushed away.
46. Ke2 Rxb4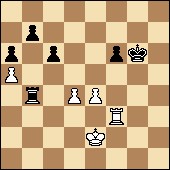 Black has an extra pawn and a more active rook. The chances of a win are great.
47. Rg3+ Kf7 48. Rd3 Ke6 49. Ke3 How to win? Exchanging the b7 pawn for the a5 pawn isn't appealing. It looks as though you need to break up the white centre. But when doing that it's important to remember that the rook ending with b7 and a6 pawns against the pawn on a5 isn't winning…
49…Rb5 A cultured move.
   [In the line
49…f5 50.exf5+ Kxf5 51.d5! cxd5 52.Rxd5+ Ke6 53.Rd1 you get just that same drawn endgame.]
50. Ra3 You won't believe it, but despite all Carlsen's blunders he's got chances of saving this tough encounter. The a5 pawn is successfully blocking black's queenside. And for now it's not clear how Kramnik can get to that pawn with his king… Only by exchanging a couple of pawns, but that leads to the theoretical draw mentioned. Or there's something I'm not seeing! Which is actually very possible. I must admit I'm a little tired. However, Vladimir's thinking so long that I'm beginning to believe in myself more and more.
50…c5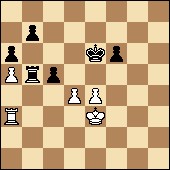 Perhaps a chance. The idea's the same – to get to the a5 pawn with the king.
   [After 50…f5 white would simply wait – 51. Ra1!]
51. dxc5 The fewer pawns, the fewer problems.
   [It was too risky to play 51. d5+ Ke5 52. Rd3 Kd6! 53. Ra3 Rb1 with some unpleasantness.]
51…Rxc5
   [I must admit I expected the more cunning 51…Ke5, but probably it wouldn't have changed anything: 52. Kd3 Rxc5 53. Ra1!, and white holds.]
52. Kf4 The e4 pawn is a tough nut to crack for black. For now white can stand still and wait.
52…Rh5 So… If white takes on b7, and black on a5… It seems in that case white should be able to hold. Moreover, white can continue the strategy of just waiting for now.
53. Rb3 Rb5 54. Ra3!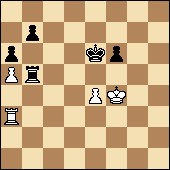 Exactly! Magnus, it seems, now has firm ground beneath his feet. He should survive. There's still plenty of time: 0.24 – 0.22. I'll remind you that the players get an extra 10 seconds each move. Quite enough to play on your "flag". Which no longer exists on electronic clocks.
54…Kd6 The fully-expected raid to b4. But is it dangerous? I recommend just stubbornly standing still!
55. Ra1 Precisely. When black takes the a5 pawn with the king on b4 that's followed by Ra1-b1+ and taking on b7. And then white attacks the f6 pawn. You need to look, by the way, at the idea of bringing the white king to f5 at the moment that his black colleague steps on c5…
55…Rc5 A new finesse. The b5 square has been freed up, and the king can get through there. The idea is to rule out the lines where the white king gets to f5.
56. Rd1+ Carlsen replies quickly and surely. It seems that he's totally sure that the fortress he's created is impenetrable.
56…Kc7 57. Ra1 He stands and waits.
57…Kc6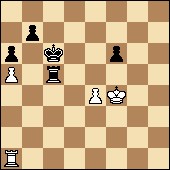 The denouement is approaching. According to my current analysis white survives. But in practice anything's possible…
58. Ke3 f5 Tiredness.
   [It also wan't winning to play
58…Kb5 59.Rb1+ Kxa5 60.Rxb7 Rb5 61.Rf7 Rb6 and here the simplest approach is
62.Kf4 Kb4 63.e5 fxe5+ 64.Kxe5 with a known theoretical draw.]
59. exf5 Rxf5 60. Kd3 Now the draw's obvious. Such positions don't require analysis. You simply have to KNOW them. It's a question of chess education. Schooling.
60…Rf3+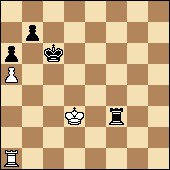 It strikes me that Kramnik's efforts are already superfluous. I understand his disappointment at not managing to win a position with a clear advantage. But the given position is too elementary even for a candidate master. Nevermind for a super-grandmaster.
61. Kc4 Rf4+ 62. Kc3 Kc5 63. Rh1 You can also do it that way. The funniest thing is that white, essentially, doesn't even need the help of the king. The rook can easily handle the task of exchanging the a5 and b7 pawns.
63…Rf3+ 64. Kc2 Rf5 Allow me to remain silent, and get some refreshments :)
65. Kc3 Rf3+ 66. Kc2 Ra3 67. Rh7 Kc6 68. Rh6+ Kc7 69. Rh7+ Kb8 70. Rh8+ Ka7 71. Rh5 Re3 72. Kb2 Kb8 73. Rc5 Re6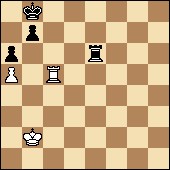 DRAW! Today Carlsen was saved by Doctor Tarrasch who, in his time, said that all rook endings are drawn. Later Tartakower publicised the aphorism, and it became a lifeline for future generations of chess players. In worse positions they strive towards rook endings, which are rich in drawing possibilities… To sum up, I'd mention the powerful and inventive play of Kramnik and the apparent lack of confidence in his own abilities of Carlsen. The result 0 – 1 was more than likely. But Magnus managed to resist despite balancing on the edge of the abyss. And thereby the tournament tension was preserved. Anand still has chances of catching Kramnik… On which note I, Sergey Shipov, end my report. Thank you for your patience and attention. We'll meet again tomorrow at the same time. All the best!
1/2 – 1/2
Game viewer by Chess Tempo
I'll be translating Sergey Shipov's commentary on round 5 live at around 16:30 CET – at the Live Games page: http://www.chessintranslation.com/live-game/