Grandmaster Sergey Shipov is providing live commentary on the games from Bilbao at the Crestbook website. In today's game you couldn't knock Magnus Carlsen for trying, but his attempt to outwit Vishy Anand in an endgame ended in disaster. As if that wasn't enough the World Champion also regained the no. 1 spot on the live ratings.
Shipov's original commentary in Russian, with a board you can click through all the analysis on, is at Crestbook.
GM Sergey Shipov's live commentary on:
Bilbao Masters Final Rd 2
MAGNUS CARLSEN – VISWANATHAN ANAND
Greetings, dear spectators! This is Sergey Shipov, an expert from the www.crestbook.com website, here to commentate on selected games from the super-tournament in Bilbao. Today we're going to look at the encounter between the World Champion and… one of his possible successors. Yes, Carlsen isn't in the best of form, but there's no doubt about his general promise. The future belongs to the Norwegian youngster. But at the moment he's having a tough time. In similarly tight tournaments anyone who shows weakness comes, as a rule, under the heaviest of pressure from the other predators who smell blood. Beating the outsider and not losing to your competitors is the most sensible strategy. And if the outsider (i.e. the person out of form) is identified, then you have to attack him with either colour. Even with black, if the opening goes well. Logically, Magnus now has to play more solidly, reliably. But that's just a general, abstract recommendation. In chess it's important to act according to the position, taking decisions based purely on the chess circumstances. If, after the opening, you get a situation (perhaps unexpectedly) where to achieve a positive result you need to be active, then there's nothing you can do about it. You have to attack! Boldly, forgetting past failures. For which you need character. Will-power. A flexible nervous system. I think Carlsen's got all of those. He can take it.
1. e4 e5 2. Nf3 Nc6 3. Bb5 The Ruy Lopez.
3…Nf6 The Berlin System.
4. d3! Rejecting the endings we've seen ad nauseam! In which, by the way, theoreticians are at a loss against black's impenetrable wall. Look at N games on that theme from the Olympiad in Khanty-Mansiysk.
[We're talking about the line: 4.O-O Nxe4 5.d4 Nd6 6.Bxc6 dxc6 7.dxe5 Nf5 8.Qxd8+ Kxd8 and so on]
4…d6 5. 0-0 White calmly develops, leaving opening the centre until later.
5…Be7 A modest but very reliable move.
[More ambitious is 5…g6 which was played by, for example, Ivanchuk against Dominguez (Moscow 2009) – 6.Re1 Bg7 7.d4 Bd7 8.d5 Ne7 9.Bxd7+ Nxd7 10.Be3 O-O 11.c4 Kh8 12.Nc3 Ng8 – and black came out on top in a long struggle.]
6. c3 0-0 7. Nbd2 Bd7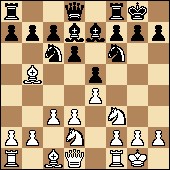 Putting an obstacle in the path of white's attempts to seize the centre.
8. Re1
[The 8…Nxd4! blow would follow 8.d4, and after 9.Nxd4 (9.Bxd7 Nxf3+) 9…exd4 10.Bxd7 dxc3! 11.bxc3 Qxd7 white doesn't have full compensation for the pawn.]
8…Re8 It seems as though black's black-squared bishop is going to go to g7. Gradually…
9. Nf1 Again discreetly holding off from complications.
[In the case of 9.d4 Nxd4! 10.Nxd4
(10.cxd4 Bxb5 11.dxe5 dxe5 12.Nxe5 Bc5! is extremely dangerous for white)
10…exd4 11.Bxd7 Nxd7 12.cxd4 c5!? 13.d5
(13.Nf3 is more reliable)
13…Bf6 black would get at least equal play in a structure similar to the Modern Benoni.]
9…Bf8 The e8 rook joins the struggle for the centre.
10. Ba4 The bishop hides from dangers i.e. from possible exchanges, as the exchange of minor pieces really does favour black, the side with limited space. Hence white's strategy: to apply pressure, while not yet entering into the clinch.
[The 10. Bc4 manoeuvre was unsuccessful because of 10…Na5!]
[The game Khairullin – Aleksandrov, Moscow 2008 developed in an interesting way:
10.Ng3 – that's the main move in this position –
10…h6 11.h3 Ne7 12.Bxd7 Qxd7 13.d4 Ng6 14.d5 c6 15.c4 b5 16.b3 bxc4 17.bxc4 cxd5 18.cxd5 Rab8 19.Be3 Rb2 20.a4 Nf4 21.Nd4! but still no-one ran out the winner.]
10…h6 Useful prophylaxis.
11. Ng3 We've returned, by a different move order, to known positions. There's nothing new yet. By defending the e4 pawn white again makes the d3-d4 push a possibility.
11…Ne7 Played according to Aleksandrov. The pawn rather than the knight goes to g6.
[While here's what happens after 11…g6 – 12.d4 Bg7 13.d5 Ne7 14.c4 c6 15.Bd2 Rb8 16.dxc6 Nxc6 17.Bc3 Qc7 18.Nd2 a6 and black had good counterplay in Mullon – Postny, France 2010. I don't think white should simply concede black an outpost on d5 like that… And if the pawn remains on d5 then the knight on e7 will be bad.]
12. Bb3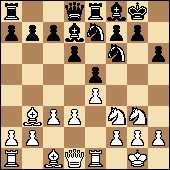 The strongest move. There's no obligation to hide on c2 and it's better to take aim at the f7 point. While the exchange of bishops on e6 looks risky for black…
12…Ng6 The players' cavalry has amicably relocated to the kingside. Soon raids on f5 and f4 should follow.
[There were difficulties after 12…Be6 13. Bxe6 fxe6 14. Qb3 Qc8 15. d4!]
13. d4 The logical conclusion of the opening rearrangement. White, after all, puts pressure on the centre.
13…c5 This novelty is no small wonder. Weakening the white squares like that in the centre! But turn on your computer and it'll explain everything. Chess programs recommend the move. It seems that Vishy… no, he hasn't trusted it. But he's checked the computer idea. And recognised its quality.
[Previously only the modest 13…c6 was played here. In the game Khairullin-Aleksandrov, Moscow 2008, white, it seems, released the pressure a little too soon and didn't get an edge:
14.dxe5 dxe5 15.Nf5 Nxe4! 16.Nxh6+ gxh6 17.Rxe4 Be6 18.Qxd8 Raxd8 19.Bxe6 Rxe6 – the battle ended peacefully.]
[Clearly more relevant is 13…c6 14.h3, as was played in the game Vysochin – Khachatryan, Alushta 2008. There followed: 14…Qc7 15.a4 a5 16.dxe5 dxe5 17.Be3 Be6 18.Bxe6 Rxe6 19.Qb3 Nd7 20.Red1 Rd6 21.Rxd6 Bxd6 22.Rd1 and white seized the initiative.]
14. h3 An extremely cold-blooded response. White isn't tempted to move the d4 pawn. It's as if he's saying, let black exchange on d4 and leave himself with a weak pawn on d6.
[The structure arising after 14.d5 is clearly in black's favour. He has his hands free for aggression on the kingside – 14…Nf4!]
[The exchange 14.dxc5 dxc5 also doesn't look good, as the white knights getting to d5 would be like getting to the Moon… OK, I agree, it's a little closer, but all the same they won't get there… And I'm wrong again – they can get there, but there won't be an advantage! For example,
15.Nf5 Qc7 16.Ne3 Bc6 17.Nd5 Bxd5 18.Bxd5
(18.exd5 c4! 19.Bc2 Rad8)
18…c4! – and black's prospects are greater. Or better. Or they look brighter! The queen's rook will come to d8, and the bishop come out to c5.]
14…Qc7 Both sides are skillfully strengthening while maintaining the pawn tension in the centre, for now. Black's position is crying out for some pawn aggression on the queenside.
15. a4 Magnus prevents it. And at the same time… or perhaps first and foremost, fights for control over the white squares.
15…a6 Vishy sticks to his guns.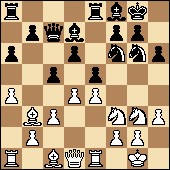 The b7-b5 move is again on the agenda.
16. a5 The most natural rejoinder. Now pushing the b7 pawn leads to the rupture of black's pawn chain. However, hasn't the a5 pawn gotten a little too far away from the collective? Those on their own in life, and on the chess board, don't survive…
16…cxd4 17. cxd4 exd4 Without having managed to carry out the pawn attack Anand opens the centre, clearly counting on simplifications and equality. Now's the time for extremely accurate measures. The cost of each move is very high. By the way, the time situation: 0.59 – 0.50. It's not over yet! (translator's note – literally, "it's not evening yet")
18. Nxd4 And there's what I was talking about in the introduction, that striving towards solidity.
[In his best form Carlsen would no doubt have chosen the aggressive continuation 18. Bd2 with the idea of Ra1-c1. The pawn isn't going anywhere, and it would be very useful to develop an initiative.]
[After 18. Qxd4 you had to take into account 18…Ne5! and it's not totally clear what you should do with the knight on f3.]
18…d5! A move that's very well-timed and, without a shadow of a doubt, was calculated in advance. The centre of the board is completely cleaned out. The black pieces are released.
19. exd5 Rxe1+ 20. Qxe1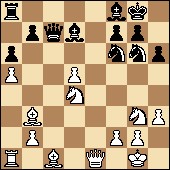 White is a little behind in development. The rook on a1 is out of play for now.
20…Re8
[It was possible to win back the pawn with 20…Ne7, but the World Champion is first trying to squeeze the maximum out of his current initiative.]
21. Qc3 A bold response. The check on the first rank won't be fatal. It's interesting, though, whether Magnus has seen the strange, intricate lines where the black knight is sacrificed on g4 and the white king comes under a whole serious of discovered checks?
[In the case of 21. Qd1 Nf4 white really was taking a serious risk.]
21…Qxc3 There's no reason to avoid exchanges. The tempo for the attack is more important!
22. bxc3 Re1+ And now after the white king goes to h2 black plays Ng6-e5 with the idea of Ne5-g4+!
23. Kh2 Well done, Kid! (Translator's note – "Малыш", a nickname Carlsen has on Russian forums) He's gone for it. He's decided to satisfy his chess curiosity. It's as if he's saying, so then, guv, what did you give up a pawn for?
[After 23.Nf1 Nf4 24.Bb2 Rxa1 25.Bxa1 N6xd5 there's a very comfortable endgame for black. With correct play it would, of course, lead to a draw.]
23…Bd6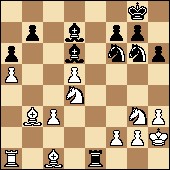 Vishy plays simply. But also strongly. Black's initiative should be enough to win back the pawn. At least.
[I looked at the intricate 23…Ne5 Then the banal move 24.Bb2 didn't lead to perpetual check at all. After
24…Neg4+ 25.hxg4 Nxg4+ 26.Kh3 Nxf2+ 27.Kh2 Ng4+ 28.Kh3 black would continue playing for a win with
28…Ne3+! 29.Kh2 Rxa1 30.Bxa1 Bd6 and the threat of giving a knight check on f1 is irresistible. Black wins back the piece, gaining better chances.]
[However, after 23…Ne5 there was the solid reply 24.Nc2!, which forces a draw:
24…Neg4+ 25.hxg4 Nxg4+ 26.Kh3 Nxf2+ 27.Kh2
(27.Kh4?? Be7+ 28.Kh5 Bg4#!)
27…Ng4+ 28.Kh3 Nf2+ with perpetual check]
24. Nc2 A good defence.
[A complex, but more or less even ending would follow after
24.Bb2 Rxa1 25.Bxa1 Ne4 26.Bc2 Nxf2 27.c4 Ne5 – the f2 knight breaks out of the siege via d3.]
24…Rf1 The rook doesn't desert the front line. The g3 knight is a phantom.
25. Be3 Rxa1 26. Nxa1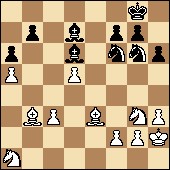 White has managed to exchange black's most dangerous attacker. But he won't manage to keep all his pawns alive.
26…Be5 For example.
27. Bd4 Exchanging black's main consumer.
27…Bxd4 28. cxd4 Ne7 And there's the meal. Material equality is being reestablished while white still needs to consolidate his pieces. It's easier for black to play this apparently almost-equal ending. For now the clocks are fine: 0.27 – 0.34.
29. Nc2 Nfxd5 But was it a good idea to let the g3 knight into the centre?
[However, that's a myth. 29…Nexd5 would be followed, all the same, by 30. Ne4! A simple little trick…]
30. Ne4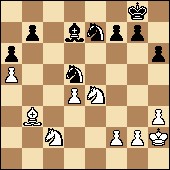 If I was Anand, I'd look for a chance to exchange pawns on b6, getting a distant passed pawn. Centralising the king is also worth thinking about…
30…b6 If Anand was me he'd write: a logical, but risky move. When the knight on d5 is under attack – that's dangerous. When the pawn on b6 also ends up under attack at the same time – that's doubly dangerous. There's a risk of blundering some sort of tactic… For example, 31. Ne3 with the idea that on 31…Nxe3 you can reply 32. axb6! But, it seems, everything comes together for black in analysis!
[Worse than the move in the game was 30…b5, as white won't even think of capturing en passant – 31. Nc5!]
31. Ne3 Correct! The calculations of veterans need to be tested. In action.
[Solid, but dull, was: 31. axb6 Nxb6 32. Nd6]
31…Nxe3 32. axb6!
[The pawn sac 32. fxe3 bxa5 would be fruitless and senseless here. If you're going to love someone, make it a queen, if you're going to sacrifice, make it… it's a shame there's no queen on the board. So it'll have to be… the knight!]
32…Nef5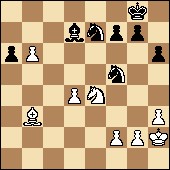 A normal human desire to keep your pieces in one unit. And calculate less!
[The metal monster here considers the main line to be:
32…Nf1+ 33.Kg1 Bc6, and in its soulless analysis things end peacefully:
34.f3 Ne3 35.Nc5 N3f5 36.b7 Bxb7 37.Nxb7 Nxd4 38.Bc4 Nb5 39.Nc5 – and the a6 pawn falls.]
33. Nc5 It would be hard to underestimate white's threats. But it's also not worth overestimating them. Black won't allow white to bring a new queen into the world.
[If Carlsen had had more time he might have found and calculated the sharp move 33. d5, which, it seems, guaranteed equality. However, proving that claim quickly isn't easy:
33…Bc8 34.g4 Nd4 35.Nd6 Bb7!! 36.Nxb7 Nxb3 37.d6 Nc6 38.d7 a5 39.d8=Q+ Nxd8 40.Nxd8 Nc5 41.b7 Nd7 42.Nc6 a4 43.Kg3 a3 44.Nb4 and black's distant passed pawn looks "more distant" than white's. Analysis, however, shows that it's a draw.]
33…Nxd4 34. b7 Nec6 While here it's not so simple for white to get to a drawing harbour. In short variations there are problems! And you still need to be able to find the longer ones…
35. Ba4 Be8 36. Nxa6 Kf8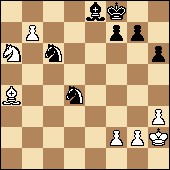 And here it turns out that there's no immediate way of winning back the piece. If you immediately promote the pawn to a queen then black simply takes it, and then another white piece, ending up with an extra piece. And if you first exchange on c6 then the black bishop moves to b5 and hobbles the white knight – and the king sets off to take it. There are still four moves to the time control, and ever less time on the clocks: 0.09 – 0.17. White has to bring his king into the battle.
37. Kg3 Magnus is desperately fighting for survival. To be honest, I'm worried for him…
37…Ke7 38. Kf4?! The need to rush is beginning to tell.
[More accurate was 38. Bd1!]
38…Ne6+ The most unpleasant of surprises – the black knight is going to d8. To take white's best pawn. The situation is becoming extremely unpleasant for Carlsen and his fans… A second loss in a row is more than likely.
39. Ke3 Ned8 40. Bxc6 You won't come up with anything better.
40…Nxc6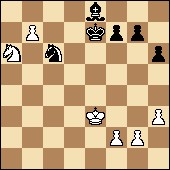 And so, the time control has passed. There's time for coffee and serious thought. It's still not possible to win back the piece by promoting the pawn. The one hope is a fortress – for the moment black can't get to the white passed pawn with his king. However, let's not rush to conclusions. We'll start with a cup of coffee! While Carlsen's thinking I'll note a very important result: Kramnik has beaten Shirov and considerably pulled away from those chasing him… who haven't yet been spotted. As he, Vladimir Borisovich, is the only one to have won.
41. h4 The idea's right – to stand still and keep a lid on black. But it's not clear that this is the right way to go about it. Black's winning idea is to move the bishop to the f1-a6 diagonal, nudging white into promoting the pawn. So the move in the game, it seems, doesn't hinder black's plan.
[Losing, of course, was 41.b8=Q Nxb8 42.Nxb8 Bb5 43.Kd4 Kd6 44.g3 Bf1 45.h4 Kc7 and so on.]
[It looks as though the pawns should have been pushed differently:
41.f4 Kd6 42.g4 Bd7 43.f5! – as you can see, they restrict the black bishop. I couldn't promise salvation, but there were chances…]
41…Kd6 As far as the black king can go. Now it's the turn of the bishop. The bitter truth is revealed by deep analysis.
42. g4 A move that's no worse than any others. It's against the rules to do nothing. And it's too early to resign until your opponent has demonstrated the win.
42…Bd7 The bishop will go via e6 to c4. The roadblock on f5 is too late. Moreover, the pawn on g4 is hanging.
43. g5 hxg5 44. hxg5 Slightly fewer pawns on the board, slightly greater hopes of survival. Or illusions.
44…g6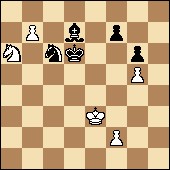 A solid strategy. Now, in all lines, the black bishop supports and protects the pawn that's going to be queen from the white king.
45. f4 All that's left is the phantom hope of a dashing breakthrough – when the black pieces have been distracted by the process of taking the white knight.
45…Be6 And there's the promised transfer. Besides, in the given situation the bishop could also go via h3 to f1. No, there's still one not-very-convincing idea for white – to leave the pawn on b7 to its fate, return the knight to the centre and try to attack the black pawns. But I don't believe in it. White shouldn't be in time. He shouldn't! And Magnus didn't believe it either – WHITE RESIGNED!
First of all, I want to note the bright, inventive and very energetic play of Anand. Today he was truly magnificent. While Carlsen… Everything's already been said about him. Even by the way he sits at the board (the video on the official site is working well) it's clear how difficult he's finding it to play. The kid needs a rest. There's nothing else that can help him! But there are still four rounds to go. He'll have to fight, to suffer – and hope for a miracle… Whiling away the evening with you, dear friends, has been Grandmaster Sergey Shipov. We'll meet again tomorrow. All the best!
0 – 1
Game viewer by Chess Tempo