Today Grandmaster Sergey Shipov provided commentary on the heavyweight clash in Bilbao between the current and ex-world champions. Vladimir Kramnik claimed an effortless draw, with his theoretical "excavations" causing Shipov to remark, in admiration: "For us, humans with spades, such large-scale work and bottomless pits look crazy".
Shipov's original commentary in Russian, with a chessboard to see the analysis on, is at Crestbook.
GM Sergey Shipov's live commentary on:
Bilbao Masters Final Rd 3
VISWANATHAN ANAND – VLADIMIR KRAMNIK

Hello dear chess fans and experts! Today along with me, Grandmaster Sergey Shipov, you'll see the key game of the round, and perhaps the whole tournament. Anand and Kramnik are internationally recognised titans of chess who've already been competing against each other for 20 years. They've fought for the world title (and who knows, perhaps they will again), and it looks as though they'll fight for first place in this tournament. Vladimir's ahead at the moment with a 100% performance, and Vishy can only overtake him by winning their individual encounter. Having the white pieces is an excellent reason for aggression. No, no, I don't want to give the impression that this current game will decide absolutely everything. After all, we've still got the second half to come in which, by the way, Anand will have white against the underachievers. The champion's had an excellent start – 1.5 points in two "black" games. That's a good foundation to build upon. And of course you have to take into account Shirov and Carlsen – they're capable of inflicting damage on the leaders. In general, there's a lot to look forward to. But for now let's watch the clash of the titans.
1. d4 We're not going to see a duel in the Petroff.
1…Nf6 2. c4 e6 3. Nf3 d5 4. g3 But there will be a duel in the Catalan. Remember that it was just this opening that Anand made his main weapon in the championship match with Topalov. And after such grand events, as a rule, a lot of unused analysis remains. So we wait for it to be revealed…
4…dxc4 The most principled move. Black takes everything he can get his hands on.
5. Bg2 Nc6 And by putting pressure on d4 tries to hold on to what he's won.
6. Qa4 An attempt to reestablish the balance.
   [After 6. 0-0 Rb8! that's already problematic.]
6…Bb4+ Combining development and support for the pawn.
7. Bd2 Nd5 The knight's going… either to b4, or to b6, with the same aim – to hold on to the pawn. Or to achieve favourable simplifications.
8. Bxb4
   [After 8. 0-0 there's the strong 8…Nb6!]
8…Ndxb4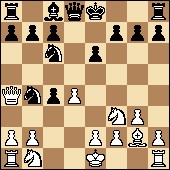 9. 0-0 One of many topical tracks.
   [The sharpest line 9.a3 b5! 10.Qxb5 Nc2+ 11.Kd2 Bd7 is, in essence, a competition in very deep analysis. It appears that black holds.]
   [On 9.Nc3 it's now popular to reply: 9…Bd7 10.O-O a5!]
   [While on 9.Na3 there's a6! In general, the theory here is enormous and has many branches.]
9…Rb8 Holding on to the pawn with his claws. His claws! Threatening the b7-b5 push.
   [Here it was clearly out of place to play 9…0-0 because of 10. a3! Nd5 11. Qxc4 Nb6 12. Qc3 and, as practice has shown, the 12…e5 break in the centre doesn't give black quite enough.]
10. Na3 Repulsing the threat and creating the first, though not yet dangerous, attack on the key c4 pawn.
10…0-0 Right on time. For now 11. Nxc4? doesn't work because of 11…b5.
11. Qb5 The queen's zigzag is essential to win back the pawn.
   [Patient moves already lead to the ruin of white's whole strategy. For example, 11. e3 a6!]
11…b6 Black uses the travels of the white queen in his own selfish interests – successfully completing development and getting new points to attack. For example, the e2 pawn.
12. Qxc4 Ba6 13. Nb5 There's nothing else.
13…Qd5 Forcing the queen exchange and new weaknesses in the white ranks.
14. Qxd5 Nxd5 15. a4
   [The pawn sacrifice
15.Nc3 Nxc3 16.bxc3 Bxe2 17.Rfe1 was clearly insufficient even for equality –
17…Bxf3! 18.Bxf3 Ne7 and so on]
15…Na5 The c7 pawn turns from a victim into a hunter.
16. Ne5 White's minor pieces rush to help the b5 knight.
   [Good after 16. Rac1 was 16…Nb3 17. Rc2 c5! with a full-fledged game for black.]
16…Rbd8 A subtle move. The rook is eyeing the d4 pawn.
   [16…c6 is no good on account of 17. Nxa7! and the c6 pawn is the next victim.]
   [Also clearly worse than the move in the game was 16…Rfd8 on account of 17. Rac1 Nb3 18. Nc6! with a white advantage.]
17. Nxa7! An overseas expedition for an exotic pawn. And the knight is perfectly capable of returning home via c6.
   [As the game Wojtkiewicz – Yuneev, Erevan 1996 showed, there's no advantage after 17.Rac1 Nb3! 18.Rcd1
(18.Nc6 Nxc1)
18…Nb4! 19.e3 c5! and so on.]
17…Nb4 Black also isn't being idle. A few white pawns are already under attack.
   [It was premature to play 17…Bxe2, as after
18.Rfe1 Bc4 19.Rec1! Ba6 20.Nac6 Nxc6 21.Nxc6 Rd7 22.b4 white makes great progress on the queenside.]
18. Rac1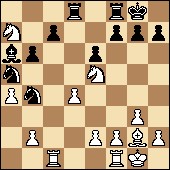 The grandmasters are playing quickly and surely. They obviously know the safe channels here. We can only watch and admire.
18…Rxd4
   [18…Bxe2 hasn't been played here, and it seems that's correct:
19.Rfe1 Ba6 20.Rxc7 Rxd4 21.Nb5 Rd2 22.Nd7! Rd8 23. Nxb6 Rxb2 24. Nd7 – and the appearance of a white knight on c5 is extremely unpleasant for black.]
19. Rxc7 A novelty!
   [All that was played here previously was the modest
19.Nb5, which inevitably led to a peaceful outcome. For example,
19…Bxb5 20.axb5 f6 21.e3 Rdd8 22.Nf3 Rd7 23.Nd4 Kf7 24.f4 g6 25.Rc3 Ke7 and in the game Bosiocic – Naiditsch, Sibenik 2010, black was able to shore things up completely.]
19…Bxe2 Judging by the speed of his reaction Vladimir has also studied this position with good equipment. We'll see whose research turns out to be deeper and of higher quality. And we'll also find out the objective evaluation of the position…
20. Rfc1 Played once more in line with the computer's recommendations.
   [Not so convincing is:
20.Re1 Rd2! The thing is that in the line
21.Nd7 Rd8 22.Nxb6 Nc2! white has to give up the exchange as withdrawing the rook to c1 leads to a complete disaster on the back rank.]
20…f6 A completely transparent trap. The appearance of the white knight on d7 will again lead to the invasion of the black rooks on d1. Vishy needs to find another approach…
21. Nec6 Naxc6 22. Nxc6 Nxc6 23. R7xc6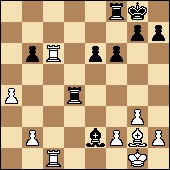 Two black pawns are under attack. The defence consists of active counterplay.
23…Rfd8 Exactly!
   [In the line
23…e5 24.Rxb6 Rxa4 25.Bd5+ Kh8 26.b4! white gets the most dangerous of initiatives – his passed pawn is strong, and black's backlines are weak..]
24. h3 Champions don't blunder mating attacks on the first rank.
   [Why wasn't 24. h4 played? I think there's a subtlety here. Perhaps there's some point in slightly limiting the manoeuvrability of the enemy bishop… It's also possible that in that case black could equalise with
24…Rb4!? 25.Rxe6 Rd1+ 26.Rxd1 Bxd1 27.Bc6 Rxb2 and it's no good playing 28.Bb5 because of Bf3! while with the pawn on h3 here you'd have the defence g3-g4, which means that the b6 pawn fell for nothing.]
   [That's all great, but after
24.h4 Rb4 it might be quite dangerous for black if you play
25.Bh3!? e5 26.Be6+ Kf8 – otherwise there's mate on the back rank –
27.Rc7 – and soon the g7 and h7 pawns will fall. It doesn't look fun… Although, of course, black might be able to survive in computer analysis.]
24…R8d6 Vladimir continues to make moves almost without thinking! Somewhere here his analysis must have ended. With the verdict "…and black holds". Well, it really is likely. But precision is still required, as white has the pleasant prospect of creating a distant passed pawn on the queenside. The clocks show: 0.52 – 1.15
25. Rxd6
   [It would be interesting to find out what the Russian grandmaster had planned for
25.Rc8+ Kf7 26.R1c7+ For example, after
26…Rd7 27.Rxd7+ Rxd7 28.Rb8 Rd6 29.b4 there's a visual impression that white has an edge. Deceptive, no doubt!]
25…Rxd6 26. Rc6 The Indian maestro decided not to get fancy.
   [Although it was crying out for the more ambitious
26.b4! with the crude idea of creating a passed pawn. While on 26…Rd4 there's the refutation 27.Rc2! Bd1 28.Rc8+ Kf7 29.a5, after which the b4 pawn is untouchable –
29…Rxb4? 30.a6 Ra4 31.Rc7+ Kg6 32.a7 with a white victory. Though of course you understand that that's a cooperative variation.]
26…Rxc6 27. Bxc6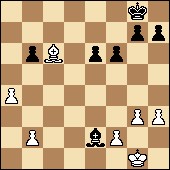 What does white have in this bishop ending? Hopes of winning a bishop for a pawn on the queenside. But if black quickly centralises his king then realising those hopes will be problematic.
27…e5 No, Kramnik's analysis turned out to be even deeper than I'd previously thought. I'm judging that by the clocks that show: 0.35 – 1.15! It's simply some sort of monstrous immersion in theory, in the style of an excavator. For us, humans with spades, such large-scale work and bottomless pits look crazy.
28. f4 Anand clears a path for the quickest possible centralisation of his king. The position's one where every tempo matters. A race! It looks as though black is in time to organise a solid defence.
   [The lines here, as a rule, are long but very simple:
28.b4 Kf7 29.a5 bxa5 30.bxa5 Ke7 31.Bb7 Kd6 32.a6 Kc7, and white achieves nothing.]
28…exf4 It would be risky to leave a weak pawn in the centre. Plus pawn exchanges are useful by themselves in order to achieve black's aim.
29. gxf4 Kf7 30. Kf2 An important tempo has been won. But it's unlikely that local achievement will grow into anything more.
30…Bc4 31. b4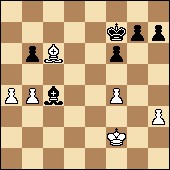 The passed pawn is just about to be created.
31…g5! And there's black's counterplay. The pawn ice is melting, and the turbulent brooks will wash away all Anand's ambitions.
32. fxg5 fxg5 33. h4 A little joke at the end.
   [Also completely harmless is: 33. a5 bxa5 34. bxa5 Ke7 – black's in time]
33…gxh4 34. a5 DRAW! Let's glance again at the clocks. They speak for themselves: 0.32 – 1.08! In reality this game was played before, in a correspondence game of home analysis. The best two laboratories in the world studied one and the same line in the opening in parallel. Appearing for the face-to-face game the titans exchanged their ideas and came to a general conclusion – black holds equality in the given variation of the Catalan Defence. Demonstrated and confirmed! I ask that it be entered in the encyclopedia… Working for you, dear viewers, was Grandmaster Sergey Shipov. If only we could all know chess… even a third as well as Anand and Kramnik know it. But it's extremely difficult to achieve that. You need to study twenty years and analyse the openings for just as long. Life is too short… On that note, goodbye. Tomorrow, Tuesday, we can all rest, while I'll be waiting for you at 16:30 CET on Wednesday for the start of the fourth round. All the best!
1/2 – 1/2
Game viewer by Chess Tempo
I'll be translating Shipov's commentary on Round 4 on Wednesday, 13 October at about 16:30 CET. As always, here: http://www.chessintranslation.com/live-game/