For the last round of the Bilbao Masters Final, Grandmaster Sergey Shipov commentated on Anand – Carlsen, the showdown between the current World Champion and his young apprentice. It lived up to its billing in a fascinating double-edged struggle that either player could have won. 
Shipov's original commentary in Russian is at Crestbook. There you can find a board where you can play through all the analysis. 
GM Sergey Shipov's live commentary on:
Bilbao Masters Final Rd 6
VISWANATHAN ANAND – MAGNUS CARLSEN

Hello, dear spectators. This is Grandmaster Sergey Shipov of the www.crestbook.com website bringing you the last round of the super-tournament in Bilbao. Kramnik is in the lead and can only be caught by Anand, but for Anand to do that he needs to overcome Carlsen and hope that Shirov doesn't yield to Kramnik. Today it was very hard for me to choose which game to cover, as both games are of great interest. The public vote on the KC-Forum tipped the scales, and therefore today we'll watch the battle between the World Champion and the rising star Carlsen. Yesterday Magnus played a very good game, as if his poor start and unpleasant memories from the Olympiad were forgotten. And therefore today we can expect good play from him and an unpredictable result… It's very tough now for Shirov. The burden of losses is so great, and in particular he lost to Kramnik in two recent games (at the end of the Olympiad and here in the first half). But Alexey might be helped out by the white pieces and a successful opening. A lot will depend on whether he manages to make the right choice i.e. if he doesn't come up against more home preparation from the omniscient Ex-World Champion. Vladimir, more likely than not, won't take great risks. A draw guarantees him at least a share of first place (with tie-breaks to follow). However, the moment the clocks are started all the pre-game considerations take a back seat and anything can happen. We'll see…
1. e4 e5 2. Nf3 Nc6 3. Bb5 The Ruy Lopez.
3…a6 What luck! There won't be a "Berlin".
4. Ba4 Nf6 5. 0-0 Be7 6. Re1 b5 There was already a threat of exchanging on c6 and taking the e5 pawn.
7. Bb3 d6 The Marshall Attack is slowly leaving the stage of elite tournaments. Clearly the world's chess players have become bored of swotting up on those unbearably long lines…
8. c3 0-0 9. h3 Nb8 But the Breyer Variation is blossoming. It leads to a very interesting struggle to manoeuvre, with space for human ideas.
10. d4 Nbd7 The knight has returned to defend the e5 point, freeing the working diagonal for the white-squared bishop.
11. Nbd2 Bb7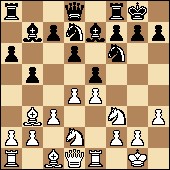 A very harmonious set-up.
12. Bc2 Defending the e4 pawn, but not only…
12…Re8 13. a4 Bf8 14. Bd3 And here's the main point of the manoeuvre with the white bishop. The pressure on the b5 pawn is vexing for black.
14…c6 There's no other way of maintaining the pawn structure in a decent condition.
15. b4 A fight for space.
15…Nb6 An attempt to provoke the move a4-a5, which will relieve the pressure on the b5 point.
16. axb5 Rejecting that.
   [However, it was possible to play 16.a5. For example, in the recent encounter Sutovsky – Filippov, Khanty-Mansiysk after 16…Nbd7 17.Bb2 g6 18.c4 exd4 19.Bxd4 Ne5 20.Bb6 Qd7 21.Qc2 Nxd3 22.Qxd3 c5 23.Rab1 Bc6 24.bxc5 dxc5 25.Qc2 white had an advantage.]
16…cxb5 17. d5 Rc8 18. Ra3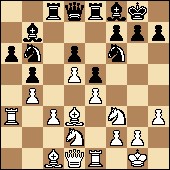 A novelty! The bishop remains on c1, in order, it seems, to go to war on the kingside. In particular, there's some point in maintaining control over the f4 point.
   [A few days ago Shirov played 18.Bb2 against Carlsen here, and after 18…Nh5 19.Bf1 f5! a bloody battle developed on the board.]
   [While a little before that Alexey also tried 18.Qb3, and in the game Shirov – Baramidze, Heidelberg 2010, there followed 18…Qc7 19.Bb2 Nh5 20.Rac1 f5 21.c4 fxe4 22.cxb5 Qd7 23.Nxe4 Bxd5 24.Qd1 Rxc1 25.Bxc1 axb5 26.Nfg5 – again with serious complications.]
18…Nh5 The knight entry on f4, and the f7-f5 break with the destruction of the d5 pawn to follow, are the main constructive ideas for black.
19. Nf1 As you can see, the c1 bishop really is preparing to take on f4. True, it's not at all clear whether that exchange is necessary for white.
19…g6 After some thought Magnus decided not to test the home preparation of his dangerous opponent. With the move in the game he's expanding the possibilities of the bishop on f8 and preparing… gradually preparing the f7-f5 blow. The question arises: and what is white intending to do in the ensuing structure if black continues his leisurely manoeuvres? Have you got a plan, Mr Anand?
   [The principled move, of course, was to play 19…Nf4 and if 20.Bxf4 exf4 21.Qd2 g6! 22.Qxf4 Bg7 black gets some real counterplay for the pawn.]
   [While the 19…f5 break was clearly premature. There might then follow 20.exf5 Nxd5 21.Be4 Nhf6 22.Bg5! – there's another success to chalk up to the bishop hiding on c1.]
20. N1h2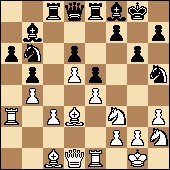 Subtly played. It looks as though the knight is heading to h6 via g4! Or else it's simply freeing the f1 square for the d3 bishop.
   [On 20.Be3 it was already possible to play 20…Nf4]
   [And after 20.Ng3 it was also logical to play 20…Nf4 which would lead to something like: 21.Bxf4 exf4 22.Ne2 Bg7 23.Qd2 Nc4 24.Bxc4 Rxc4 25.Ned4 Qc7 – it seems that black is ok here. The strength of the g7 bishop successfully compensates for the suffering of the b7 bishop.]
20…Bg7 The Kid has very deftly adapted to the Champion's novelty. And he's not behind on the clock: 1.11 – 1.09.
   [Once again he didn't look seriously at the move 20…Nf4 Then, as well as taking, it was possible to play 21.Bf1 Nc4 22.Ra1 Nb6 23.Ra3 Nc4 with a draw offer.]
21. Bg5 A cultured provocation.
   [A weak chess player, tired of calculating the lines with the appearance of the knight on f4, would play 21. g3? here, fatally weakening the long white diagonal. Trouble would follow: 21…Qd7 22. Kg2 f5! But Anand's not one of those.]
21…Qd7 Such a logical move wasn't worth ten minute's thought. However, there's still plenty of time: 1.04 – 0.55. The queen on d7 supports the f7-f5 idea, while the white knight going to h6, as far as I can tell in my quick analysis, leads to a sharp struggle with mutual chances.
22. Be3 That's why Vishy tempted the enemy queen to d7 – so that the b6 knight, deprived of support, is forced to jump forwards.
   [On 22.Ng4 there would follow the bold 22…f5! 23.Nh6+ Bxh6 24.Bxh6 fxe4 25.Bxe4 Nf6, after which the d5 pawn should fall. Sooner or later.]
22…Nc4
   [It would be interesting to know why both players so amicably agreed that it was no good for black to strike with 22…Nxd5! 23.exd5 e4 In my analysis life becomes uncomfortable for white: 24.Bxe4 (worse is 24.Bxb5 Qxb5 25.Nd4 Qxd5 26.Ng4 f5!) 24…Rxe4 25.Ng4 – here you could even boldly take the bait once more 25…Rxc3! and analysis shows nothing dangerous. I've only got one working version to explain what happened: the fighters are tired. And therefore no longer in the condition to calculate unusual continuations. They're saving their strength!]
23. Bxc4 In such a closed (for now!) position bishops are in no way better than knights. And some are even worse…
23…Rxc4 24. Nd2 Rc7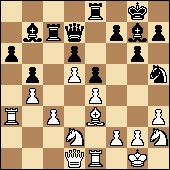 Black is maintaining pressure on the c3 pawn, and therefore keeping the white rook in its passive position on a3.
25. Nhf1 Subtle and subtler! It seems as though Vishy has thought up the manoeuvre Be3-b6 with Nf1-e3 and c3-c4 to follow. Well, it looks logical. The black rook on c7 will come under attack, which gives white an extra tempo.
   [It also didn't look bad to play 25. Nhf3 with the idea of 25…f5 26. Ng5!]
25…Nf4 The long-awaited move has finally arrived. f7-f5 is next, with the aim of reanimating the dead man on b7. There's an opinion that Anand's opening preparation in the current game isn't the best in his career. Black's fine.
26. Bb6 There's also an opinion that on his 24th move Carlsen should immediately have withdrawn his rook from c4 to c8, given that the idea of doubling the heavy pieces on the c-file was fruitless in itself and also dangerous because of the possible bishop move to b6.
26…Rcc8 27. Ne3 It's all very pretty and all very sensible. But I'm just a bit worried by the daring attack with the black knight coming to d3. And also the planned f7-f5 break. By the way, the second worry is much greater…
27…f5 Well done, Magnus. He's playing according to plan, consistently, and he knows exactly what he's doing.
28. f3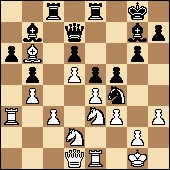 A refutation based on an idea. The white pawns, having joined hands, form something like an impenetrable shield against the bishop on b7. However, now the black squares on the kingside have been seriously weakened, which might be emphasised by the bishop on g7 moving to h6. Moreover, in some lines there's the idea of sacrificing the black knight on h3. You can prepare that with the move Re8-f8.
28…Rf8 Correct. Black can get away with gradually increasing the pressure, as for the moment white isn't in any condition to demonstrate effective counterplay. The rook on a3 looks pitiful… By the way, given what I've said, it's worth considering 29. c4.
   [On 28…Bh6, it seems that you can play 29.c4!]
   [Probably the most accurate formulation of the idea was, 28…Nd3 29.Rf1 Rf8. The knight that's just left f4 can always go back there if it needs to. While the 30.c4 break here runs into trouble with 30…Nb2! and there follows 31.Qc2 (or 31.Qe2 bxc4 32.Nexc4 Nxc4 33.Nxc4 Qb5!) 31…Nxc4 32.Nexc4 bxc4 33.Rc3 fxe4 34.fxe4 Rxf1+ 35.Kxf1 Bh6 36.Nxc4 a5!!  and black has dangerous threats on the a6-f1 diagonal.]
29. Kh2 Played extremely solidly. However, black gets an extra tempo before the c3-c4 break. That can be exploited to send the knight to d3, and then the bishop to h6.
   [In my opinion it was worth immediately playing 29.c4 bxc4 and here it's extremely important to take the pawn with the "right" knight. It's dubious to play 30.Ndxc4?! in light of Nxh3+! 31.gxh3 f4 with a black advantage.]
   [But it wasn't bad to play 29.c4 bxc4 30.Nexc4!, for example, 30…Qb5 31.Ra5 Qxb4 32.Ra4 Qb5 33.Be3 and white has compensation for the pawn – the d6 point is very weak, and the b7 bishop is, as always, passive.]
29…Rf7?!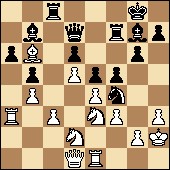 But not that! Too sluggish a move.
   [It was clearly better to play 29…Nd3, and wherever the e1 rook goes you play 30…Bh6! with dangerous black pressure.]
30. c4 Exactly! Anand frees the rook on a3, which will now be able to fulfill important defensive functions on the third rank. At the same time he's declaring war on the queenside.
30…bxc4 It would be fatal to allow the c4-c5 clamp.
   [It's unlikely 30…Bf8 would make a great difference on account of 31. Rc3!]
31. Nexc4 White's position is becoming more harmonious. The d6 point is under attack, and all his pieces coordinate well.
31…fxe4 One more slightly surprising move. Why clarify the structure prematurely?
32. fxe4 Things are rapidly changing in favour of white. By the way, on rapidity: 0.29 – 0.28.
32…Rcf8 Black's rooks look threatening. But who and how are they going to attack? Meanwhile the second game of the day is over. Shirov and Kramnik drew. Now the fate of the first prize is in Anand's hands. And Carlsen's, of course!
33. Be3 Freeing up the b6 square – a good idea.
   [But it looked even safer to play 33. Bg1, leaving the third rank for the a3 rook.]
33…Bh6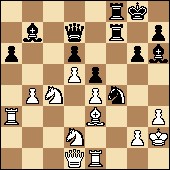 Some possible combinations now arise based on suicidal leaps by the black knight.
34. Rf1 An understandable manoeuvre. Exchanging a pair of rooks in some lines seriously weakens black's attacking options. What's to be done? That eternal question is now bearing down on Carlsen with its full weight. Meanwhile, Anand has clear targets on the queenside. And it's obvious how to open them up…
   [It would be criminally careless to play 34. Qa4 Qe7 35. b5? because of Nxg2! 36. Kxg2 Qh4 with an irresistable black attack.]
34…Bg7 A perfectly understandable decision. The thing is that the f4 knight was pinned…
   [Because of that you couldn't transfer the queen to h4 via 34…Qe7, as for a moment it would lose sight of the h3 pawn, so that 35.g3! would be possible – and against his will black is sacrificing a piece. Without any real compensation.]
   [I also looked at 34…Bg5 35.Nf3 Bf6 (35…Bh6 36.Nfxe5!) 36.Bxf4 (you don't have to play it, but it's interesting!) 36…exf4 37.e5 dxe5 38.Ncxe5 Qxd5 39.Nxf7 Qxf7 40.Qd2 – and white has an edge, though it's not clear if it would be enough for victory.]
35. Qa4 Played very boldly and on principle – in the style of a computer. The queen begins its voyage to the d6 pawn… But it's very difficult to calculate all the lines in which black bravely counterattacks on the kingside. By the way, there's no longer enough time for that: 0.15 – 0.06.
35…Qe7 Absolutely correct. After the exchange of queens you could resign with a clear conscience. The d6 pawn is too weak. And with queens you've got practical chances of getting to the white king.
35. b5 A routine clearing of space.
36…axb5
   [It was premature to play 36…Qg5 in light of 37. Bxf4 Rxf4 38. Nf3 and then taking on a6.]
37. Qxb5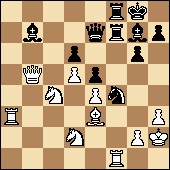 The queen is ready to support the knight in the matter of destroying the weak black pawn.
37…Bc8! Magnus intuitively chooses the most combative continuation. The idea is to send the queen to h4 and obliterate the h3 pawn, the gate leading to the goal.
   [After 37…Qg5 38. Rg1! the black attack would falter, and the d6 pawn would be about to fall.]
   [It was also too reckless to play 37…Qh4 38.Nxd6! Nxh3 39.gxh3 Rxf1 40.Nxf1 Rf3 41.Qe8+! Bf8 42.Qe6+ with a white win.]
38. Qb6 The queen is, on the one hand, threatening to take the pawn, while on the other hand it's preserving the possiblity of returning home along the a7-g1 diagonal.
   [That's precisely why 38. Qc6 Qh4! and so on was worse]
   [It was more reliable to play 38. Bxf4]
   [And Vishy considered 38. Nf3 too slow. Well, he's playing to win – he knows best!]
38…Qg5
   [I think it was more energetic to play 38…Qh4! with the threat of taking on h3. In that case the d6 pawn was clearly untouchable. And there was only a slight white edge after 39.Bxf4 (or 39.Nf3 Qh5!) 39…Rxf4 40.Rxf4 Qxf4+ 41.Kg1 Qh4!]
39. Rf2 That's the difference – for now white can avoid exchanging on f4.
39…Qh4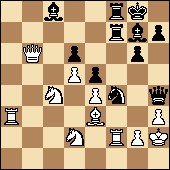 Better late than never! The threat to the h3 pawn is serious.
40. Bxf4 Played in a rush. An inaccuracy, it seems.
   [Asking to be played was 40.Nf3 Qh5 41.Bxf4 Rxf4 42.Qxd6. True, then black would continue the storm with 42…g5 and decent counterchances.]
   [One more interesting line: 40.Nf3 Qh5 41.Ng1! Qh4! with the idea 42.g3 Nxd5! 43.gxh4 Nxb6 44.Rxf7 Nxc4 45.Rxf8+ Bxf8 – however, here white gets a persistent edge in the ending – 46.Ra8! Nxe3 47.Rxc8 and so on.]
40…Rxf4 He didn't manage!
   [Carlsen didn't manage to discover that in the line 40…exf4! 41.Nxd6 there was the impressive resource 41…Qg3+!! 42.Rxg3 fxg3+ 43.Kxg3 Be5+ 44.Kh4 Rxf2 45.Nxc8 Bf6+ 46.Kg3 Be5+ with perpetual check. That would have been a flamboyant finale. It seems that Anand also missed it.]
41. Rxf4 The safest move.
   [After 41.Nf3 Qh5 42.Qxd6 it was good to play either the line already shown 42…g5, or 42…Rxe4 43.Nb6 Ref4! 44.Nxc8 e4 45.Ne7+ Kh8 46.Qe6 exf3 47.Raxf3 Rxf3 48.Rxf3 Be5+ 49.Kg1 Kg7! – and black has no trouble surviving in the sharp variations.]
41…Qxf4+ At last! Magnus thought for so long that I was beginning to suspect that he wanted to make one of two losing moves.
   [One was elementary 41…Rxf4? 42.Nxd6!]
   [While 41…exf4?! represented a serious temptation. There would follow 42.Qxd6 Bd4 43.Nf3! Qg3+ 44.Kh1 and all of black's attacking labours prove fruitless: 44…Qf2 (or 44…Bxh3 45.gxh3 Qxh3+ 46.Nh2 +-) 45.Nxd4 Qxd4 46.Ne5! (the most important thing is controlling the f3 point) 46…Qxe4 47.Kh2 – and white will be the one attacking. Up until the point black resigns.]
42. Kg1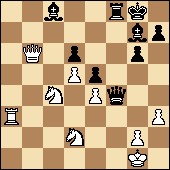 The intrigue remains the same: the d6 pawn is on its deathbed, while the white king is surviving, for now. Note that black has the famous bishop pair. But the white knights are in no way weaker. At worst. Anand has winning chances – and that means chances of catching Kramnik. The second, decisive time trouble is still a long way off: 0.51 – 0.36
42…Bh6?! Visually this looks like a totally logical move. However, it allows the long-awaited taking of the pawn on d6 after the preparatory rook move to f3.
   [It was more stubborn to play 42…Qh4! 43.Rf3 (no good is 43.Qxd6? Qe1+ 44.Kh2 Bh6!) 43…Qe1+ 44.Kh2 Qh4! and the d6 pawn turns out to be surprisingly inedible. For example, 45.Nxd6 (45.Qxd6? Rxf3 46.Nxf3 Qf4+ 47.Kh1 Qc1+!) 45…Rxf3 46.Nxf3 Qf4+ 47.Kg1 Bxh3! – black wins back the pawn with almost equal chances. However, such subtleties are much easier to recommend (for commentators armed to the teeth), than to carry out at the board yourself when you're extremely tired.]
43. Rf3 Correct.
   [Of course not 43.Qxd6? Qf2+ 44.Kh1 Qe1+ 45.Kh2 Bf4+ 46.g3 Bxd2 with a black win.]
43…Qg5 The Kid is no longer, it seems, in a condition to calculate lines. He's deathly tired!
   [There were a few more chances of getting out of it after
43…Qh4! 44.Qxd6 Qe1+ 45.Rf1 Qg3! However, only practical chances.]
44. Qc6?! Vishy also turns out not to be fit to work. The players have both amically passed…
   [It was possible to take the pawn with the help of the trick 44.Qxd6 Rxf3 45.h4! , and then: 45…Qg3 46.Nxf3 Bh3 47.Qb8+ Bf8 48.Ne3 Bxg2 49.Nxg2 Qxf3 50.Qxe5 – with winning chances.]
   [The second relevant line was – 44.Kf2! which from a human point of view is the most practical. White has everything covered, and the d6 pawn is again on the menu.]
44…Rxf3 45. Nxf3 Qc1+ Now if the king goes to h2 there's a new check on f4.
46. Kf2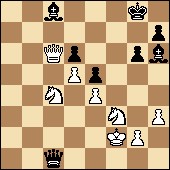 Black is close to salvation. He only needs to find a last finesse.
46…Bd7! Exactly! Carlsen manages to exchange his bad bishop for white's good knight.
47. Qxd7
   [Putting yourself in a pin with 47. Qc7?! was, at best, fruitless]
47…Qxc4 48. Qe6+ White can still destroy the long-cherished d6 pawn, but there's no way of avoiding the perpetual checks to his king.
48…Kg7 49. Qe7+
   [or 49.Qxd6 Qc2+ 50.Kg1  (50.Kg3?? Bf4+) 50…Qc1+ 51.Kh2 (51.Kf2 Qc2+) 51…Bf4+ 52.g3 Qc2+ 53.Kh1 Qb1+! and it's perpetual check all the same.]
49…Kg8 50. Qe6+ Kg7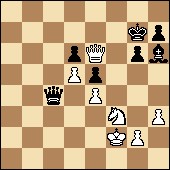 DRAW! That was a very interesting and double-edged game, for which both players deserve our admiration. Of course, the World Champion was much closer to victory, but Carlsen skillfully fought back and deserved for Fortune to smile on him. Well done to both! While the overall hero of the day was Vladimir Kramnik – he won the super-tournament in Bilbao. Bravo! Working for you, dear spectators, has been Grandmaster Sergey Shipov. Thank you for your interest in my commentaries. Until we meet again at new super-tournaments!
1/2 – 1/2
Game viewer by Chess Tempo
If you want to read some more by Sergey Shipov his summary of the Olympiad and thoughts on the FIDE Presidential Election (including… "We need to radically alter the situation in the chess world") can now be found in English by clicking the link below: