GM Sergey Shipov is providing live commentary at Crestbook on the games from this year's Sparkassen Chess-Meeting in Dortmund. In the second round Ruslan Ponomariov had the white pieces against Vladimir Kramnik.

GM Sergey Shipov's live commentary on:
Dortmund Rd 2
RUSLAN PONOMARIOV – VLADIMIR KRAMNIK
Hello, dear friends! This is Grandmaster Sergey Shipov bringing you the key second round encounter from the round robin tournament in Dortmund. Yesterday the players pleasantly surprised us. They threw themselves at each other with fists flying, making it a spectacular battle. I'm sure they won't manage it for the whole distance. Ten all-out games at the classical time control in 11 days is an impossibly heavy burden. However, I'm getting ahead of myself. The tournament has only just started and the fighters should have more than enough energy. I'll say a few words about Ponomariov. It seems as though Ruslan is getting back his old form and grip. I saw him at the World Cup in Khanty-Mansiysk at the end of last year. There he played as surely and steadily as in his victorious knockout World Championship in Moscow (2001-2). Ruslan is still young, though he's already very experienced. He hasn't lost anything and everything's still ahead of him! Ponomariov in the beginning (i.e. the beginning of the century) played Kramnik on equal terms. But in recent years the Russian has more and more often come out the winner. Well, it's time for the Ukrainian grandmaster to overcome that unfortunate trend. Yesterday he was given a boost (beating the fireproof Leko is really something), so now would be a good moment to build on that success. We'll see… In fact you should realise that I'm acting as a shaman, sending mental impulses to Ponomariov to make him play uncompromising chess. No-one wants to see a dry, colourless draw after a series of exchanges in the Petroff. Better some blood is spilt! And it doesn't matter whose… Vitaly Khimkin is doing online commentary of the game Leko – Mamedyarov. I recommend it:  http://online.crestbook.com/khimkin/2010/dortmund-02.htm [Translator's note – in Russian] It seems as though the anti-cheating delay at the tournament is much longer than the 15 minutes officially promised on the site. So we wait.
1. d4 Already a good sign – no Petroff.
1…Nf6 2. c4 e6 3. g3 Indicating the Catalan. But there are variations…
3… Bb4+ Note that the black pawn hasn't yet appeared on d5. Which means there's still some intrigue in terms of which opening we'll get.
[Some fighters prefer to switch here to the Modern Benoni: 3…c5]
4. Bd2 Be7 No, the players have carried out the well-known to-and-fro with the bishop, which slightly worsens the white set-up. Now he can't bring the bishop out to b2. In a number of variations the weakness of the d4 pawn can tell, as the white queen has lost sight of it.
5. Bg2 d5 What will be, will be – the Catalan.
6. Nf3 o-o 7. o-o c6 Black has not only strengthened the d5 point, but also prepared for action after taking the c4 pawn.
8. Qc2 Very cautiously played.
[In the line 8. Nc3 dxc4! white doesn't have the move 9. Ne5 because of the above-mentioned "blindness" of the queen on d1 – 9…Qxd4!]
8…b6 Black will bring the bishop out to a6 or b7, depending on circumstances.
9. Rd1  White keeps the knight on b1. Of course, it wants to go to c3 where it can take part in the struggle for the centre. But that has to be done in such a way as not to lose a pawn and not to give black too much freedom.
9…Ba6 Black is dreaming of exchanging pawns on d5. That would be a gift… It's more desirable for white to maintain the tension.
10. Ne5 But this is interesting. For professionals all of the preceding moves were banal and commonplace. But this is worth looking at more closely. The move in the game is quite rare. Moreover, in practice it hasn't brought white good results.
[In former times you most commonly saw: 10. b3 and after Nbd7 the winger would be sent into action – 11. a4! Here there's already a large, many-branched body of theory. It seems that Ponomariov has decided to deviate from a theoretical duel.]
10…Qc8 Judging by the speed of his response, Kramnik had also looked at the knight's jump into the centre. He's an internationally recognised scholar. A walking encyclopaedia.
[Much more common is for black to immediately attack the daring bandit by means of: 10…Nfd7 For example, in the game S. Ivanov – V. Tkachiev (Moscow 2004) there followed 11.cxd5 cxd5 12.Nc3 Nxe5 13.dxe5 Bb7 14.Nb5 Nc6 15.Bc3 Rc8 16.e4 a6 17.exd5 Nb4 18.Qb3 Nxd5 19.Nd4 Qc7 20.Rac1 Bc5 and black had solved all his opening problems.]
[It's possible that after
10…Nfd7 11.cxd5 cxd5 more dangerous is 12.Bf4 Nxe5 13.dxe5, as in that case white is already prepared to immediately strike in the centre with e2-e4. In the game H. Koneru – MS. Thejkumar (Mumbai 2008) black tried out the sharp 13…g5 , but soon ended up paying for it:
14.Be3 Nd7 15.Bd4 Rc8 16.Nc3 Qc7 17.e4! dxe4 18.Qxe4 Rfd8 19.Qe3 Nc5 20.Rd2 Nd3 21.Rad1 Rxd4 22.Qxd4 Bc5 23.Qa4 Nxf2 24.Rxf2 Bxf2+ 25.Kxf2 and white was left with an extra piece.]
11. Nc3 The pawn on c4 is offered up on the altar of the attack. Taking it will give white a strong initiative. Therefore… I was sure that the move 11…Nbd7 would follow very quickly, which was why I set up the sentence that way. But Vladimir has suddenly sunk into a long think. Which really amazes me. It looks as though he's trying to work out at the board where his opponent's trying to catch him out. And that he doesn't like something in his calculations. Doubts have arisen… The clocks show: 1.25 – 1.18.
 11…Nbd7 But after all. That's the point of the queen manoeuvre to c8. It defends the c6 pawn, which allows black to develop the knight naturally.
[Bad was 11…dxc4 12. Ne4! where to hold the extra pawn (and otherwise there's no point in giving up the centre) black would have to allow new weaknesses – 12…b5 13. Nc5 – no, you can't play like that.] 
12. Rac1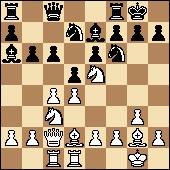 A novelty! A restrained and very venomous move. It seems as though black is able to successfully develop and even, perhaps, to eat up the white pawns – but that path strewn with rose petals conceals a couple of snakes. I managed to find them in analysis, during the pause. Vladimir has again sunk into calculations – the right thing to do. Sensing the moment when you have to seriously study a position is one of the most important characteristics of a top-class grandmaster. More often than not chess players during a game play relatively superficially. It's impossible to plough through everything all game, and time doesn't allow it. But at certain critical moments it's worth not begrudging the time and energy to go into things deeply. And only the best of the best are able to flawlessly recognise those moments. It comes with experience. Or it's a God-given talent.
[Previously played was
12.Bf4 Nh5
(I think Kramnik might cooly have taken the pawn – 12…Bxc4!?)
13.Be3 Nhf6 14.Rac1 Nxe5 15.dxe5 Ng4 16.Bf4 Bxc4 17.h3 Nh6 18.e4 and in the game B. Sambuev – P. Smirnov (Krasnoyarsk 2003) in exchange for a pawn white obtained powerful pressure. The knight on h6 is dim.] 
12…Nxe5 The principled move. Kramnik has decided to test out his opponent's idea!
[I found nothing too terrible for black in the line
12…Bxc4!? For example, 13. Nxc4 dxc4 14. Ne4 b5 15. b3 Nb6! 16. Nxf6+ (16. Ba5 Nfd5!) 16…Bxf6 17. Ba5 Rd8 – white, of course, wins back the pawn, but it ends close to equality in a position with opposite coloured bishops.]
 13. dxe5 Nd7 Clearly the Russian didn't spend his time in vain. He's successfully avoided the pitfall.
[The tempting attack 13…Ng4 led to trouble. After 14. Bh3! Nxe5 (more stubborn is 14…h5) 15. cxd5 cxd5 the venomous predator would land the blow – 16. Nxd5! with an undeniable advantage for white.]
14. cxd5 There were no other means of maintaining the tension.
14…cxd5 However, white is well prepared for the opening of the c file. That's why the rook was placed on c1. And black needs a couple of tempos to consolidate the position… There's a danger that the centre will soon be blown open by white. The grouping of the white pieces already appears very threatening. All of them are gathered in a fist, and the potential energy will probably be able to become kinetic energy. Say, after 15. Qa4 on the very next move you'll have to look out for a blow on d5. Or perhaps after another preparatory move… Ruslan is looking for a precise, concrete solution. There's heaps of time: 1.00 – 0.57
15. Bf4 A solid move, ratcheting up the tension. White is provoking the push 15…g5, which seems to win a pawn. I think that for that Ponomariov has prepared the extremely powerful 16. Bxd5! with mind-blowing complications, in which black is balancing on the edge of the abyss. 
[I looked at the main line
15.Qa4 Qb7
(bad is 15…Nc5 16.Qg4!)
16.Be3! with the idea that on almost any black move you take with the knight on d5. There are a great number of lines, but almost all of them favour white. For example:
16…b5 17.Nxd5! exd5 18.Bxd5 Qxd5 19.Qxa6 Nb8 20.Rxd5 Nxa6 21.Rxb5 and in the ending white not only has three pawns for the piece, but also a powerful initiative. In short, a big advantage.]
15…g5 Kramnik is facing the dangers head-on! You can't die twice, and we all die once…
[On the other hand, there weren't any good alternatives for black. For example, bad is 15…Qb7 16. Nxd5!]
[And after 15…Bb7 strong is 16. Qd2 Qb8 17. e4!]
16. Bxd5!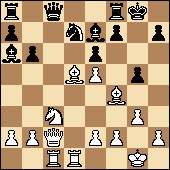 Yes! He did it. The game's plunging into an abyss of incredibly complicated variations.
16…exd5
[if 16…gxf4 17. Bxa8 then the black queen can't deal with two tasks – both taking the bishop and saving the knight on d7.]
17. Nxd5 The white spring has suddenly been released. Black's centre is destroyed, while the weakening g7-g5 might adversely affect the health of the king. Black clearly lacks piece coordination for organising resistance. However, there's still an extra bishop in reserve… Vladimir's thinking, time's passing: 0.56 – 0.38. Though for now he can hold, if he doesn't lose his cool (which would be strange for such an experienced fighter). The best moves can be found by the process of elimination. All the other continuations are clearly bad.
 17…Qd8 Not, it seems, the best choice. Now the modest withdrawal of the bishop to e3, for me, sets black difficult problems.
[Losing was
17…Qxc2? 18.Nxe7+ Kh8 19.Rxc2 gxf4 20.Rxd7, and black has almost nothing left]
[I considered the main line to be
17…Bd8! 18.Qd2
(18.Qf5 Nc5!)
18…Qb8 , where it wasn't possible to find a clear win for white:
19.e6
(19.Bxg5 Qxe5!)
19…gxf4 20.e7 Qe5! 21.exf8=Q+ Nxf8 22.Nxf4 [22. Qxf4!?) Bg5 and the struggle goes on. Almost on an equal footing.]
18. Nc7 A let off in reply. In this line in my analysis I found equalising variations.
[Stronger was the restrained
18.Be3, after which black wouldn't be able to relieve the white pressure in the centre without losses. An extremely simple line is:
18…Rc8? 19.Qxc8! Bxc8 20.Rxc8 with an easy win for white.]
[A little better is 18.Be3 Nxe5 19.Qf5 Qd6 20.Nc7!, after which white successfully wins back the material with interest in the form of an extra pawn.]
[The most relevant line was:
18.Be3 Nc5 19.b4!
(It's not worth rushing to win the queen as after
19.Nf6+ Bxf6 20.Rxd8 Bxd8 21.Bxc5 bxc5 22.Qxc5 black ends up with too many pieces. The computer evaluations aren't completely convincing)
19…Ne6 and here it's worth ignoring the materialistic knight jumps (to f6 or b6) in favour of the attack
20.Qc6!! – here white is totally dominant. The material should return of its own accord. Again
20…Rc8 doesn't work because of 21.Qxc8! Bxc8 22.Rxc8]
18…Rc8? Clearly the heat wave is after all affecting the players. They can't deal with the load. However, there's no great pleasure in playing such complicated positions. You could compare it to walking across hot coals in your bare feet.
[Black was guaranteed safety after 18…gxf4! 19.Nxa6 fxg3 20.hxg3 Bg5 21.f4 Bxf4! 22.gxf4 Qh4! , though after
23.Rxd7 Qg4+ 24.Kf2 you shouldn't be tempted by the rook. After taking on d1 white would play Rc1-h1 with dangerous threats. Stronger is:
24…Qh4+ 25.Ke3 Qh3+ and things end in perpetual check.]
19. e6!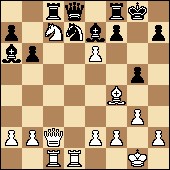 A new, powerful blow, which once more turns the situation in white's favour.
19…fxe6
[Hopeless was
19…gxf4 20.Rxd7 Rxc7 21.Qxc7 Qxc7 22.Rcxc7 Bf6 23.e7! Re8 24.Rxa7 Bxe2 25.Rd8 Rxd8 26.exd8=Q+ Bxd8 27.Ra8 – black is down an exchange in the ending.]
[Also of no use is the clever resource 19…Bb5 on account of 20.exd7 Bxd7 21.Be5 f6 22.Qd3!]
20. Qc6! It seems that this thrust was missed by Kramnik in his calculations. The knight on d7 is defenceless, and moreover the black king is coming into play, against his will. White has a big advantage! The clocks are already two-to-one, and they're also not in black's favour: 0.38 – 0.19
20…Qe8 An attempt to confuse his opponent.
[You get a hopeless ending after
20…gxf4 21.Rxd7 Qe8 22.Nxe8 Rxc6 23.Rxc6 Bb5
(or even worse 23…Rxe8 24.Rxa7 Bb5 25.Rxe6 Kf7 26.Re5!)
24.Rxe7 Bxc6 25.Nd6 Bd5 26.b3 Rd8 27.Re8+ Rxe8 28.Nxe8 fxg3 29.hxg3 – the white knight breaks out of the seige, and the extra pawn will have its say.]
21. Qxe6+ Ruslan is trying to squeeze the maximum out of the position.
[Also not bad is 21. Rxd7, for example, 21…Qf7 (the move 21…gxf4 led with a different move order to the ending already mentioned) 23. Be3 Bxe2 23. Qxe6 Qxe6 24. Nxe6 Rxc1 25. Bxc1 – it's possible that the players saw some chances for black to save himself. But those illusions soon vanish in analysis.] 
21…Qf7 Here neither side has a choice.
22. Qxf7+ Kxf7 [Very simple is: 22…Rxf7 23. Nxa6 Rxc1 24. Bxc1!]
23. Nxa6 gxf4 24. Rxc8 Rxc8 25. Rxd7 White has two extra pawns – not a bad harvest! Black's last hope lies in an active rook.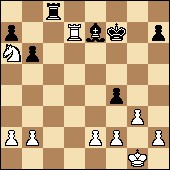 25…Rc2 26. Nb4 The knight escapes with the intention of attacking the bishop on e7. The black rook is just by the by. The end is near.
26…Rxb2 Bad, as is everything else.
[For example, 26…Rc1+ 27. Kg2 Ke8 28. Nd3!]
27. Nc6 Rxe2 28. Rxa7 Before exchanging all the pieces it's worth taking a pawn. It'll come in handy in a pawn ending…
28…f3 The last chance for the seasoned blitzer. To threaten mate in one.
29. h4 Simple and reliable.
29…h5 Vladimir's trying to restrain the white pawns on the kingside. But, of course, it's a vain hope.
30. Rxe7+ Ruslan is playing quickly and inexorably.
30…Rxe7 31. Nxe7 Kxe7 Now just to find one last and not so tricky subtlety.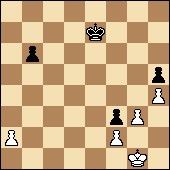 32. g4! That's it. White successfully breaks through and activates his king.
32…hxg4 33. Kh2 Ke6 34. Kg3 Kf5 35. a4 Zugzwang. 35…Ke4 36. Kxg4 BLACK RESIGNED
Ponomariov conducted the game very powerfully and deserved to win. He managed the almost impossible – to find a weakness in Kramnik's opening preparation… The position after the 12th move will no doubt be heavily studied in the best laboratories around the world. In my notes I also made my modest suggestion (12…Bxc4), but I definitely don't insist on it. I repeat, it needs serious, unhurried analysis. Of course black also had reasonable alternatives earlier in the game. While in the game, white already had a noticeable edge by the 14th move. Ponomariov acted very energetically, although not perfectly. He gave Kramnik one chance to save himself, but Kramnik couldn't overcome the calculation tasks he faced. So, it wasn't in vain that I mentioned Ponomariov's win in the FIDE World Cup back in 2001-2. At that time Ruslan overcame almost the whole Russian team, one by one. And now it's the turn of the current leader of the world's strongest chess country. Ponomariov's a Russian specialist! We'll have to complain about him to the Great and Terrible Gary Kasparov. Let him come out of his political den and restore order… Thank you for your attention, dear spectators. With you on this enthralling evening was Grandmaster Sergey Shipov. See you tomorrow!
1-0